Rays vs. Astros Betting Picks, Odds & Predictions: Snell, Rays Love Being This Big of an Underdog
Credit:
Richard Mackson, USA Today Sports. Pictured: Blake Snell
The betting odds for Saturday's Rays-Astros game are nearly unprecedented: Houston is an incredible -290 favorite behind starter Gerrit Cole.
The Rays' moneyline odds are +260, and they have Blake Snell on the hill.
Sean Zerillo, our MLB expert, analyzes the matchup and picks out his best bets.
Rays vs. Astros Game 2 Betting Picks, Odds & Predictions
Probable starters: Blake Snell (6-8, 4.29 ERA) vs. Gerrit Cole (20-5, 2.50 ERA)
Rays odds: +260
Astros odds: -290
Over/Under:  7.5
First pitch:  9:07 p.m. ET on FS1
Odds as of Saturday afternoon. Check out PointsBet, where Action Network users get an exclusive 200% deposit match (deposit $50, bet with $150).
---
The Astros secured Game 1 of this series behind seven shutout innings from Justin Verlander and now have the opportunity to take a commanding lead with their other Cy Young Award candidate, Gerrit Cole taking the mound.
Yesterday's fifth inning ultimately overshadowed the game for most bettors, as Brandon Lowe dropped the ball in right field with two outs, two aboard and the Rays pitching – scoring two runs for the Astros.
That 4-0 lead swung the total for the first five innings (3.5) and, ultimately, the game (7.5) with a 6-2 final. The score was 0-0 after the top of the fifth inning.
But another pitchers' duel potentially sets up in Game 2, as Cole will take on the reigning AL Cy Young winner Blake Snell, who remarked before Game 1 that he loves, "being the underdog."
Snell, is installed as the second-largest underdog in MLB postseason history against the World Series favorite, offering considerable betting value on this game.
The Starters 
Blake Snell has had a weird year.
In April, he broke a toe while moving furniture and missed a couple of starts. Then he came back and struggled a bit, and people wondered what was wrong.
But Snell bounced back, posting a 1.64 ERA from late June and into July, before landing on the injured list to have arthroscopic surgery on his pitching elbow.
He returned in September, throwing six total innings over three starts, but at a decreased velocity (94.7 mph) from before the surgery (95.7 mph)
Can you trust him on Saturday?
Snell has gotten his pitch count up over 60 already and seems set for 80 pitches or more on Saturday night, but he needs to be efficient with those offerings to get deeper into this start.
There's no doubt that he has been unlucky to a degree in posting an ERA over 4.00.
His BABIP (.343) is more than 100 points higher than in 2018 when he was lucky to post a sub 2.00 ERA, and that number should regress towards league average: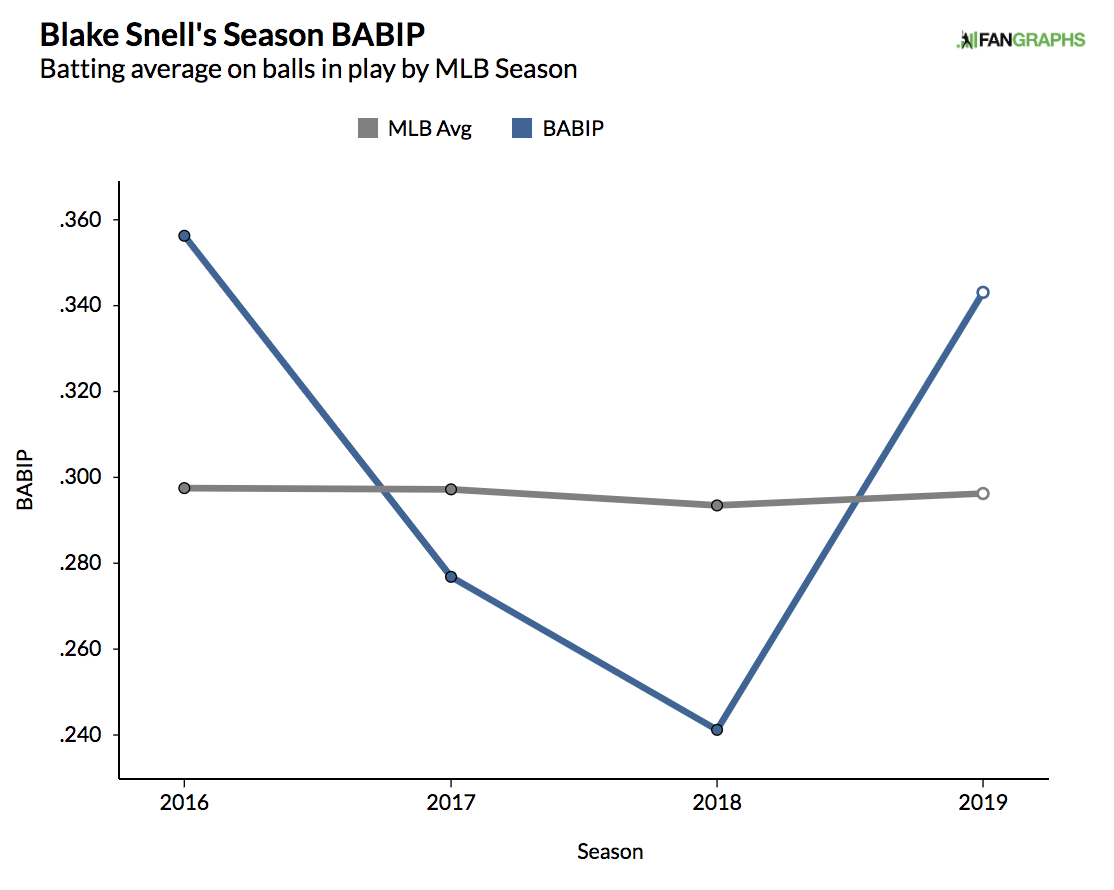 Snell improved his strikeout-ability in 2019, increasing his swinging-strike rate by 2.6%, and his overall profile continues to grow: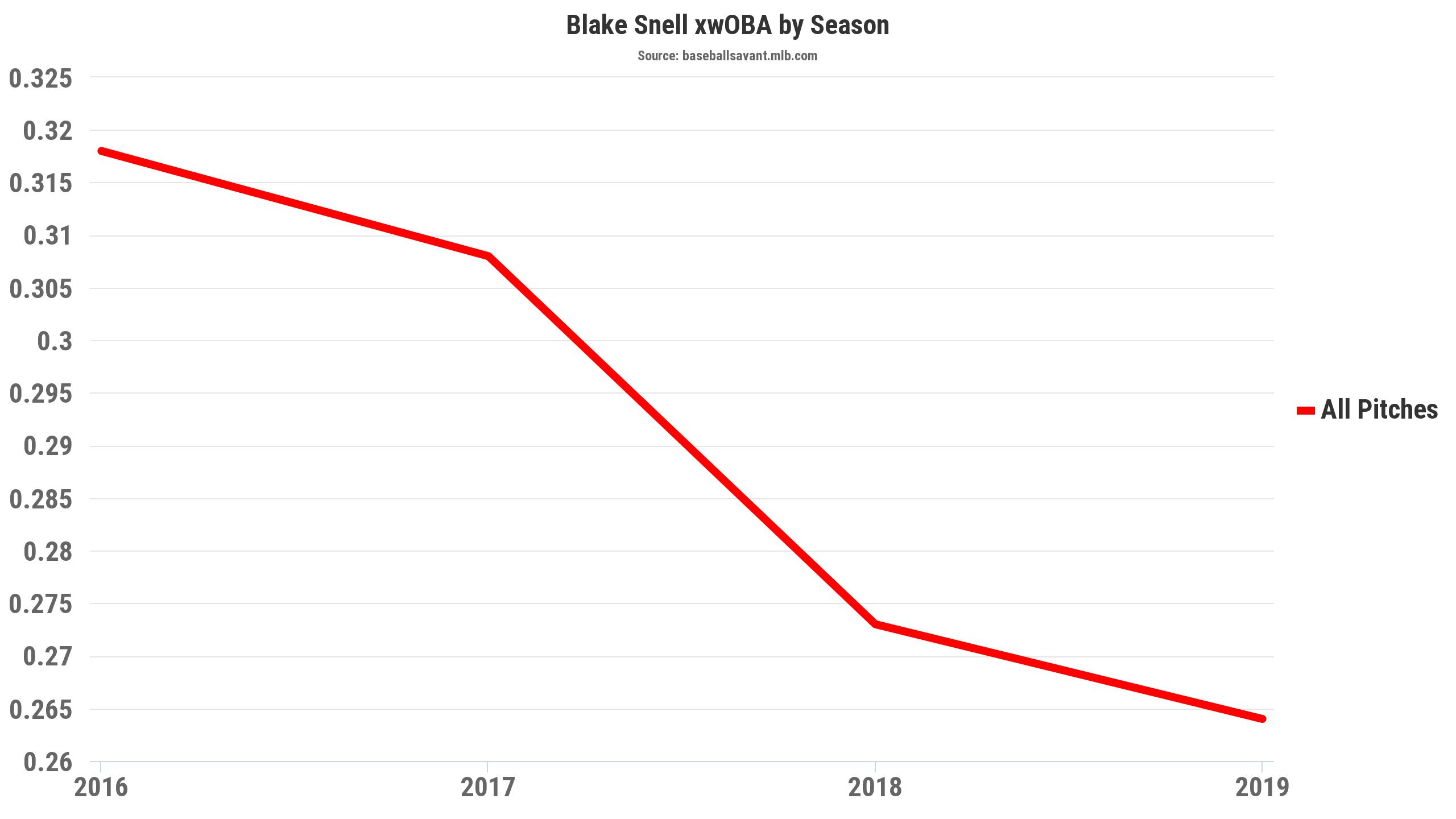 Snell posted a .246 wOBA in 2018, but his xwOBA was .273. His actual wOBA is .304 this season, but the xwOBA has decreased further to .264; another sign that he has been unlucky.
As far as pitch mix, you primarily get the four-seam fastball, curveball, and changeup from Snell, with some sliders mixed in.
Snellzilla  is one of the best pitchers in the game, and there's a reason to believe that he improved this season, despite having worse stats, after his Cy Young campaign:
The obvious concerns?
A decrease in fastball velocity since the surgery: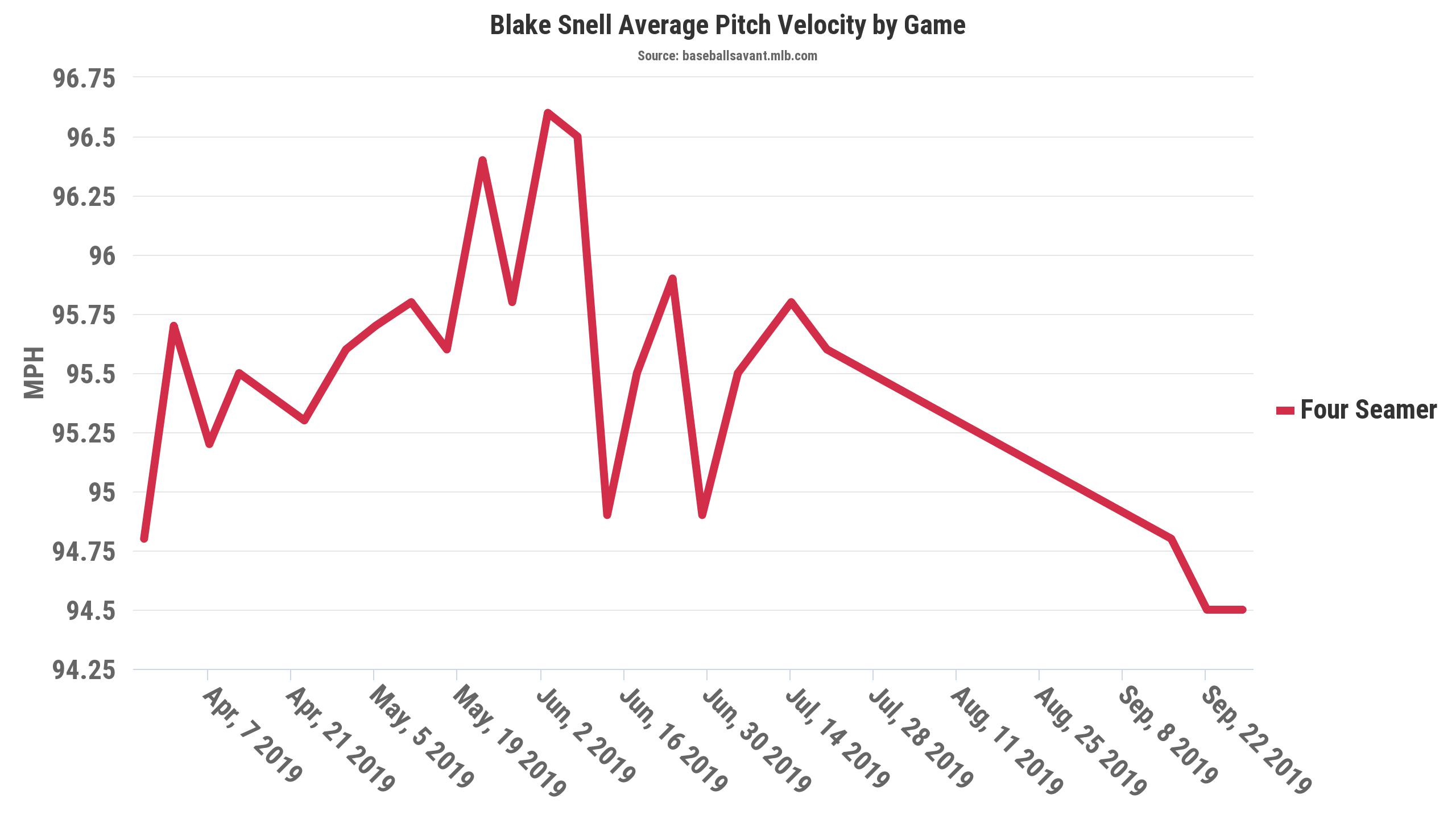 And the fact that the Astros crush lefties, with the best wRC+ (131) against left-handed pitching dating back to 2005.
As for Gerrit Cole, there's not much on the surface that I can tell you that you probably don't already know, so let's dig deeper.
He leads the American League in both FIP and xFIP, and struck out more than 300 hitters by increasing his swinging strike rate to 16.8% this season.
His fastball (97.2 mph), the second-fastest behind Noah Syndergaard, and was the most valuable pitch in baseball this year:
The most significant change that Cole has made since joining the Astros is the elimination of his sinker, and his performance has gotten better the less often that he throws the pitch: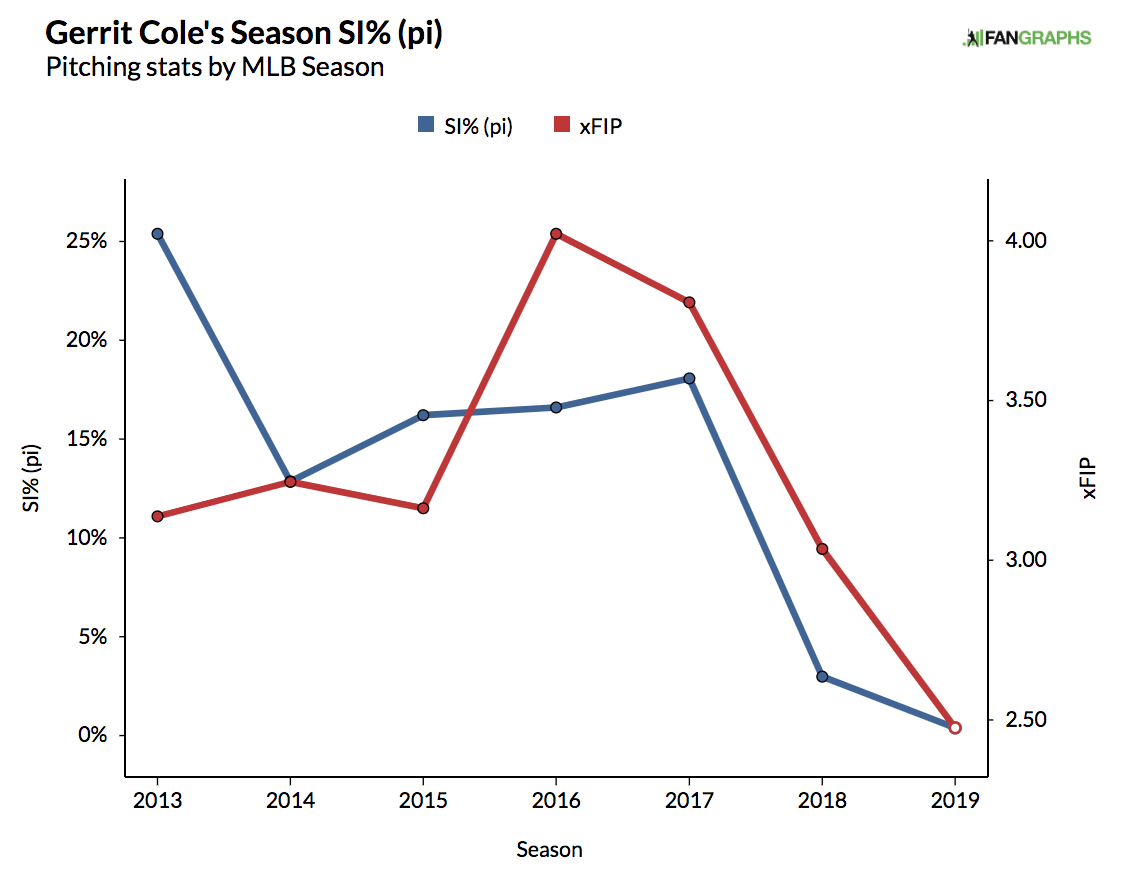 It's not as though his sinker is so terrible compared to average – he still throws the thing over 96 mph –  it's just substantially worse than his four-seam fastball, changeup, curveball, or slider – and it is more optimal for Cole to use those offerings instead.
The Bullpens
On the season, the Astros bullpen ranks 11th in FIP, 1st in xFIP, and 1st in K-BB%. By the same metrics, the Rays rank 1st, 3rd, and 2nd.
Oliver Drake (22 pitches) and Chaz Roe (25 pitches) should be at the back of the pecking order for the Rays after going in Game 1.
Ryan Pressly (18 pitches) from the Astros both looked a bit shaky, and I don't expect to see him in Game 2.
Will Harris (8 pitches) and Roberto Osuna (12 pitches, two strikeouts) sealed out the Game for Houston, and both should be available once again.
Projected Lineups
Data per FantasyLabs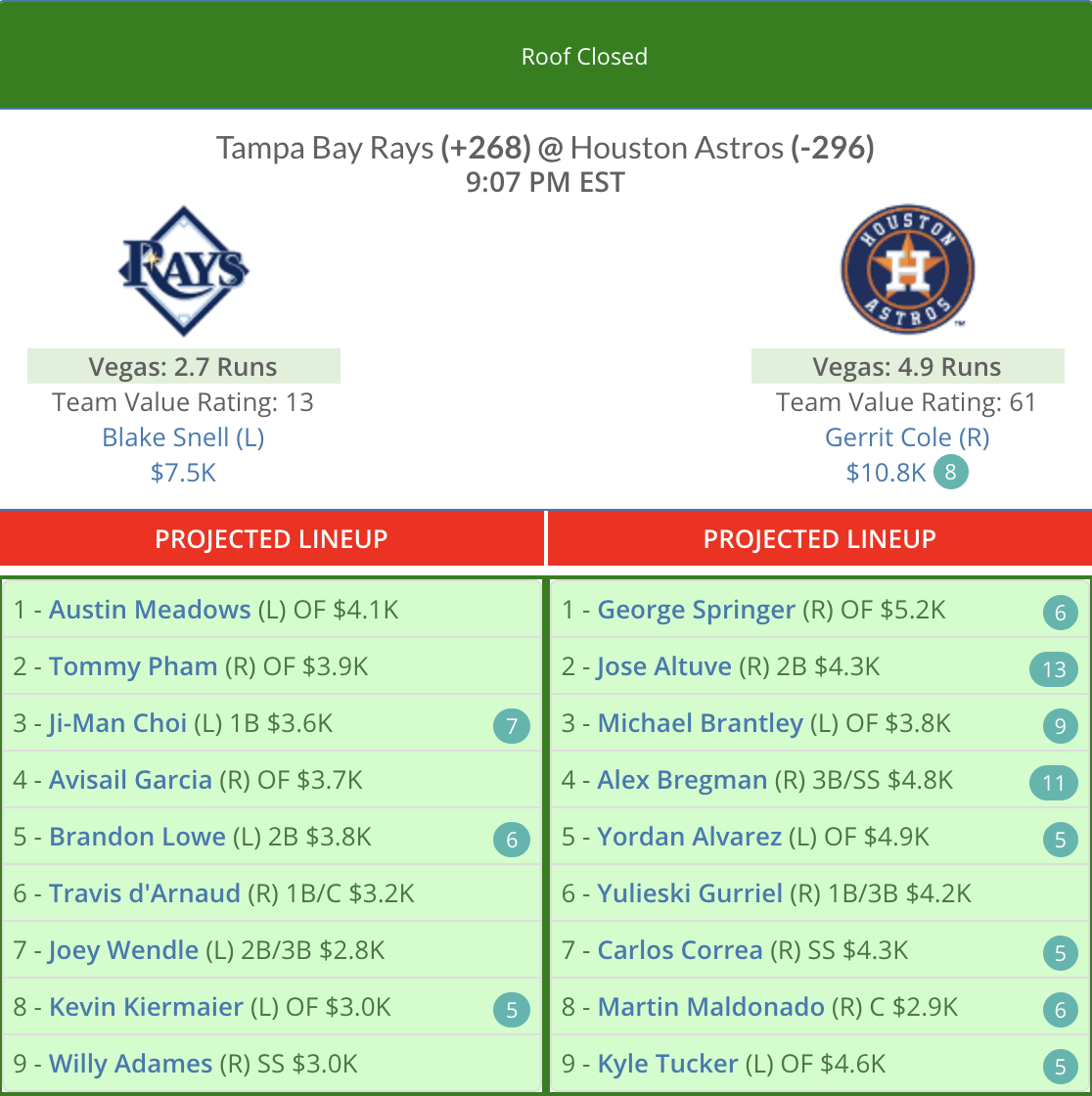 Umpire and Weather Report
Data per Sports Insights

Trends to Know
Minute Maid Park is the most profitable park in baseball to bet the under, with a 53.3% lean dating back to 2005; netting a $100 bettor over 49 units.
Postseason underdogs receiving 50% or less of the moneyline bets are 180-190 (48.6%) dating back to 2005; netting a consistent $100 bettor +$4,562 (12.3% ROI).
Between Gerrit Cole and Blake Snell, the under is just 57-58-6 (49.6%) over the past two seasons.
Cole is 39-16-13 (70.9%) on the F5 moneyline over the past two seasons but has only netted a consistent $100 bettor +$111.
Blake Snell is 29-17-10 (63%) but has posted a profit of +$387.
Model Projected Odds
Favorite Bet
I projected the Astros as a -182 favorite in this game, and I set the total at 6.03 runs. Therefore, I see considerable value on both the Rays moneyline and the under. 
A listed moneyline of +260 implies that the Rays win this game just 27.8% of the time, 7.6% less than my projection. But some publicly available forecasts tend to agree with my number. 
FiveThirtyEight is the lowest on the Rays chances, coming in at 31% – which would make the Rays a +223 underdog. 
FanGraphs projected the Rays with a 35.4% win probability – precisely the same projection as my own.
I split up just over two units on this game into six different bets – taking the under in both the first five innings and the full game at a half unit each. I would play them, at the lowest, to 4 (-110) and 7 (-110), respectively. 
But I also played the Rays in four different ways, hitting the game moneyline twice at different prices, and playing both the F5 moneyline and game spread; with each bet for a quarter unit at plus-money.
I also see some value on the F5 spread (0.5, +160), and thought about putting more on both moneyline, but I think I have already made all the bets that I want to in this one.
Remember, the Astros are exceedingly likely to win, but the Rays offer substantial value compared to what the market says that their chances are.
How would you rate this article?