Astros vs. Rays Betting Picks, Predictions & Odds: Will Rays Send This Series Back to Houston?
Credit:
Thomas B. Shea, USA Today Sports. Pictured: Diego Castillo
The betting odds for Astros-Rays Game 4 opened with Houston listed as a huge favorite (-240 moneyline odds) and the Raybon at +210 underdogs. The over/under for the game opened at 7.5.
The odds have moved a bit in Tampa's favor, but are the Rays worth a bet?
Our MLB expert Sean Zerillo picks out his favorite wagers for Game 4.
Astros vs. Rays Game 4 Betting Picks, Odds & Predictions
Probable starters: Justin Verlander (21-6, 2.58 ERA) vs. Diego Castillo (5-8, 3.41 ERA)
Astros odds: -260
Rays odds: +205
Over/Under:  7.5
First pitch:  7:07 p.m. ET on FS1
Odds as of Tuesday morning. Check out PointsBet, where Action Network users get an exclusive 200% deposit match (deposit $50, bet with $150).
---
The Tampa Bay Rays first utilized an opener in May of 2018, deploying Sergio Romo as their starting pitcher, in name only, three times in five days.
In a copycat league, other teams have followed suit in the time since – with the Angels, Brewers, Mariners, Yankees, and other teams opting for a bullpen arm to face the best hitters at the top of the opposing lineup, before bringing in a "bulk" pitcher to turn that lineup over.
It seems fitting that the Rays would need to deploy an opener at some point in their first playoff appearance since introducing the strategy, and they'll turn to Diego Castillo, Yonny Chirinos, Ryan Yarbrough and the rest of their bullpen to keep their 2019 season alive.
Can they put together a pitching staff, for one game, that can go toe-to-toe with Justin Verlander?
The Starters 
After winning Game 1, allowing just one hit over seven shutout innings, Justin Verlander has defeated the Rays three times this season; permitting one run against 21 strikeouts in 19 innings.
Before Game 1, I highlighted some things to watch with Verlander
A dominant strikeout-to-walk ratio; first amongst starters with a rate of over 7.5 since he joined the Astros.
A hard contact/home run issue, due to a 38% ground-ball rate and the fact that his HR/9 and HR/FB rates have regressed towards league average.
His dominant four-pitch arsenal, including his signature fastball/slider combination
Verlander has increased his swinging-strike rate with the Astros, especially in 2019, by throwing fewer fastballs in exchange for more breaking pitches:
He has decreased his fastball usage by more than 10% over 2018 while increasing his combined curveball and slider usage by a similar amount.
As a result, some of his place discipline metrics have never been better: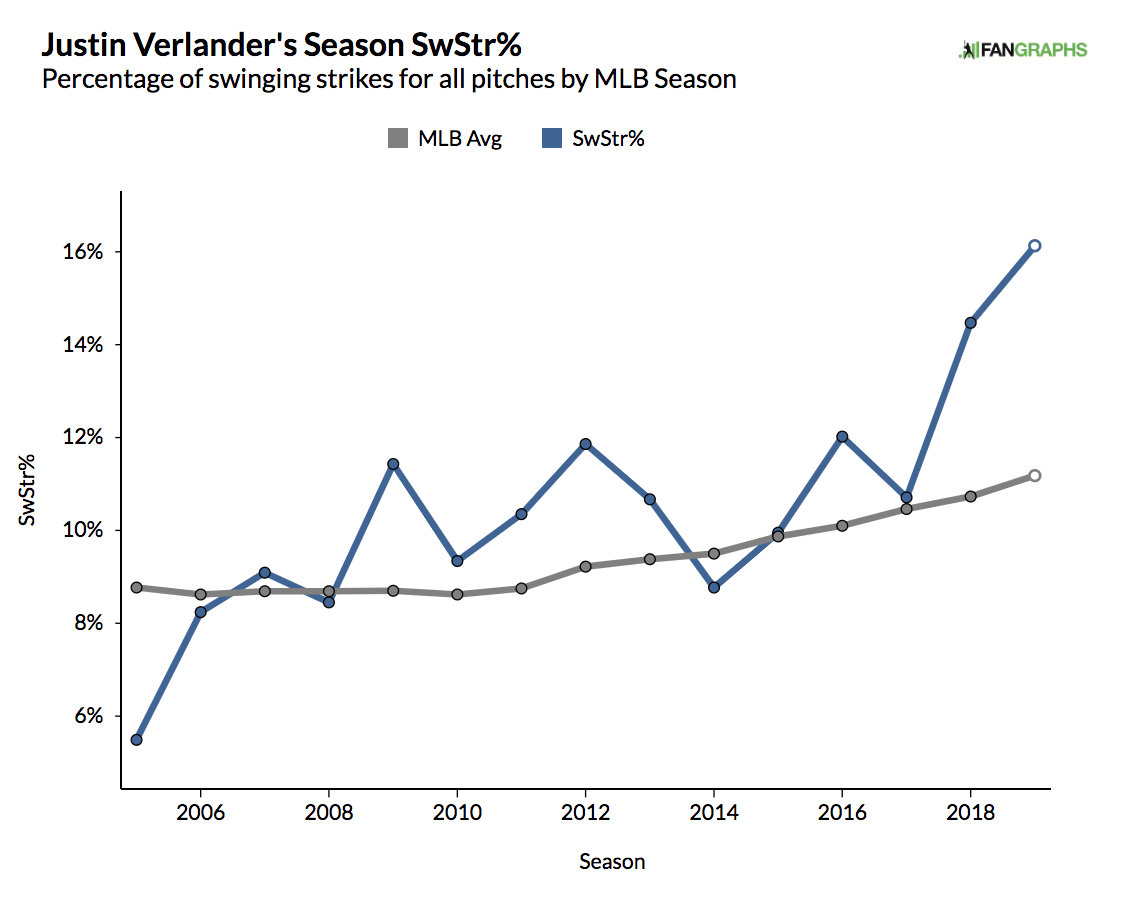 Verlander recorded 17 called strikes, and 14 swinging strikes against the Rays in Game 1, which while great, also pales in comparison to the 14 called strikes and (whopping) 34 swinging strikes generated by Gerrit Cole in Game 2.
Verlander isn't invincible, but he's exceedingly difficult to beat, and he has not allowed more than four earned runs in his past 47 starts.
However, he's also starting on short rest for the first time in his career.
We don't know how that will affect Verlander necessarily, but in the 10 starts this season where he pitched at reduced velocity, his ERA was 0.33 runs higher than his season-long ERA.
The last pitcher as old as Verlander to start on short rest in the playoffs and win? Andy Pettitte, in the 2009 World Series against the Phillies.
At the start of the game, the Rays will counter Verlander with Diego Castillo, who threw 21 pitches in Game 2.
The role-flexible right-hander is one of my favorite pitchers in baseball because he is insanely intense on the mound, and possesses some of the most electric stuff of any pitcher:
A tailing 101 mph fastball in on the hands of a right-handed hitter, followed by a 91 mph slider that dives, late, towards the left-handed batter's box. As a hitter, all you can do is guess at what's coming next.
Castillo struggled a bit earlier in the season but regained his form during the second half – posting a 2.88 ERA (2.89 FIP) with a 61% ground-ball rate and a 43:10 strikeout-to-walk ratio over his final 34.1 innings.
He throws three pitches, a two-seam fastball (36.3%, 98.4 mph), that wicked slider (51.4%, 88.9 mph), and a four-seam fastball (12.3%, 98.5 mph), with the breaking pitch grading out as a plus offering.
Amongst qualified relievers, Castillo ranked ninth in slider usage this season and 13th in slider value.
The pitch works just as well on left-handed hitters as it does against righties:
I wouldn't expect to see Castillo work more than a couple of innings at the top of this game, but he could close for most teams – and you're getting a pitcher who projects for a similar FIP as Verlander in the first two innings of this contest.
His batted ball data (expected average, expected slugging, xwOBA, xwOBA on contact) ranks in the top eight percent amongst all pitchers.
The Bullpens
On the season, the Astros bullpen ranks 11th in FIP, 1st in xFIP, and 1st in K-BB%. By the same metrics, the Rays rank 1st, 3rd, and 2nd.
The Astros used Wade Miley for 2.2 innings (63 pitches) on Monday to save the majority of their bullpen.
Roberto Osuna and Will Harris have each had a couple of days off after pitching in Games 1 and 2, and Josh James, Hector Rondon and Joe Smith each saw their first action of the series on Monday.
Only Miley should be unavailable on Tuesday.
Everyone will be available for the Rays in an elimination game, but Oliver Drake (two innings, 25 pitches on Monday) will likely be close to the bottom of the pecking order.
I would expect to see Yonny Chirinos (3.85 ERA, 4.44 FIP, 4.10 xFIP) and Ryan Yarbrough (4.13 ERA, 3.55 FIP, 4.24 xFIP) follow Castillo as part of the Rays makeshift pitching staff for Tuesday.
Chirinos is a righty splitter-specialist, owns reverse splits; meaning that he is more effective against left-handed hitters.
The Venezuelan has a terrific command (1.55 BB/9) and three above-average pitches (sinker, slider, splitter), and was extremely useful pitching out of both the rotation and the bullpen for the Rays this season:
Ryan Yarbrough saw his ERA take a step back in 2019, rising from 3.91 to 4.13; but his FIP improved by over a half of a run, from 4.19 to 3.55.
The lefty cut his walk rate in half while maintaining the rest of his skill-set, increasing his whiff rate along the way too: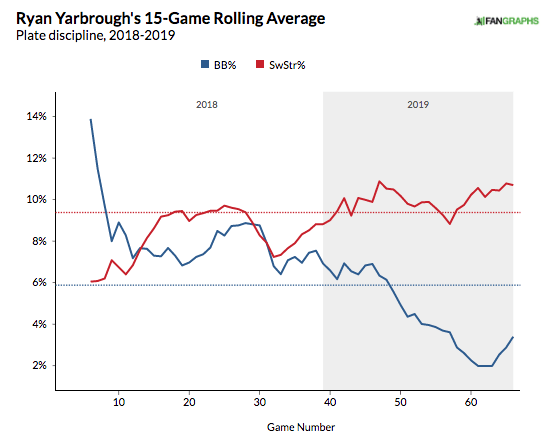 Yarbrough has amongst the slowest fastball in MLB (88.2 mph), which gets hit hard; and he relies on his cutter (37%), changeup, and slider (all of which display above-average pitch value) to generate outs.
Unlike Castillo, Yarbrough's stuff will not wow you – but he's a capable innings-eater and a substantial change of pace from the rest of this staff's high-octane nature.
Projected Lineups
Data per FantasyLabs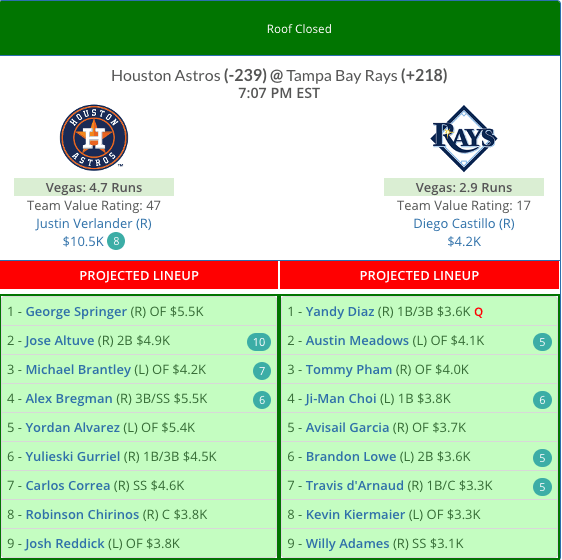 Umpire and Weather Report
Data per Sports Insights
Tropicana Field in Tampa Bay is a closed dome, so the weather will not be an issue.
Closed domes generally lead to fewer runs, and the Trop is no exception.
The Under is 626-547 -60 (53.4%) at Tropicana Field since 2005; suitable for a profit of +$3,423 for a consistent $100 bettor.
Umpire James Hoye looks set to work behind the plate, and he also as a historical lean to the under at 221-192-21 (53.1%, +$1,412) – but he has only served as the home plate umpire in two postseason games.
Trends to Know
The Under is 12-4 in postseason games at Tropicana Field.
The Rays are the most profitable home underdog in our database, with a 183-190 record (49.1%), generating a consistent $100 bettor +$3,726 (10% ROI).
Over the past three seasons, the Rays are 42-28 (60%, +$2,450) as a home underdog – suitable for a 35% return on investment.
Justin Verlander is 15-10 (60%) on the moneyline in postseason games and 10-3-8 (76.9%) on the F5 moneyline.
The Under is just 12-13 in those contests, but 45-24-3 (64.2%) in Verlander's regular-season starts with the Astros.
The Rays are 13-4 in contests where Diego Castillo has served as the opener.
Model Projected Odds
Favorite Bet
I projected the Astros as a -178 favorite in this game, and I set the total at 6.61 runs. Therefore, I see value on the Rays moneyline, and also some value on the Under. 
At listed odds of +205 (implied 32.8%), I see a gap of more than 3% in expected value between my projection (36%) and the probability implied by oddsmakers.
I think that any moneyline bet on the Rays, at plus money, provides actionable value.
And that also applies to their first-half moneyline, where I show Tampa Bay with a 38.8% chance – implied odds of +165.
At listed odds of +213, I see an expected value gap of nearly seven percent between my projection and the implied probability (31.9%).
Due to Verlander's F5 dominance in the playoffs (76.9%), I only risked a quarter unit on the Rays F5 moneyline; but I also played a half unit on their full-game moneyline and a half unit on the under 7.5.
How would you rate this article?