Astros vs. Yankees Game 1 Betting Picks, Odds & Predictions: Will Greinke Rebound From Poor Start?
Credit:
Brad Penner, USA Today Sports. Pictured: Masahiro Tanaka
Astros vs. Yankees Betting Picks, Odds & Predictions for Game 1
Probable starters: Masahiro Tanaka (11-9, 4.45 ERA) vs. Zack Greinke (18-5 2.93 ERA)
Yankees odds: +140
Astros odds:  -165
Over/Under:  9
First pitch:  8:08 p.m. ET on Fox
Just like we all expected since the beginning of the season, the 107-win Astros and 103-win Yankees will play a seven-game series to decide the AL Pennant.
Houston won the regular-season series 4-3 (39-37 run differential) but was pushed to five games in the ALDS by the Tampa Bay Rays – and don't have their starting pitching set up as intended for this series.
Meanwhile, the Yankees swept aside the Twins in the only divisional series matchup that didn't go the distance. They last played on Oct. 8, providing their bullpen with plenty of rest coming into this series.
Can that Yankees bullpen and their incredibly patient and powerful offense help MLB's most famous club advance to its first World Series since 2009, or will Houston's starting pitching advantage prove too much to overcome for the AL East champions?
---
Odds as of Saturday morning and via PointsBet, where Action Network users get an exclusive 200% deposit match (deposit $50, bet with $150).
---
The Starters
Zack Greinke was roughed up a bit on the road in Game 3 against the Rays, allowing six runs and three homers in less than four innings.
Consider it an unusual outing. Greinke was just as steady over 10 regular season starts with the Astros (8-1, 3.02 ERA, 3.28 FIP, 3.72 xFIP) as he was through July with Arizona (3.19 FIP, 3.75 xFIP).

He also struck out five Rays in the outing, and just had some unfortunate luck with the longball:
Before that ALDS Game 3, I highlighted the following things about Greinke:
Elite command – with the third-lowest walk rate in MLB
Ability to limit hard contact despite a slow fastball (12th percentile in velocity)
Attacks the zone early (67% first-pitch strikes, 7th in MLB)
Induces swings outside of the zone (33%) just as frequently as Stephen Strasburg)
His defensive prowess (five gold gloves)
And frustratingly slow curveballs (70 mph)
Greinke is also a thinking man's pitcher, and he is the complete package as a result.
He's in a good spot coming off of that poor outing in Tampa Bay – where even the mighty Astros had no business being listed as a road favorite against Charlie Morton.
Current Yankees own a .233/.287/.358 (.645 OPS) triple-slash line against Greinke over 159 at-bats.
His ability to manipulate speeds and place the ball where he wants to could prove an effective antidote for this record-breaking Yankees offense:
Matching up with Greinke will be Masahiro Tanaka, a surprise choice over James Paxton for Game 1.
Before Game 2 of the ALDS, I mentioned the following things about the Japanese righty's 2019 season:
A decline in swinging-strike rate (dropped by 4% over 2018)
A two-year decrease in fastball velocity and strikeout rate
Steady marks in ground-ball rate (47%) and walk rate (5.3%-5.5% over three years)
His slider maintaining effectiveness (4th in total slider value), while his splitter lost efficiency (negative pitch value for the first time in his MLB career)
However, Tanaka had both pitches working against the Twins, generating 16 swinging strikes in five innings:
His performances have been up and down this year, but he did face the Astros twice, allowing three runs and recording four strikeouts over 12 combined innings.
That being said, current Astros batters own a .304/.356/.607 (.964 OPS) triple-slash line against Tanaka in 135 at-bats, and hope that the Yankees regret starting the righty over Paxton in Game 1.
Houston leads MLB in wRC+ against both righties (123) and lefties (125), so handedness shouldn't have been the main differentiator.
The Bullpens
On the season, the Astros bullpen ranks 11th in FIP, 1st in xFIP, and 1st in K-BB%. By the same metrics, the Yankees rank 9th, 4th, and 6th.
Here's how each bullpen performed in the divisional round:
Yankees: 13.1 IP, 2.06 ERA, 1.29 WHIP, 7 BB, 16 K
Astros: 13 IP, 4.15 ERA, 1.82 WHIP, 5 BB, 13 K
The Astros bullpen recorded one fewer out in two additional games, thanks to some big efforts from Gerrit Cole and Justin Verlander.
Meanwhile, the Yankees deploy their bullpen early and often, but they will need to save some bullets for Game 4 when they likely go with a bullpen game against Houston.
Both bullpens should be well-rested coming into this series. The Yankees have had four days off, and all of the Astros pitchers except for Roberto Osuna have had three days worth of rest.
Projected Lineups
Data per FantasyLabs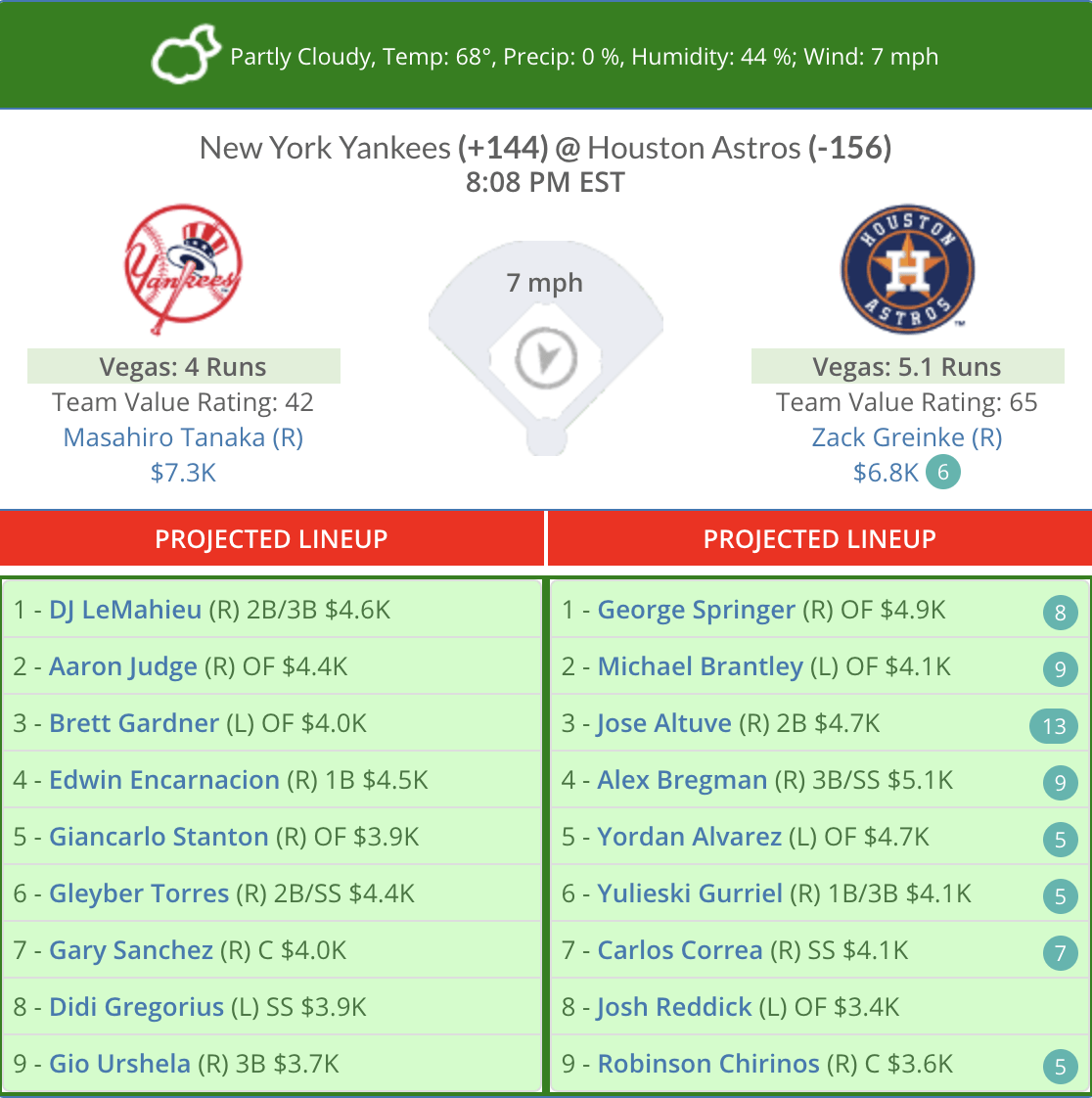 Stadium and Weather Report
Data per Sports Insights
The last time that the Astros played a playoff game at home with the roof open was in 2005, and the dome will be closed on Saturday night.
Minute Maid Park is the second-most profitable park for unders in our database at 627-552-58 (53.2%), generating $4,710 for a consistent $100 bettor. Unders are 11-13-2 in the postseason, however.
Trends to Know
Unders went 41-38-5 (51.9%) in Astros home games this year. But the Yankees have crushed totals away from Yankee Stadium – posting a 50-29-3 (63.3%) record to the over, suitable for a profit of +$1,934 betting $100 per game.
In Games 1 and 2 of all seven-game postseason series (divisional round or further) dating back to 2015, home teams are 47-18 (72.3%). 
Home favorites are 37-12 (75.5%) in those games, while underdogs are 10-6 (62.5%).
Over the past six seasons, since Masahiro Tanaka entered MLB, he is the fifth most profitable pitcher on the F5 moneyline with an 89-47-26 record (65.4%, +$1,794, 11.1% ROI). That includes a 15-6-4 (71.4%, +$1,180) record as an underdog.
Zack Greinke ranks ahead of Tanaka – third in F5 moneyline profitability in the same span – at 107-54-27 (66.5%, +$1,885, 10% ROI), including a 91-49-19 (68.9%) mark as a favorite.
Dating back to 2015, Greinke has been the most profitable pitcher to back as an F5 moneyline favorite.
Series Moneyline Corner
I projected the Astros as a -163 favorite in this series, an implied probability of 62%.
Oddsmakers opened the Astros as -160 series favorites, and they have been bet up to -175 with the Yankees currently listed around +155; so I don't see any series moneyline value on either team as of yet.
If the Astros lose the opening game in this series, I would still project them as +133 underdogs (implied 43%) to win four out of the final six games. 
If they hold serve in Game 1, the Astros become a substantial favorite in my projections at -285, an implied probability of 74%.
As a result, the Yankees stand to gain 19% in series win probability with a Game 1 win but would only lose 12% in series win probability with a loss.
Model Projected Odds
Favorite Bet
I projected the Astros as a -135 favorite in this game, and I set the total at 7.58 runs. Therefore, I see actionable value on the under, but would only lean towards the Yankees moneyline. 
I played under 9 (-115) for a half unit and would play under 9 to -120. If the total drops to 8.5, I would play the under to -105.
More than 65% of cash and tickets being bet in this game are on Over 9, making this a good spot for a contrarian under:
I need to see more line value on the Yankees before playing their moneyline.
At present odds (+140), which equate to an implied probability of 41.7%, I see a gap of less than 1% in expected value from my projection (42.6%).
I would look for a price around +155 (implied 39.2%) or better on the Yankees – an expected value gap nearer to 3.5% from my projection – if you want to bet the underdog in Game 1.
How would you rate this article?