Astros vs. Yankees ALCS Game 4 Betting Odds, Picks & Predictions: Is the Wrong Team Favored?
Credit:
Brad Penner-USA TODAY Sports. Pictured: New York Yankees right fielder Aaron Judge (99) at Yankee Stadium.
New York Yankees opened as -126 betting favorites for Game 4 of the ALCS against the Houston Astros, with the over/under at 8.
Check out updated betting odds for the matchup below, along with expert picks and predictions from Sean Zerillo.
Astros vs. Yankees Betting Odds, Picks & Predictions for Game 4
Probable starters: Zack Greinke (18-5, 2.93 ERA) vs. Masahiro Tanaka (11-9, 4.45 ERA
Astros odds:  +110
Yankees odds: -130
Over/Under:  8
First pitch:  8:08 p.m. ET on FS1
After Wednesday's rainout, the Yankees and Astros will have to finish the remainder of this ALCS without another off day, potentially traveling from New York to Houston between Games 5 and 6, if necessary.
The postponement has ramifications on strategy, particularly with regards to pitcher deployment and rest.
---
Odds as of Thursday evening and via PointsBet, where Action Network users get an exclusive 200% deposit match (deposit $50, bet with $150).
---
Both teams were initially slated to throw a bullpen day in Game 4, but the extra day puts the Game 1 and Game 2 starters back on regular rest for Thursday and Friday.
Game 4 will be a rematch from Game 1 when the Yankees flattened the Astros 7-0 in Houston behind six shutout innings from Masahiro Tanaka.
Tanaka has been quietly dominant in his postseason career, pitching to a 1.32 ERA with a 0.732 WHIP over 41 innings. Can he toss his fourth quality start in four tries against the Astros this season, and help to even this series at 2-2?
The Starters
In Game 1, Greinke bounced back but didn't fully rebound from his rough ALDS outing in Tampa Bay, tossing a quality start (6 IP, 3 R, 0 BB, 6 K), but allowing a couple of home runs to Giancarlo Stanton and Gio Urshela.
He danced out of trouble numerous times while Tanaka cruised — allowing two baserunners over six innings.
Astros hitters have a .964 career OPS against Tanaka, but he has been extremely effective against their offense in 2019 — inducing a high number of called strikes.
How has he attacked their offense?
20% of the pitches that Tanaka has thrown against the Astros this season have been called strikes.
His pitch mix against the Astros is comparable to his pitch usage against the rest of the league, demonstrating slider (39.4%), splitter (27.4%) and fastball (26.1%) dominance against Houston, as he has with all opponents: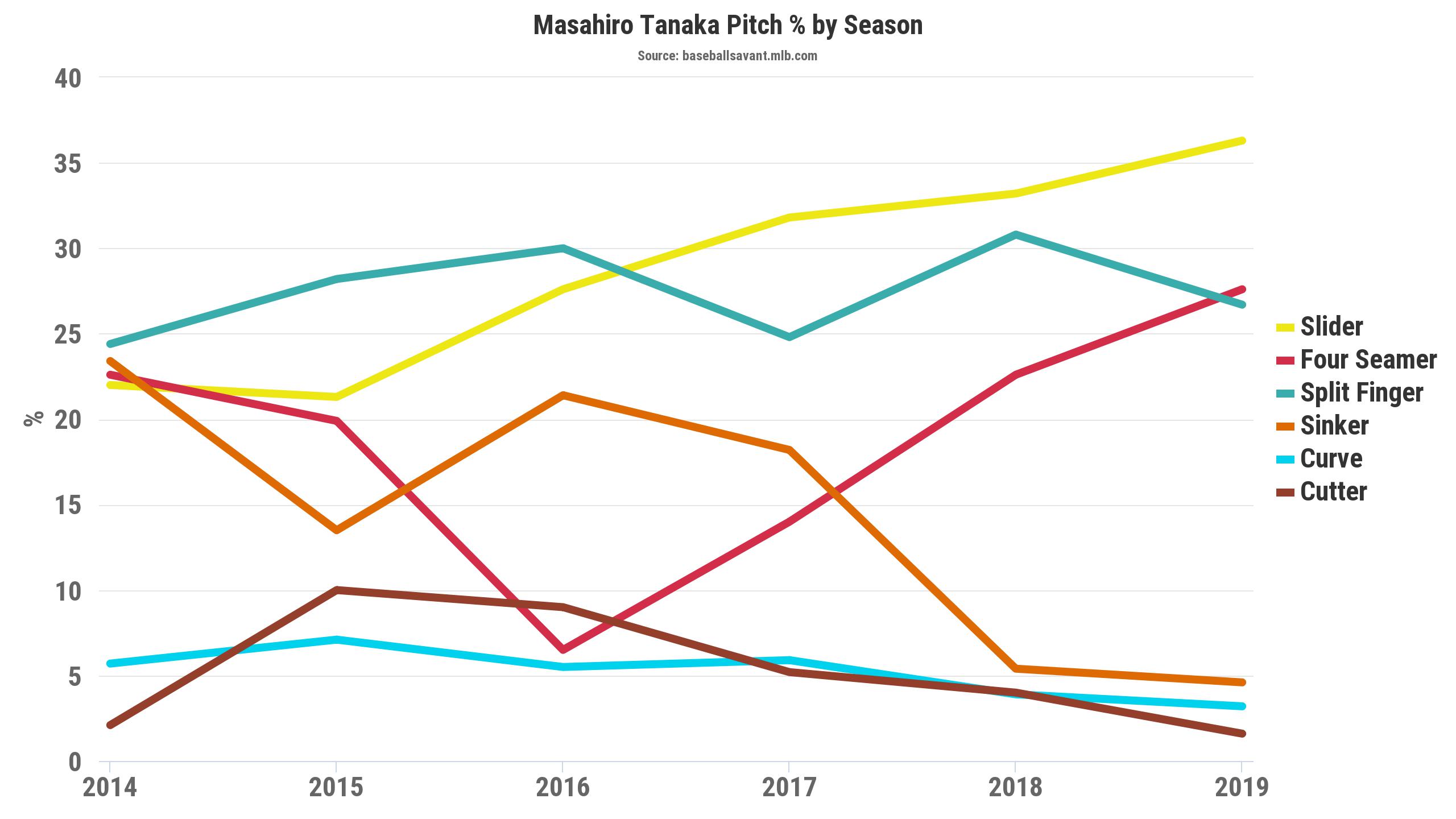 What Tanaka hasn't done is generate a significant number of called strikes against the Astros, leading to a high number of balls in play.
Before Game 2 of the ALDS, I mentioned Tanaka's four percent dropoff in swinging-strike rate this season, in addition to his declining fastball velocity.
The Astros should continue to put the bat on his pitches, but it's just a matter of whether they can square them up and make hard contact.
Tanaka doesn't hurt himself, maintaining a high groundball rate (47%) and stable walk rate, and while his splitter displayed negative pitch value this season, it has worked effectively, by design, with the slider:
Unlike Tanaka, Greinke's postseason stats leave something to be desired (3-6 record and 4.58 ERA), but he does have a 1.1 WHIP and a 70:16 strikeout to walk ratio in 76.2 innings.
He seems to be the only pitcher who has allowed home runs in the 2019 playoffs, surrendering five over 9.2 innings.
Greinke prides himself on command (third-lowest walk rate in MLB), and his ability to get hitters to chase pitches outside of the zone that looks like they're going to be in the zone.
But he hasn't been sharp in these playoffs.
Take the two extra-base knocks that Gleyber Torres had against him in Game 2.
The first is a slider targeted low and away, and Greinke hangs it middle-middle.
The second is a fastball meant for the outside corner, but Greinke leaves it middle-middle, and Gleyber makes him pay again.
Both mistakes came on the first pitch of the at-bat.
Greinke attacks the zone early, getting first-pitch strikes more than 60% of the time (ranks seventh amongst qualified starters) because he generally hits his spots.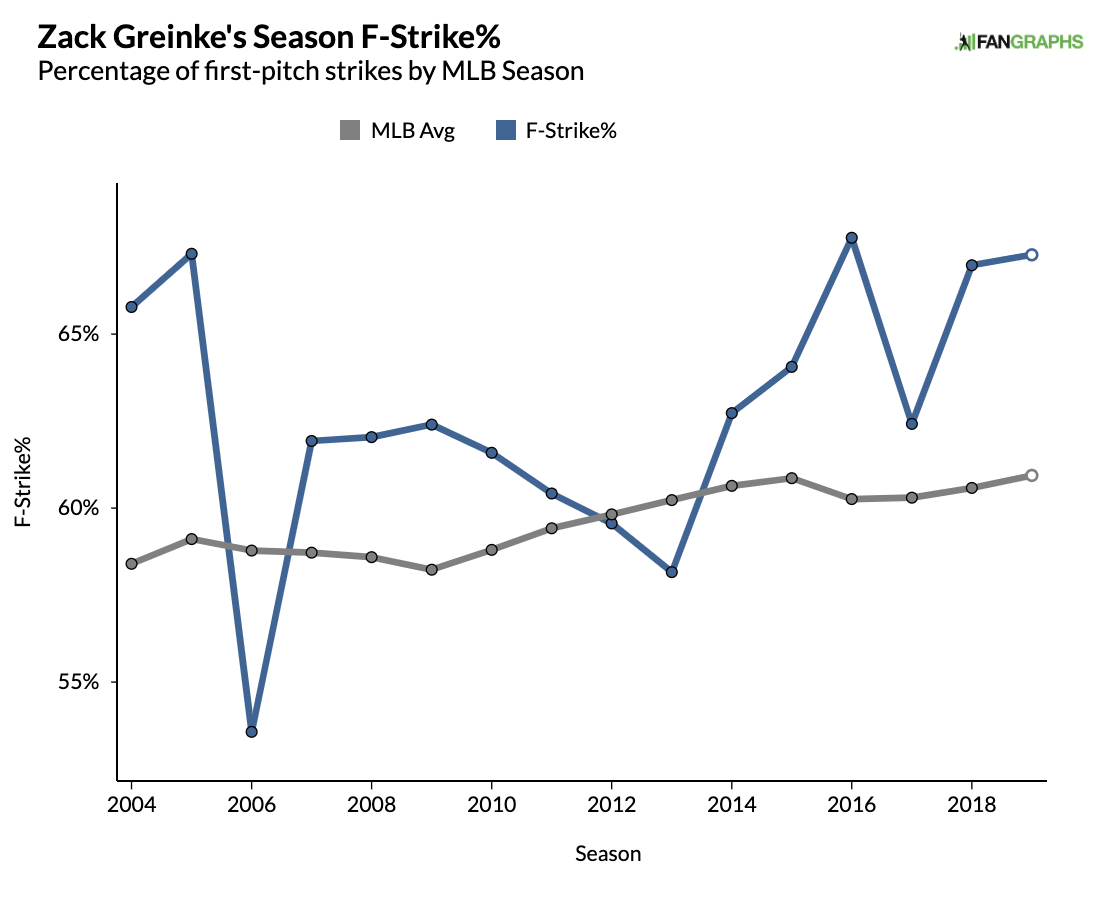 A sharper Greinke should be favored Thursday, but the public is backing Tanaka as the chalk off of the recent form.
It's hard to find a projection that doesn't see Greinke as a pitcher whose true talent is less than one quarter to one half of a run better than Tanaka in terms of ERA.
The Bullpens
On the season, the Astros bullpen ranks 11th in FIP, first in xFIP, and first in K-BB%. By the same metrics, the Yankees rank ninth, fourth, and sixth.
Having two out of the past three days to rest ensures that every reliever should be available in Game 4.
Zack Britton (40 combined pitches) is the only reliever to pitch all three games in this series, and Luis Cessa (35 pitches) worked two innings in Game 3.
Britton hasn't had a strenuous outing, however, and Aaron Boone would surely go to him again in a tight spot in Game 4.
Cessa is a prime candidate for a bulk role in a bullpen game, and Boone will be careful about when to deploy an arm that can give him the most quality innings of long relief behind an opener.
With (potentially) four games on four consecutive days, the Yankees can't afford short starts from either Tanaka or James Paxton (again).
How effectively Boone optimizes his pitching staff could determine how far the Yankees go in these playoffs, provided that they can scrape some runs together offensively against Cole and Verlander.
But if the Astros' starters continue to give them long outings, as the Nationals starters have done, it just makes A.J. Hinch's job look easy in the late innings.
Projected Lineups
Data per FantasyLabs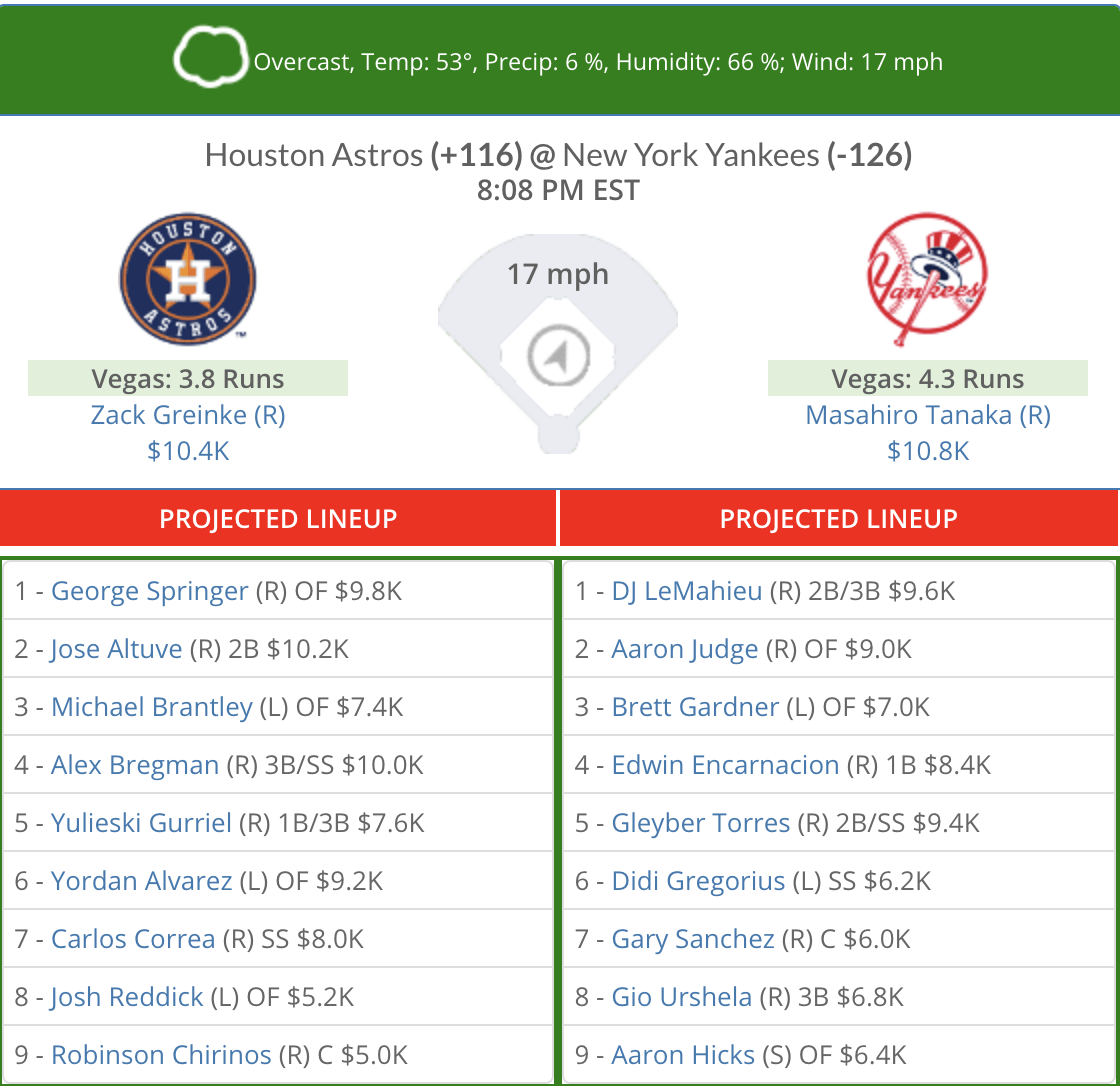 Giancarlo Stanton has missed the past two games for the Yankees with a quad injury. He was supposed to be available off of the bench in Game 3, but he did not pinch-hit.
Umpire and Weather Report
Data per Sports Insights

Umpire Jeff Nelson left Tuesday's contest with a concussion and was replaced behind the plate by second base umpire Kerwin Danley.
Dan Bellino, the first base umpire from Tuesday, is probably still set to work as the plate umpire in Game 4.
Bellino has been an MLB umpire since 2011, with a 55.5% career lean to the under (141-113-19), generating a consistent $100 bettor +$1,944 (7.1% ROI).
Trends to Know
Unders at Yankee Stadium are 45-37-2 (54.8%) in 2019 and 22-17 (56.4%) in playoff games dating back to 2005.
Yankee Stadium also had the second-lowest park factor in MLB this year.
Early action has come in on the over in this game, pushing the total up from 7.5 to 8, while signaling yet another contrarian under in this ALCS:
However, if you filter that system for wind speed (10-plus MPH) and direction (out, or to right) unders are just 70-78-6 (47.3%) and down -$1,000 for a consistent $100 bettor.
Under the same wind conditions at Yankee Stadium, overs are 39-29-6 (57.4%) since 2005, generating a consistent $100 bettor a profit of +$1,028 (13.9% ROI).
Series Moneyline Corner
Before Game 3, I noted that I would project the Astros as a -285 series favorite (implied 74%) with a win to take a 2-1 series lead.
Oddsmakers re-opened the Astros as a -300 favorite (implied 75%) before Game 4 and listed the Yankees as a +255 (implied 28.2%) underdog.
However, after the postponement, my projection on the Astros moved to -335 (implied 77%), as the bullpen game moves from Game 4 in the Bronx to (likely) Game 6 in Houston, swinging the favoritism in that matchup.
I no longer project the Yankees as the favorite in any game in this series, and I see a two percent edge on the Astros at a series price of -300 (implied 75%).
If the Astros win on Thursday to take a commanding 3-1 series lead, I project Houston as a -1329 series favorite (implied 93%) to win one out of three games to capture the AL Pennant – with Verlander and Cole each taking a turn.
If the Yankees win Game 4 to even the series at 2-2, I will list the Astros as a -163 series favorite (implied 62%).
Model Projected Odds
Favorite Bets
I projected the Astros as a -106 favorite in this game, and I set the total at 9.26 runs. Therefore, I see actionable value on both the Astros and the over.
At odds of +120 (implied 45.5%), I see an expected value gap of six percent compared to my projection (51.5%) for the Astros moneyline. Similarly, at listed odds of +117 (46.1%), my projections show a 6.3% edge against the Astros first five innings (F5) moneyline.
I bet a unit on the Astros in either half. I would recommend their F5 moneyline down to +104, and their full game moneyline down to +108. Furthermore, I put one unit on over 7.5 (-115), before the number moved to 8 across the market.
I still show betting value on over 8 up to -115, especially considering the wind and weather conditions.