Astros vs. Yankees ALCS Game 5 Betting Odds, Picks & Predictions: Will Houston Clinch World Series Berth?
Credit:
Thomas B. Shea, USA Today Sports. Pictured: Justin Verlander
The updated betting odds for Game 5 of the ACLS between the Houston Astros and New York Yankees have the Astros as -137 favorites with the over/under at 7.5.
MLB expert Sean Zerillo makes his betting pick for the matchup and shares his projections.
Astros vs. Yankees Betting Odds, Picks & Predictions for Game 5
Probable starters: Justin Verlander (21-6, 2.58 ERA) vs. James Paxton (15-6, 3.82 ERA)
Astros odds:  -143
Yankees odds: +133
Over/Under:  7.5
First pitch:  7:08 p.m. ET on FS1
Odds as of Thursday evening and via PointsBet, where Action Network users get an exclusive 200% deposit match (deposit $50, bet with $150).
---
The Yankees ended up on the wrong side of a sloppy Game 4 on Thursday which featured five errors – including two each by DJ Lemahieu and Gleyber Torres – and several other misplays which were recorded as hits.
Zack Greinke escaped first-inning trouble after a wind-aided popup single and three walks – the first time the control artist had allowed three free passes in the first frame since 2007.
But the Yankees couldn't overcome their defensive miscues or a pair of three-run homers from George Springer and Carlos Correa.
Gerrit Cole and Justin Verlander have shined in the playoffs, and now the Yankees have to beat both pitchers within three days – while also winning an additional game too.
First up is solving Verlander, who undefeated against the Yankees since joining Houston in late 2017.
The Starters
Justin Verlander has a solid playoff resume (14-8, 3.18 ERA) and has pitched exceptionally well against the Yankees (including 28 strikeouts over three ALCS starts) since his trade from the Tigers to the Astros.
James Paxton is the question mark in Game 5. The southpaw is making his third career postseason start after recording just seven outs in Game 2.
Public sentiment was that Paxton was tipping his pitches, leading to his early removal.
A similar concern underscored an early-season outing Paxton had against Houston on April 10.
The Yankees were alerted by special advisor (and former Astro) Carlos Beltran that Paxton was tipping his pitches, and Paxton changed his hand placement before his next April outing.
It's not as though the Astros haven't done this before, too.
However you feel about the Astros stealing signs or signals, there are no rules against it. They did it in Game 5 of the ALDS against Tyler Glasnow, and they'll do it again whenever their opponents offer it up on a platter:
Astros manager A.J. Hinch thinks it's amusing, remarking that, "if they don't want to tip their pitches, then they should take consideration into doing the same thing over and over again."
Aside from all of that, I'll remind you that the Astros have crushed lefties all season long, to the tune of a 123 wRC+, the best team season against southpaws dating back to the height of the steroid era (2002).
Before Game 2, I noted the following things about Paxton:
He had a deceptively poor 2019, posting his worst xFIP since 2015
Recorded a career-worst HR/9 (1.4), after becoming a flyball pitcher in recent years
Has improved his strikeout rate, due to an improved focus upon, and command over his high fastball; especially when its paired with his knuckle curve
In his June 21 start against the Astros, Paxton recorded a win, generating 12 swinging strikes on his fastball over five innings, while recording seven strikeouts:
In his other two 2019 outings against the Astros on April 10 and Game 2 of this ALCS, Paxton recorded five total swinging strikes with his fastball; allowing a combined 13 hits, six walks, and six runs in just over six innings.
Note that Tyler White, Jake Marisnick and Myles Straw hit at the bottom of that Astros lineup in that June start, in place of (at present) Carlos Correa, Josh Reddick and George Springer.
The Astros also had the lowest swinging-strike rate in baseball this year (8.6%), which can help to grind down Paxton and increase his pitch count.
One factor in Paxton's favor is that he has been significantly better at home (.281 wOBA) than on the road (.341 wOBA) in 2019. But he needs to overcome a couple of wonky playoff starts.
Justin Verlander was sharp in Game 2- with his only blemish coming on a two-run homer from Aaron Judge.
This is the third time that I have written about Verlander in these playoffs, including Game 2 of the ALCS, and both Game 1 and Game 4 in the ALDS against the Rays.
At the risk of repeating myself, here's what you need to know about Verlander's tenure with the Astros since late 2017:
A dominant strikeout-to-walk ratio, first amongst starters with a rate of over 7.5
Has increased his strikeout rate, throwing fewer fastballs (10%) in exchange for more curveballs and sliders over the past two seasons.
Increased his swinging-strike rate, from 10.7% in 2017 to 14.5% in 2018, and 16.1% in 2019 – breaking his career-high two years running.
All four of his offerings rated above average this season by pitch value – the first time he's achieved that since 2012.
Maintained a hard contact/home run issue since 2016, due to a 38% ground-ball rate and the fact that his HR/9 and HR/FB rates have regressed towards league average.
Overall, Verlander has been a significantly better pitcher since he arrived in Houston than he was before: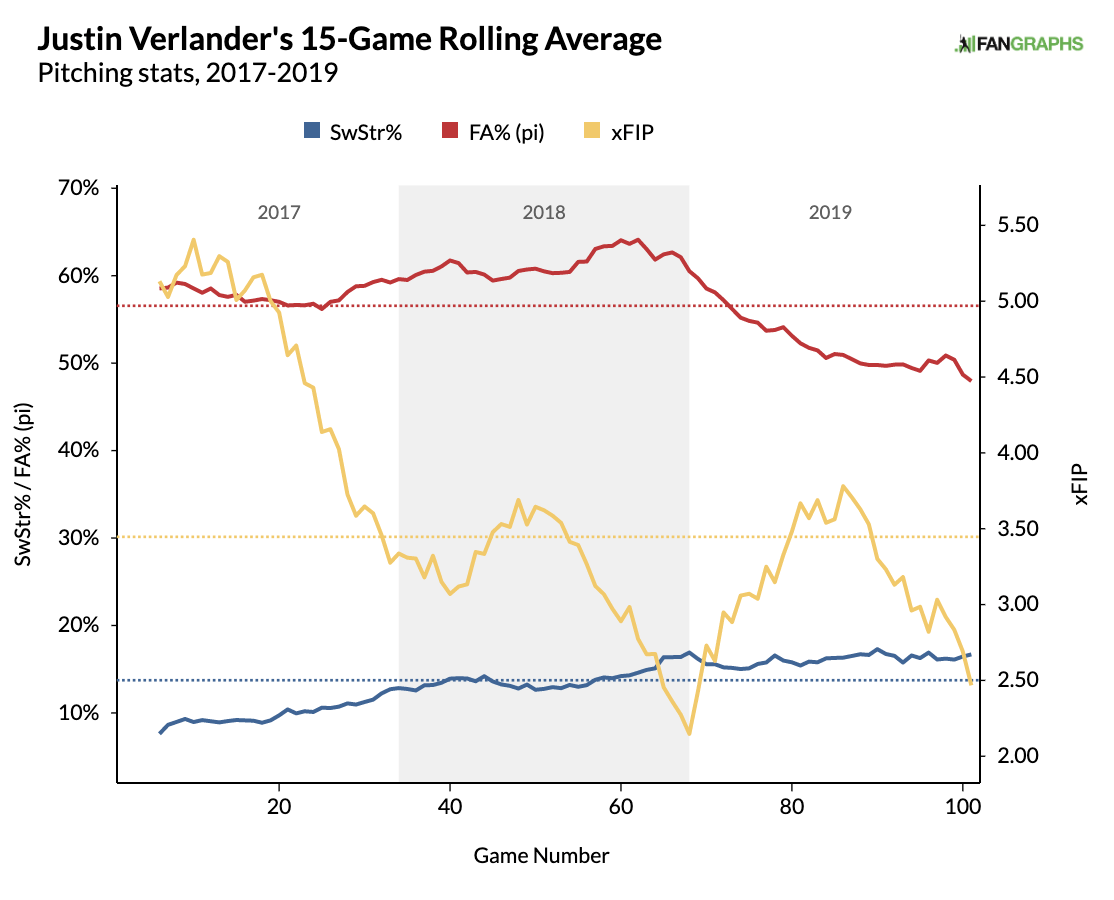 And the Yankees haven't beaten him since.
Verlander has the following line against the Yankees since his trade from the Tigers: 41 IP, 1.54 ERA, .804 WHIP, 6 BB, 56 K.
And the Yankees' offense has gone ice cold in this series:
In Game 2, Verlander generated 10 whiffs with his slider and six with his fastball; the combination which will lead to his future enshrinement in Cooperstown.
When Verlander can locate the slider low and away from right-handed hitters, he has generated whiffs on more than 70% of swings during the course of his career: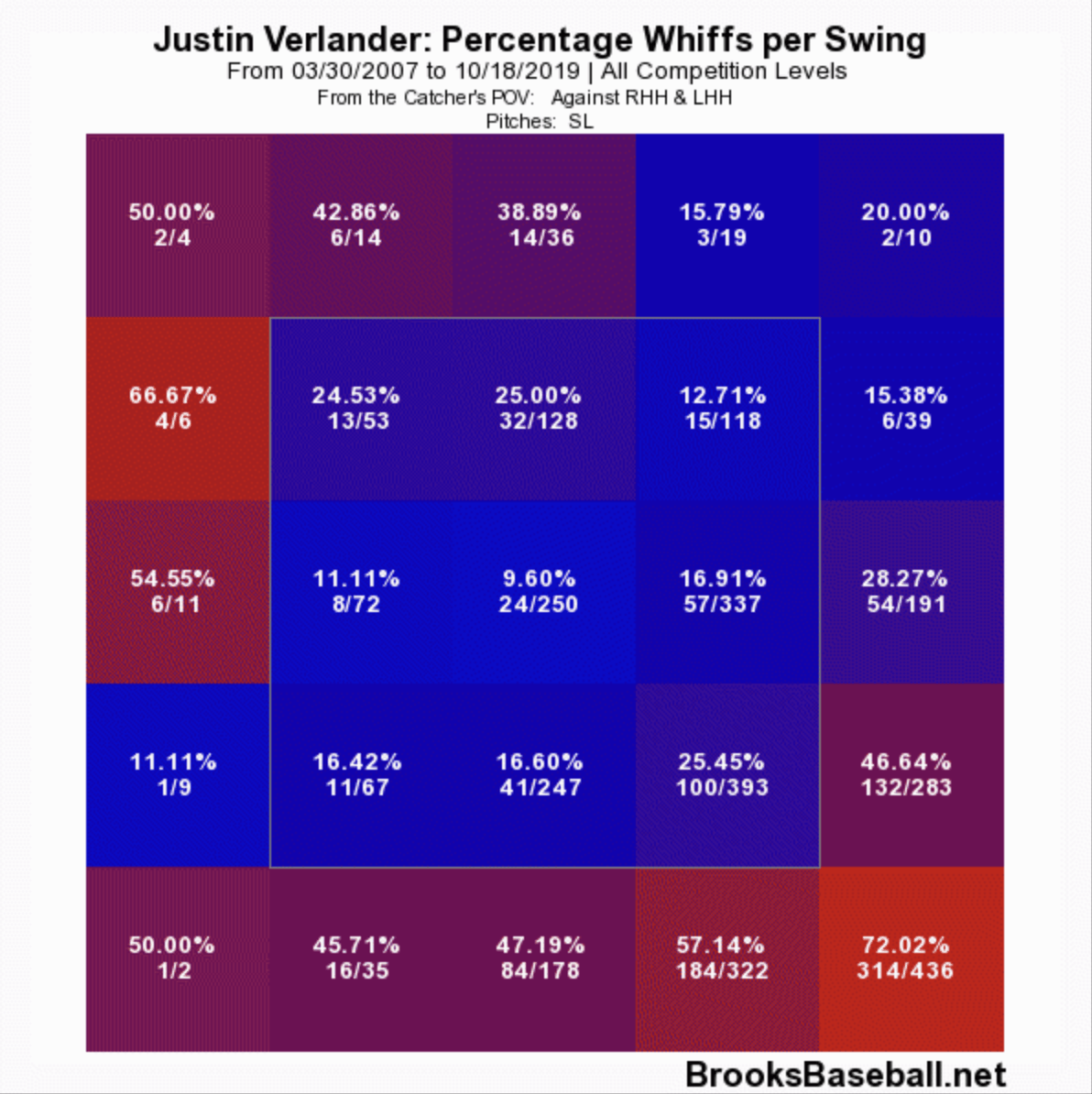 Notice how Verlander attacked Aaron Judge in the first inning of Game 2?
The Bullpens
On the season, the Astros bullpen ranks 11th in FIP, first in xFIP and first in K-BB%. By the same metrics, the Yankees rank ninth, fourth and sixth.
Both managers went to their bullpens early and often in Game 4.
The Astros used Roberto Osuna, Will Harris, Josh James, Ryan Pressly and Joe Smith each for the third time in this series.
James threw 24 pitches, and might not be available until Game 6 – especially after allowing a two-run homer to Gary Sanchez.
The Yankees used Adam Ottavino for the fourth consecutive game and deployed Chad Green, Jonathan Loaisiga, and Tommy Kahnle all for the third time in this series.
CC Sabathia left after 20 pitches with an injury and seemed likely to be replaced on the Yankees' roster.
The middle relievers are beginning to look worn down, and run-scoring should continue to increase (after the starters exit) the longer that this series goes.
Projected Lineups
Data per FantasyLabs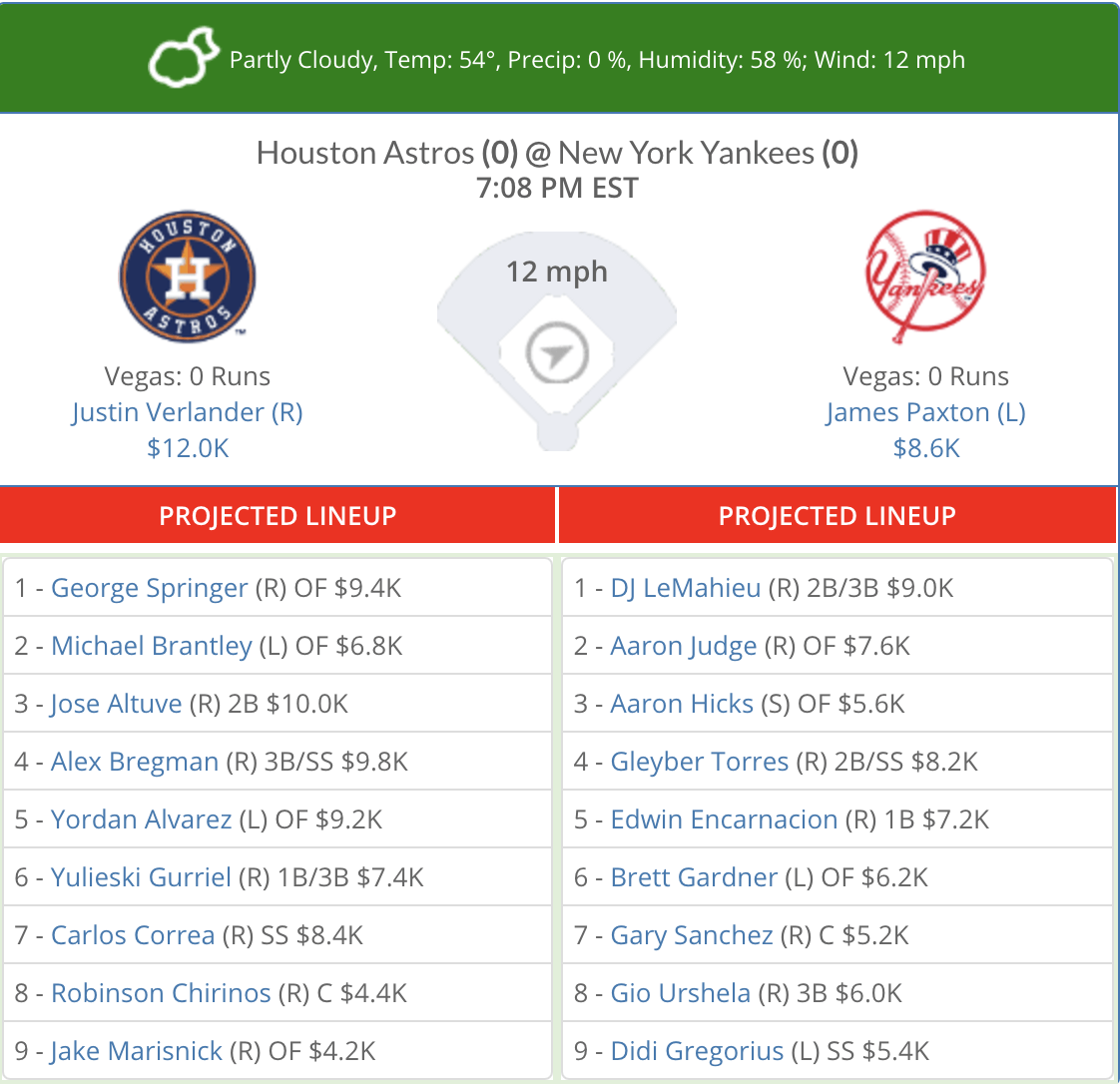 Giancarlo Stanton has missed the past three games for the Yankees with a quad injury.
He reportedly has a chance to return to game action on Friday but wouldn't be able to play the field – meaning that he could replace Edwin Encarnacion as the DH.
Umpire and Weather Report
Data per Sports Insights

Mark Carlson, the first base umpire from Thursday, is probably set to work as the plate umpire in Game 5.
Since 2005, his over/under record is nearly even, at 215-214-20 (50.1%) to the over.
But in the past two seasons, Carlson is the fourth most profitable umpire for overs at 34-19-3 (64.8%), generating a consistent $100 bettor +$1,413.
Trends to Know
Unders at Yankee Stadium are 45-38-2 (54.2%) in 2019, and 22-18 (55%) in all playoff games dating back to 2005.
The initial action is on the over, setting this game up for yet another contrarian under:
In his career, James Paxton is 69-40-24 (63.3%) on the F5 moneyline, including a 19-8-6 (70.4%) record as an underdog – good for a return of +$1,530 (46.4% ROI) in this spot.
Justin Verlander is 70-41-26 (63.1%) as an F5 road favorite overall, and 10-4-9 on the F5 moneyline in postseason games.
The Yankees are 6-5 as a home underdog in 2019, including their Game 3 loss to the Astros.
Series Moneyline Corner
Before Game 4, I noted that I would project the Astros as a -1329 series favorite (implied 93%) with a 3-1 series lead.
Oddsmakers re-opened the Astros as a -2000 favorite (implied 95.2%) before Game 5 and listed the Yankees as a +1200 (implied 7.7%) underdog.
Therefore, I don't see series moneyline value on either team, but I would see a three percent edge on the Astros at a series price of -900 (implied 90%), or on the Yankees at +2400 (implied 4%).
Even If the Yankees can extend the ALCS with a Game 5 win, I would project the Astros as a -614 series favorite (implied 86%) to win one of the final two games at home.
Model Projected Odds
Favorite Bets
I projected the Astros as a -136 favorite in this game, and I set the total at 8.29 runs. Therefore, I don't see value on either side of the moneyline or the total, with the over 7.5 juiced to -120. 
I would recommend the Astros moneyline if the number moves down to -126 (implied 55.7%), which represents a two percent gap between my projection and listed odds.
Similarly, I would recommend the Yankees moneyline if their number moves to +150 (implied 40%) or better, which represents a 2.3% gap in expected value over my projection.
On the F5 moneyline, I would set the price cutoff at -122 for the Astros (implied 54.9%) and +143 for the Yankees (implied 41.1%), with either number representing a two percent edge against my projection.
The best bet on the board looks to be the F5 over 4 (+100), as I project more than 4.5 runs in the first half of this game.
At even money, I see a 6.6% edge in expected value compared to my projection, and I placed a quarter unit on the under with the expectation that it could still go down to 3.5 – when I would hit it again.
How would you rate this article?