Cardinals vs. Braves Betting Picks, Odds & Predictions: Prepare for More Drama in Game 5?
Credit:
Jeff Curry-USA TODAY Sports. Pictured: Yadier Molina
The betting odds for Cardinals-Braves Game 5 opened at almost a coin flip: St. Louis' moneyline odds were -106, compared to -104 for Atlanta.
The latest odds haven't moved much, though the over/under has ticked down from an opener of 8 to 7.5.
See Sean Zerillo's betting picks and predictions for the over/under and moneyline in this series-deciding matchup.
Cardinals vs. Braves Betting Picks, Odds & Predictions for Game 5
Probable starters: Jack Flaherty (11-8, 2.75 ERA) vs. Mike Foltynewicz (8-6, 4.54 ERA)
Cardinals odds: -112
Braves odds: -102
Over/Under:  8
First pitch:  5:02 p.m. ET on TBS
Odds as of Wednesday morning. Check out PointsBet, where Action Network users get an exclusive 200% deposit match (deposit $50, bet with $150).
---
Game 5 is almost an exact rematch from Game 2 of this series, with Jack Flaherty facing Mike Foltynewicz in Atlanta.
The Braves won that game at home, 3-0, as a +103 underdog behind seven shutout innings from Foltynewicz.
It was a 1-0 game until the seventh inning when an overcooked Flaherty allowed a two-run homer to Adam Duvall, but it was also the only game in this series that ended without drama.
The Cardinals rallied for late wins against the Braves bullpen in Games 1 and 4 but lost a 1-0 lead with three outs to go in Game 3.
Fourteen runs were scored in the eighth inning or later in those three come-from-behind wins.
Are more theatrics in store on Wednesday evening, or will one of these starters be able to hang onto an early lead — if they can get it?
The Starters
I previewed both starters before Game 2, and while all of that analysis is still extremely relevant, I don't want to repeat it here in full — so allow me to summarize:
Both were dominant down the stretch, with Flaherty posting a 0.91 ERA after the All-Star break, and the 2018 All-Star Foltynewicz rebounding from early 2019 struggles and a trip to the minors to record a 2.65 ERA over his final 10 starts.
Foltynewicz is losing fastball velocity, so he has started throwing more sinkers, and fewer four-seam fastballs. He had difficulty locating his slider and other secondary offerings early in the year but refined his mechanics during his stint in the minors.
Flaherty is gaining velocity, leading to increased effectiveness between his two fastballs and dominant slider, and a positive trend in his K/BB ratio. His dominant second half is confirmed by a 2.22 FIP (4th in MLB) and a 3.19 xFIP.
Foltynewicz threw 20 two-seam fastballs, seven four-seam fastballs, five changeups, nine curveballs, and a whopping 40 sliders in Game 2.
The slider was no doubt useful, generating 10 of Folty's 13 swinging strikes, but I also feel like the Cardinals missed some mistakes.
For example, they swung at six sliders that were located in the zone, and missed four times: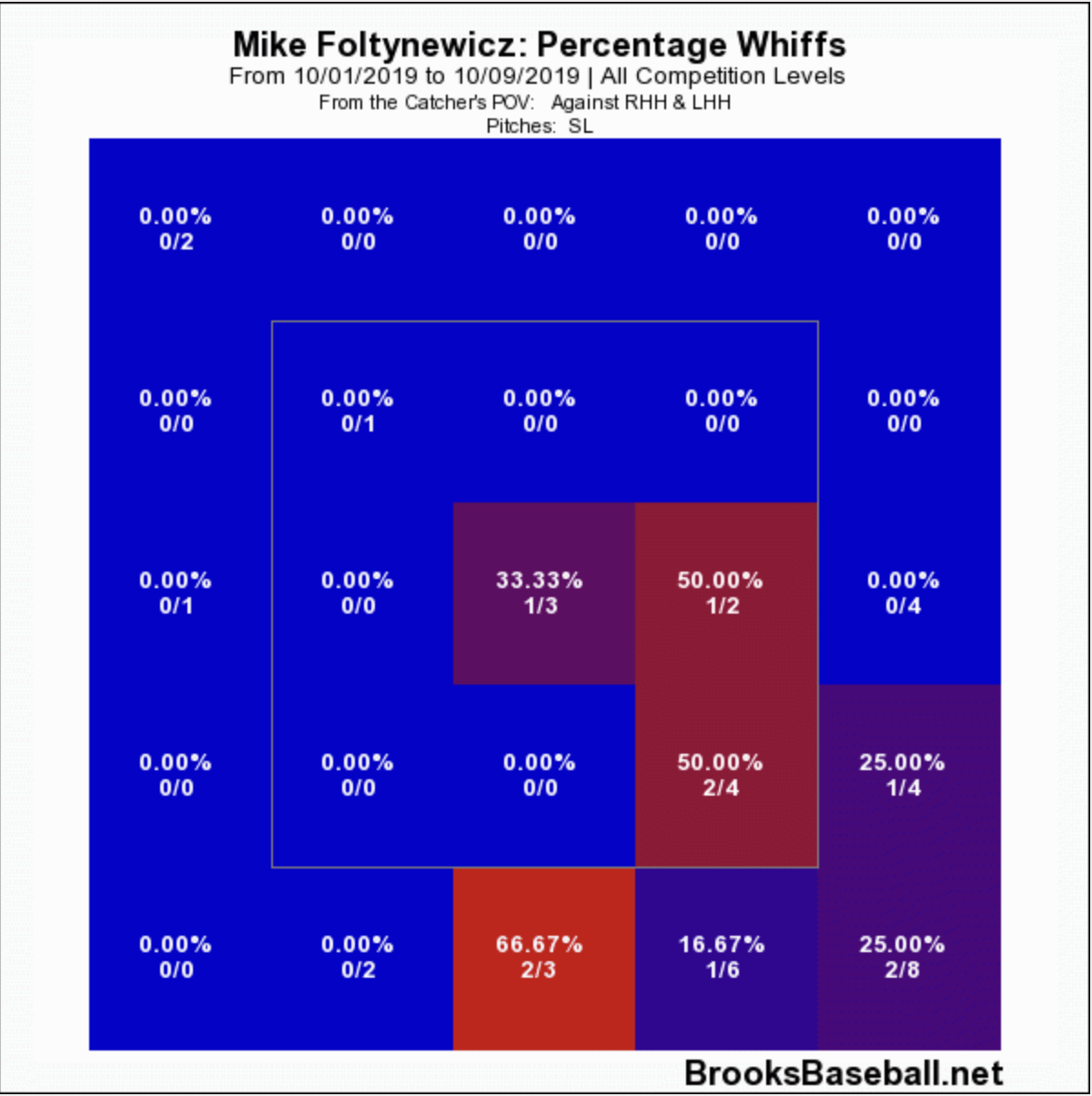 This pitch has good late movement, but it's still hanging right over the heart of the plate as Foltynewicz misses his target:
Paul Goldschmidt probably wants that one back.
The Cardinals were also far too patient against Foltynewicz, permitting 18 called strikes, and I expect a more aggressive approach from their offense on Wednesday.
Jack Flaherty displayed heavy slider usage in Game 2, going to the offering 49 times out of his 117 pitches (41.8%). He generated 23 swinging strikes, with 16 by way of the slider.
He even committed some pitcher-on-pitcher crime against Folty:
Most projection systems show Flaherty as a pitcher who is a full run better than Foltynewicz, but the latter is coming off of the shutout victory at home and might be a bit overvalued here.
I'll back the younger pitcher who has been trending toward ace territory: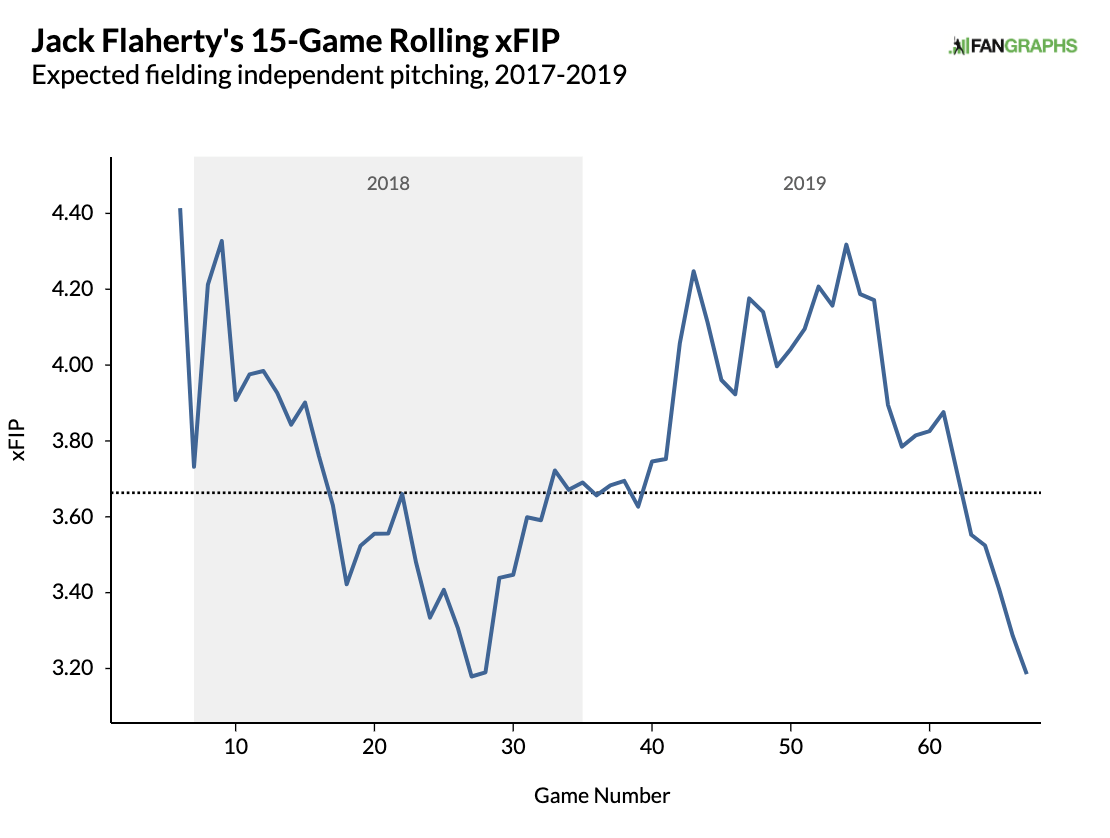 The Bullpens
On the season, the Braves bullpen ranks 14th in FIP, 16th in xFIP, and 17th in K-BB%. By the same metrics, the Cardinals rank 11th, 12th, and 15th.
Other than Game 4 starters Dakota Hudson and Dallas Keuchel, every pitcher on both staffs should be available in this deciding game.
That includes Game 3 starter Adam Wainwright for the Cardinals, and both Max Fried and Mark Melancon for the Braves, who have each had a couple of days off after pitching in Games 1-3.
Pitchers who threw in both Games 3 and 4 include Sean Newcomb and Darren O'Day for Atlanta, and Carlos Martinez and Andrew Miller for St. Louis.
Martinez got into trouble for his third straight appearance but finally bailed himself out. He makes any ninth-inning interesting to watch.
One arm who has impressed for St. Louis is Ryan Helsley, who offers a blazing fastball out of the bullpen:
Helsley and Giovanny Gallegos might be the Cardinals' two most reliable relief arms at present.
The only pitcher I am unsure about is Mike Soroka, who started Game 3 for the Braves, but Atlanta might be reluctant to use their prized young arm on two days worth of rest — even in an elimination game.
Projected Lineups
Data per FantasyLabs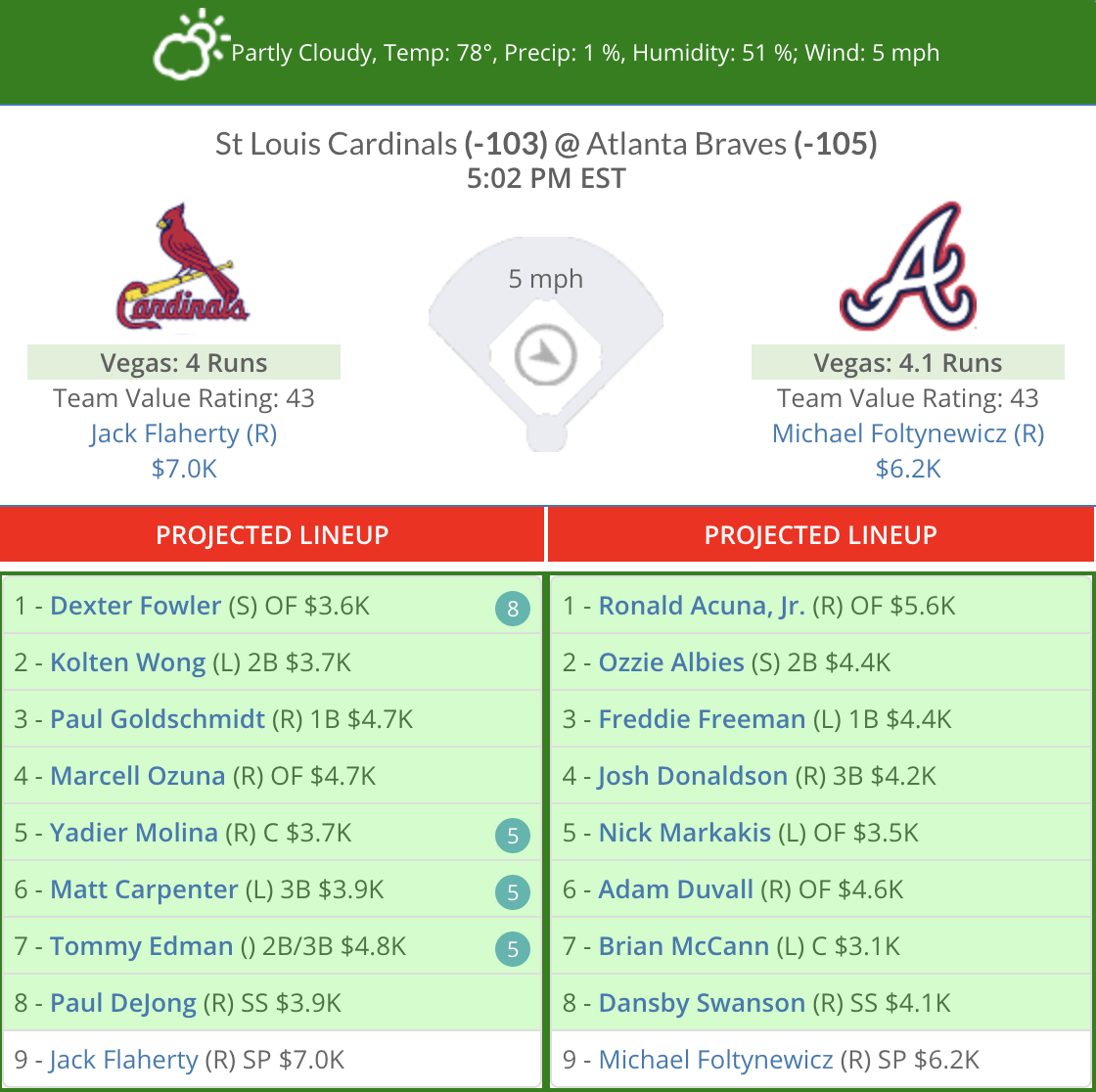 Umpire and Weather Report
Data per Sports Insights

Tom Hallion is the plate umpire for Game 5. He has a neutral history with regards to totals (50.4%), including a 2-3-1 record (to the under) in the postseason.
However, Hallion does seem to prefer road teams, who have a 236-234 record (50.2%) in his career, defying home-field advantage and generating a consistent $100 bettor +$2,405.
Road underdogs are 137-171 (44.5%) with Hallion behind the dish, generating a profit of +$1,291, so consider that if the Braves flip from a dog to favorite.
Trends to Know
For Game 5 situations in previous Divisional Series matchups (dating back to 2005), the visiting team is 11-6, underdogs are 10-7, and the under is 9-6-2.
SunTrust Park has favored under bettors to a degree, with a 123-110-13 record (52.8%).
The Braves are 35-41 (46.1%) as a home underdog at SunTrust park, generating a consistent $100 bettor $261.
The Cardinals are 19-14 (57.6%) as a road favorite this season, and Jack Flaherty is 29-19-13 (60.4%) on the F5 moneyline over the past two years.
Model Projected Odds
Favorite Bet
I projected the Cardinals as a -106 favorite in this game, and I set the total at 9.4 runs. I don't see any value on the moneyline currently, but I do see some value on the over and played over 8 (-110). 
Additionally, more than 60% of the tickets and 80% of the cash being bet on the total has come in on the under, following that 3-0 Game 2 final, but Wednesday's total hasn't moved off of 8. If anything, the vig has moved toward the over.
After some early Braves money, I played a half unit on the Cardinals full game moneyline at -106, and a half unit on the Cardinals F5 moneyline at -103; prices either in line with or below where they closed in Game 2.
Sitting on Cardinals futures for the NL pennant and World Series, I can't go too heavy on this game – but I do think that the Redbirds are the recommended play at any price better than my projection.
The over also looks to be the contrarian side, but I do have concerns about some early evening shadows impacting the batters.
Instead, maybe look to play a live over as the sun goes down.
How would you rate this article?