Cardinals vs. Braves Betting Picks, Odds & Predictions: Will Cardinals Bounce Back in Game 4?
Credit:
Jeff Curry, USA Today Sports. Pictured: Dakota Hudson
The betting odds for Monday's Cardinals-Braves game opened with St. Louis as a decent favorite (-145 moneyline odds) and with Atlanta listed at +131.
The odds have moved in Atlanta's favor since then, but does that mean you should be picking the Braves?
Sean Zerillo gives a full breakdown of the matchup, along with his picks.
Cardinals vs. Braves Betting Picks, Odds & Predictions for Game 4
Probable starters: Dallas Keuchel (8-8, 3.75 ERA) vs. Dakota Hudson (16-7, 3.35 ERA)
Braves odds: +115
Cardinals odds: -135
Over/Under:  8.5
First pitch:  3:07 p.m. ET on TBS
Odds as of Monday morning. Check out PointsBet, where Action Network users get an exclusive 200% deposit match (deposit $50, bet with $150).
---
For nearly eight innings on Saturday, the story for the Cardinals was Adam Wainwright, the 38-year-old who threw 7.2 innings of shutout baseball; striking out eight Braves in an excellent performance with an abundance of silly curveballs.
However, St. Louis failed to extend their with multiple chances in the bottom of the 8th inning, and the Braves rallied to tie the one-run game and take the lead in the top of the 9th – off of enigmatic Cardinals closer Carlos Martinez.
In a matter of minutes, the Redbirds went from a favorite to make the NLCS, to a substantial underdog – now needing to win Monday afternoon's Game 4 at home, in addition to a potential Game 5 on Wednesday in Atlanta to keep their World Series hopes alive.
Can they live to play another day behind Dakota Hudson, or will the youngster finally succumb to the regression which has been looming over his performances to date?
The Starters
I think the most important thing for an athlete, or a team to have is an identity – something that stands out that that they do well.
For Hudson, he can generate groundballs (56.9%) – the highest rate amongst qualified starters. Naturally, that leads to a moderate number of home runs – 22 on the season, 18th amongst 61 qualified starters – and plenty of double-play opportunities.
The groundballs come from his wicked sinker:
Hudson might be able to sustain his high stand rate (career 77.8%) and low BABIP (career .269) as a result, which is partially the cause for the substantial gap between his ERA and fielding independent metrics.
However, he has one glaring weakness, which is his walk rate; 11.4%, which is the highest amongst that group of qualified pitchers.
Hudson had a 50:34 strikeout-to-walk ratio over the final two months of the season (61 innings) – and walking five batters per nine innings is an unsustainable rate.
But in his most recent outing on September 27 against the Cubs, Hudson recorded a career-high 10 strikeouts; with his sinker and whiff-generating cutter looking utterly dominant:
Hudson is facing Dallas Keuchel, making this a battle between groundball pitchers. Keuchel posted a 60.1% groundball rate but didn't finish with enough starts to qualify for the leaderboard.
Keuchel was up and down in Game 1, generating a few double plays to get out of big spots – but the Cardinals lineup looked time have him timed the second time through the order; shortly before he was pulled in the fifth inning.
His final line (4.1 IP, 5 H, 1 R, 3 BB, 0 K) and the fact that he generated just three swinging strikes, is a testament to the Cardinals' ability to put bats on his offerings.
Before Game 1, I detailed Keuchel's struggles with loud contact this season, and I would expect the Cardinals offense to have more success here in what amounts to their third and fourth time through the lineup against him in a matter of days.
But the Braves can also pull him for Julio Teheran, or any of their other bullpen arms if he gets into some early trouble.
The Bullpens
On the season, the Braves bullpen ranks 14th in FIP, 16th in xFIP, and 17th in K-BB%. By the same metrics, the Cardinals rank 11th, 12th, and 15th.
Mark Melancon and Max Fried have pitched in all three games in this series for Atlanta. Fried has thrown 40 pitches in the past four days, while Melancon has thrown 67.
It would go against convention for a manager to use a relief pitch four times in five days, but this is the playoffs after all.
However, I couldn't imagine that Melancon would be 100% effective after throwing so many pitches already in this series.
I would look for Luke Jackson (3.24 FIP, 2.52 xFIP) to pitch in a save situation on Monday.
Jackson throws his slider more than 50% of the time, an increase of more than 20% from two seasons ago, and a change in approach which has guided him to the two best seasons of his career: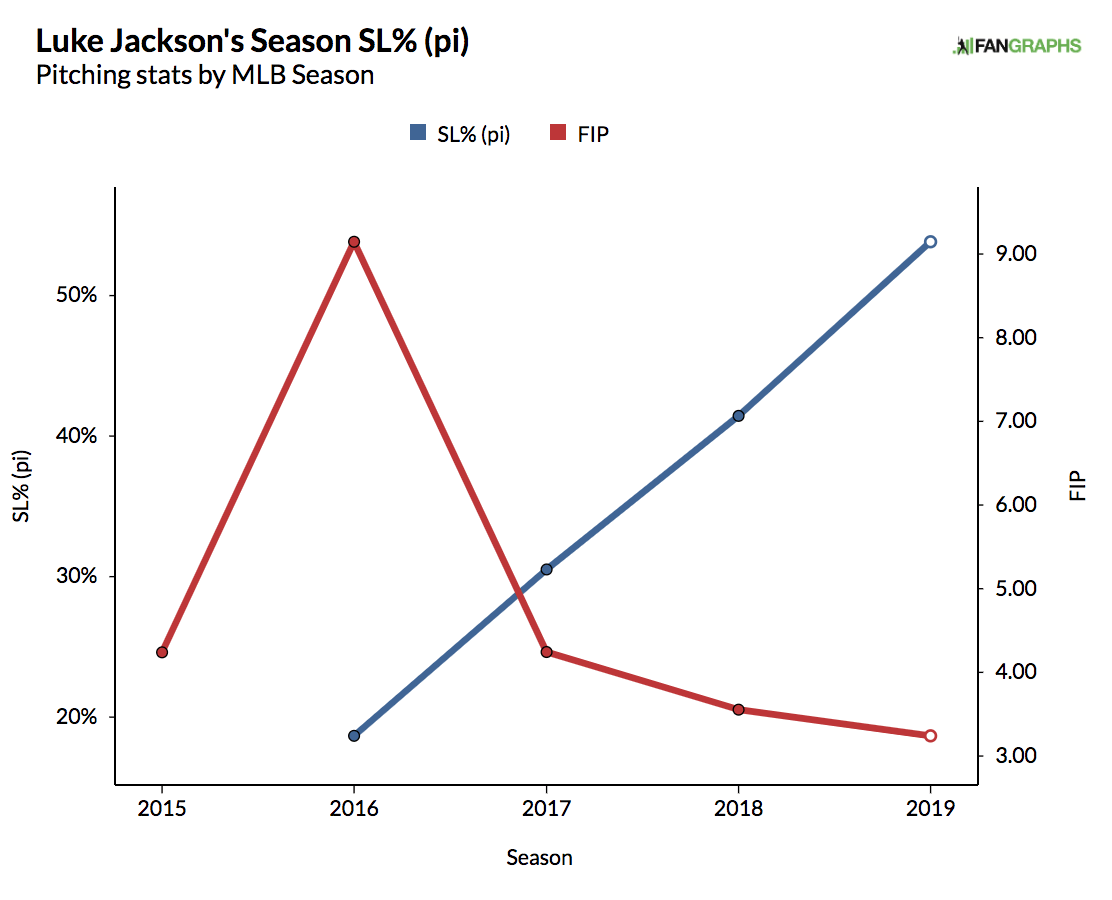 For the Cardinals, Carlos Martinez has looked beyond shaky in both of his appearances in this series, permitting five hits, three walks, and six runs in just over two innings.
He also threw 55 pitches between those two outings, and I can't image Mike Shildt going to him again with the Cardinals season on the line.
Instead, expect to see Giovanny Gallegos (2.31 ERA, 3.05 FIP), who also features a terrific slider.
The Cardinals should have all hands on deck as they look to push this series to a Game 5 for their ace, Jack Flaherty.
Projected Lineups
Data per FantasyLabs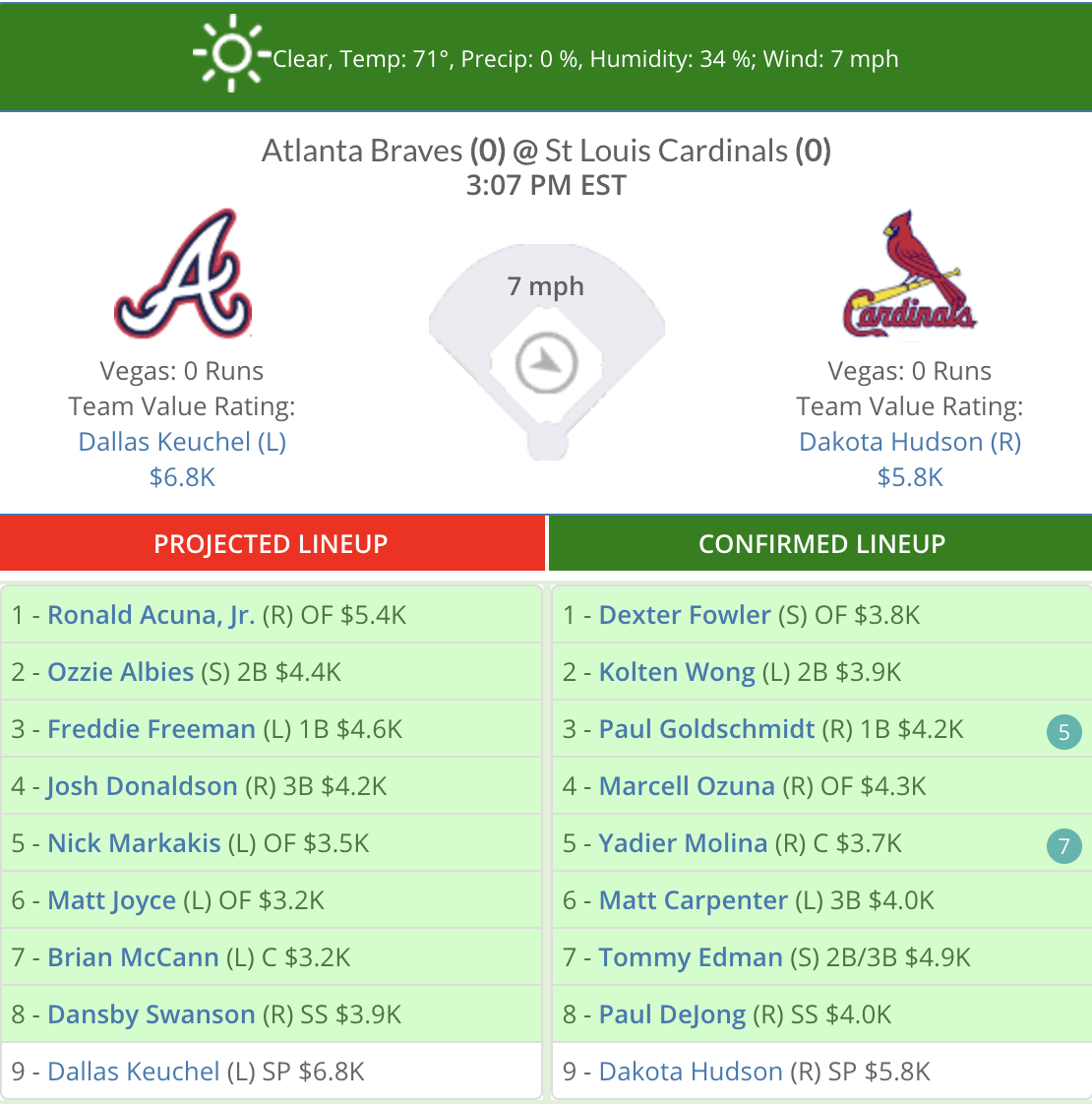 Umpire and Weather Report
Data per Sports Insights

Jim Wolf should be the home plate umpire. Historically, Wolf leans to the over with a 227-197-31 (53.5%) record – generating a consistent $100 bettor +$2,144. His totals are 3-3-1 in playoff games.
Home teams are 6-1 with Wolf behind the dish in postseason games, but 225-223 (50.2%) during the regular season.
Trends to Know
When combining the regular season and the postseason, Busch Stadium is the third most profitable park for betting unders in our database, at 641-553-64 (53.6%, +$4,332, 3.4% ROI).
The under is 18-13-1 (58.1%) in games started by Dakota Hudson.
For his career, Dallas Keuchel is 98-75-29 (56.6%) on the F5 moneyline, generating a consistent $100 bettor +$1,322.
Model Projected Odds
 Favorite Bet
I projected the Cardinals as a -105 favorite in this game, and I set the total at 8.5 runs. I don't see any value on the total, but I do see some value on the Braves moneyline.
I projected the Braves as a coinflip favorite (50.5%) in the first five innings and a short underdog (48.7%) over the full game.
At the time of writing, there are a few sportsbooks that are offering Atlanta at +115. At those odds, (implied 44.7%), I see a gap of between three to five percent between my projection and the Braves odds in either half.
I played a half unit on each at plus-money and would play the F5 moneyline down to +113, and the game moneyline down to +115.
How would you rate this article?