Cardinals vs. Nationals Betting Picks, Odds & Predictions: Can Cardinals Win as a Home Underdog Against Scherzer?
Credit:
Brad Mills, USA Today Sports. Pictured: Max Scherzer
Cardinals vs. Nationals Betting Picks, Odds & Predictions for Game 2
Probable starters: Max Scherzer (11-7, 2.92 ERA) vs. Adam Wainwright (14-10, 4.19 ERA)
Nationals odds: -137
Cardinals odds:  +127
Over/Under:  7
First pitch:  4:08 p.m. ET on TBS
Anibal Sanchez was the story of Game 1, as the righty carried a no-hit bid through the first 23 outs of the game — leading the Nationals to a 2-0 shutout win as an underdog in St. Louis.
Sean Doolittle secured the save for Washington in place of regular closer Daniel Hudson, who was on paternity leave for the night.
Sanchez and Doolittle combined for the third one-hitter in NLCS history, and the Nationals should have won by a wider margin; going 2-for-12 with runners in scoring position compared to 0-for-3 for the Cardinals.
---
Odds as of Saturday morning and via PointsBet, where Action Network users get an exclusive 200% deposit match (deposit $50, bet with $150).
---
Now that the Nationals have the lead in this NLCS, before using Max Scherzer, Stephen Strasburg, or Patrick Corbin, they should be a firm favorite to advance to the World Series.
But how will Scherzer fare throwing for the fourth time in 12 days, albeit on regular rest?
The Starters
Scherzer dominated in the NLDS, allowing one run against 10 strikeouts over eight combined innings between his Game 2 relief appearance, and Game 4 win.
In each of his two playoff starts this year, which includes the NL Wild Card game, Scherzer has settled in after a first-inning ambush.
As I mentioned before, his NLDS start, Scherzer experienced a velocity dip following back and shoulder maladies this year, and including playoff games, he has now allowed 13 home runs in his last 56 innings pitched.
Scherzer has been adept at avoiding the longball for several years, posting a HR/FB rate much better than league average throughout his career. In 2019, he was 3% better than league average:
But in a 10-start span following injury, Scherzer has allowed more than two home runs per nine innings. Is this merely a blip of bad luck, or something worth being concerned about?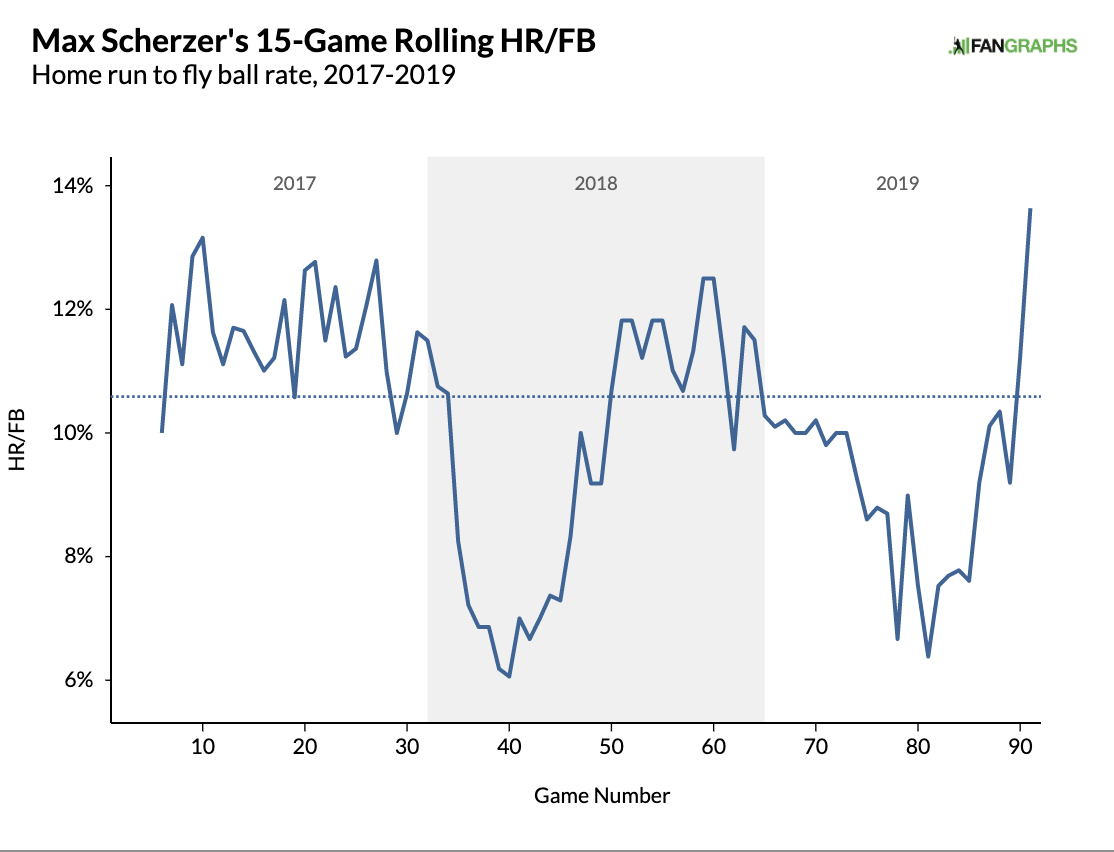 I would probably say the former, as Scherzer's average fastball velocity has increased back to 96 mph in October:
By fielding independent pitching metrics, 2019 Max Scherzer is the best Mad Max that we have ever seen – and he appears to be closer to his early-season level now than he was in September.
As for Adam Wainwright, you probably already know what you're getting from the 38-year-old righty: curveballs, curveballs, and more curveballs.
I highlighted Waino's curveball reliance before he tossed eight shutout innings against the Braves in Game 3.
Of note:
Wainwright's curveball ranks fourth all-time in Curveball pitch value; and ninth on a per-pitch basis.
He throws the curveball more often (36.8%) than any starter except for Charlie Morton.
57 of his 120 pitches against the Braves were curveballs, including all 13 of his swinging strikes
He gained swinging strikes all over the place with his signature pitch and will need it to be sharp once again on Saturday to go toe-to-toe with Scherzer: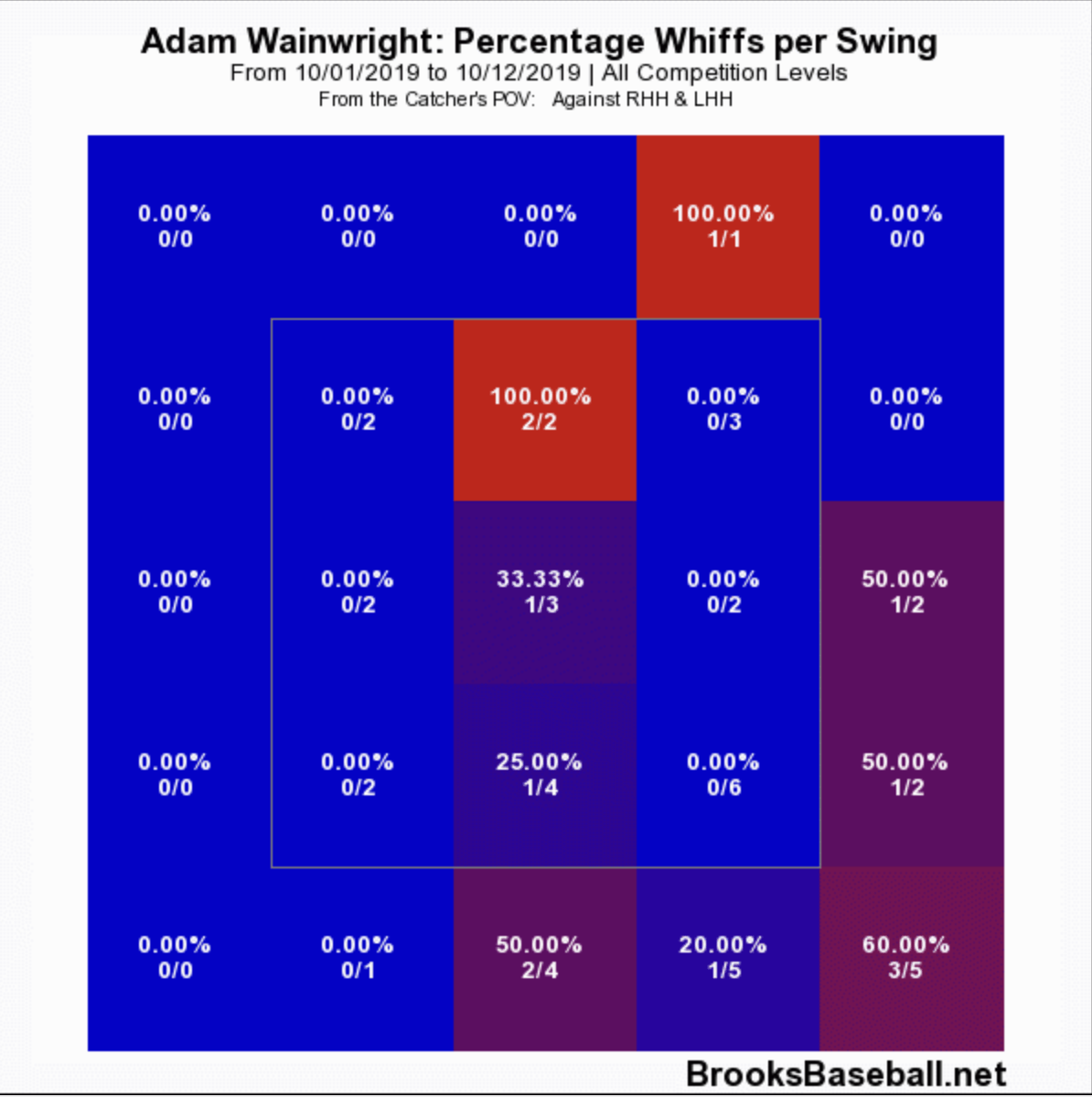 This could potentially be the final start of Wainwright's career.
The Bullpens
On the season, the Cardinals bullpen ranks 11th in FIP, 12th in xFIP and 15th in K-BB%. By the same metrics, the Nationals rank 26th, 29th and 23rd.
In Game 1, Anibal Sanchez gave the Nationals some much-needed length ahead of their ace troika. Sean Doolittle recorded a four-out save in relief (15 pitches), while the rest of Washington's bullpen got the night off.
Meanwhile, the Cardinals used six relievers over three innings behind Miles Mikolas.
John Brebbia and Giovanny Gallegos each made their third appearance in five days while Carlos Martinez and Andrew Miller both entered their third game in six days.
The Cardinals' primary advantage in this series is bullpen depth – but if they cannot get past the Nationals starters and into that bullpen, they can't exploit that weakness.
Note that Nationals' closer Daniel Hudson will return from the paternity list on Saturday.
Projected Lineups
Data per FantasyLabs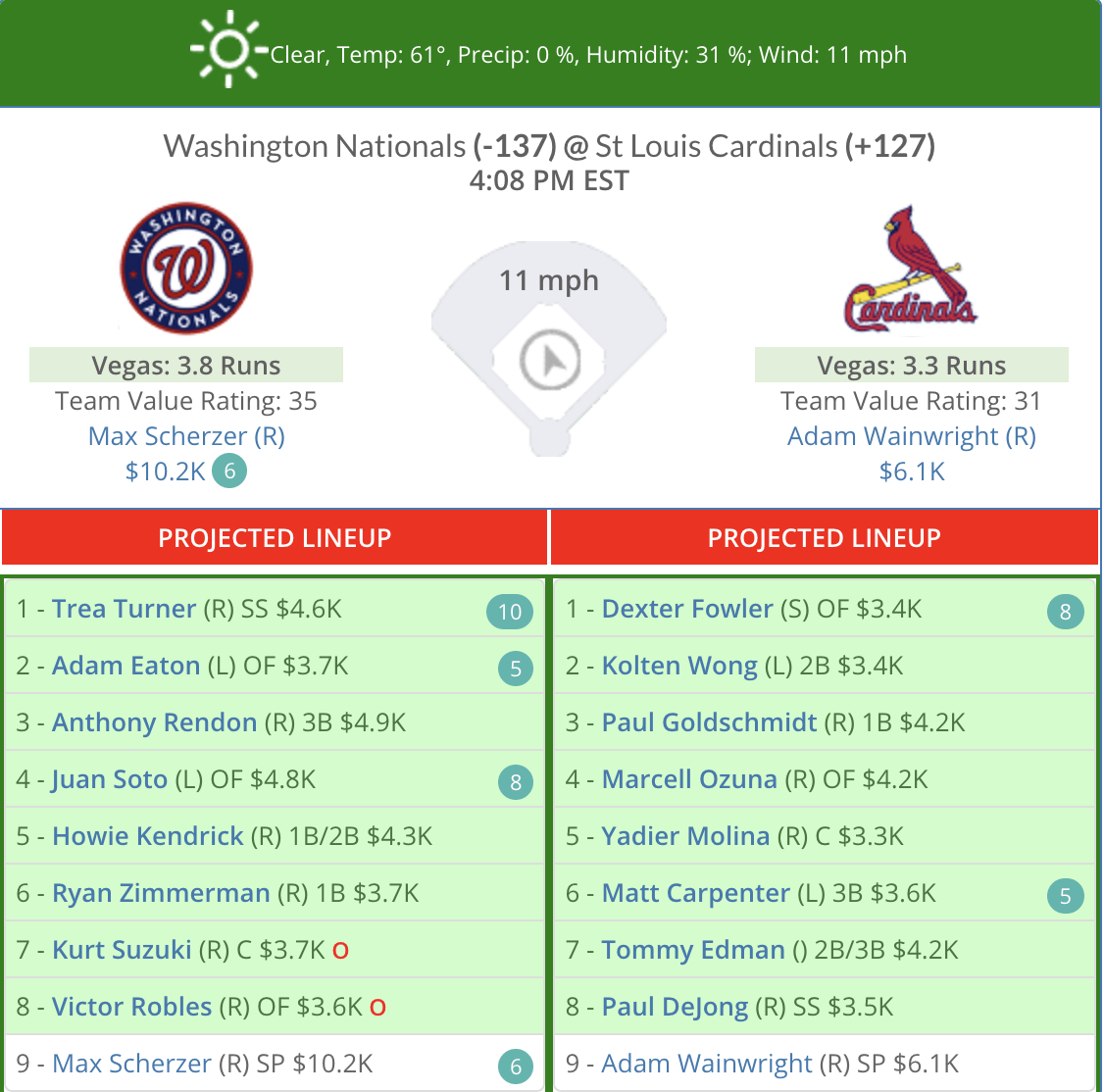 Umpire and Weather Report
Data per Sports Insights

Based upon the projected weather conditions on Saturday (wind blowing out to LF, 10+ mph), Overs are 15-10-2 (60%) at Busch Stadium since 2005.
Chris Conroy should be the plate umpire, and he is relatively neutral concerning totals (119-115-13 to the over).
He does tend to prefer favorites (151-95, 61.4%); and road favorites in particular (53-31,  63.1%).
Trends to Know
Since 2005, Busch Stadium is the third-most profitable stadium in our database for Unders between the regular season and the postseason, at 641-554-64 (53.6%).
Unders are 26-19-1 (57.7%) in Busch Stadium playoff games.
In Games 1 and 2 of all postseason series (divisional round or further) dating back to 2015, home teams are 47-18 (72.3%). 
Home favorites are 37-12 (75.5%) in those games, while underdogs are 10-6 (62.5%).
With a 206-122 (62.8%) moneyline record between the regular season and playoffs, Adam Wainwright is the most profitable pitcher in our database; generating a consistent $100 bettor +$3,818 (11.6% ROI)
Series Moneyline Corner
Before Game 1, I suggested that the Nationals should be listed as a -270 series favorite (implied 73.6%) if they stole game 1 on the road.
Their series price re-opened at -240 (implied 70.6%), meaning that I see a gap of three percent in expected value between the listed odds and my projection.
I consider -240 to be an actionable price on the Nats series moneyline.
And as someone with NL pennant and World Series futures on the Cardinals, now might be the time to hedge a bit.
If the Cardinals win Game 2, I would still show the Nats as a -126 series favorite (implied 56%). But if Washington sweeps the first two games on the road, their series odds should shoot up closer to -567 (implied 85%).
Model Projected Odds
Favorite Bet
I projected the Nationals as a -135 favorite in this game, and I set the total at 7.4 runs. Therefore, I don't see value compared to the moneyline or total as of writing. 
I would need St. Louis move to +150, or Washington move to -120, to consider a moneyline play on either side.
I do show the Nationals as a more substantial favorite in the first half of this contest, and I played Washington's F5 moneyline for a half unit at -145.
At implied odds of 59.2%, I see a gap of two percent in expected value from my projection to that F5 moneyline; but -145 is also the highest price that I would pay to play the Nats F5 moneyline.
How would you rate this article?