Sunday Night Baseball Betting Notes: Hendricks, Cubs Look to Keep Rolling in D.C.
Credit:
David Kohl-USA TODAY Sports. Pictured: Cubs pitcher Kyle Hendricks
Betting odds: Chicago Cubs at Washington Nationals
Cubs odds: -133
Nats odds: +123
Over/Under: 10
Probable starters: Kyle Hendricks (3-4, 2.86 ERA) vs. Jeremy Hellickson (2-2, 6.00 ERA)
First pitch: 7:05 p.m. ET on ESPN
Some started to panic on the North Side after the Cubs stumbled out of the gates to a 2-7 start, losing their first three series to start the year. (You gotta love overreactions in April.) The Cubbies have bounced back, winning 24 of their next 34 games and now own a 1.5 game lead on the Brewers in the NL Central.
Until their last series in Cincinnati, Chicago had won 10 straight series. On the contrary, the Nationals had lost seven straight series before taking one over the free-falling Mets last week.
Can the Cubs take the rubber match in D.C. to avoid losing their second straight set? Or will the Nationals make it two straight as they look to build any kind of momentum on the Beltway?
Our MLB crew will take a closer look at the matchup from a betting perspective, focusing on the starters, bullpen and the man behind the plate. We will also touch on a few noteworthy trends and close with a few rapid fire betting looks for tonight.
---
>> All odds as of 11:30 a.m. ET. Download The Action Network App to get real-time MLB odds and track your bets
---
Scouting the Starters
Jeremy Hellickson had decent results over 19 starts for the Nationals in 2018 (3.45 ERA, 4.22 FIP) despite striking out less than 6.5 batters per nine innings. He hasn't been able to replicate that success so far in 2019, pitching to a 6.00 ERA with a 5.80 FIP over seven starts.
His strikeout-to-walk ratio has plummeted from 3.25 in 2018 to 1.71 in 2019. The culprits are a first-pitch strike rate that has regressed by 6% to his career norm and a zone-rate that has regressed by 3.5% to back within 0.5% of his career norm.

At a time when pitchers are generating more whiffs than ever, Hellickson is generating fewer. His swinging strike rate is down from 8.3% over the past two seasons (9.6% career), to just 6% in 2019.
On cursory review, it would appear that Hellickson's velocity is also down a tick across the board. But it's more than that. He's throwing fewer four-seam fastballs and curveballs at the expense of additional two-seamers and cutters. That could mostly explain the decline in the swinging strike rate, and perhaps the decline in average velocity, too.
Kyle Hendricks is essentially the same pitcher that he has been for four years now (sinker, changeup, four-seam fastball, and occasional curveball) but currently sports his best FIP (3.11, career 3.49) and walk rate (4.4%, 6th amongst qualified starters) of his career.
Hendricks is starting to gain a reputation as a slow starter (career 4.29 ERA, 1.29 WHIP, 3.09 K/BB) in March and April before rebounding in May (2.51 ERA, 0.939 WHIP, 4.10 K/BB). What's strange is that he has also struggled in June (4.67 ERA, 1.35 WHIP, 2.42 K/BB) before finishing with respective ERA's of 2.48, 2.70, and 2.49 in July, August and September/October.
These are relatively small samples (about 20-28 starts in any month), but Hendricks is on a roll over his last three starts since the turn of the calendar month: 25 innings pitched, 0.36 ERA, 10.96 pitches per inning, 12 H, 1 R, 1 BB, 17 K, one complete game shutout). — Sean Zerillo
Bullpen Barometer
Despite a number of key injuries, the Cubs bullpen has held up pretty well after a slow start.
I still don't think they can sustain that level of success without some of their best arms available. I think their K/BB rate of 1.72 — tied with the Rangers pen for the worst in MLB — screams regression. It's not easy to lose two of your top bullpen arms in Pedro Strop and Brandon Morrow and sustain success. And something is still not right with Carl Edwards Jr.
On the other side of the diamond, the Nationals bullpen has been nothing short of a dumpster fire. Washington's relievers sport the league's worst ERA by a wide margin at a putrid 6.77. There isn't much to like about this pen other than they possibly can only get better from here (I think?). — Stuckey
Betting on Blue
Umpire Jim Wolf will be calling the balls and strikes tonight. While home teams have a fairly even record at 222-211 (51.3%) when Wolf is behind the plate, they are 19.05 units overall.
Over/unders are even more one-sided. The Under has gone 189-215 (46.8%) for -33.91 units, meaning Wolf may not often make dinner plans on nights where he has strike-calling duty. — Collin Wilson
Getting Trendy
Sunday Night Baseball is just a whole different animal when you compare it to any other spot during the regular season. As both the manager of the Rays and Cubs since 2005, manager Joe Maddon is 14-18 on Sunday Night Baseball,. That includes a subpar 6-16 (27.3%) record when listed as the favorite, losing by 1.6 runs per game.
In the Bet Labs database, Maddon is the third-least profitable manager as a favorite on Sunday Night Baseball, ahead of only Joe Girardi (9-20) and Bruce Bochy (0-10). — Evan Abrams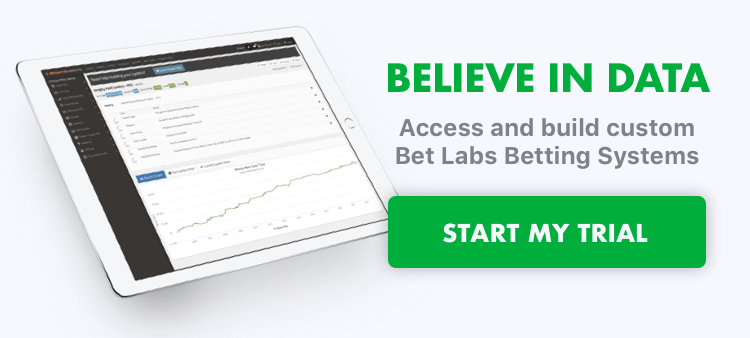 For whatever reason (most likely random), home teams have dominated on Sunday Night Baseball over the past decade. In the past 10 years, home clubs have gone 161-97 (62.4%). A $100 bettor would have netted a profit of $3,520 backing the home squads over that period. — Stuckey
Entering Sunday, MLB underdogs this season are 397-263 (60.2%). A $100 per game bettor would have profited $1,670 by betting every underdog blindly so far. In the Bet Labs database (since 2005), underdogs have never finished profitable over a full season (neither have favorites), with the closest coming in 2015 when a $100 bettor would've only lost $1,583.
When looking at games from just May and earlier, only one other season has been more profitable for underdogs than 2019, when underdogs went 468-323 (59.2%, +$1,883) in 2007. They then went 909-731 (55.4%) from June on, losing a $100 per game bettor $8,442. — Stuckey
Rapid Fire Favorite Bets
Hellickson is a great DFS fade, so start at many Cubs as you can while dipping in on the Cubs and Over. — Wilson
Take a look at the Cubs F5 (-0.5 Runs, -110). I have the Cubs winning the first five innings by 0.6 runs, but would line the team totals closer to 3-2. A hot Hendricks should be no match for a declining Hellickson. —  Zerillo
Over or nothing in my opinion. Anthony Rizzo is back and I don't trust either pen. — Stuckey