Nationals vs. Dodgers Betting Odds, Picks & Predictions: Will Buehler Cruise in NLDS Game 1?
Credit:
Kelvin Kuo-USA TODAY Sports. Pictured: Walker Buehler
Walker Buehler takes the mound for the Los Angeles Dodgers on Thursday night as a big betting favorite (-171 moneyline odds).
Will the Washington Nationals pull the upset (+146 moneyline odds)? MLB expert Sean Zerillo breaks down all the angles for the matchup and gives his favorite betting picks.
Nationals vs. Dodgers Betting Odds, Picks & Predictions
Probable starters: Patrick Corbin (14-7, 3.25 ERA) vs. Walker Buehler (14-4, 3.26 ERA)
Nationals odds: +146
Dodgers odds: -171
Over/Under:  7.5
First pitch:  8:37 p.m. ET on TBS
Odds as of Thursday evening and via PointsBet, where Action Network users get an exclusive 200% deposit match (deposit $50, bet with $150).
---
After the Washington Nationals won Tuesday's NL Wild Card game in dramatic fashion, leading for fewer than 15 minutes of real-time, they are now an extremely dangerous World Series darkhorse. Their playoff rotation can go toe-to-toe with anyone in the National League, Dodgers included.
Washington was savvy with its resource allocation when Bryce Harper departed for Philadelphia, primarily with their pivot to Patrick Corbin, giving the Nationals three top of the rotation starters.
Stephen Strasburg ($38.3 million) and Max Scherzer ($37.5 million) are the two highest-paid pitchers in baseball. Corbin only ranks 30th at present ($12.9 million), but his six-year, $140 million deal will escalate to $35 million per season in 2024.
And he's worth it, posting 10.7 WAR over the past two seasons combined – equivalent to roughly $84 million in on-field production.
After Scherzer and Strasburg pitched eight of the nine innings in the NL Wild Card game, Corbin will take the ball in Los Angeles for Game 1 against Walker Buehler, who has been almost unhittable at home in 2019.
But Corbin also has a split in his favor, as the Dodgers rank second against right-handed pitching (115 wRC+), but fall to 10th vs. southpaws (103 wRC+).
Who has the edge in Game 1 of the this Nationals-Dodgers NLDS, and what's my favorite bet? Let's dive in.
The Starters
We have established that Corbin is well compensated, but what makes him so effective?
To begin with, he's a top-15 pitcher by both groundball rate (49.5%) and strikeout rate, though his walk rate did increase slightly over 2018.
He also throws his slider very frequently (37%), more often than all but just a few pitchers, including Clayton Kershaw (39.2%)
By total pitch value, Corbin had the third-best slider in 2019, and by average value, the pitch ranked eighth.
Where does he like to throw it?
Down and in against righties, or low and away from lefties: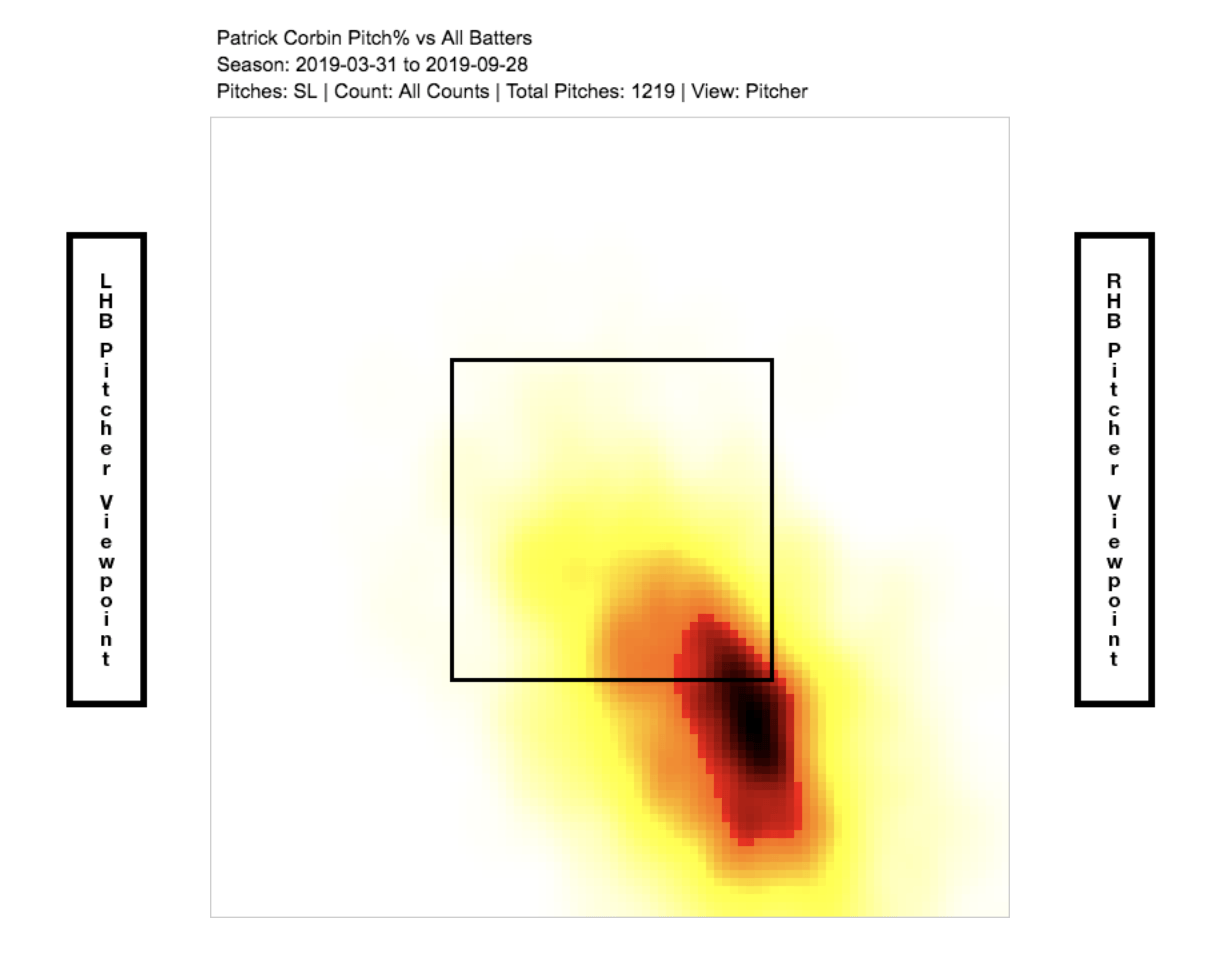 When Corbin executes the slider correctly, with sharp late bite going into the dead zone, it's nearly impossible to lay off it, and equally impossible to hit:
Dodgers hitters own a .228/.306/.353 (.659 OPS) triple slash line against Corbin over 184 at-bats, dating back to his time with the Nationals.
One batter who has had success against Corbin is Justin Turner, who is 12-for-32 (.375 avg) with three doubles, a pair of homers, and four walks.
Meanwhile, Dodgers lefties Cody Bellinger, Max Muncy, Joc Pederson, and Corey Seager are a combined 7-for-39 (.179 avg) against Corbin.
If Corbin has his way, this could turn into a pitchers' duel, as few pitchers have performed as consistently well at home as Walker Buehler.
In 2018, Buehler's ERA was 1.93 at home and 3.45 on the road. This season, it's 2.86 at home and 3.66 on the road.
And it's a similar story by his FIP, xFIP and K/BB ratio, all of which have been significantly better at home over the past two seasons.
Buehler's home xFIP has steadied at 3.00 and 3.01 over the past two seasons, compared to marks of 3.47 and 3.73 in road starts.
His strikeout-to-walk split this season is almost comical: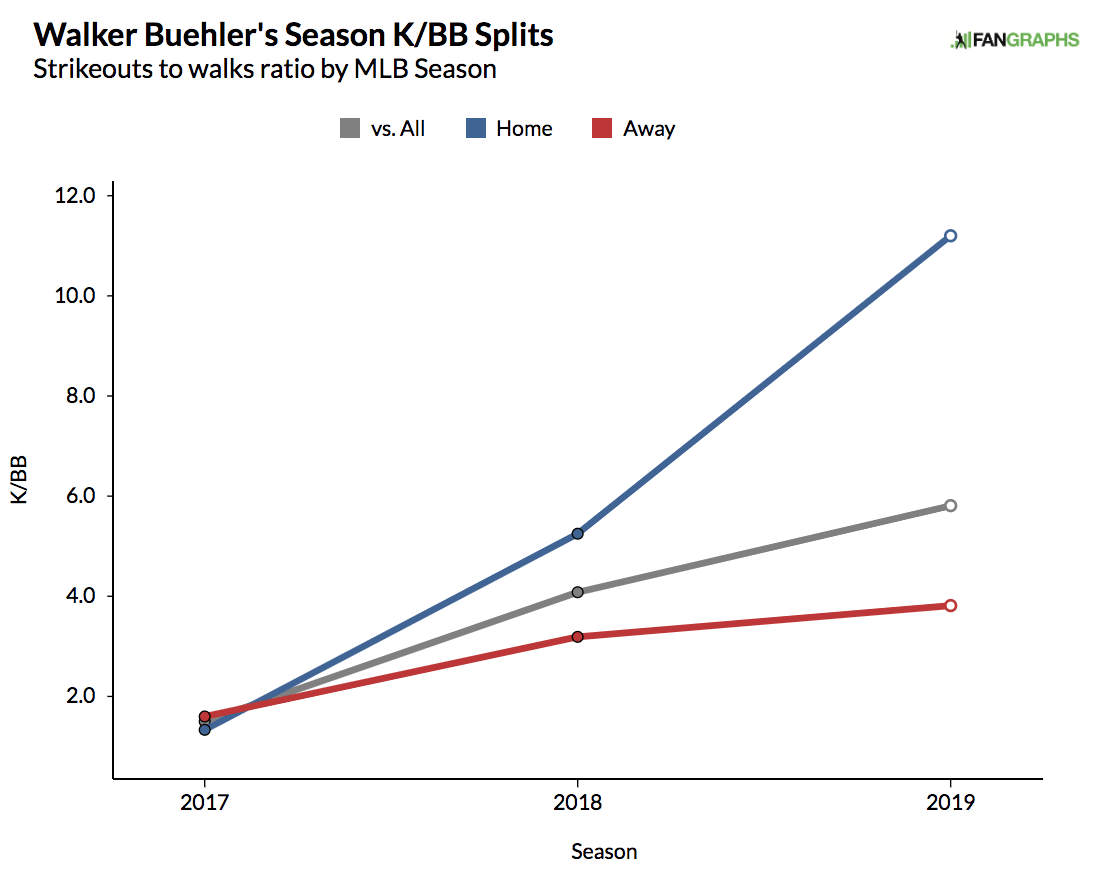 The graph above represents an 11:1 K:BB ratio at home, compared to a rate of less than 4:1 on the road.
Few pitchers throw as hard as Buehler (96.6 mph, fifth among starters), and he boasts four above-average offerings (four-seam fastball, cutter, sinker, slider).
The fact that he throws a 92 mph cutter in addition to an 87 mph slider is pretty uncommon.
The cutter's emergence was the result of analytical improvements that Buehler made with Kyle Boddy, the president and founder of Driveline Baseball, and the new director of pitching initiatives for the Cinncinati Reds.
I'm also a fan of Buehler's knuckle curveball, a pitch that he throws about as frequently (12%) as his slider (13.5%) or cutter (13.5%). When everything is working for him, look out:
There's certainly something to be said for the moment, and having postseason experience too.
This is Corbin's first postseason start, and he'll probably have to deal with some early nerves.
Meanwhile, this is the fifth postseason start for the 25-year-old Buehler. You might remember him from the 2018 World Series, where he helped the Dodgers to their only win against the Red Sox, tossing seven shutout innings while allowing two hits against seven strikeouts.
Buehler brings maximum intensity in every outing:
Accounting for the splits, pitcher quality, and the fact that Corbin called this a "do or die game," you might not find a more intriguing starting pitching matchup during the entire MLB playoffs than this one.
The Bullpens
On the season, the Dodgers bullpen ranks sixth in FIP, seventh in xFIP and fifth in K-BB%. By the same metrics, the Nationals rank 26th, 29th and 23rd.
Washington only used Stephen Strasburg and their closer (and 2018 Dodger) Daniel Hudson on Tuesday. Hudson has been excellent with the Nationals, posting a 1.44 ERA since the trade deadline, but a 3.53 FIP and 4.68 xFIP suggest that regression is coming for him.
The key matchup in this series could be Sean Doolittle against the Dodgers left-handed hitters, including likely NL MVP Cody Bellinger.
Doolittle has struggled in 2019 (5.08 xFIP) forcing his removal from the closer's role. But he has remained more effective against lefties (.270 wOBA) than righties (.343 wOBA), and this maligned Nationals bullpen still needs him to get big outs in the playoffs.
However, his fastball velocity has declined by nearly a full tick since the middle of this season, leading to an increase in hard contact and other underlying metrics: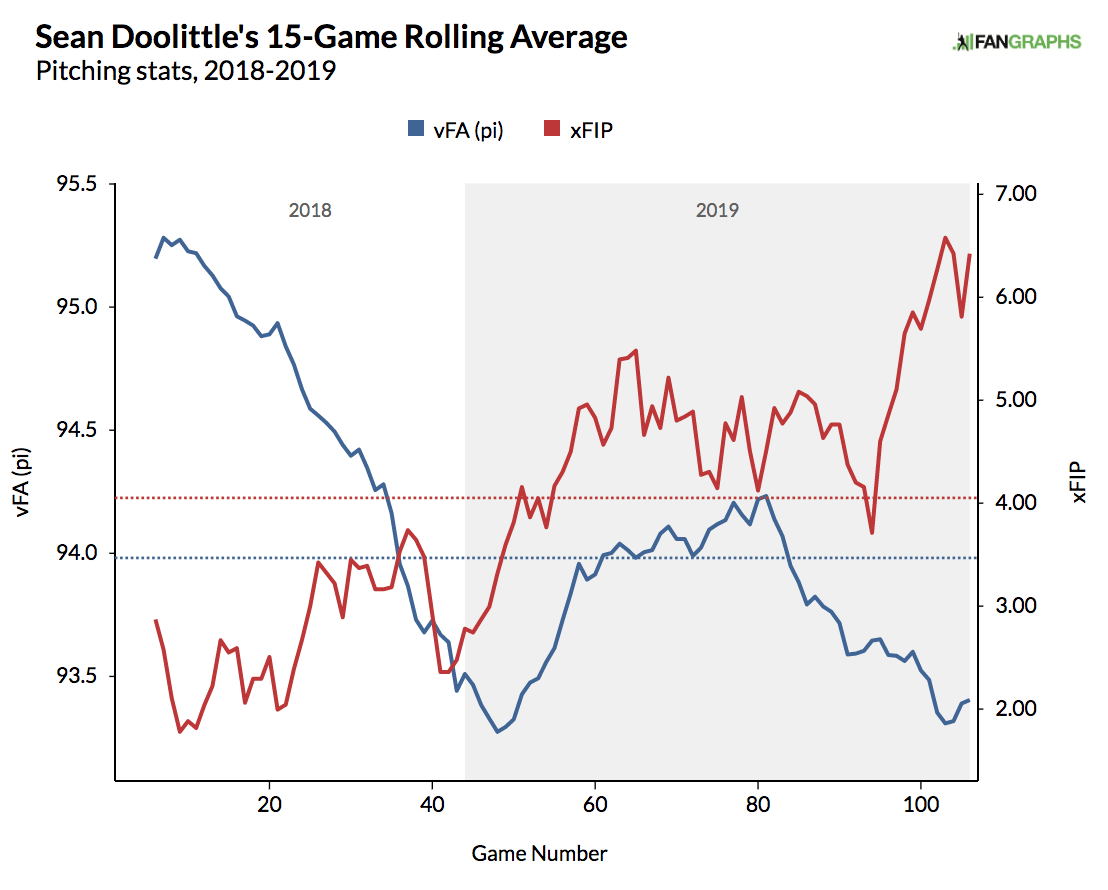 The Dodgers shifted a number of their starting pitchers to the bullpen, including Kenta Maeda, in order to add depth for the postseason.
Maeda has been fantastic when working as a relief pitcher in his four MLB seasons, posting a 58:8 strikeout-to-walk ratio and a 34% strikeout rate in 34 games.
He's been a relief ace for the Dodgers in the postseason before and might be their most crucial pitcher.
Kenley Jansen's 2018 decline has carried over into this season, and Dodgers fans no longer trust him. His cutter velocity continues to trend in the wrong direction: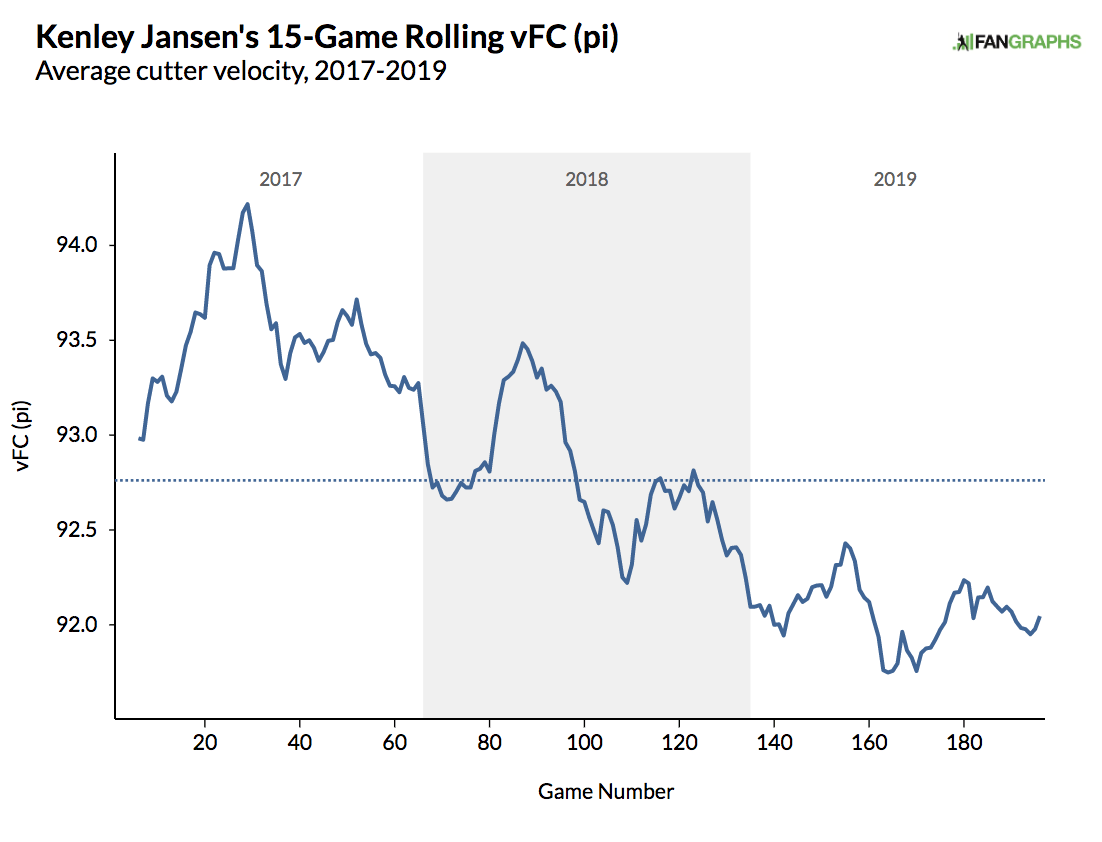 Along with his ERA, and fielding independent pitching metrics: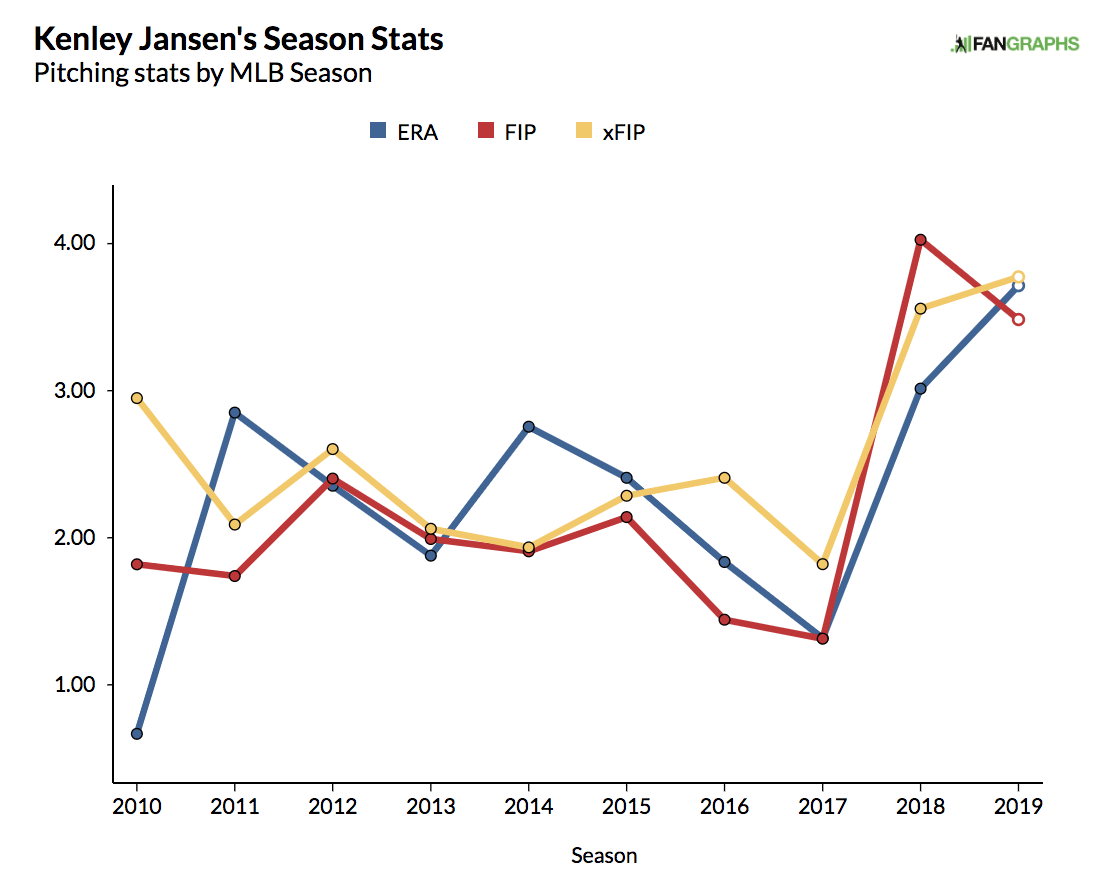 The relief pitcher that Dodger fans do trust, despite a 4.82 xFIP, is Pedro Baez, aka the Human Rain Delay.
Baez works to slow the game to a crawl to set up opposing hitters for his changeup, which he tosses nearly one-third of the time, playing off of his 96 mph fastball:
Projected Lineups
Data per FantasyLabs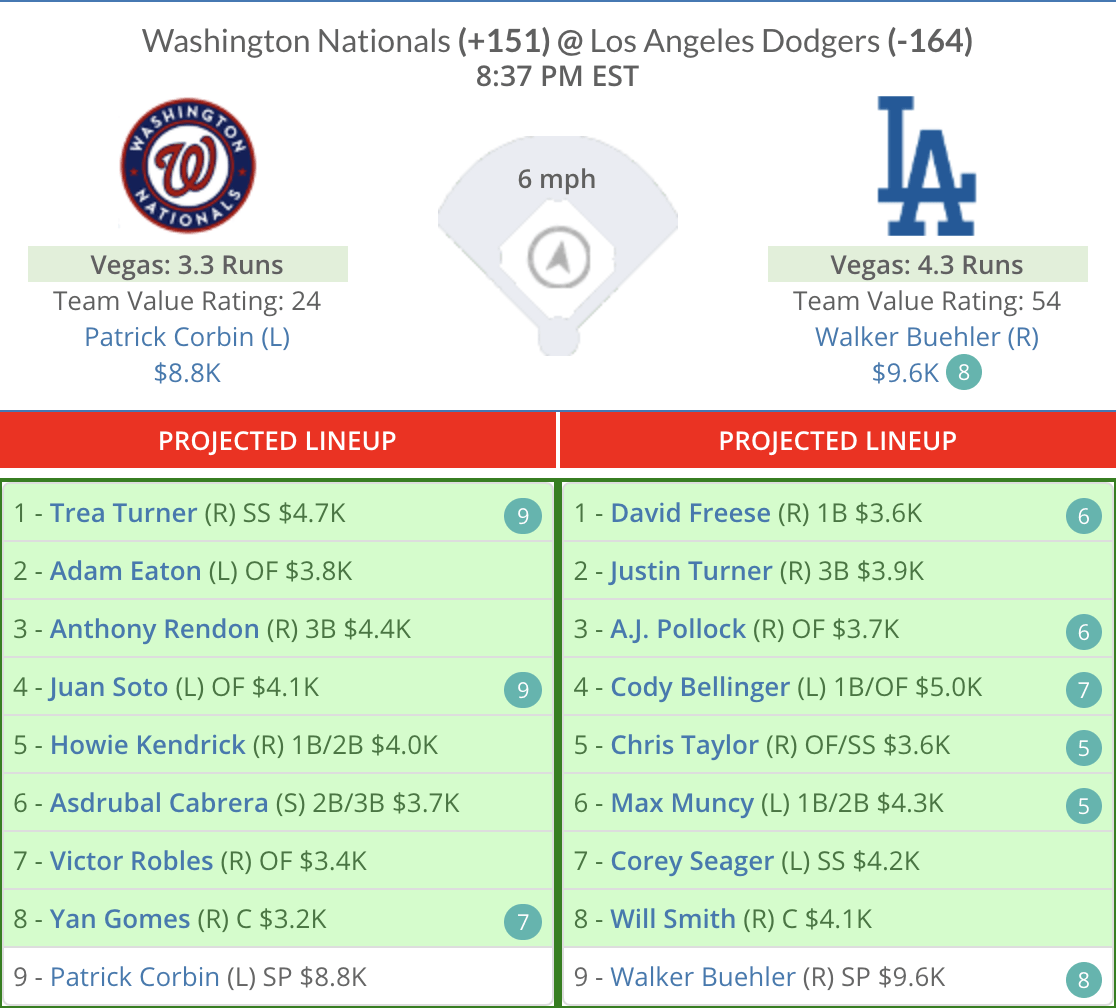 Weather Report
Data per Sports Insights

Trends to Know
Underdogs and visiting teams have an identical record (98-115) against ALDS and NLDS moneylines.
As you can imagine, underdogs have been more profitable for a consistent $100 bettor (+$1,375 vs. +$468).
The under has been extremely profitable in ALDS games (60-47-6, +$932), but quite the opposite in NLDS games (45-50-5, -$746).
The under is 20-18-2 in postseason games at Dodger Stadium, dating back to 2006.
Since the start of the 2018 season, the under is 37-27-4 (57.8%) in Patrick Corbin's starts.
Over the same period, the under is 32-23-3 (58.2%) in Walker Buehler's starts.
Corbin is 38-31 (55.1%) on the full game moneyline over the past two seasons, but 34-20-14 (63%) on the F5 moneyline.
Buehler is 36-22 (62.1%) on the full game moneyline over the same period and 33-15-10 (68.8%) on the F5 moneyline.
At home, Buehler is 19-9 (67.9%) on the full game moneyline and 16-5-7 (76.2%) in the first half of those games.
Model Projected Odds
Favorite Bet
I projected the Dodgers as a -154 favorite in this game, so I don't see any moneyline value.

I set the total at  7.7 — and the number has fluctuated between 7 and 7.5. If the total touches seven again, I would consider betting the over. 
I have not bet this game specifically, but I did place a series moneyline bet on the Washington Nationals, whom I project as a +148 underdog in this five-game divisional series, an implied win probability of 40.3%. 
If you shop around, you can find the Nationals series price listed at over +200 in some spots, an implied probability of 33.3% and a gap of more than 7% in expected value from my series projection. I would bet it down to +180. 
How would you rate this article?