Dodgers vs. Nationals Betting Picks, Odds & Predictions: The Market Reacts as Sanchez Fills in For Scherzer
Credit:
Sam Navarro, USA Today Sports. Pictured: Anibal Sanchez
Dodgers vs. Nationals Betting Picks, Odds & Predictions
Probable starters: Hyun-Jin Ryu (14-5 2.32 ERA) vs. Anibal Sanchez (11-8, 3.85 ERA)
Dodgers odds: -145
Nationals odds: +125
Over/Under:  9
First pitch:  7:45 p.m. ET on TBS
Odds as of Sunday afternoon and via PointsBet, where Action Network users get an exclusive 200% deposit match (deposit $50, bet with $150).
---
After starting the NL Wild Card game, Max Scherzer surprised with a relief appearance for the Nationals in Game 2; leading to Anibal Sanchez taking his place tonight in a crucial Game 3 in Washington, D.C.
As a result of the pitching change, the Nationals swung from a -112 favorite to a +125 underdog; and the total moved up by a run, from 8 to 9.
Sanchez faced the Dodgers in the 2018 NLDS when he was a member of the Braves, taking a 3-0 loss in Los Angeles against Clayton Kershaw.
He will have a chance for revenge with his new team tonight, and against a different Dodgers lefty – facing NL ERA leader Hyun-Jin Ryu.
The Starters
Both starters have overachieved in 2019. Each posted a regular ERA more than a full run lower than their xFIP.
They both have one thing in common, which is the ability to generate weak contact. But that's about the extent of their similarities.
Ryu ranks in the 96th percentile amongst all pitchers in exit velocity this season, and he finished in the 92nd percentile in hard-hit rate allowed in 2018.
Sanchez has ranked in the 96th-98th percentile in hard-hit rate allowed over the past two seasons.
Can he fill in adequately for Scherzer, and keep the Nationals in this series?
Two things, which feed into the ERA and FIP gap,  immediately jump out from Hyun-Jin Ryu's profile over the past two seasons:
His Batting Average on Balls in Play, which is about 15 points better than league average:
And his strand rate, which is nearly 10% higher than league average over three years: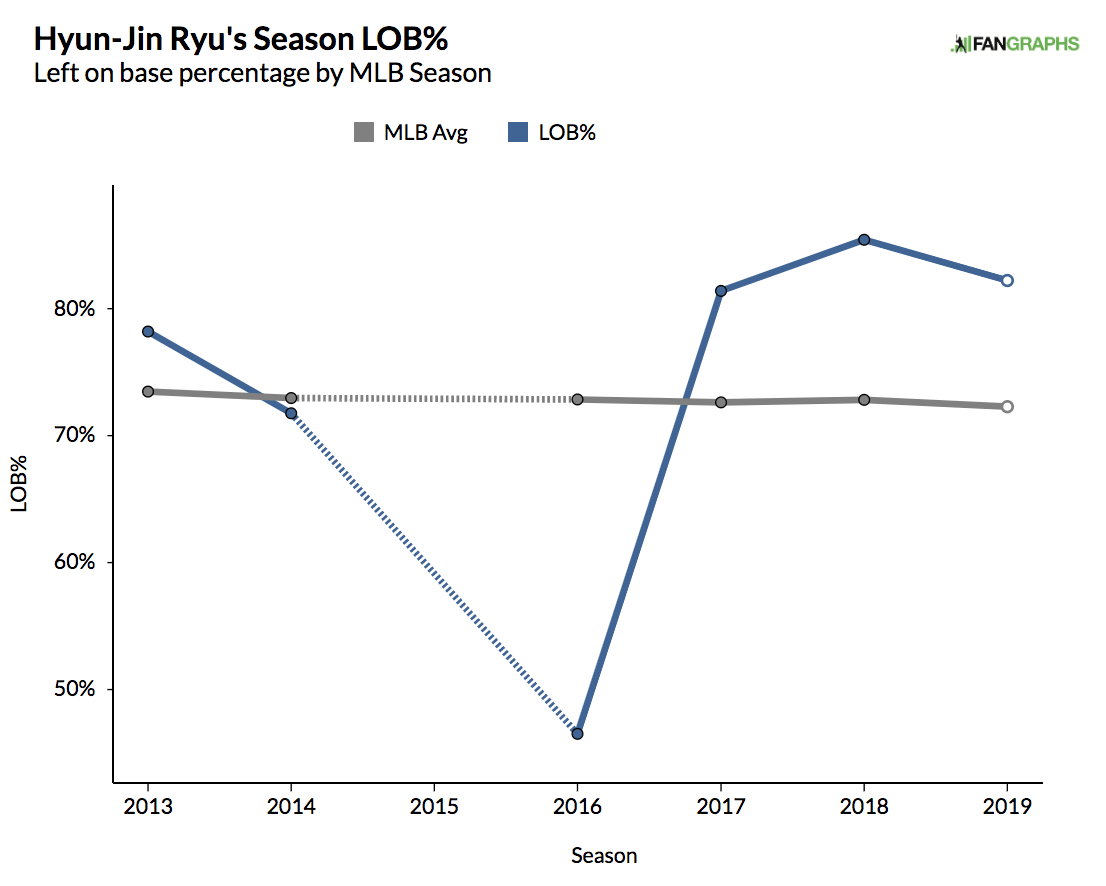 Now a few things feed into his ability to suppress hits and runs, including a high ground-ball rate (50.4% – eighth amongst starters), the ability to generate soft contact, and the Dodgers elite team defense.
So, Ryu has probably been a bit lucky to an extent, but he creates his luck too.
And he started throwing fewer breaking balls, and more changeups (+8.9%) and sinkers this season – turning his changeup into an elite offering.
On a per pitch basis, it was the only changeup that was more effective than Luis Castillo's – a pitch that is considered to be the best changeup in baseball.
Ryu's minuscule walk rate (3.3%) was the second-lowest amongst all starters, just ahead of Zack Greinke.
But Ryu also started to fade a bit late in the year, posting a 4.60 ERA (3.83 FIP) over his final eight starts, as he allowed more walks and a normal amount of balls in play started to drop in for hits: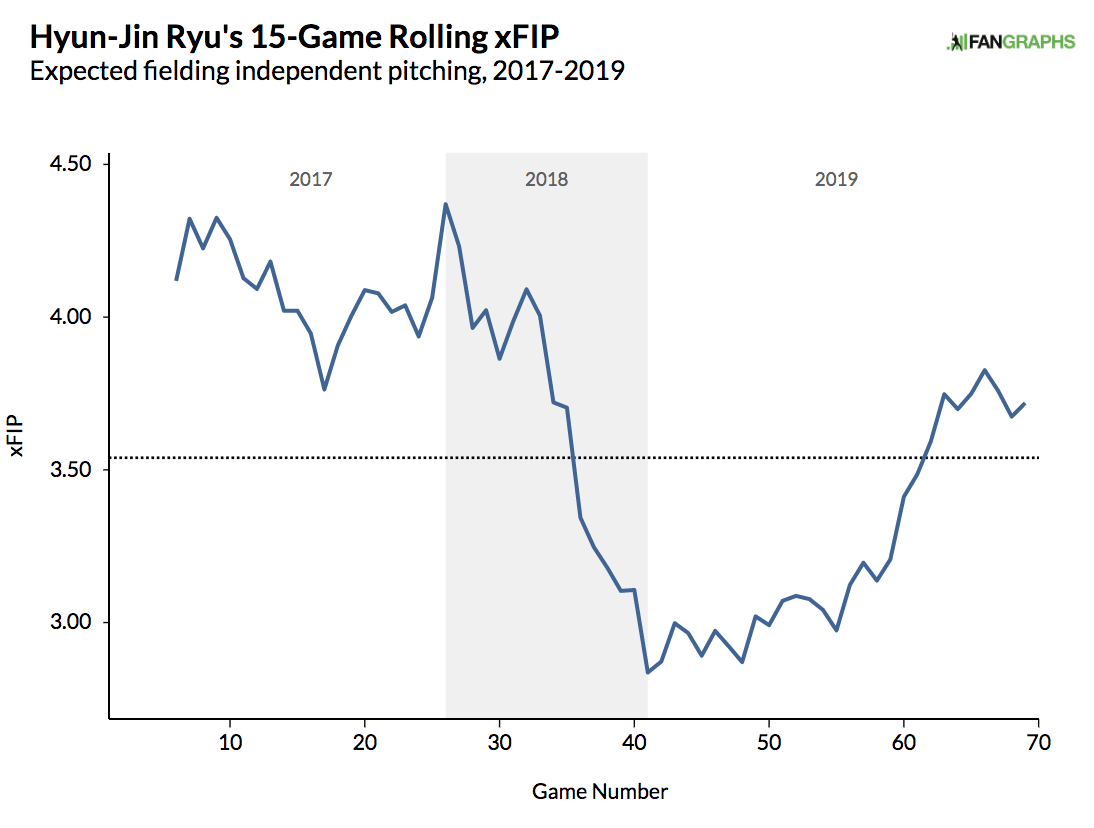 Ryu is a great pitcher, but not as elite as his ERA suggests he is.
And the Nationals hit lefties better than they do righties, with a 111 wRC+; 7th in MLB. However, Ryu also faced Washington twice this season, allowing one run over 14.2 innings.
The bad news for Sanchez is that the Dodgers pound right-handed pitching with all of their left-handed bats; ranking second with a 115 wRC+.
And Sanchez has regressed into below-average territory: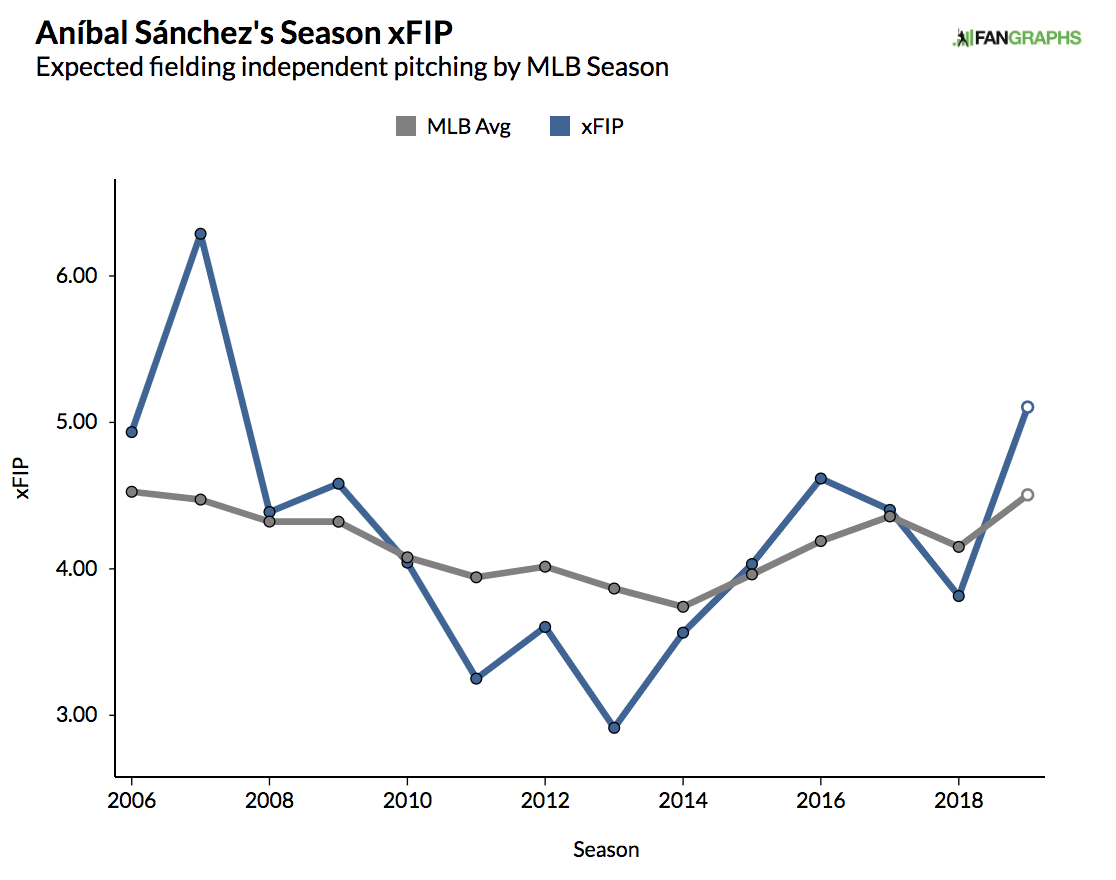 His strikeout-to-walk ratio has decreased from 3.59 to 3.21, and now 2.31 over the past three years as he hits his late thirties.
He relies on six or seven different pitches, though he uses his breaking pitches less than 10% of the time combined.
Sanchez didn't start throwing a cutter until 2015, but it has become his signature offering over the past two years: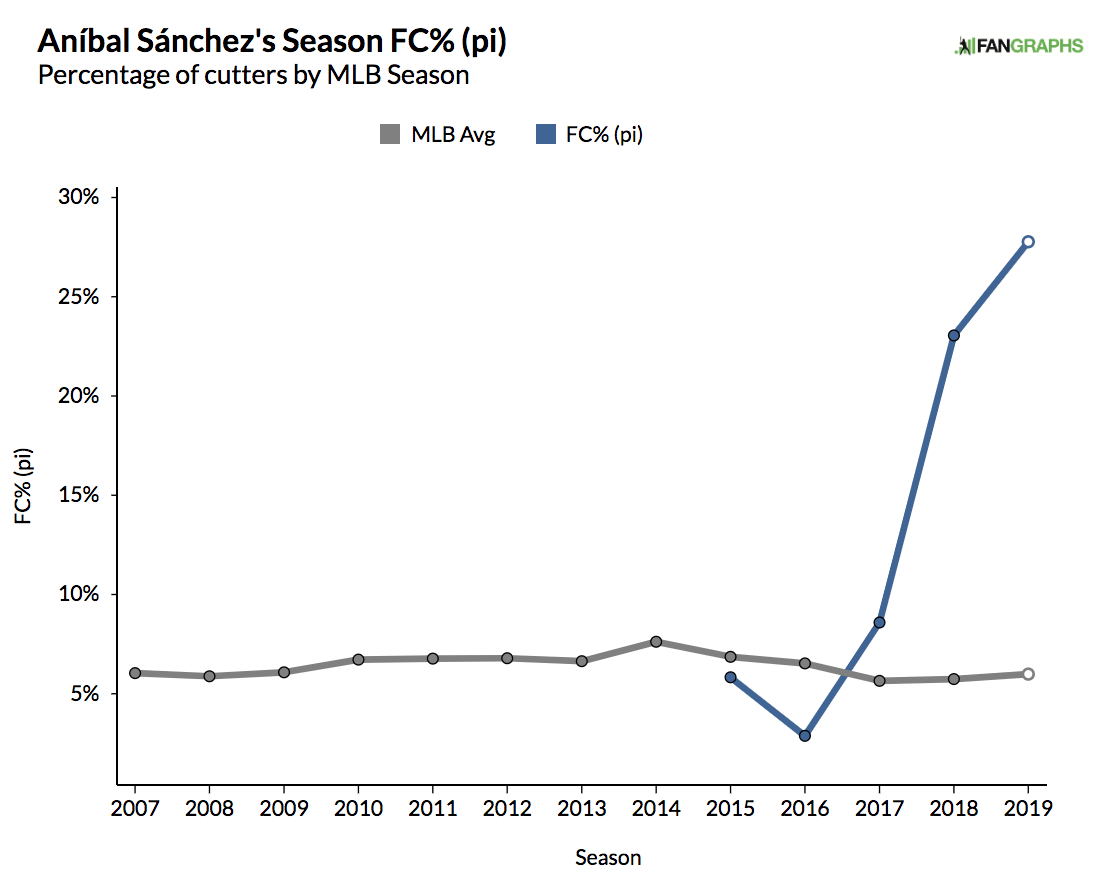 It's a big reason why he's able to generate so much weak contact, and he'll need it to be extremely effective against the Dodgers powerful lineup on Sunday.
The Bullpens
On the season, the Dodgers bullpen ranks sixth in FIP, seventh in xFIP, and fifth in K-BB%. By the same metrics, the Nationals rank 26th, 29th, and 23rd.
The Dodgers used lefty specialist Adam Kolarek for one out each in Game 1 and Game 2, but he should be fine after a day of rest – having thrown just 12 pitches combined in those two outings.
Kenley Jansen has not pitched since September 28, so he could be rusty if he comes into a tight situation.
Who knows how the Nationals plan to handle their shaky pen, after using Stephen Strasburg for three innings in the Wild Card game, and Max Scherzer for an inning in Game 2.
I can't imagine that they would use Corbin on two days rest or bring in Scherzer to throw for the third time in six days, so this is probably up to Sanchez and their regular group of relief pitchers.
If the Dodgers grab a big early lead, you could see the Nationals look to pack it tonight and regroup with some combination of Scherzer in Game 4, and Corbin and Strasburg in a potential Game 5.
Projected Lineups
Data per FantasyLabs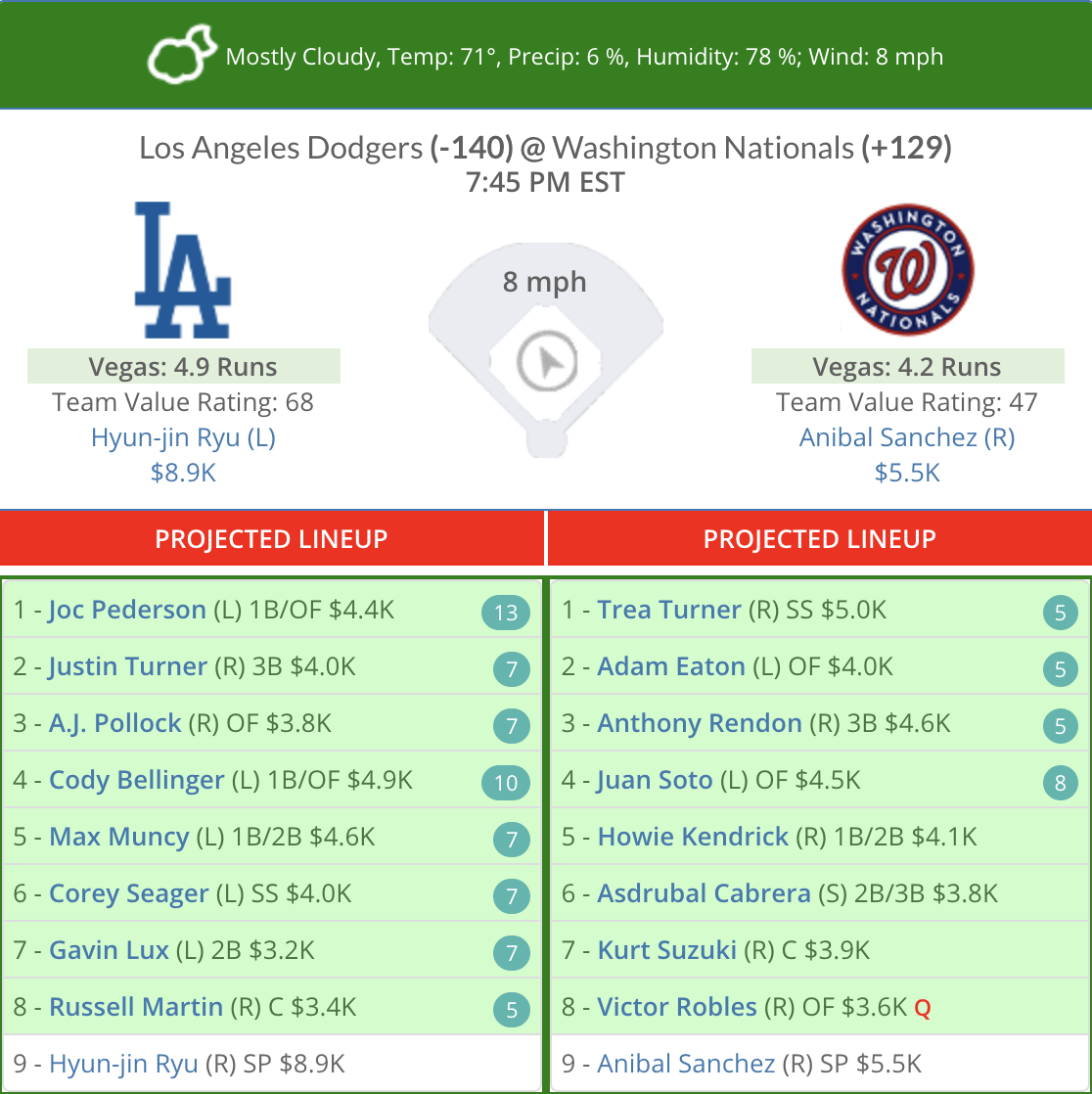 Umpire and Weather Report
Data per Sports Insights

Trends to Know
The under is 7-3 with Ted Barrett behind the dish in postseason games.
Including the postseason, the Dodgers are 84-58 (59.2%) as road favorites over the past two years
The Nationals have only been a home underdog 26 times over the same span, and they are 11-15 (42.3%).
Betting $100 on the under in every start of Hyun-Jin Ryu's career, you would be 64-54-7 (54.2%), goof for a profit of +$562.
Doing the same for every one of Anibal Sanchez starts in the past two years, you would be up +$1,011, with a 32-20-1 (61.5%) record.
Model Projected Odds
Favorite Bet
I projected the Dodgers as a -126 favorite in this game after the switch to Sanchez, so I don't see value on either side of the moneyline.
I set the total at 9.62– and do see value compared to the listed total of 9, especially at plus-money. 
I had initially bet on Scherzer, both in the first five innings and over the full game with the Nationals listed as a -120 favorite before the line came down closer to -110.
With Scherzer, I had the Nationals projected as a 57.4% favorite, implied odds of -135. But those bets were wiped out with the pitcher chance.
After the switch to Sanchez, the Nationals projection decreased by more than 13%, and though I still see a fair price on their moneyline, it doesn't offer much value.
I would need to see the Nationals move closer to +140 before considering playing their moneyline tonight; mainly because I'm already riding their series moneyline ticket (+201).
However, I do like the over nine on the total and played over 9 (+100) for a half unit.
How would you rate this article?