FanDuel Dinger Tuesday Picks Today | Brett Baty, Masataka Yoshida, Mookie Betts, More (May 9)
Credit:
Brian Rothmuller/Icon Sportswire via Getty Images. Pictured: Mookie Betts
One of the most popular promotions in all of the sports betting community is back once again this week: Dinger Tuesday from FanDuel.
The promotion allows each user to bet $25 on one player in every MLB game played that day to hit a home run. Regardless of whether or not the player you bet on homered, you receive $5 in free bets back for each home run hit in the game, with a max return of $25 for the game.
Some users have been limited by FanDuel this season and are only allowed to receive a maximum $50 back in free bets — essentially 10 free homers back for the day in free bets. Last season, there were no limits on the promotion for any players.
Given the average number of home runs in an MLB game in 2022 was 2.14, you will receive an average of $10.07 in free bets back for each $25 home run bet you make, without accounting for the loss in expected value on the vig of the home run yes prop.
If you're not limited at all, you should play as many games as you're comfortable with because the promo is still +EV for most of the board.
If you are limited to the max return of $50, an average of five games will return your $50 maximum free bets. Note: It could be fewer than five games to reach the $50 ceiling if home runs increase again in 2023, which signs show they clearly are.
Here are my five favorite Dinger Tuesday picks for this week.


Blue Jays vs. Phillies, 6:40 p.m. ET
Pick: Brandon Belt +520
Belt has a career high in strikeout rate and had a poor start to the 2023 season, but there's reason to buy low on the Toronto slugger against Aaron Nola on Tuesday. Nola's fastball velocity is down considerably, which makes him a real risk to give up more homers pitching at home in Philadelphia's hitter friendly park.
Belt has cut his swinging strike rate in the 15-game rolling average chart below, and he's improved his chase rate in the last few weeks. That's led to a real increase in xwOBA and wOBA. In the last 50 plate appearances, Belt is one of the biggest improvers in xwOBA. He came from a low base, but Belt is an extreme pull fly ball hitter with still plus barrel rates.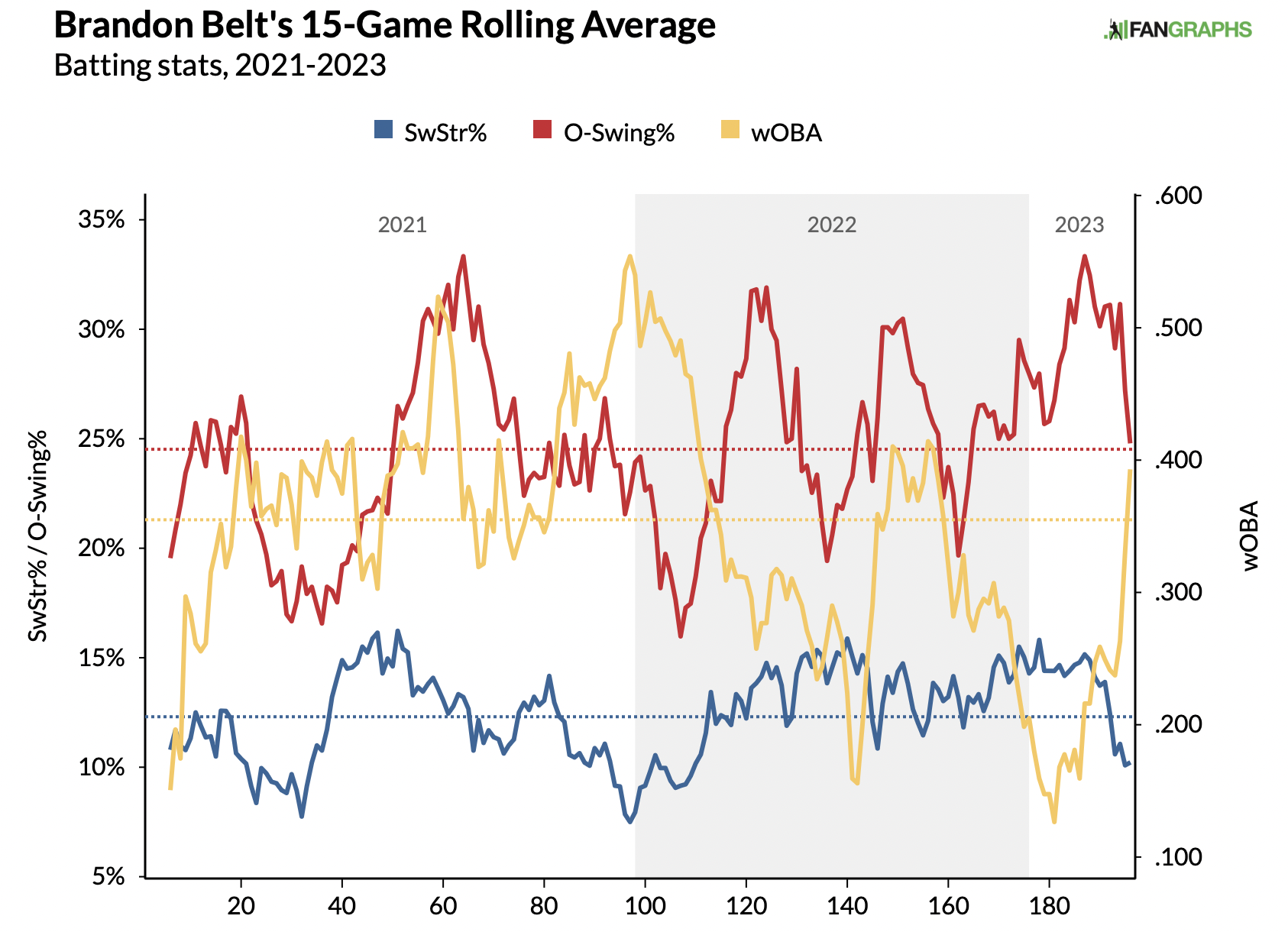 ---


Mets vs. Reds, 6:40 p.m. ET
Editor's note: Max Scherzer was scratched from Tuesday's start. David Peterson will start in his place.
Pick: Brett Baty +530
The Mets called up one of their top two prospects to be a near everyday third baseman and he's already producing in his infant MLB career.
Baty's underlying profile is everything you'd want in a 25+ homer per year player. His raw power is evident with his max EV sitting at 113.7 mph already, which puts him in the 93rd percentile of the league. He has a hard hit rate over 50%, five barrels in 42 batted ball events and, most importantly, he's cut the groundball rate considerably.
Baty had some concerning groundball rates in the upper levels of the minors, but he's been able to lift the ball consistently against MLB pitching.
The increased launch angle has led to more strikeouts this year than when he debuted last year, but Baty is tapping into more of his raw power and that's what we're looking for Dinger Tuesday.
With Luke Weaver (5.88 xERA, 17% barrel rate allowed, 92 Stuff+) pitching for Cincinnati in one of the friendliest hitters parks in the league, the opportunity is clear for Baty to homer.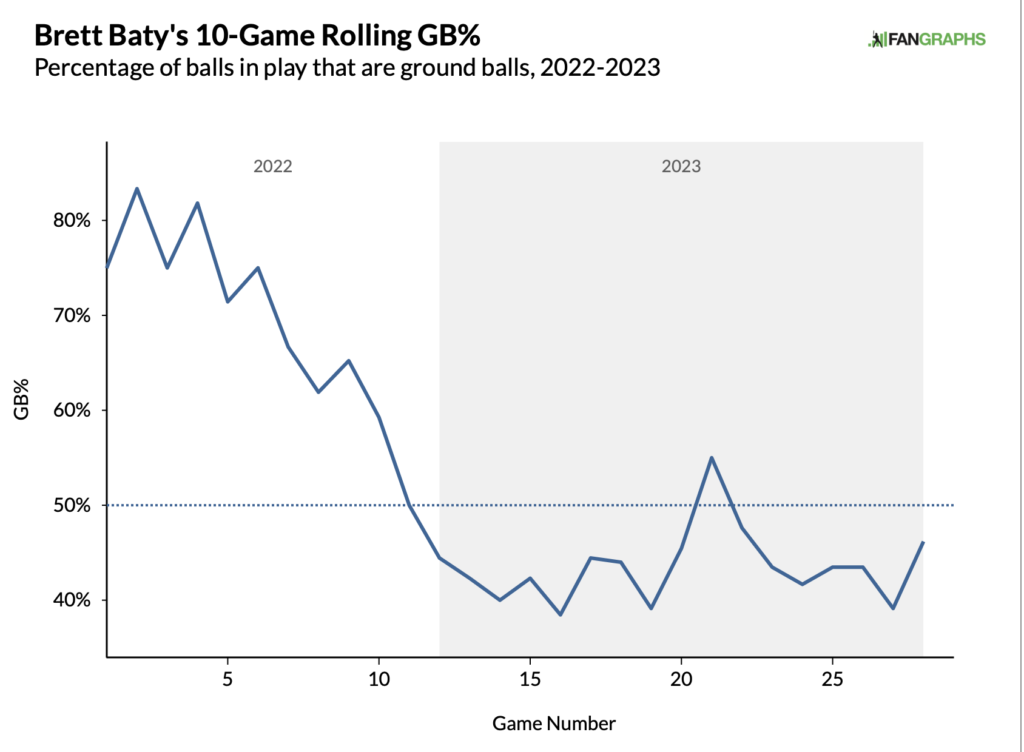 Source: FanGraphs
---


Red Sox vs. Braves, 7:20 p.m. ET
Pick: Masataka Yoshida +560
Yoshida had a really poor start to his first MLB season from a slugging percentage, but the numbers show that he's already adjusted to MLB pitching. The Red Sox did some tweaks with his stance and approach and they've already paid off.
The projection systems and MLB front offices were unsure of him as a power hitter, but he clearly has the tools and power to hit 25 homers. Given his matchup with Charlie Morton on Tuesday in hitter friendly Truist Park, +560 is worth a dart on Yoshida.
In Yoshida's first 13 games in Boston, he slashed .167/.310/.250. He had a negative average launch angle and hit way too many groundballs to hit for real power. Since then, he's maintained a hitting streak, he's hitting fewer grounders and slugging as much as any hitter in all of baseball.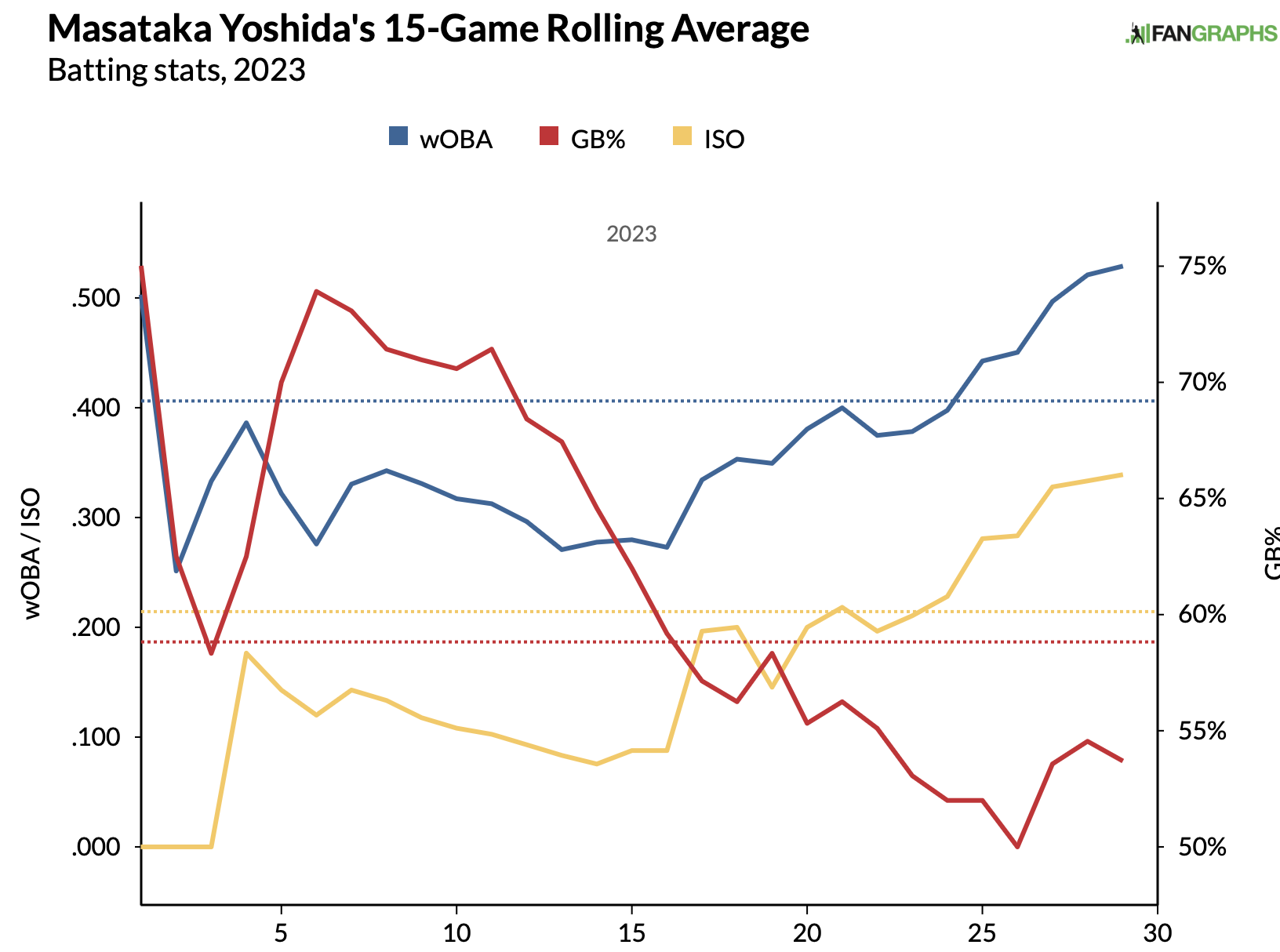 Yoshida may be small in stature, but he's already demonstrated plus raw power with his max EV. Throw in more launch angle and you have a plus home run hitter.
---
Twins vs. Padres, 7:40 p.m. ET
Pick: Joey Gallo +330
As the most extreme three true outcomes player in the league, Gallo is going to frequently be in this column when the barrel rates and contact quality are good.
There are some concerns with Gallo as he's chasing more and his strikeout rate creeps up in the last 10 games. But the power and barrels are as good as peak Gallo.
Gallo has struggled to hit plus fastballs this year, and now he'll get to face one of the worst fastballs in all of baseball against Wacha.
His 23.8% barrel rate is up with his best numbers of his career from 2018-19 in Texas. His average exit velocity is the hardest of his career and his hard hit rate is the best in the entire league.
Gallo's power numbers are off the charts and now he gets a pitch-to-contact pitcher in Wacha.
---

Dodgers vs. Brewers, 7:40 p.m. ET
Pick: Mookie Betts +340
Much like last season, Mookie Betts began the season in a slump. His numbers were down across the board in the first 20 games, but his track record suggested he'd figure it out once again.
Betts has five barrels in the last two weeks and his xwOBA in his last 50 plate appearances is steadily trending upward. The homer numbers on this game across the board are quite mediocre, but it's two pitchers with really bad fastballs that I'm looking to fade.
Both Eric Lauer and Noah Syndergaard rank in the bottom 10 for fastball quality in MLB, and American Family Field is a solid home run environment on Tuesday night.
Since we have a few long shots in the portfolio for Tuesday, I'll take a shorter odds player on this game. If you want to go higher risk, Miguel Vargas is the second bet that jumped off the board at +680.
---
How would you rate this article?
This site contains commercial content. We may be compensated for the links provided on this page. The content on this page is for informational purposes only. Action Network makes no representation or warranty as to the accuracy of the information given or the outcome of any game or event.