FanDuel Dinger Tuesday Picks Today | Nolan Arenado, Patrick Wisdom, More for May 16
Credit:
Joe Puetz/Getty Images. Pictured: Nolan Arenado
One of the most popular promotions in all of the sports betting community is back once again this week: Dinger Tuesday from FanDuel.
The promotion allows each user to bet $25 on one player in every MLB game played that day to hit a home run. Regardless of whether or not the player you bet on homered, you receive $5 in free bets back for each home run hit in the game, with a max return of $25 for the game.
Some users have been limited by FanDuel this season and are only allowed to receive a maximum $50 back in free bets — essentially 10 free homers back for the day in free bets. Last season, there were no limits on the promotion for any players.
Given the average number of home runs in an MLB game in 2022 was 2.14, you will receive an average of $10.07 in free bets back for each $25 home run bet you make, without accounting for the loss in expected value on the vig of the home run yes prop.
If you're not limited at all, you should play as many games as you're comfortable with because the promo is still +EV for most of the board.
If you are limited to the max return of $50, an average of five games will return your $50 maximum free bets. Note: It could be fewer than five games to reach the $50 ceiling if home runs increase again in 2023, which signs show they clearly are.
Here are my five favorite Dinger Tuesday picks for this week.


Angels vs. Orioles, 6:35 p.m. ET
Editor's note: Ryan Mountcastle was given the night off. The author recommends pivoting to either Cal Raleigh or Anthony Santander for this game.
Pick: Ryan Mountcastle (+450)
I'm of the view that the projections are much too high on Angels starter Chase Silseth. His Stuff+ in Triple-A sits at just 82, which is well below average and not someone who is about to strike out a batter per inning in the majors. His mediocre stuff suggests he'll have a home run problem in the majors, even if that hasn't been the case in the minors this year. Silseth allowed 2.2 HR/9 in 28 innings last year, but that sample isn't really meaningful.
Ryan Mountcastle could be in the midst of a power breakout and the market could be still too low on him here. Mountcastle has a career high in barrel rate, a career high in average exit velocity and expected slugging percentage.
Mountcastle also is more than capable of slugging to the opposite field, which is a key on Tuesday with the wind blowing out to right field at Camden Yards.
---

Brewers vs. Cardinals, 7:45 p.m. ET
Pick: Nolan Arenado (+420)
The signs were present last week that Nolan Arenado was finally solving his issues at the plate. His chase rate declined considerably, his swinging strike rate started to regress back toward his career averages. The result was a significant increase in Arenado's 15-game rolling wOBA, as shown in the chart below from FanGraphs.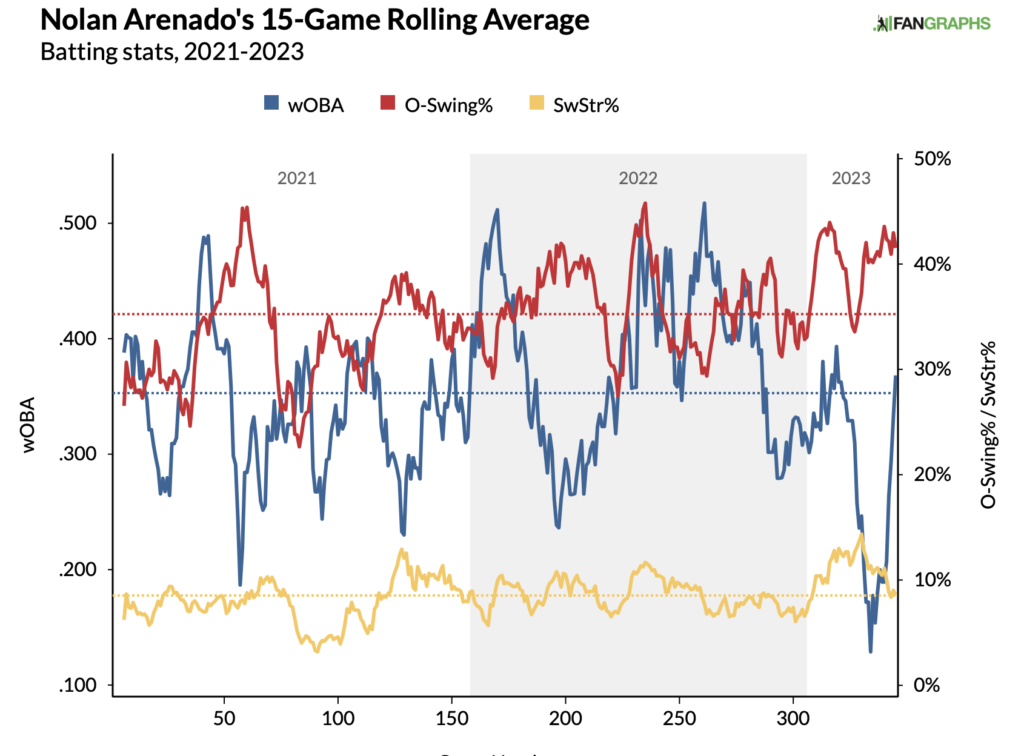 Arenado has always been elite against left-handed pitching and Wade Miley's fastball and cutter in the high 80s should enable Arenado to do what he does best: pull fly balls. He's able to outperform his average barrel rates because he has a heavy pulled fly ball approach and is able to add homers on balls that baseball savant doesn't technically grade as a barrel.
Arenado had the worst stretch of his entire career to begin 2023, but his track record always made him a good bet to bounce back. Now that he has, Arenado finds himself in a great matchup on Tuesday.
---

Cubs vs. Astros, 8:10 p.m. ET
Pick: Patrick Wisdom +460
Justin Steele is much better at inducing weak contact than Cristian Javier, which makes up for the difference in HR/9 for both pitchers. Javier has the better Stuff+ metrics, the better swinging strike rates and strikeout rates, but he's more prone to giving up homers.
There's plenty of swing-and-miss in the Patrick Wisdom profile, but his elite barrel rate and raw power make him undervalued at +460 to homer. I especially prefer to target extreme pull righties in Houston because of the Crawford Boxes and short left field porch in that stadium.
His 22% barrel rate in 2023 should never be as low as +460 to homer, especially since he's combined it with a career best hard-hit rate and also improved his walk rate by swinging less at pitches outside the zone. Wisdom's fly ball rate is also on the rise again in the rolling charts. He's at his best when his fly ball rate is at higher levels for extreme slug.
---

Braves vs. Rangers, 8:05 p.m. ET
Pick: Jonah Heim +480
Heim's career splits show him as a much better hitter from the right side, and he'll take a few at-bats from that side of the plate tonight against Braves lefty Jared Shuster. Not only does Heim have a career-high barrel rate, but it's come from an improvement against fastballs, which is the more sustainable year to year. Heim has a career .835 OPS against lefties, compared to .629 against righties.
In the last 100 plate appearances, no hitter in all of baseball has a bigger improvement in their rolling xwOBA than Heim. Shuster has a fastball and changeup approach, two pitches that Heim has fared best against this season. Stuff+ models don't really grade out Shuster's stuff as particularly good, and he's already been barreled three times in 31 batted ball events.
There should be plenty of offense in this game and while most of the Braves are too cheap, I like a shot on Heim in his preferred split.
---


Reds vs. Rockies, 8:40 p.m. ET
Pick: Brenton Doyle +600
Doyle isn't a highly ranked prospect at all, but given the pitching matchup, the ballpark and his minor league slugging numbers, I have to buy into his power upside potential. He's already barreled six balls in his first 32 batted ball events. His minor league power is real — Doyle hit 26 homers in 2022 in a full season and then five in 57 at-bats in Triple-A this season before getting called up.
The hit tool is absolutely not there and his swing and miss will keep him from being an everyday player. But Doyle's power can't be denied — he has a 60-grade raw power and seems to be really tapping into his game power of late. He's barreled four balls in the last two days and has hit four balls at least 400 feet in the big leagues this year.
We sometimes see guys with this profile break onto the scene with power before getting exposed for their weaknesses. There should be homers off these two below replacement level pitchers at Coors, and Doyle is showing more power than anyone in either lineup at the moment.
---
How would you rate this article?
This site contains commercial content. We may be compensated for the links provided on this page. The content on this page is for informational purposes only. Action Network makes no representation or warranty as to the accuracy of the information given or the outcome of any game or event.