Guardians vs Mets Prediction Today | MLB Odds, Expert Picks for Sunday, May 21
Credit:
Via Elsa/Getty Images. Pictured: Justin Verlander #35 of the New York Mets delivers a pitch in the first inning against the Tampa Bay Rays at Citi Field on May 16, 2023 in the Flushing neighborhood of the Queens borough of New York City.
The Mets host the Guardians on Sunday Night Baseball in the second leg of a doubleheader between these teams.
Shane Bieber will start for the Guardians while Justin Verlander gets the nod for the Mets, but Tanner McGrath is fading both starters on the mound.
Find his MLB betting guide for Cleveland Guardians vs. New York Mets below.
Guardians vs. Mets Odds
The Mets are something. They lost nine of 15, then stole a series from Tampa Bay and most recently made two separate multi-run comebacks on Friday night to beat the Guardians 10-9 in extra innings.
This is an exhausting team to follow.
The Guardians are similarly exhausting, given their lack of competent offense and a questionable bullpen — what's wrong with Emmanuel Clase?
However, surprisingly, I expect plenty of offense in this Guardians vs. Mets edition of Sunday Night Baseball.
Author's note: Saturday's Guardians-Mets game was a rainout, so SNB this week is actually the second game of a doubleheader. Keep that in mind when handicapping. Given this is the Sunday Night Baseball guide, I'll be focusing only on the second game.
---
The 2023 Cleveland Guardians are:
Last in wRC+ (79)
Second-worst in OPS (.648)
Last in ISO (.115)
Fifth-worst in average (.230)
Third-worst in Hard-Hit Rate (34.1%)
Last in Barrel Rate (4.3%)
Last in xwOBACON
Jose Ramirez is the only player with an above-average OPS on the team. Consequently, Guards unders are 26-17-1 this season.
It's been a tough watch for fans in Cleveland.
Nonetheless, the Guardians are hanging around in the AL Central Division race, even if only because the whole division is a mess…
Run differential, by division:
1. AL East +225
2. NL Central +13
3. AL West -8
4. NL West -11
5. NL East -58
6. AL Central -161

— Buster Olney (@Buster_ESPN) May 21, 2023
… but there's not much to be excited about with this team.
Led by the aforementioned closer Clase (1-4, 3.52 ERA, 3.15 xERA), the bullpen is merely league-average. The usually-elite Cleveland defense also ranks just 18th in both DRS and OAA. There are some interesting pieces in the rotation (I'm fascinated by the emergence of Logan Allen and Tanner Bibee), but the numbers are still poor.
And I especially dislike today's starting pitcher.
Starting Pitcher: Shane Bieber (RHP)
Dislike is a strong word. It's not personal with Bieber, who seems like a great guy, but he's just not a top-end starter.
Bieber is known for overperforming, mostly because of his reduced velocity and stuff (79 Stuff+ on his fastball this year). However, things have taken a turn for the worse this year:

Bieber's hanging on with a 3.20 ERA and 3.90 FIP, but he has an xERA north of 5.00. He's on pace for a career-low Strikeout Rate (18.5%) and K-BB Rate (12.9%), all while allowing more hard contact than ever (93.1 mph avg. EV, 50.9% Hard-Hit Rate allowed).
Bieber's always been known for controlling the strike zone and playing solid defense, but his Walk Rate is up, and his DRS is negative for the first time since 2019. He's also forcing fewer Whiffs and Chases with his secondary stuff.
It's all bad for Bieber. He's a fade machine for the foreseeable future.
---
So, the Mets…
Would it be accurate to characterize them as the Cardiac Mets? They're so up and down.
It's a typical dink-and-dunk Mets lineup, except Pete Alonso is making an MVP case, so it's more bloop-and-blast. The Mets never strikeout (20% this season) and love to work free passes (9.3%), but they're below average in ISO and a bottom-10 team in extra-base hits.
Yet, they loaded the bases on Friday night at the right time, and the Polar Bear took advantage.
Alonso is having a great season. The MLB home run leader is also on pace for a career-high Walk Rate (11.7%) and has a 142 wRC+ despite a .205 BABIP, dragging down his .233 average.
Alonso's xBA is 50 points higher, so he could somehow be due for positive regression — that's a scary thought. I'd target him in MVP markets if you get a good enough number (there's a +1300 at FanDuel).
I'm surprised to see Alonso is crushing breaking balls. He's slugging over .940 against sliders this season with a 50% Hard-Hit Rate and a +6 Run Value. Last season, a large chunk of his production came against off-speed stuff, so this is interesting.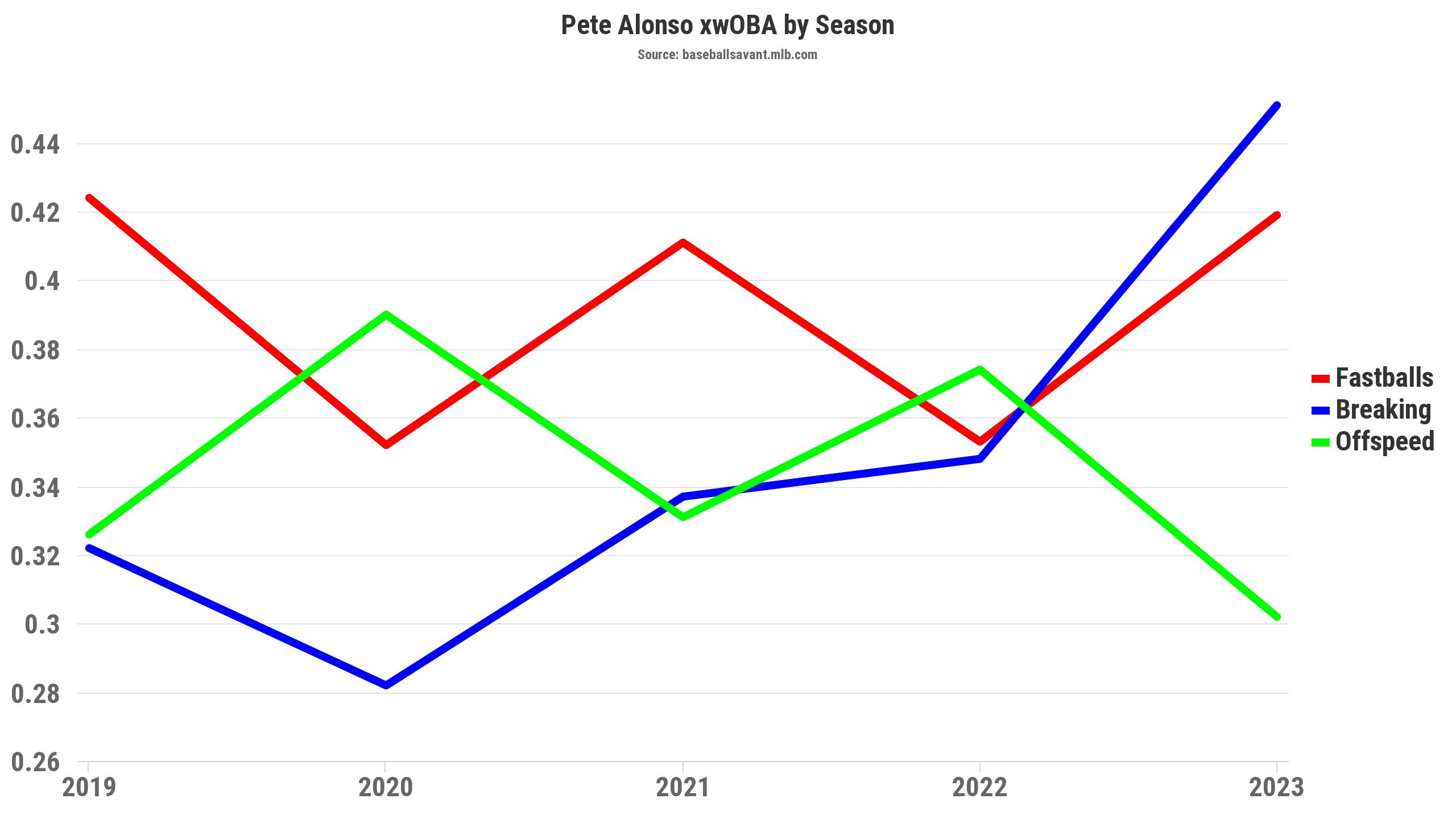 Moving on from Alonso…
Wait, David Robertson has a sub-1.00 ERA and eight saves? Since when?
Robertson has been great. Even his expected numbers are good (2.14 xERA, 3.27 xFIP). He's the anchor of a pretty solid Mets bullpen, which is super important with Edwin Diaz on the 60-day.
Unfortunately, this rotation is in huge trouble.
Max Scherzer and Justin Verlander have been injured and inconsistent, so Kodai Senga needed to step up into an ace-like role. Senga responded by walking 20 batters in 31 2/3 innings — the forkball is working, but the whole picture isn't there yet.
Meanwhile, Joey Lucchesi and David Peterson are hurt, while Carlos Carrasco is a gas can. Carrasco has an ERA above 8.50 and an xERA above 7.00, and I don't think he'll be pitching in the rotation much longer.
There doesn't seem to be a lot of quality MiLB starting pitching depth for the Mets. Their top pitching prospects are all still in High-A. Maybe Jose Butto can start putting together better starts (12 IP, 3.00 ERA, 1.75 WHIP).
Starting Pitcher: Justin Verlander (RHP)
After dominating the Tigers and Reds in his first two starts, Verlander blew up against the red-hot Rays. I expected that to happen.
The Stuff+ on Verlander's fastball has dropped in three straight seasons. I'm unsure what's happening, as the velocity holds true. He may have lost some ride over the past few seasons.
Whatever is happening, I'm not buying it. K-BB rate tends to stabilize faster than other stats for pitchers, and Verlander is struggling in that department: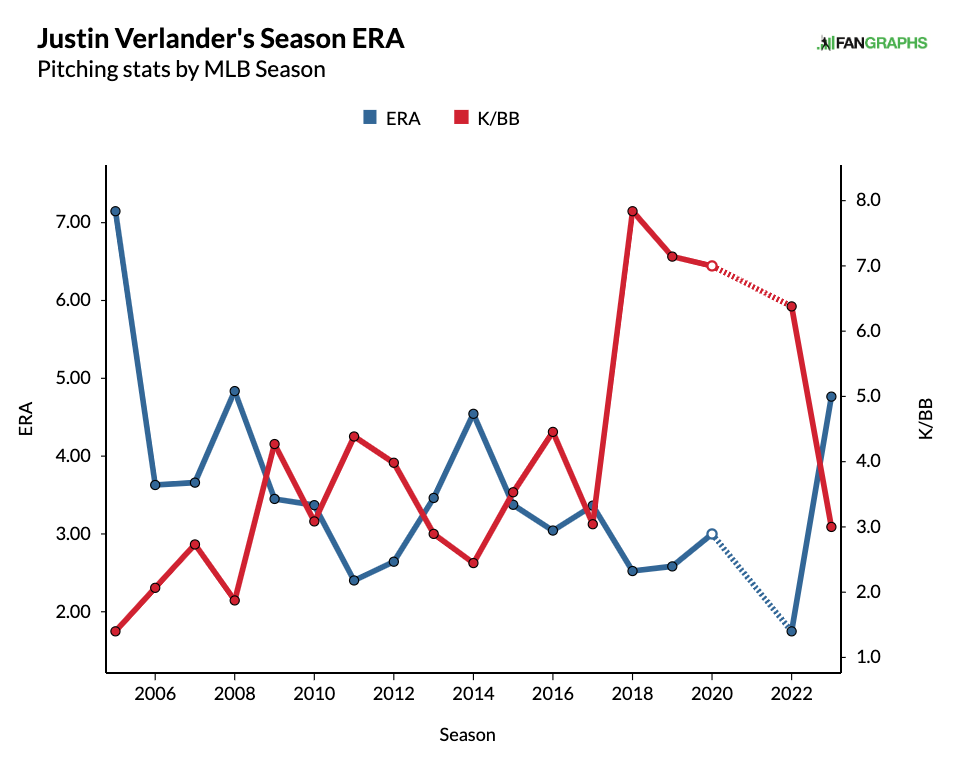 Verlander's K-BB Rate is down to 14.5%, nearly a 10% drop from last season. Projections have that number rising, but I'm not optimistic in the short run.
Verlander has allowed four home runs across three starts, and I expect his 16% HR/FB Rate to regress eventually. Consequently, his current numbers are inflated.
Still, I'm worried. He's allowing a ton of hard contact in the early season, including a Hard-Hit Rate approaching 50% and a double-digit Barrel Rate.
---
Guardians vs. Mets Betting Pick
I'm very low on both starting pitchers, so I'm buying into a high-scoring affair. Bieber and Verlander have enough market cred to set this total below eight, but the total should be nine based on their current form.
The Mets will always create runs, no matter how creative the method is. The worry is that the Guardians won't, but they've scored at least three runs in four of their past five games (including nine on Friday), and that'd be enough to cash this low number.
I'm relatively high on both bullpens, but I'd imagine the higher-leverage arms will get used during the first game of this doubleheader, so we have that going for us.
My colleagues Sean Zerillo and Charlie DiSturco are on the over, and the app has tracked sharp and smart money hitting that side, so I feel pretty comfortable with the market viability of this play.
But mostly, I'm just here to see Bieber and Verlander get smacked around. Hopefully, we can enjoy an electric version of Sunday Night Baseball, as opposed to normal Guardians games.
Pick: Over 7.5 (-105) | Play to 7.5 (-110)
---
How would you rate this article?
This site contains commercial content. We may be compensated for the links provided on this page. The content on this page is for informational purposes only. Action Network makes no representation or warranty as to the accuracy of the information given or the outcome of any game or event.