Jackie Robinson Collectibles in Demand Ahead of 75th Anniversary of Breaking Color Barrier
Credit:
Hulton Archive/Getty Images. Pictured: Jackie Robinson
The 75th anniversary on Friday of Jackie Robinson's breaking of the color barrier is bound to boost the collectibility of the Brooklyn Dodgers great, but the truth is the value of the collectibles of Robinson, have soared over the past few years.
A ticket to Robinson's breaking of the barrier sold last month for $480,000, which is an all-time record paid for a ticket. A ticket to the debut in better condition sold for $40,800 just a year before.
The value of Robinson's 1948 Leaf rookie card today in a PSA 8 is worth roughly ten times what it was worth five years ago. A collector could have bought one for $40,000 in 2017. Today, one can't be had for less than $400,000.
"With a lot of other great players, you see that some of their items are flipped over and over again in auctions," said Leighton Sheldon, owner of Just Collect and one of the nation's largest buyers and sellers of vintage cards. "What you notice about Jackie's items is once they are bought at auction, you don't see them again. And that gives me even more confidence in investing in him further."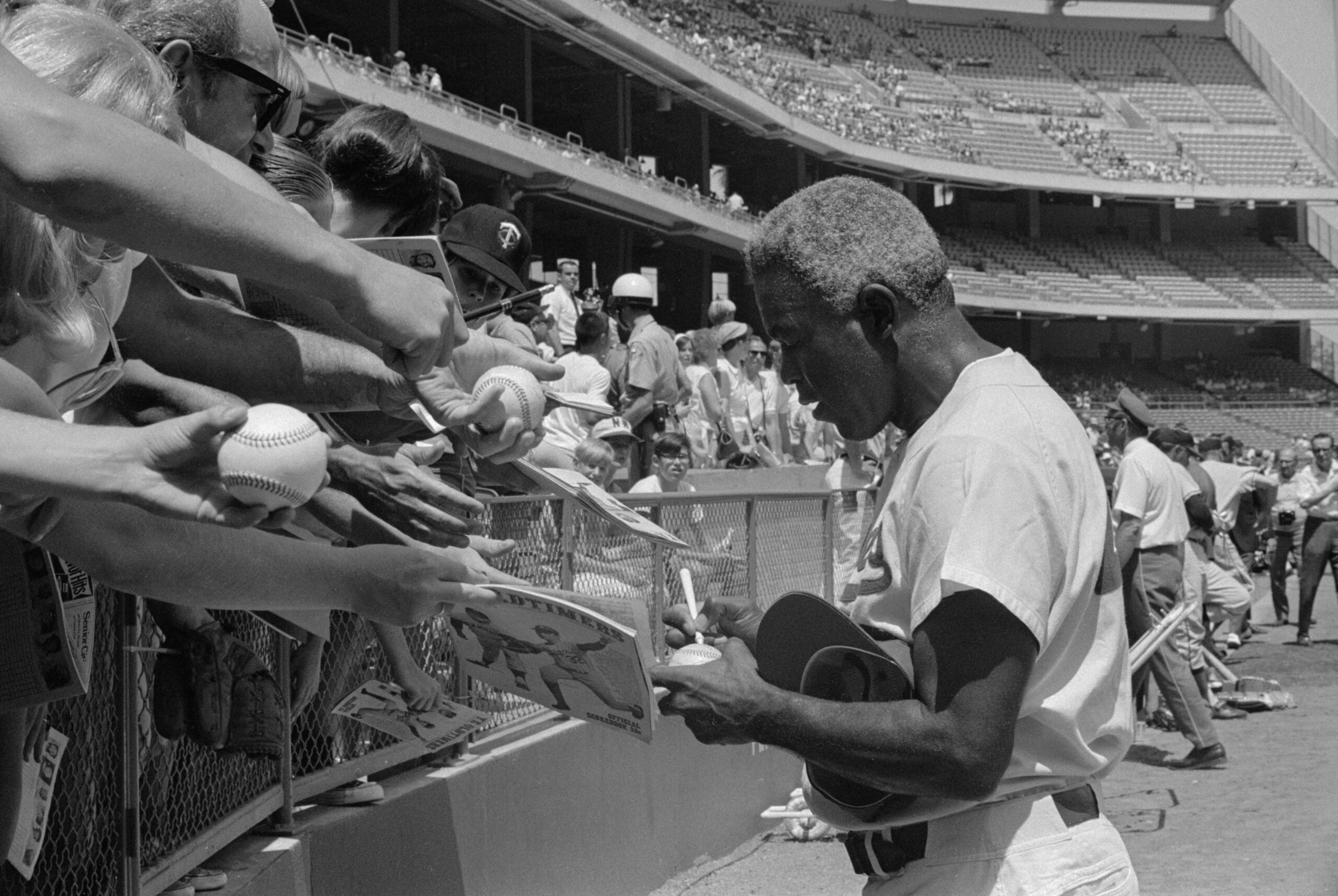 Collector Jason Koonce, who said he has more than 200 1948 Jackie Leafs, said he recently turned down an offer of more than $4.8 million for one of the seven cards graded by PSA as a 9.
"Ten years ago, that card was a $100,000 card," Koonce said.
Despite some Jackie pieces getting a massive amount of money in the past — a 1947 rookie game-worn jersey sold in 2017 for $2.05 million and a questionnaire he filled out in 1946 sold last month for $1.68 million — Koonce argues that Robinson items might still be undervalued.
"The color barrier is much more important than baseball," Koonce said. "It's a cultural event. So when you invest in Jackie, you're not investing in baseball, you're getting a piece of history."
To take advantage of the anniversary, Goldin Auctions has put Jackie Robinson items in its current auction including a used 1951 Brooklyn Dodgers home jersey with a minimum bid of $2 million; a bat Robinson used in the 1949 All-Star Game at Ebbets Field; and, the plaque Robinson received when he was inducted in the Hall of Fame in 1962.
---
Top 10 Most Expensive Jackie Robinson Items
1 — 1947 Game-worn jersey, $2.05M, Nov. 2017, Heritage
2– 1946 Signed questionnaire, $1.68M, Feb. 2022, Heritage
3 — 1952 Topps PSA 9, $960,000, May 2021, Goldin
4 — Game-Used Cap with metal plates, $590,994, Oct. 2017, Lelands
5 — Jackie Robinson Debut Ticket, $480,000, Feb. 2022, Heritage
6 — Jackie Robinson Game-Used Bat, $478,000, Aug. 2016, Heritage
7 — Jackie Robinson 1948 Leaf PSA 8, $468,000, Feb. 2022, Heritage
8 — Jackie Robinson 1948 Leaf PSA 8, $444,000, Nov. 2021, Heritage
9 –Jackie Robinson World Series Game-Used Glove, $373,000, June 2013, Steiner Sports
10 — Jackie Robinson 1948 Leaf PSA 8, $372,000, August 2021, Heritage
How would you rate this article?
This site contains commercial content. We may be compensated for the links provided on this page. The content on this page is for informational purposes only. Action Network makes no representation or warranty as to the accuracy of the information given or the outcome of any game or event.