2020 KBO Opening Day Odds, Betting Picks & Season Preview (May 5): Do We Dare Fade the Champs?
Credit:
Chung Sung-Jun/Getty Images. Pictured: Kim Ho-eun
The opening day for the Korean Baseball League (KBO) is on Tuesday, and baseball expert Sean Zerillo examines the latest odds and picks out his favorite bets of the day, including a few underdogs and over/unders.
The 2020 KBO League regular season begins on Tuesday in South Korea, one month, and one week later than initially scheduled. Still, its start provides hope that, eventually, Major League Baseball and Nippon Professional Baseball in Japan can get back to the field.
The epidemic curve in South Korea, Japan, and the United States has been much steeper than in Taiwan – which has recorded fewer than 500 cases of Coronavirus in total, and playing professional baseball without issue since April 11.
Thus, the KBO is going to serve as a model, to some degree, for both how to get other professional sports leagues back up and running safely, and for how MLB can go about completing its 2020 season.
The KBO will play in empty stadiums, all players and staff will enter and exit through one door and have their temperatures checked daily, and stadium staff will be wearing masks and gloves at all times. If a player shows symptoms at any point, they will be quarantined, and the league will likely shut down for three-weeks at minimum.
There are also strict policies and precautions against both spitting and high-fiving.
Unlike MLB, the KBO is going to try to play out its entire 2020 schedule – helped in part by canceling their All-Star game and planned Olympic break, and by deciding to play postseason games after mid-November inside of a neutral-site domed stadium.
Other professional leagues will surely be watching and taking notes.
From my perspective, I'm excited to have more live baseball in my life and to be able to handicap and project five games for the Monday-Tuesday overnight shift (1:00 a.m. ET).
So, let's jump into this wildly entertaining league, replete with character, personality, talent, and of course – inhumane, unholy bat flips – but so much more too.
---
Looking to bet on the KBO? Check out PointsBet. Get up to $200 in risk-free bets at PointsBet today or see more offers and reviews for the best online sportsbooks.
KBO Rules and Information
You might have some questions about the KBO. Hopefully, this section provides those answers:
Who are the active clubs?
Doosan Bears
Hanwha Eagles
KIA Tigers
Kiwoom Heroes
KT Wiz
LG Twins
Lotte Giants
NC Dinos
Samsung Lions
SK Wyverns
How long is the season?
144 Games with a balanced schedule – each club will play the nine other clubs 16 times.
How do the playoffs work? 
The top five teams qualify for the postseason, which then turns into a ladder tournament.
In the Wild Card round, the fifth-place team faces the fourth-place team in a three-game series but begins with a 1-0 lead in that series; meaning that the fourth-place team advances with one win or a tie (after 15 innings), while the fifth-place team must win two consecutive games to progress.
The Wild Card winner then faces the third-place team in a best-of-five series, before the winner of that series faces the second-place team in another best-of-five.
The winner of the semi-final faces the first-place team in a best-of-seven championship, KBO Korean Series.
After the Wild Card round, playoff games ending in an official tie (after 15 innings) are entirely replayed.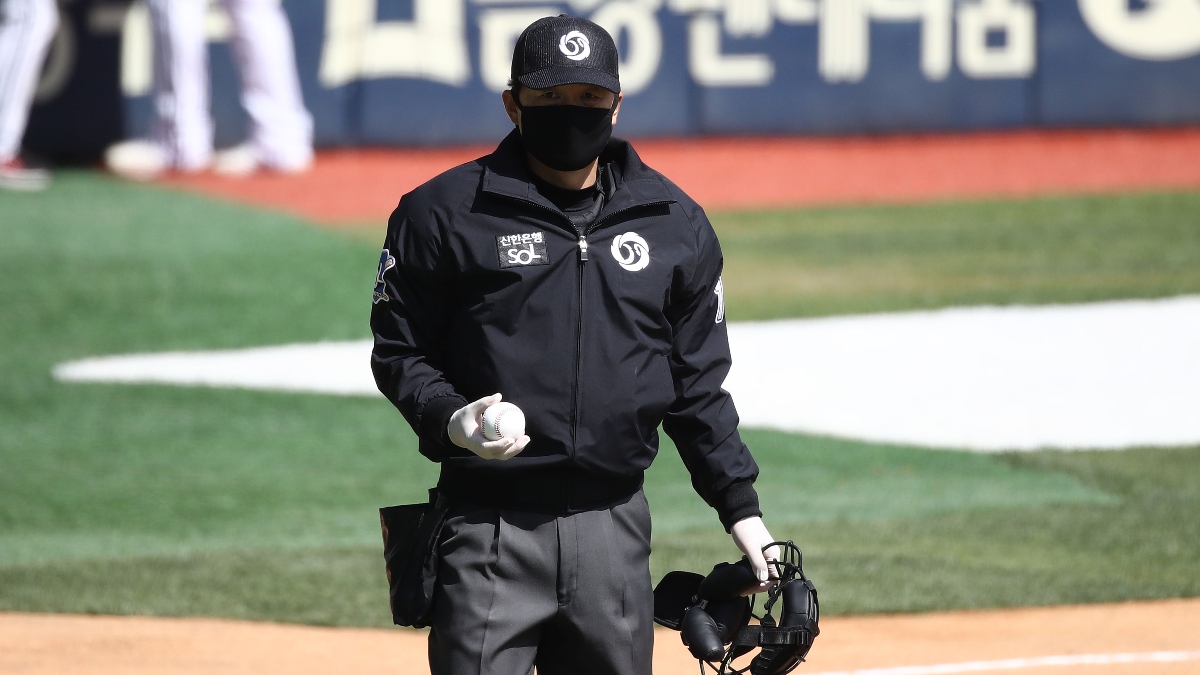 Do pitchers hit? 
No, the KBO uses a universal Designated Hitter.
Are there any weird rules for betting purposes? 
Like in the CPBL, regular season KBO games are an official tie after 12 innings. Moneyline wagers would be refunded. Spread and total bets would likely grade, but rules depend upon your local sportsbook.
How large are the rosters?
28 players, with 26 active on game day
Are there foreign player limits?
Yes, teams are limited to three foreign players per roster, two pitchers and one position player. For the first time this season, all three are allowed to play in the same game.
Would I know of any former MLB talent that currently plays in the KBO?
Some familiar Korean players who recently left MLB teams include Byung-ho Park (Kiwoom Heroes), Seung-hwan Oh (Samsung Lions), Hyun-soo Kim (LG Twins), Jae-gyun Hwang (KT Wiz) and Dae-Ho Lee (Lotte Giants).
You'll undoubtedly recognize some names from the foreign player list:
Are any former KBO stars now in MLB? 
You're probably aware of 2019 MLB All-Star and ERA leader Hyun-jin Ryu, who signed a four-year, $80 million deal with the Toronto Blue Jays this offseason.
He dominated in the KBO from 2006-2012 for the Hanwha Eagles as a seven-time All-Star, becoming the first player to win the Rookie of the Year and MVP awards in the same season, while also winning the pitching triple crown in 2006 (18-6, 2.23 ERA, 204 K's – in a league with an average 3.58 ERA).
Fellow southpaw starter Kwang-hyun Kim, the 2008 KBO MVP, signed a two-year deal with the St. Louis Cardinals this offseason after a long tenure with SK Wyverns (2007-2019).
The two other current South Korean players on MLB clubs, Shin-soo Choo and Ji-man Choi, both signed with the Seattle Mariners out of high school.
Eric Thames was so prodigious in the KBO (42 doubles, 47 homers, and 40 steals with a .381/.497/.790 triple-slash line in 2015) while posting a 1.172 OPS over three seasons that NC Dinos fans just referred to him as "God":
Thames returned stateside in 2017 with the Brewers showing a matured plate approach and launched 31 homers with a .877 OPS – though he has been hampered by a thumb injury and is now into his thirties. It's a wonder to think what the current Washington Nationals infielder would have done in that peak age-28 season at the MLB level, had he only spent the one year in the KBO.
Merrill Kelly, who was a solid back-end starter for the Diamondbacks last season, and Josh Lindblom, who signed a three-year deal with the Brewers this offseason, both improved their stuff and stock after moving to the KBO for multiple years.
Lindblom was the ace for the reigning-champion Doosan Bears in 2019, going 20-3 with a 2.64 ERA, 24.4% strikeout rate, and a minuscule 3.8% walk rate – which is Zack Greinke level command (23.1%, 3.7% respectively in 2019).
Where can I watch the games? 
ESPN reached an agreement today to air six games per week in English, mostly on ESPN2.
You can also stream any of the games through Twitch.
---
Comparing KBO to MLB
The consensus opinion on the level of play in the KBO varies – but it is generally considered to be somewhere between our Double-A and Triple-A in the United States, with players who are MLB caliber, and others who wouldn't make it out of A-ball.
It's worth noting that the KBO de-juiced their baseball before the 2019 season, and run-scoring dropped by 18%, from 11.1 to 9.1 runs per game. Home runs dropped off by nearly 42%, from 28.7 at-bats per home run in 2018 to 48.5 in 2019. Let that sink in.
Pitchers in MLB allowed 1.4 home runs per nine innings in 2019, the height of the fly-ball revolution. KBO pitchers averaged just 0.7 in 2019, after a rate of 1.2 in 2018.
Run scoring was 5.7% lower in the KBO as compared to MLB in 2019, despite a slightly higher rate (+2.1%) of unearned runs.
An average KBO hitter, over 500 at-bats, would generate a shade over ten home runs with a batting line (.267/.337/.385) comparable to an injured, 2019 version of Lorenzo Cain (.260/.325/.372) who posted an 83 wrC+, 127th of 135 qualifying hitters last season.
On the pitching side, an average KBO hurler would return a FIP comparable to 2019 Joey Lucchesi, who finished 33rd amongst 61 qualifying MLB starters, or Nick Wittgren, who finished 95th amongst qualifying MLB relievers.
---
KBO Performance and Pythagorean Records
Like the Rakuten Monkeys in the CPBL, the Doosan Bears have bullied the KBO over the past decade, winning the Korean Series in 2015, 2016, and 2019, while also making it to the final stage in 2013, 2017, and 2018.
In other words, they have played for the KBO title in six out of the past seven seasons.
And they're the favorite to repeat as champions in 2020, retaining a loaded roster despite losing their ace, Josh Lindblom, to the Milwaukee Brewers.
Additionally, according to their Pythagorean records, one could argue that the Bears underachieved in the 2019 regular season after overachieving in 2018:
The Kiwoom Heroes, who ended up losing in the Korean Series to the Bears, were the biggest underachiever in 2019, as the only team to surpass a run differential more significant than 200 (+208).
Conversely, the LG Twins were the biggest overachiever in the league, finishing just +8 in run differential, and they probably should have ended up with a winning percentage closer to 50% than 54.9%.
2018's biggest overachievers, the Hanwha Eagles, declined from third to ninth place, while the biggest underachievers, the KT Wiz, improved from ninth to sixth.
---
2020 Futures Market
KBO Fancy Stats has some excellent 2020 KBO standings projections.
Based on that data, I used playoff simulations to build-out a projection for the 2020 KBO champion, and I quickly found three teams who offered betting value:
(1) The defending champion Bears and (2) the runner-up Heroes, both of whom underachieved in 2019; along with (3) the KBO's youngest club, the KT Wiz, who have steadily improved their stock since joining the league in 2013 and figure to have a decent floor to make the playoffs (57%) as a sizable longshot.
Here's how all of the teams compare to listed futures odds, provided by PointsBet:
After comparing my projections to the listed odds, the Bears offer an 8% edge in terms of betting value, while the Heroes offer a 5% edge, and the Wiz show a 3% betting edge – but at the most significant number of the three teams by far.
Based upon ELO trends, also provided by KBO Fancy Stats, each of those three teams is trending in the right direction: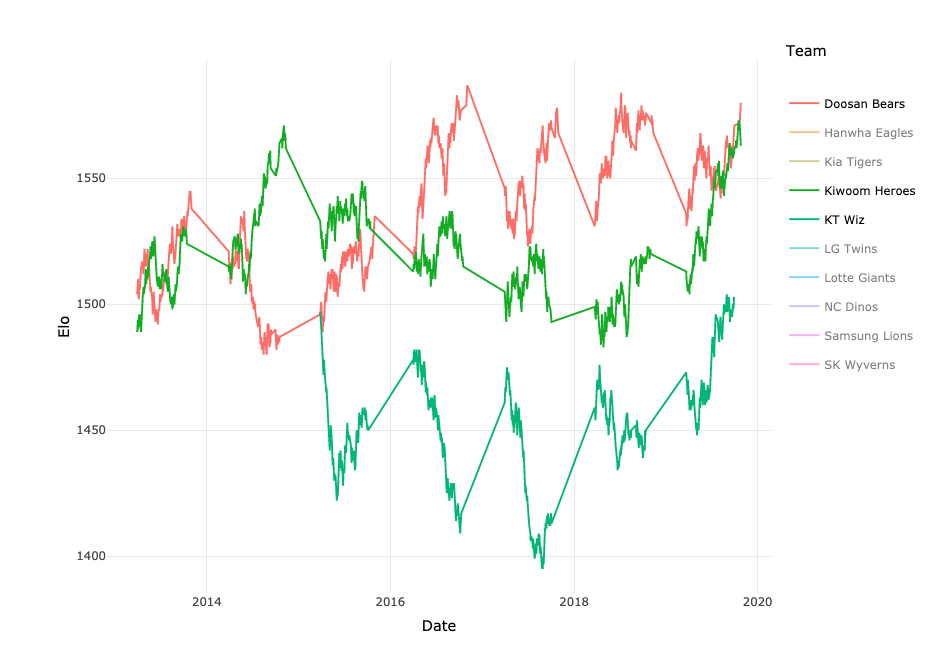 I made some investments into the Heroes and the Wiz, expecting that the former might be the best team in the league, or that the latter could go on a run if they finally make their first KBO postseason.
---
KBO Opening Day Bets (May 5)
We will have plenty of time to deep dive into this league further in the coming weeks – we'll discuss its stars, team histories, storied rivalries, stadiums, and try to figure out which teams we're pulling for.
For now, let's look for some small edges to play on opening day, beginning with a couple of overs that I tried for lower stakes, where the edge has only gone up in the time since I placed those bets.
I show two games with a projected total more significant than ten runs for Tuesday – the NC Dinos vs. Samsung Lions, and the Doosan Bears vs. LG Twins, and I bet Over 8.5 (-115) on each game – an edge between 5.3% and 5.4% on either. 
The home team is an underdog in both games, making it more likely that you see the bottom of the ninth inning. The two domestic starters in those matchups, Jung-hyun Baek (Samsung Lions) and Woo-chan Cha (LG Twins) are the only two pitchers starting on Tuesday that I project for a FIP higher than 4.00 in 2020.
Though the Lions offense was more than 35% below league-average in 2019, their starter Baek (4.91 FIP in 2019) easily has the highest mark on the day – and I see the Dinos as a solid favorite – while the Twins' Cha (4.26 in FIP in 2018) faces the next-worst starter for the day in Raul Alcantara (3.94 FIP in 2019) – who joins the defending-champion Bears from the KT Wiz.
The Twins offense is merely league average, while the Bears were 18% better than average in 2019, but I'll still take a crack against the defending champions with a home underdog in that contest.
I bet the Twins at +140 (implied 41.7%) a 6.7% edge compared to my projection (48.4%), and I would play them down to about +125 (implied 44.4%), a 4% edge. Use our betting calculator to find your edge if you have different odds.
And if we're going to bet against the defending champion Bears on opening day, we might as well take a shot against the runner-up Kiwoom Heroes too, as I feel that the Kia Tigers should be a slight favorite in that matchup.
I bet the Tigers at odds of +113 (implied 47%) and a 4.4% edge compared to my projection at 51.4%) – and I would play them down to +110.
We're backing the Tigers star pitcher, 2017 KBO MVP, and 31-year-old lefty Hyun-jong Yang, who posted a 2.58 FIP and 6.64 WAR in 2019, against Jake Brigham for the Heroes (3.22 FIP, 3.27 WAR in 2019), in what should be a tight game with my lowest projected total (7.9) for the day.
---
Lastly, I'm betting a line that I think has gotten a bit out of control, as the Hanwha Eagles and former Detroit Tiger Warwick Saupold faces former Pittsburgh Pirate Nick Kingham and his new team SK Wyverns.
The line has moved roughly half a dollar since opening around +120 (implied 44.4%), so I'll buy back for a unit at +175 (implied 36.4%) – an edge somewhere between 7%, and 11.7% depending upon how aggressively you project Kingham.
The 6'5″, 235-pound righty looks like an ace, but he didn't possess a single above-average pitch at the MLB level, averaged just 92.2 mph on his fastball, and got absolutely hounded by lefties (.417 wOBA against).
The Australian-born Saupold was below replacement level in Detroit (5.30 xFIP, 1.49 K/BB) but he had a solid first year in the KBO with a 3.51 FIP and 2.52 K/BB, and the Eagles offense was a couple of ticks better than league average.
They were also the most efficient team defensively in 2018 – though their SK Wyverns finished just behind them. The bullpen and pitching depth is the culprit of the Eagles' drop 19 win dropoff from 2019 to 2018.
Kingham's xFIP (4.93) and command (2.25 K/BB) were better against MLB hitters than Saupold's, no doubt. But he's being priced like he's an ace already in this league – and I don't think he should be -200 against anybody yet.
You can play the Eagles down to +156, a 9% edge. Use our betting calculator to find your edge if you have different odds.
Full KBO Betting Card for May 5
LG Twins +140 (1 unit)
Bears/Twins, Over 8.5 (0.5 units)
KIA Tigers +113 ( 1 unit)
Dinos/Lions, Over 8.5 (-115, 0.5 units)
Hanwha Eagles +175 (1 unit)
[Bet now at PointsBet. NJ and IN only.]
Zerillo's Full KBO Model, 5/5
Download the Excel doc with my projections to input odds from your sportsbook. These projections cover the full game moneylines and over/unders. A sample of one of the sheets is below: 
How would you rate this article?