MLB Betting Odds, Picks & Predictions: How to Bet Dodgers vs. Giants on Opening Night
Credit:
Harry How/Getty Images.
Updated betting for Thursday's Dodgers vs. Giants MLB Opening Night game have the Dodgers as -275 favorites and the Giants at +215, with the total set at 9.5.
Clayton Kershaw has been scratched from tonight's start, which is why the odds are a bit lower than they were previously today.
Below you'll find Sean Zerillo's breakdown of the game, including updated projections based on Kershaw's absence.
San Francisco Giants at LA Dodgers Odds
Probable starters: Jhonny Cueto vs. Dustin May*
---
Odds as of Thursday at 8:30 p.m. ET and via DraftKings. Get up to a $1,000 sign-up bonus at DraftKings today or see more offers and reviews for the best online sportsbooks.
Editor's Note: Clayton Kershaw has been scratched from his start against the Giants. The odds have been updated to reflect the change, but the analysis below was written before the Dodgers made the announcement. However, Sean Zerillo did update his model to reflect the change:
Giants vs. Dodgers Updated Projection

Adjustments
F5
• Dodgers -3%
• Total: +0.13 runs

Game
• Dodgers -2.06% ➡️ New implied odds: -240
• Total: +0.17 runs pic.twitter.com/SFoRptbry6

— Sean Zerillo (@SeanZerillo) July 23, 2020
---
The Dodgers and Giants will renew their rivalry to begin this strange 2020 MLB campaign on Thursday night.
Dodger blue has dominated the rivalry in recent years, with a +104 run differential and 33-24 record against the Giants since the start of the 2017 season. When the Giants do manage to steal games, they are tight, low-scoring affairs.
Clayton Kershaw will hope to stay hot on opening day, in a record ninth turn for the Dodgers. He owns a 5-1 record with a 1.05 ERA in his previous eight outings.
Additionally, Kershaw will make his 50th career appearance against the Giants on Thursday, the team that he has faced more than any other. Kershaw has a  23-12 career record, with a 1.74 ERA and a 6.74 strikeout to walk ratio (career 4.27) in 47 starts against San Francisco.
With Buster Posey opting out of the 2020 season, and both Brandon Belt and Evan Longoria opening the year on the injured list, this will be one of the weaker lineups that Kershaw has seen.
Can Kershaw toss a gem to kick off a big season for the World Series favorites?
---
Advanced Stats Glossary
FIP or Fielding Independent Pitching measures what a pitcher's ERA would look like if the pitcher experienced league-average defense and luck. xFIP  is a regressed version of FIP that adjusts or "normalizes' the home run component based on park factors.

wRC+ or Weighted Runs Created Plus takes the statistic Runs Created and adjusts that number to account for critical external factors — like ballpark or era. It's adjusted, so a wRC+ of 100 is league average, and 150 would be 50 percent above league average.
wOBA or Weighted On-Base Average is a catch-all hitting metric with more predictive value than on-base percentage. An average MLB hitter can be expected to post a .320 wOBA. xwOBA is a regressed version of wOBA that accounts for variables like park factors.
---
The Starters
Cueto has made just 13 starts over the past two seasons, after undergoing Tommy John surgery in August of 2018.
He made six minor league appearances, and four major league starts last September and his fastball velocity returned to its 2017 average: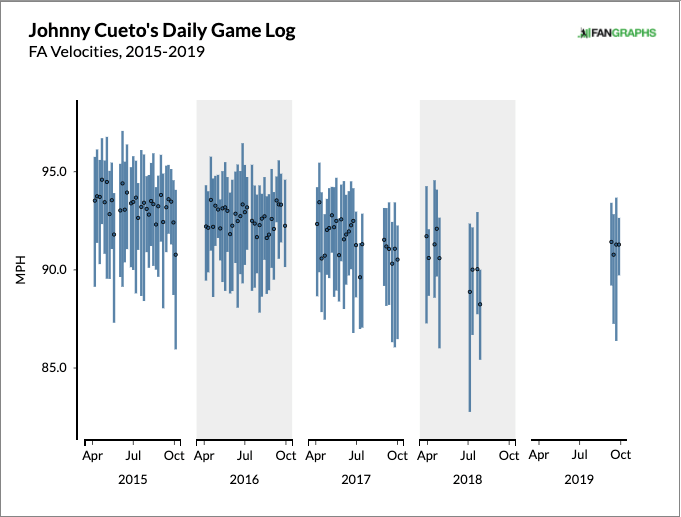 Cueto recorded a 4.45 xFIP in 2017 — which at that point was his worst season since 2010 — after his velocity dropped another tick after slowly declining from 94.1 mph in 2014, to 93.3 mph in 2015, 92.6 mph in 2016, and 91.6 mph in 2017.
It is exceedingly unlikely that he ever approaches his peak form in San Francisco (3.42 xFIP in 2016) again. Still, if he can sit in the low nineties and mix in his cutter, changeup, and curveball effectively, Cueto has enough guile to be a league-average starter:
Aside from the injuries, Cueto always seemed like a pitcher who would age well — and continue to find tricks to defy the age curve.
Kershaw has responded to velocity decline by using his fastball less frequently, and his slider more regularly in recent seasons: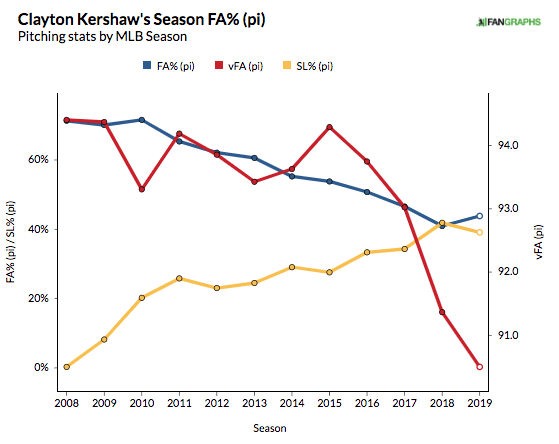 The third offering is his slow curveball, which he has used about 16% of the time over the past three years.
On a per-pitch basis, Kershaw has the 11th best slider and the 20th best curveball in the game since the start of the 2017 season.
But I feel like his second-best pitch often gets overlooked:
However, he cannot fight off father time completely — Kershaw's underlying metrics continue to trend towards league average: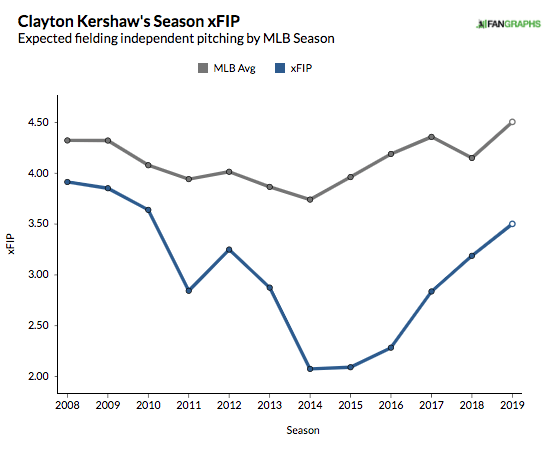 He will have fewer injury concerns in a shortened season after averaging 165 innings over the past four years, and perhaps could add some extra giddy-up to his fastball a little more frequently.
But his current status is still a far cry – nearly 1.5 runs worse per nine innings, than peak Kershaw – who sat at 93.6 mph in 2015.
The Bullpen
In 2019, the Dodgers' bullpen ranked sixth in FIP, seventh in xFIP, and fifth in K-BB%. By the same metrics, the Giants ranked seventh, ninth, and 13th.
The Dodgers added to their bullpen during the offseason, signing Blake Treinen and Jake McGee and trading for prospect Brusdar Graterol.
The Giants lost top reliever Will Smith to the Braves via free agency after trading away Mark Melancon, Sam Dyson, and Drew Pomeranz at the 2019 deadline.
Their bullpen has taken a significant hit in terms of quality, relative to the start of last year. Tony Watson and Trevor Gott are the only two relievers who project for sub 4.00 ERAs.
Projected Lineups
Data via FantasyLabs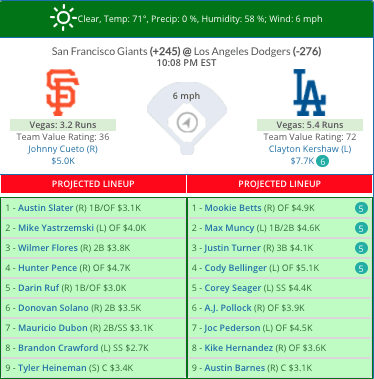 Umpire and Weather Report
Dodger Stadium is one of the best pitcher's parks in baseball, with a run environment between 9-11% below the MLB average over the past four seasons.
Since this is the first game of a series, no umpire information is available as of writing.
Trends to Know
As my colleague, Danny Donahue, pointed out today, favorites dominate on Opening Day:
"Since 2005 (the first year of our Bet Labs data), Opening Day favorites of -120 or more have gone 115-51, winning 25.4 units for a 15.3% return on investment."
And when a favorite that made the playoffs the previous season opens against an underdog that didn't, the favorites are 54-18 (75%), winning 17.8 units with a 24.8% ROI.
In addition to the Dodgers, five other teams (Athletics, Astros, Cardinals, Rays, and Twins) fit that criterion for Thursday and Friday.
Favorite Bets
Generally, I don't see any betting value on the board for Thursday's Giants-Dodgers game.
I had initially considered playing the Dodgers F5 spread at -0.5 (-160), but I didn't see enough value at that price.
Instead, I'll look to play this game live — especially if the Dodgers fall behind early.
The bullpen discrepancy is pretty stark. In terms of ERA, I have the Dodgers bullpen projected about 0.7 to 0.8 runs better, or roughly 17% better than the Giants relievers.
How would you rate this article?