Mets Pitcher Tommy Wilson Finds Success in Digital Art
Credit:
Photo by Mark Brown/Getty Images. Pictured: Mets Logo
Many thought the way Tommy Wilson would get out of his father's shadow was by making it to the major leagues, but the 24-year-old pitcher drafted by the New York Mets out of Cal State Fullerton is actually doing it as an artist.
As the digital art world has exploded in the last three months, unexpected stars like Wilson have emerged.
It started last year when former Major League second baseman turned artist Micah Johnson asked on Twitter if someone could help him animate some art. Knowing the financial struggles that minor league players go through, Johnson reached out to minor leaguers.
Wilson, whose father is Thomas Wilson who played Biff in the "Back to the Future" trilogy, answered the call.
"He wanted me to animate some words and make it look like handwriting," Wilson told The Action Network. "I've always played around with programs on my iPad and computer, but before this, I saw myself as more of a video editor than an artist."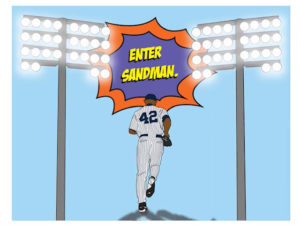 Wilson got paid and then worked on his own art as the minor league season got canceled and he had more time on his hands.
His first idea? A concept called "Own the Moment," where a collector would pay $40 a pack and get an animated "card" of Mike Trout, Rickey Henderson, Mariano Rivera, Ozzie Smith or Ken Griffey Jr. Each pack contained one card, with the Griffey being the most valuable, a 1/1.
When the initial run sold out on digital art site Nifty Gateway, Wilson made more money in a day than he makes in a year in the minors ($5,000). Plus, there's the backend on resales. One of his Rivera pieces (made to 50) resold for $4,200.
Since then Wilson has debuted 15 other pieces, including on the 1/1 site Superrare.
Although things are looking up for Wilson, he's not ready to give up baseball yet. He last played in Double-A and is working out in California as he waits to see what the call will be for this season.
Said Wilson: "Selling my art has taken a lot of pressure off baseball, which allows me to relax more."
How would you rate this article?