MLB Betting: 10 Undervalued Pitchers to Target Early This Season, Including Dylan Cease, Aaron Nola, Eduardo Rodriguez
Credit:
Mark Brown/Getty Images. Pictured: Aaron Nola
Handicapping baseball is unlike any other sport because the outlook of a team's chances of winning on a specific day varies wildly depending on the status and quality of the team's starting pitcher.
While NFL, NBA and NHL teams run out largely the same lineups and players from game to game, much of baseball forecasting is trying to navigate pitcher usage and quality.
As a result of this, there are many pitchers who are flying under the radar and are likely going to be underrated in the betting market. Some of them are new to being regular starters, others had much better underlying numbers than their surface-level numbers a year ago, and some are poised for a breakout 2022, and I want to be ahead of the market.
Here's a list of 10 undervalued pitchers coming into the 2022 season for whom I'll be looking to bet on in the right spots:
Dylan Cease, RHP, Chicago White Sox
Cease has always had the velocity and stuff to generate easy strikeouts and whiffs since he entered the majors in 2019. It was all about control and command, which often lacked for him when he posted a 5.79 ERA in 2019 and 6.82 xERA in 2020's shortened season. The White Sox right-hander finally put it together in 2021 and now is poised to be a Cy Young dark horse this season.
Only two pitchers in MLB had more swings and misses on pitches in the strike zone last year — Max Scherzer and Gerrit Cole — per ESPN's Mike Bonzagni. His strikeout rate rose from 17.3% to 31% last season and he allowed just 22 runs in his final 12 starts of the season. That also paired with a career-low walk rate of 9.6%, which is still a bit high for Cy Young-level pitching, but is trending in the right direction.
I bet Cease +2500 to win AL Cy Young and will be looking to bet on him when possible, although it will be difficult given that the overall quality of the White Sox roster will make them a sizable favorite more often than not.
Aaron Nola, RHP, Philadelphia Phillies
Nola had his worst year as a pro in 2021 if you look at the baseline level stats. His 4.63 ERA was among the worst in MLB from qualified starters. Given that Nola finished third in Cy Young in 2018 and seventh in 2020, it certainly was bizarre that the Phillies' ace couldn't get anyone out.
A lot of Nola's failures were a matter of variance than anything else. He did have issues with leaving two-strike pitches in the zone that let hitters off the hook. Nola had one of the lowest strand rates in the entire MLB last season. Since he became a top-level starter in 2017, Nola's stand rate was never below 72% and averaged 77%. In 2021, that number was all the way down at 66%, worst in the league.
Despite his 4.63 ERA, Nola's 3.35 xERA was the exact same as his 2020 season and he paired that with a career-low walk rate and second-best K rate. There's no issues with Nola's velocity, control or stuff. It's smart to expect a huge bounce back from the 29-year-old in 2022 as the variance with runners on base and two outs swings back toward the mean.
Similar to Cease, the Phillies will be favored quite a lot when he's pitching, but he's one of the biggest positive regression candidates in the entire sport.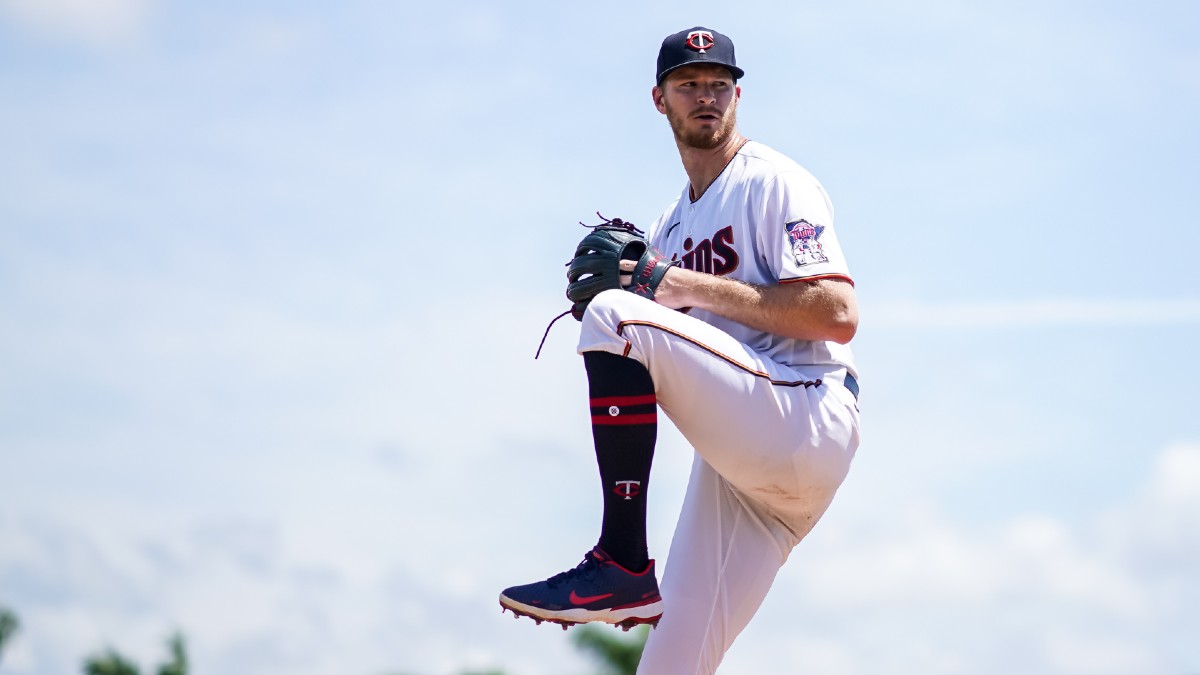 Bailey Ober, RHP, Minnesota Twins
Ober received almost no respect in the market last season for a pitcher who produced impressive K/BB splits. We'll see how the market prices him this year as we get into the heart of the regular season, but I'm going back to the well on Ober. He debuted as a rookie at age 25 last season and, while he struggled at times to keep the ball in the yard, his command and chase rate immediately jump off the page.
His 5% walk rate was in the 94th percentile of MLB pitchers last year, per Baseball Savant. When he does give up hard contact and homers — which were an issue last year — Ober rarely had a lot of traffic on the bases because of his control.
He doesn't have overpowering stuff and sits around 92-93 mph with his fastball, but he still manages to rank well above-average (64th percentile) in strikeout rate and generates a lot of chases outside the zone.
Ober doesn't have a high ceiling because of his stuff, but he has a high floor and that makes him an ideal mid-level starter to back as an underdog. Similar to teammate Joe Ryan, the Twins play above-average defense behind their pitchers and Ryan and Ober are two guys I'm looking to back.
Patrick Sandoval, LHP, Los Angeles Angels
In many ways, Sandoval is the anti-Ober. The Angels field a below-average defense behind him and he struggles with walks. But Sandoval is also a clear bet-on pitcher in 2022 because of how much he's able to miss barrels with his stuff.
Sandoval gets undervalued consistently, but his average exit velocity allowed is in the 97th percentile and his whiff rate is also among the elite. A late-season August injury derailed his 2021 campaign, but he was pitching the best he ever has prior.
In five starts in July, Sandoval posted a 2.70 ERA and his pitch movement and whiff rate finally started to turn into more strikeouts. The injury halted further progress for him, but his 41 strikeouts in 33 innings last July could be an indicator that he was starting to really figure it out. He's going into his age-26 season and all of the swing-and-miss metrics suggest he should start striking more batters out.
Once that happens, look out, because Sandoval could be a high-end No. 2 starter and the market certainly was not pricing him there throughout last season.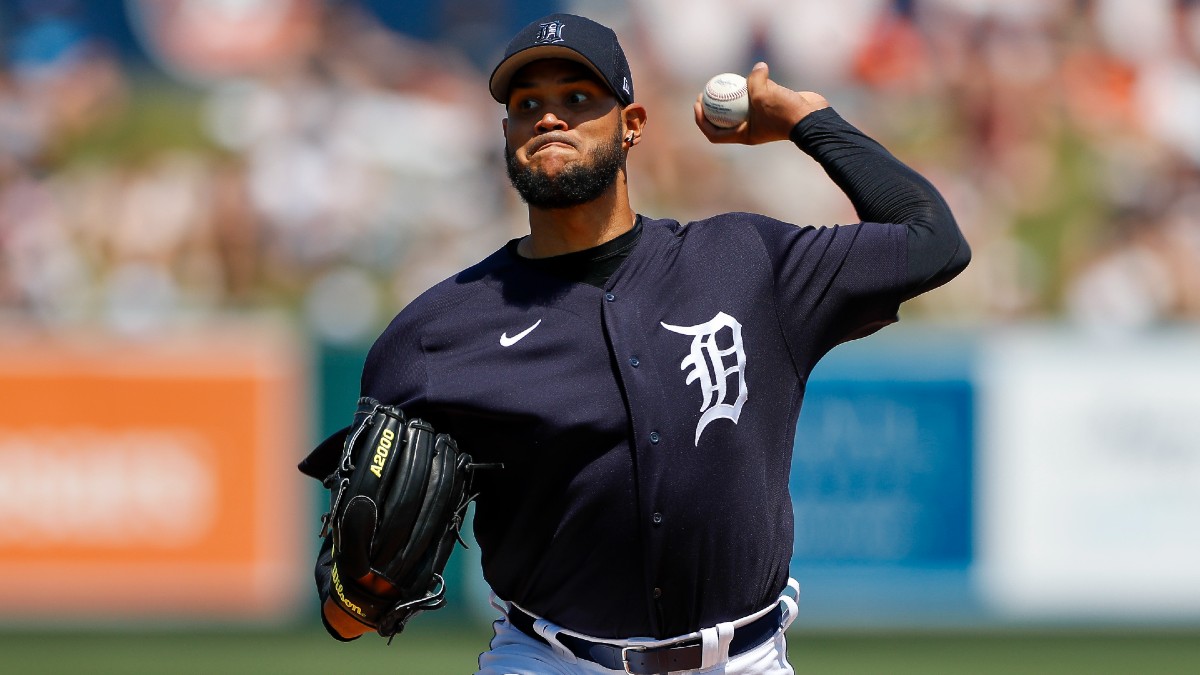 Eduardo Rodriguez, LHP, Detroit Tigers
Rodriguez is the first of the pitchers on this list who's on a new team, and he will certainly benefit from moving out of Fenway Park into a pitcher-friendly ballpark in Detroit. Like Nola, Rodriguez is one of the biggest positive regression candidates in the entire league.
Baseball is a cruel sport sometimes and it certainly was for him in 2021. Rodriguez posted career-best numbers last year in both strikeout rate and walk rate. He allowed fewer balls in play, walked fewer batters and he should have been rewarded by allowing fewer runs last season. That was not the case. Rodriguez's ERA jumped from from 3.81 to 4.74.
He allowed a wOBA of .330 against him but his xwOBA allowed was just .288. His FIP and xFIP were both below 3.50 and his strand rate was a career low, 6% below every other year of his career.
Rodriguez will have better defense behind him, a better ballpark to pitch in and is another huge positive regression candidate this season. His stuff doesn't jump off the page, but he's in the top 30% of baseball in strikeout and walk rate. That always gets rewarded in the long run.
Tyler Mahle, RHP, Cincinnati Reds
Other than Oakland, no franchise tanked the offseason harded than Cincinnati. Its once-vaunted lineup no longer has Jesse Winker, Nick Castellanos or Eugenio Suarez. The Reds may project as one of the four worst teams in the National League, but even bad teams win 60-70 games a year. And Mahle has major breakout potential for them in this rotation.
Mahle has put together two straight above-average seasons and this could be the year he finally takes the next step into the upper-echelon of NL starters. If he doesn't, Mahle has now established himself as a high-workload, high-floor pitcher who can throw 180+ innings as one of the best pitchers on a bad team. He doesn't have the ceiling of Luis Castillo, but also isn't priced as expensively on the Reds and Mahle is far less volatile than the team's ace.
He has an over-reliance on his fastball, which he throws 53% of the time and lacks the stuff on his secondary to ever be an elite strikeout pitcher. But he avoids barrels effectively, and his control has improved the last two years.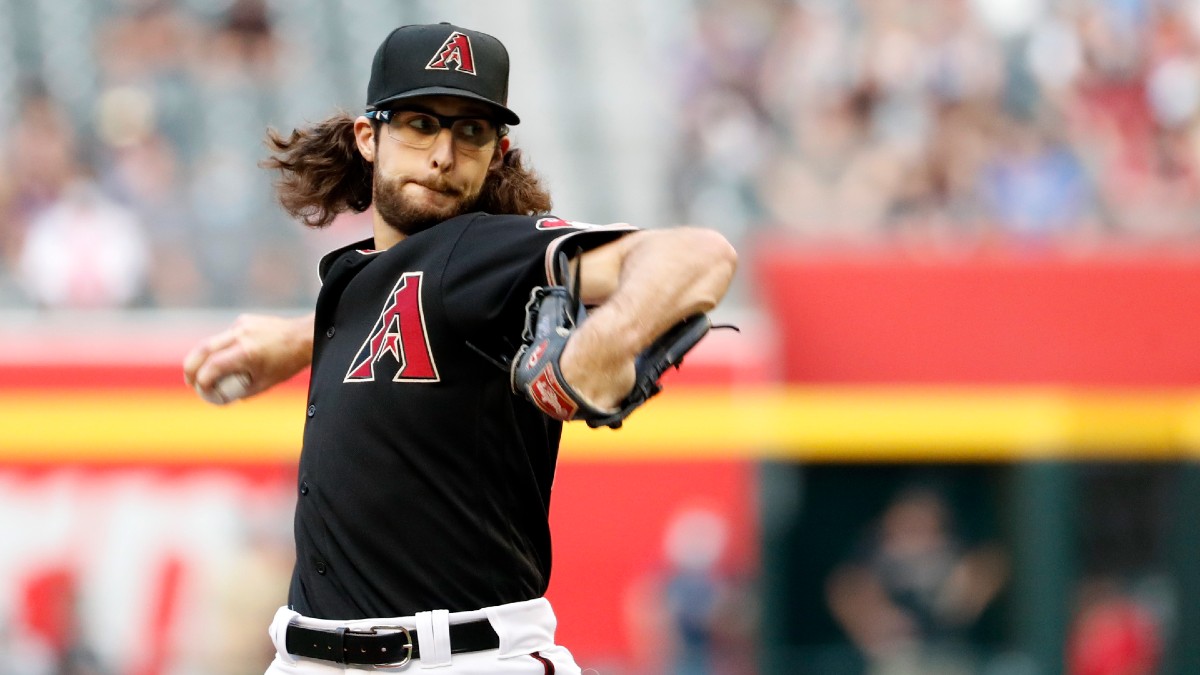 Zac Gallen, RHP, Arizona Diamondbacks
Gallen was my favorite pitcher to bet on in the 2019 and 2020 seasons. He truly was special when he entered the league and didn't allow more than three runs in any of his first 23 MLB starts. Injuries and regression came for the right-hander in 2021, when he finished with a 4.30 ERA and 4.25 FIP.
It was a nightmare for the entire Diamondbacks squad, but there's reasons to believe that was just a blip and as the Diamondbacks improve, Gallen will be a part of that.
His first two seasons weren't as good as they appeared at face value. He did overperform his xERA and FIP greatly both in 2019 and 2020 and there was reason to expect some regression was coming. He wasn't as good as his 159 ERA+ suggested in 2019 and 2020, but he's also not as bad as his 99 ERA+ from last year would indicate.
The truth is somewhere in the middle and I'd expect Gallen to settle in around a 120 ERA+. Playing for one of the worst teams in the NL, that will present plenty of opportunities to back Gallen as a solid underdog against better baseball teams.
Gallen doesn't have overpowering stuff but does have above-average strikeout numbers. The injury uncertainty hurt his spring training and preseason last year, but a more normal offseason should help him avoid more barrels in 2022.
Carlos Hernandez, RHP, Kansas City Royals
Hernandez fits in with Ober as a pitcher I bet on frequently in 2021 and the market never caught up with him. It's tough to say how the market will be pricing him until the season really begins and he makes a few starts, but he profiles as the type of mid-level starter I love to bet as a frequent underdog.
He really struggled to end the season as the innings piled up for the rookie in his first full year starter. But his fastball tops out around 98 and is well above-average in spin rate. The Royals have an above-average defense that he pitches really well to and his stuff and whiff rate are good enough that his strikeout number should improve considerably as he develops further.
He's not going to be a high-end starter, but we're betting relative to the market here and his 3.68 ERA and 4.08 FIP projects pretty well going forward.
Jon Gray, RHP, Texas Rangers
Gray will be a popular upside choice here solely because he's leaving Coors Field and the Denver elevation. Now he's in a ballpark that was 22nd in park factors last year, per Baseball Savant. Gray is the Rangers' ace and a guy I will surely be betting frequently as Texas doesn't have a ton of other good pitching behind him.
Gray doesn't generate a lot of strikeouts and that was a major problem at Coors, where he consistently underperformed his FIP. For his career, Gray has a 4.59 ERA and a 4.22 FIP. His xwOBA allowed last year was the lowest he has posted since 2016 and there's reason to believe that he will improve his numbers considerably given that he's posted four seasons below 4.00 xERA but just one year below 4.00 ERA.
I'm buying into Gray as he leaves Coors and pitches in a friendly ballpark with one of the best defenses in baseball.
Alex Cobb, RHP, San Francisco Giants
The Giants win total is set at just 85.5 wins after they were the biggest over-performer in all of baseball last year and had the league's best record. I think the prediction markets are low on them again and Cobb could be a major reason why. He posted a career-best 2.97 FIP last season with the Angels and his 9.5 K/9 was also the best of his career.
I don't think that Cobb will replicate his 0.5 HR/9 again this year but there's reason to believe that the Giants will maximize his strengths better than almost any team in baseball. Cobb usually sits around 93-94 with his fastball, but he's been clocked as high as 96 this spring and has even touched 97 according to some scouting reports.
Adding a few miles on his fastball could improve his strikeout rate even further, and the Giants' plus defense could help him realize the potential that the underlying numbers loved in him last year. He's a positive regression candidate, joining a well-run team and throwing harder in spring training. All of these are encouraging signs for him being undervalued in the betting market.
How would you rate this article?
This site contains commercial content. We may be compensated for the links provided on this page. The content on this page is for informational purposes only. Action Network makes no representation or warranty as to the accuracy of the information given or the outcome of any game or event.