MLB Playoffs Odds, Projections: How to Bet Astros vs. Red Sox ALCS Game 4 (Oct. 19)
Credit:
Barry Chin/The Boston Globe via Getty Images. Pictured: Kyle Schwarber and Hunter Renfroe celebrate Schwarber's grand slam.
The Braves are underdogs tonight as the series shifts to Los Angeles and they look to build a 3-0 series lead.
Should they be as big of underdogs as they are? MLB analyst Sean Zerillo believes Atlanta has value with Charlie Morton on the mound.
Continue reading for Zerillo's full breakdown of both of Tuesday's LCS matchups, including picks and projections.
Throughout the Major League Baseball postseason, I will provide a daily breakdown summarizing my thoughts on futures and individual games.
I will also address betting these playoff series, whether on the series moneyline or a game-by-game basis, while using my daily MLB Model projections.
Let's talk series prices and World Series futures before digging into Tuesday's NLCS Game 3 and ALCS Game 4.
---
Series Moneyline Corner
Here are my updated ML projections for the two league championship series matchups:
Boston's AL pennant chance improved by 17% following their Game 3 win and a Braves-Red Sox World Series (45.6% outcome) is now the most likely scenario.
That's fortunate for our Atlanta NL pennant future and series ML, in addition to our series ML wager on Boston, but equally unfortunate for our Astros futures.
I would need -186 or better to bet Boston's ALCS series ML at this point.
In the NL, I show value at -194 (66% implied) to play the Braves series ML again before Game 3, even though we placed that bet at +130 before Game 2.
However, as I mentioned Monday and as I will detail below, I bet the Braves Game 3 ML at a significantly better price and we'll continue to get plus-money prices on Atlanta throughout the remainder of that series. That said, I'm not rushing to lay juice on their series moneyline.
World Series Futures Update
Here are my updated World Series projections for the four remaining teams, alongside listed odds at DraftKings:
Boston remains the only team showing value in the World Series futures market, and I would bet their futures down to +219 (implied 31.4%) at a two-percent edge compared to my projection.
The club's overall projection continues to improve on this playoff run, and I would make it the current World Series favorite, though that would change with a Game 4 loss. Boston offers more value in the World Series market than it does on their series ML.
As a refresher, here's how my World Series projections have evolved throughout the season:
Braves vs. Dodgers, Game 3 (5:08 p.m. ET)
The Dodgers are in must-win territory, headed home down 2-0 in the series. The 2004 Red Sox remain the only MLB team to overcome a 3-0 series deficit, though the 2020 Astros did force a Game 7 against the Tampa Bay Rays.
Game 3 in this NLCS will feature an excellent pitching matchup, as Walker Buehler (3.08 xERA, 3.57 xFIP, 3.73 SIERA) and Charlie Morton (3.32 xERA, 3.31 xFIP, 3.53 SIERA) face off on complete rest.
Morton built his approach around his high-spin curveball (98th percentile), which ranked third among 115 qualified starters in pitch value this season (on a per-pitch basis). Morton ranked third in curveball usage (36.7%), and the Dodgers struggled against that pitch offensively, ranking 21st this season.
However, the Dodgers did rank second against fastballs and might try to sit on on Morton's four-seamer (95.3 mph, 49.5% usage), which is still an above-average offering.
Buehler throws just as hard as Morton, but his fastball spin ranks in the 93rd percentile (vs. 64th percentile for Morton), and the Dodgers' righty is much more effective with his heater (sixth in fastball value on a per-pitch basis):
After the trade deadline, the Braves crushed breaking pitches, but struggled against fastballs (21st on a per-pitch basis) and could start slow if the Kentucky native incorporates a fastball-heavy approach.
Buehler's remaining arsenal (cutter, slider, curveball, sinker and changeup) is pretty diverse, but all of his pitches returned a positive pitch value this season.
Despite as good — and as a clutch — a pitcher as Morton has proven himself to be, I still give Buehler and the Dodgers a significant Game 3 advantage:
That said, I bet the Braves at opening odds closer to +170, and I would continue to bet Atlanta's ML down to +160 odds.
Additionally, I was able to bet the Under 7.5 at my plus money target, and that juiced has even out around -110 on either side. Both starters offer a weapon (fastball for Buehler, curveball for Morton) that has flummoxed the opposing offense.
Based upon the opening odds for the First Five Innings (F5), I don't project value coming into range on either side of the F5 ML or total, but I will update this piece if anything changes.
Lastly, you can continue to find value on the Braves' series ML, up to -194 odds.
Astros vs. Red Sox, Game 4 (8:08 p.m. ET)
Like the Braves, the Red Sox are only two wins away from clinching their league's pennant and making another World Series appearance.
Tuesday's pitching matchup could turn into a bit of a mess, as Nick Pivetta (3.84 xERA, 4.28 xFIP, 4.15 SIERA) faces Zack Greinke (4.42 xERA, 4.21 xFIP, 4.54 SIERA) in a battle between starters trending in opposite directions.
Pivetta owns a high-spin curveball (85th percentile), but has posted the best marks of his career in Boston, while exchanging about 10% of his curveball usage for sliders.
Pivetta throws his slider (25%) more often than his curveball (20%) against righties. In 2019, he threw the curveball to righties (36%) more than twice as often as the slider (16%). And he's narrowed the usage gap between the two pitches against left-handed hitters as well.
While Pivetta isn't anything more than an average MLB pitcher, he's a 28-year-old in his prime who has figured out his most optimal approach.
Greinke, now 37, is in the twilight of his career. And his fastball velocity has dropped to an uncompetitive level: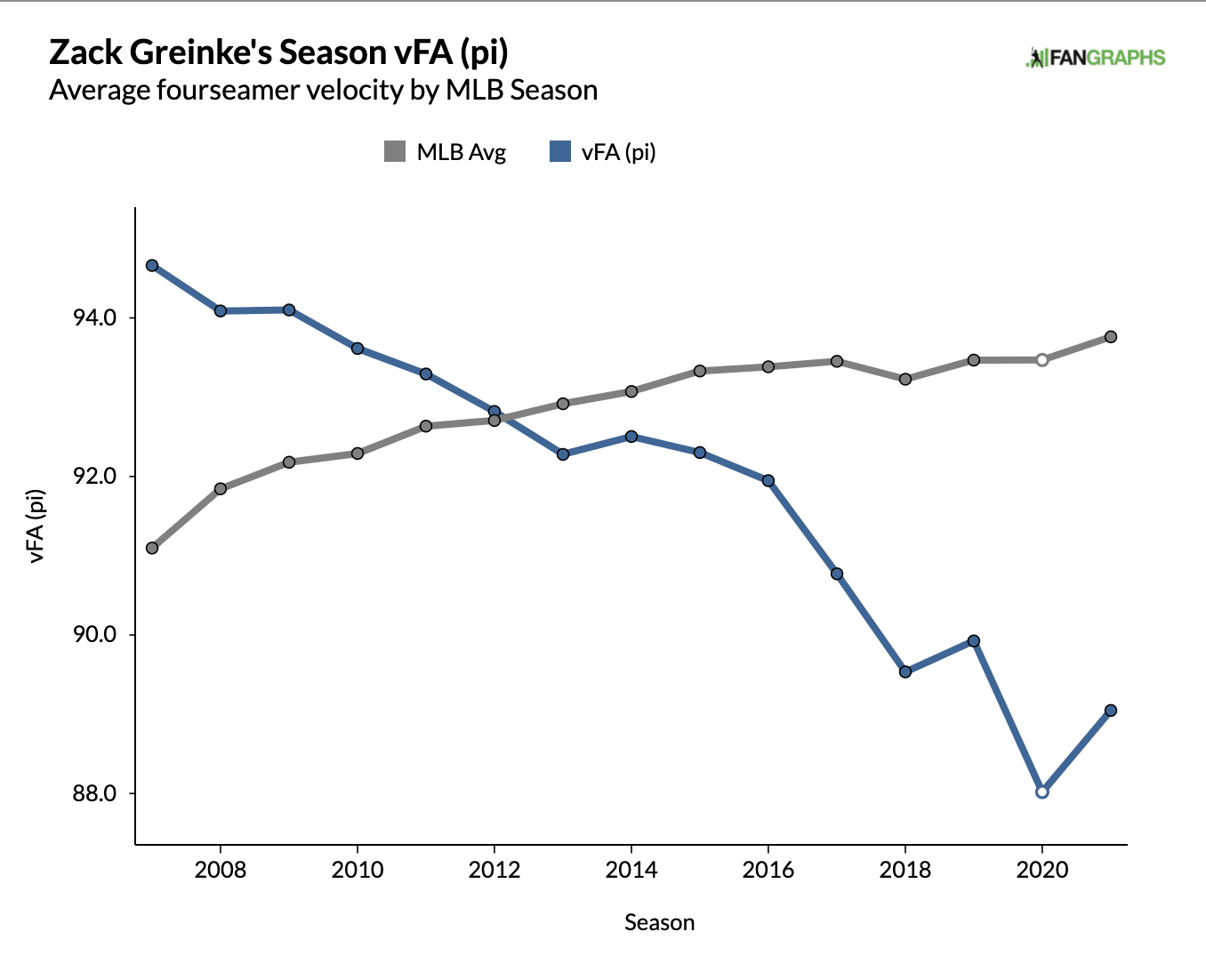 The righty still offers elite command (5.2% walk rate; 11th among 129 qualified starters), and he can suppress hard contact to a degree (73rd percentile).
However, this season, Greinke's strikeout rate (17%) fell off of a cliff (22.1% career). The veteran lost some life on his pitches; opposing batters recognized strikes and made contact with pitches inside of the zone more often than ever.
His fastball, curveball and changeup each returned a positive pitch value. However, his slider — which used to be his best pitch — has proven far less effective at a reduced velocity level.
Greinke's current best weapon is his changeup and the ability to mess with the hitter's timing rather than overpowering them. He has shown reverse splits in recent seasons after the changeup evolved as his best weapon with the Dodgers.
The former Cy Young winner still has some tricks up his sleeve and 20 playoff appearances under his belt to provide a sense of calm despite his immediately increased role in the wake of the Lance McCullers Jr.'s injury.
Outside Greinke's second-half struggles (5.34 ERA, 9.2% K-BB%), there's a distinct possibility that the veteran turns in a vintage performance in this spot.
That said, I project the starting pitching matchup as close to a wash (4.31 vs. 4.38 model weighted ERA) and would make this game a coin flip on a neutral field, like most of the matchups in this series:
I would need -104 or better to bet the Boston ML or theit First Five Innings (F5) ML. And I would set the target prices for Houston at +122 in either half of this contest.
An F5 Under 6 or an Over 5 (either to -115) would pique my interest.
In the same respect, an Over 10 (+105) or Under 10.5 (to -105) would likely force my hand on the game total.
Summary
I will update this post immediately after tracking plays in the Action Network App. If you want bet notifications right away, make sure to follow me there.
I already have two bets tracked in the App for Braves-Dodgers Game 3.
The Bets
Atlanta ML (bet to +160)
Braves/Dodgers — Under 7.5 (bet to +100)
Houston ML (bet to +120)
Watching
Atlanta Braves vs. Los Angeles Dodgers
Atlanta — Series ML (value to -194)
Boston Red Sox vs. Houston Astros
Astros/Red Sox — Over 10 (to +105) or Under 10.5 (to -105)
Astros/Red Sox — F5 Over 5 (to -115) or Under 6 (to -115)
Boston F5 ML (wait for -104) or Houston F5 ML (wait for +122)
Boston — Series ML (value to -186)
Boston — To Win World Series (value to +219)
How would you rate this article?
This site contains commercial content. We may be compensated for the links provided on this page. The content on this page is for informational purposes only. Action Network makes no representation or warranty as to the accuracy of the information given or the outcome of any game or event.