MLB Expert Predictions: Our Staff's Favorite Bets for Thursday, Including A's-Astros
Credit:
Stan Szeto, USA Today Sports. Pictured: Mike Fiers
Our experts give out their favorite plays for Thursday's MLB slate.
Danny Donahue: Chicago Cubs at Philadelphia Phillies
Yu Darvish (4-6, 4.43 ERA) vs. Drew Smyly (2-6, 6.96 ERA)
Cubs Moneyline: -143
Phillies Moneyline: +133
Over/Under: 9.5
First pitch: 7:05 p.m. ET
A few things to like about this under ….
The records of the teams involved.
The betting and money percentages.
The actual number at which the total is listed.
With both teams over .500, the public has a tendency to latch onto the over (yes, I'm sure the starters' ERAs are also playing a role in this case) which historically has provided value to the under. Since 2005, the under is 1335-1086-114 when getting 35% or less bets in games between two over-.500 clubs.
In this case, the 26% of bets on the under also happen to account for 50% of actual money being wagered on the total, which puts us on the same side as bigger bettors (the ones more likely to be sharps), but doesn't pit us against the sportsbooks' needs.
And lastly, since baseball games can't end in ties, it's more common than not for games to result in an odd-numbered run total. Over the past five seasons, totals of 9.5 and 11.5 have gone under at a 54.1% clip when neither team is listed higher than +140 (to increase the chance of a close game).
The PICK: Under 9.5
Sean Zerillo: Houston Astros at Oakland Athletics
Aaron Sanchez (3-14, 6.07 ERA) vs. Mike Fiers (11-3, 3.30 ERA)
Astros Moneyline: -121
A's Moneyline: +111
Over/Under: 10
First pitch: 10:07 p.m. ET
Aaron Sanchez will make his third start for the Astros on Thursday, but he has been on an upward trajectory since the middle of July: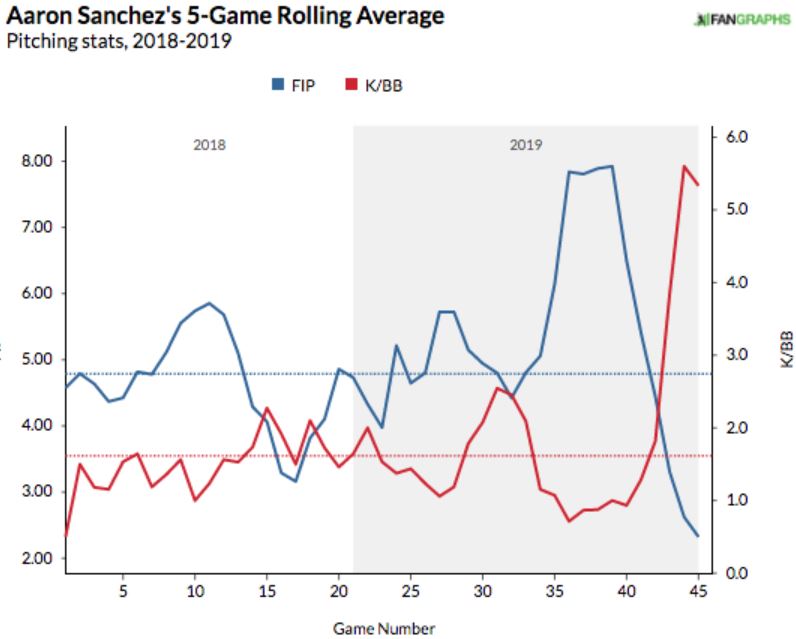 Over his past five starts, Sanchez has 32 strikeouts against six walks in 26.2 innings, his best stretch of outings since his breakout 2016 season (3.00 ERA, 3.55 FIP).
What's more, is that the Astros have further optimized Sanchez in the most Astros way possible, as they did with Charlie Morton – more four-seam fastballs and curveballs, in exchange for fewer sinkers.
He has decreased his two-seam fastball usage by 35% with the Astros, and increased his combined four-seam fastball and curveball usage to 77%.
Mike Fiers has out-pitched his underlying metrics with a 3.30 ERA (4.51 FIP, 5.27 xFIP) but I have this game projected for 8.667 runs, and see considerable value betting under on a total in the double digits.
The PICK: Under 10
John Ewing: Houston Astros at Oakland Athletics
The Astros (78-43) are one of the best teams in baseball. Oddsmakers know Houston has been playing well and that casual bettors are more likely to wager on them. Because of this tendency the bookmakers will inflate the lines for good teams like the 'Stros, which creates value betting against them – especially in the second half of the season.
Since 2005, a $100 bettor wagering against teams that have won 60% or more of their games in July or later in the season have returned a profit of $4,954 according to Bet Labs. Fading these elite teams in division games has been even more profitable.
The Astros open a four-game series against the Athletics in Oakland on Thursday. History suggest the A's will be an undervalued bet.
Oakland has a nice matchup on Thursday with starter Mike Fiers (11-3, 3.30 ERA) on the mound facing Aaron Sanchez (5-14, 5.60 ERA) who has been one of the worst pitchers in the league this season.
The PICK: A's +110
Evan Abrams: Houston Astros at Oakland Athletics
The Astros don't have Greinke, Cole or Verlander on the mound and they are listed at their shortest price in over 15 games. I still think there is some value here in Oakland.
The A's start Mike Fiers, who has been lights out at home — 2.54 ERA at home this season, including a 1.66 ERA since May 1. Fiers is 10-1-1 (90.9%) on the first five innings moneyline at home this season and has already had the pleasure of facing Houston already in 2019, allowing two earned runs and four hits over six innings.
It has been eight days and six games since the Astros started their road trip, traveling from Chicago to Oakland without a day off after playing a mini-marathon game against the White Sox yesterday afternoon.
Both the A's and Astros bullpens have been just as good as the other this season, so I see the advantage early on with Fiers against Aaron Sanchez.
Sanchez has looked good in his first two starts with Houston against Seattle and Baltimore, but I think there is a chance we see some of the old "road" Sanchez tonight, who has a 6.41 road ERA this season, allowing 74 hits in 60.1 innings pitched.
The PICK: A's 1st 5 Innings (+100)
How would you rate this article?