MLB Bettor's Notebook: Breaking Down All 15 National League Teams At the Quarter-Pole Mark
Credit:
Lachlan Cunningham/Getty Images. Pictured: Nolan Arenado.
Each week during the MLB season, Action Network's Anthony Dabbundo will compile a weekly notebook of observations, analytical findings and actionable information to help bettors find an edge in betting the daily grind of a 162-game season. 
The quarter-point of the MLB season has come and gone with every team surpassing 40 games played.
The sample is now more than big enough to draw meaningful conclusions about all 30 baseball teams using their underlying numbers and run differential to assess where we may have gone wrong or been right in our preseason assessments of them. 
Here are observations about all 15 National League teams that should be taken into consideration when betting baseball. I wrote about the American League on Monday. 
---
NL East

New York Mets
The Mets rank third in baseball in runs per game despite being 14th in xwOBA, 22nd in hard-hit rate and 27th in barrel rate.
New York has gotten by with its excellent pitching to this point, but injuries to Max Scherzer and Tylor Megill will test the Mets' depth in the rotation.
One reason the Mets have been so efficient at the plate has been their clutch-hitting situations. The Mets lead baseball in comeback wins and are second in clutch hitting by win probability added.
You can expect some regression for this offense, and if the pitching depth fails to hold up, expect to sell high on the Mets in the coming weeks. 
I highly doubt they'll continue to play at a 104-win pace. 

Atlanta Braves
The defending world champions rank 21st in runs scored per game with 4.1 runs.
The offense has some legitimately concerning indicators — sixth-worst in chase rate and worst swinging strike in all of baseball are a few — but the Braves also have positive regression coming in the clutch hitting metrics.
Atlanta ranks 28th in clutch hitting based on win probability added, per FanGraphs. This tends to be a very noisy indicator and one that doesn't hold any predictive value. But it does suggest that with just average clutch hitting, the Braves would produce more offense. Atlanta ranks eighth in xwOBA as well. 

Philadelphia Phillies
A lot of attention is paid to the top of the Phillies' rotation with Zack Wheeler and Aaron Nola. Even more attention is given to the Philadelphia lineup that's expected to be one of the best in the league but has largely underperformed to this point in the season.
Perhaps more attention should be given to Phillies' right-hander Zach Eflin. He's always been someone I've found to be underrated in the market, and he looks undervalued again on Saturday against Taijuan Walker and the Mets.
Eflin owns a 2.26 xERA, which is a career-low by more than a full run. 
He has increased his strikeout rate, maintained his elite command numbers and he's now avoiding more hard contact than he ever has. Eflin's swinging strike rate is the highest of his career and his hard-hit rate is 12% lower than last year.
Eflin doesn't have overpowering stuff, but he just struck out 12 in seven innings against the Dodgers. I'm looking to buy him in his next few starts.
Miami Marlins
Based on Pythagorean win-loss records, there's no team that's been more unlucky than the Marlins this season. The Fish are 6-14 in one-run games, and that tends to even out in the long run.
The pitching staff remains elite, but there's not much encouragement from the lineup outside of the breakout season from Jazz Chisholm Jr. Instead of 22-20, the Marlins are 18-24.
Miami could — and is likely to — positively regress with its close game luck going forward.  
Washington Nationals
The Nationals have one starter with an xERA under 5.00 at this point in the season, and his name is Erick Fedde. 
Joan Adon, Josiah Gray, Aaron Sanchez and Patrick Corbin have been varying levels of bad.
Corbin and Fedde's fastballs grade out as two of the worst amongst all starters, based on Eno Sarris' stuff+ model from The Athletic. Gray is a flyball pitcher giving up way too many barrels and homers, and Adon has major command issues with a 14% walk rate.
Nationals Park has played much bigger than normal thus far this year. But if the humidor helps the ball fly in the hot summer months in D.C., it's going to be a long, long summer for the Nationals. 
---
NL Central
Milwaukee Brewers
Milwaukee has eight pitchers with an xERA under 3.15, and none of them are named Brandon Woodruff. The depth of the Brewers' staff is unfathomable when you consider that Corbin Burnes is the ace of the staff and Eric Lauer (3.60 xERA) is their fifth-best starter.
The bullpen with Devin Williams and Josh Hader is the best eighth-ninth combo in the sport, and both Brad Boxberger (2.84 xERA) and Trevor Gott (2.72) are stellar at getting to the back end.
The question for Milwaukee is always about offense, but this pitching staff is even deeper than last year with both Lauer and Aaron Ashby taking leaps forward with their stuff and production thus far. Once Woodruff solves some early season command issues, no team is better at run prevention. 

St. Louis Cardinals
The Cardinals have crushed left-handed pitching at a ridiculous clip in 2022. They have a 142 wRC+ against southpaws, which is 20% better than every other offense in MLB.
There's no one area necessarily where St. Louis stands out against lefties, but they have a bunch of power-hitting righties with Nolan Arenado and Paul Goldschmidt.
The new pieces in 2022 — veteran Albert Pujols and rookie Juan Yepez — have helped the Cardinals hit southpaws. They're seventh in walk rate, third in strikeout rate, second in OBP and sixth in ISO against lefties.
While it's unlikely the Cardinals will maintain a 142 wRC+ for the entire season, they have hit lefties as well as anyone in baseball for the last two seasons, and that's important to remember when betting their games. St. Louis is one of the most split-dependent teams in MLB. 

Pittsburgh Pirates
At least for now, Pittsburgh's bullpen is one of the more underrated in all of baseball.
The Pirates don't have a ton of depth, but with Wil Crowe as a multiple-inning fireman, Chris Stratton as an elite set-up man and David Bednar shutting down the ninth, Pittsburgh could be continually undervalued because of its bullpen.
The offense isn't hitting much at all right now, but with Oneil Cruz joining the big-league club and Brian Reynolds likely to heat up at some point, I wouldn't be surprised if the Pirates continued to be undervalued.
Of course, Bednar and Stratton both may move in a trade that would make this paragraph moot. But until then, consider the Pirates' bullpen a strength.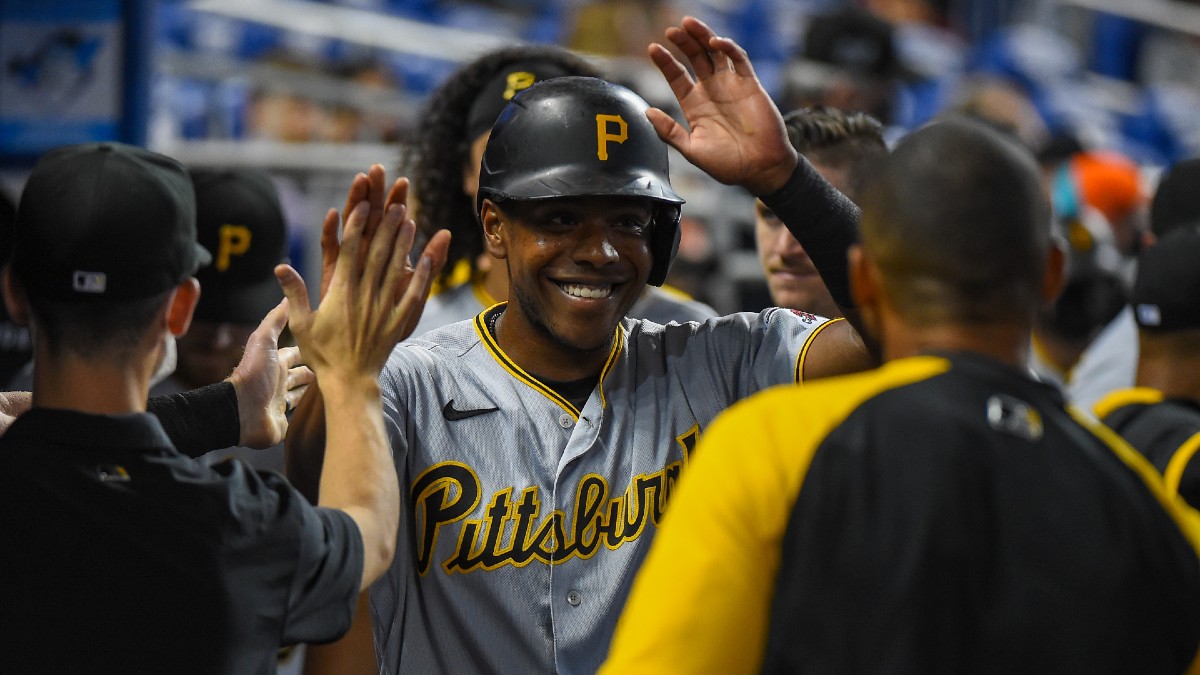 Chicago Cubs
The wheels seem to finally be coming off for Kyle Hendricks. He's gotten by as a pitch-to-contact guy for years now, but he's not really getting by anymore.
Given the success we've seen similar types of pitchers have with the dead balls this season, that makes his 5.20 ERA all the more concerning. His 5.39 xERA isn't good either, and now he's facing a career-low strikeout rate. Pair that with a career-high walk rate and hard-hit rate, and the result is a 40-point jump in xwOBA allowed compared to 2021. 
Hendricks is getting barreled more, missing no bats and is now on top of the fade list. 

Cincinnati Reds
The Reds have stabilized after their historically bad 3-22 start to the season. They've actually won 12-of-20 games since then as the offense has come to life and the pitching continues to struggle.
Look no further than Hunter Greene for Cincinnati's struggles, as he is striking out 27% of hitters but getting barreled up with regularity without the ability to keep the ball in the yard.
Greene is a fascinating pitcher because he has dominant stuff but struggles so much with location that he either walks batters or throws it right down the middle to get crushed.
He's still a buy-low pitcher for me and someone I'll likely lose money betting on for weeks to come. 
NL West

Los Angeles Dodgers
The Dodger machine has been tested in May, and the pitching has barely held up.
While Julio Urias seems to be back to his old self with improved velocity and consecutive quality starts against the Phillies and Nationals, Walker Buehler is still struggling. He's throwing the cutter more than ever and using his four-seam fastball less. He's getting way fewer swinging strikes than in his early rise to the top of the pitching ranks. Thus, his strikeout rate is the lowest of his career. 
Until the market adjusts to what looks like a different and marginally worse pitcher, I'm going to continue to play against Buehler. His velocity is down considerably, and he's been hit hard in three consecutive starts — two of them wins for the Dodgers. 
San Diego Padres
If Atlanta's bats have come up small in big moments, San Diego is the antithesis of that.
The Padres have the most clutch offense in baseball based on win probability added, per FanGraphs. They're miles ahead of the second-best team in baseball, the Mets, in this metric.
This is especially notable because San Diego is just 14th in runs per game this season. The data suggests it should be even lower. Its situational hitting success is unlikely to continue. 
The Padres rank 28th in xwOBA offensively, dead last in barrel rate and 22nd in hard-hit rate. Regression is coming for San Diego with runners on base, and the offense is going to be in trouble when it does happen. 

San Francisco Giants
The Giants might have the unluckiest pitching staff in all of baseball at this point in the season.
Giants starters have allowed a .340 BABIP, which is by far the worst in all of baseball. The starters are also just 22nd in strand rate despite being top-six in walk rate, top-five in strikeout rate and second in homers allowed per nine allowed. 
They're not allowing that many balls in play, not giving out free passes or homers, but they're still getting crushed. That's not going to continue.
Look no further than Alex Cobb for the signs of positive regression. Cobb has a 6.25 ERA with a 1.92 xERA, making him the unluckiest starter in all of baseball. His career bests in walk rate, strikeout rate, barrel rate and hard-hit rate have been met with a terrible ERA. Baseball is a cruel sport. 

Arizona Diamondbacks
New pitching coach Brent Strom has revolutionized the Diamondbacks' staff. Madison Bumgarner looks like a serviceable starter, Zac Gallen looks like a Cy Young contender and now Merrill Kelly is an above-average starter.
The Diamondbacks' pitching woes last year put them 29th in runs allowed per game. The bullpen still has its issues, but Arizona is up to 22nd in runs allowed and ranks top-five in both barrel and hard-hit rate allowed.
The starting pitching ERA has improved from 25th to 13th this year, and that has turned them into an almost .500 team despite a preseason win total of 64.5.

Colorado Rockies
Based solely on comparing wOBA to xwOBA for both pitching and hitting, no team has run better in all of baseball than the Rockies.
Only one team in MLB is in the top five of batted ball luck in both hitting and pitching: Colorado.
One major concern has been Germán Marquez, the Rockies' expected ace who has been one of the worst starters in the league out of nowhere. His strikeout rate has dipped more than 5%, his hard-hit rate is up 10% and he's missing way fewer bats in the zone than years past. 
The result is a career-high in both ERA and xERA. Pitching in Coors is hard enough, but Marquez hasn't been good anywhere. Without him, the Rockies pitching staff doesn't offer much else. 
How would you rate this article?
This site contains commercial content. We may be compensated for the links provided on this page. The content on this page is for informational purposes only. Action Network makes no representation or warranty as to the accuracy of the information given or the outcome of any game or event.