MLB Bettor's Notebook: The Dodgers' Recent Woes, George Kirby's Promising Start & Totals Trending Up
Credit:
Harry How/Getty Images. Pictured: Julio Urias
Each week during the MLB season, the Action Network's Anthony Dabbundo will compile a weekly notebook of observations, analytical findings and actionable information to help bettors find an edge in betting the daily grind of a 162-game season. 
Dodgers Starting Pitching a Legitimate Problem Right Now
It's always important to not overreact to one bad week in a long baseball season, and there are probably some panicked Dodgers fans after Los Angeles lost two of three in Pittsburgh and then lost three of four at home to Philadelphia.
The Dodgers needed a walk-off double from Gavin Lux on Sunday to salvage one game at home against the Phillies, and their starting pitching couldn't get anyone out all weekend long.
For MLB's best team and the clear World Series favorite, Los Angeles is still allowed to have a bad stretch or two in a 162-game year. But when the losses come from the exact area of weakness that I and others have worried about, it's fair to start asking questions about the Dodgers' starting pitching.
Once it was clear Trevor Bauer wasn't going to pitch in the second half of last season, the Dodgers added Max Scherzer at the trade deadline. Walker Buehler and Julio Urias were all pitching better than they are right now, too.
The lineup is still the best in baseball — although Max Muncy and Cody Bellinger continue to struggle at the plate — but the starting pitching depth and performance is a serious concern. They allowed 23 runs in 21 2/3 innings in four games against the Phillies.
Clayton Kershaw looked like his vintage self early in the season, but he's found himself on the injured list yet again and I'm not confident the Dodgers will be able to rely on him to consistently take the ball every five days anymore. Andrew Heaney has improved considerably with the Dodgers, but he's now injured and hasn't begun throwing again yet.
Without Bauer, what's left in this rotation? They're in the midst of 31 games in 30 days, the pitching is taxed and they've relied on debuts from Ryan Pepiot and Michael Grove in the last week for spot starts.
Buehler is supposed to be an ace, but his fastball velocity is down this season, he's missing fewer bats and struggling across the board. He still has above-average stuff, but his underlying indicators are the worst of his career. Buehler currently has a 3.81 xERA, when he's never had a full season above 3.53. His strikeout rate is now down to 20.3%, six percent lower than any other year.
His xwOBA allowed is at .329 when it's never been above .300 before. Hard hit rate is up and while Buehler maintains his plus-command, good lineups are going to punish him this season if he keeps pitching like this. He missed fewer bats than any start of his career on Friday. And Philadelphia swings and misses plenty.
The main cause of his lowered and below average whiff rate is that his fastball dipped from 20% whiff rate down to just 12%. Until that recovers, Buehler is  quite overvalued in the market when he starts.
At 15.8 percent, that's the lowest called strike + whiff rate (CSW%) of any outing of Walker Buehler's career. https://t.co/BHVjzCiSqF

— Fabian Ardaya (@FabianArdaya) May 14, 2022
Urias is also likely to be a bit overvalued, even after he surrendered four homers to Philadelphia on Saturday night. His expected indicators are right in line with years past around a 3.10 xERA, but his strikeout rate is way down, too.
His xwOBA allowed is its highest since 2017, he's striking out only 17% of hitters and both his whiff and K rates rank below average, per Baseball Savant. If he wants to be more of a pitch-to-contact guy, that's fine, but hitters are barreling him at a 7.1% clip, which is worse than the league average, too.
Takeaway: The two most reliable Dodgers' pitchers from a health point of view  — Buehler and Urias — are pitching worse than they have in years past. Kershaw and Heaney have health issues that will limit long term availability. Pepiot and Grove struggled in their first starts as Pepiot especially couldn't command his pitches well enough.
The Dodgers are playing a ton of baseball without much rest and I believe their starting pitching will continue to struggle. While fading the Dodgers is hard because of their loaded lineup and good bullpen, I'm definitely looking to fade Buehler, Urias and Tyler Anderson at inflated prices in the coming weeks.
Anderson and Buehler will get favorable matchups with the Diamondbacks this week, but Urias is scheduled to start on Friday in Philadelphia.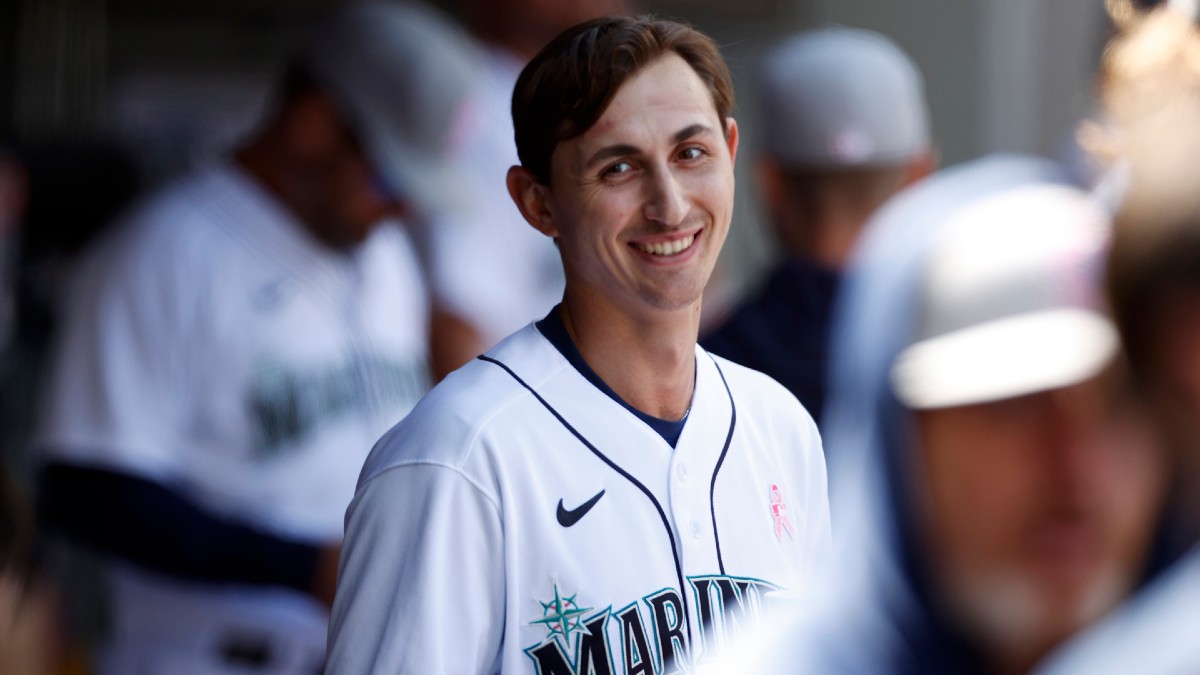 It's Time To Buy George Kirby Stock
George Kirby has made two major league starts now and I've been extremely impressed with the right-hander's command. Unlike his now-demoted teammate Matt Brash, who shined with excellent stuff but couldn't command it — Kirby has OK stuff but excellent command.
His average fastball sits at 95.9 mph, so he's above average in velocity. He's generated a 30.2% whiff rate on those fastballs and while it's been hit hard when hit, Kirby has only allowed one walk in his first 10 innings of MLB pitching. He's kept traffic off the bases and has an excellent home park in Seattle.
If you follow me in the app, you know I have been fading the Mariners heavily in the early portion of the season. Pitchers like Robbie Ray, Logan Gilbert and Marco Gonzales have been overvalued, and the lineup isn't producing close to expectations.
Kirby might have to be the exception for me until the market adjusts on him. He won't maintain a 0.90 ERA, of course, but his 3.10 xERA, 1.80 FIP and 3.30 xFIP through two starts are really encouraging. It's rare for a rookie to have command like he does, and he's faced two solid lineups in the Rays and the Mets, too.
Takeaway: Seattle's defense hurt him on Saturday in New York, but his next start comes at Boston against Rich Hill. We'll see where the market settles on Kirby ahead of that matchup, but I'll be looking to bet on him at Fenway on Thursday.
April Unders Bring May Overs
Unders finished the month of April at a 59.5% win rate. If you bet $100 on every MLB under in the opening month of the season, you would have made $4,250 and covered by an average of 0.27 runs per game, per BetLabs.
I've written about the unders and why the run environment was so lowered in past columns: The humidors, the deadened ball, increased pitcher velocity, more pitchers on rosters.
The market clearly adjusted the run environment downward, and the runs have gone up since then. The average total dropped as low as 7.3-7.4 runs per game  by the end of April, but the totals are creeping back up as overs have become profitable in the month of May.
We're halfway through the month of May now, and overs have hit at a 53.9% clip. It's not at the level of the under trend we saw in April, but overs have covered by an average of 0.92 runs per game. When games have gone over, they've gone well over the total and that indicator suggests that more overs could be coming in the future.
Of course, that depends on how much the market adjusts the run environment up, which they have done in the last couple weeks. Average totals are sitting around 8.3-8.4 now.
The weather is improving, especially in the northeast and midwest. Hitters are timing the ball better, pitchers are forced to throw more in relief on short rest and all of that should lead to more runs.
Takeaway: MLB betting is always on a game by game basis and trends can be very dangerous to rely on. But projecting the league-wide run environment is always important and there are clear signs it is trending upward with all of the May overs. We're seeing more bullpen implosions, late comebacks and fewer games dying offensively after the fifth inning.
How would you rate this article?
This site contains commercial content. We may be compensated for the links provided on this page. The content on this page is for informational purposes only. Action Network makes no representation or warranty as to the accuracy of the information given or the outcome of any game or event.