MLB Home Run Props Today | Yordan Alvarez, Bryce Harper, Ryan Mountcastle (Friday, August 25)
Credit:
Getty Images. Pictured: Yordan Alvarez, Ryan Mountcastle, Bryce Harper.
Baseball betting is one of a kind. Each day diving into a full slate is grueling and sometimes edges are nowhere to be found within a side or total. But opportunities to fade pitchers at a lesser degree remains a constant. One of the areas in which I've tapped into this season has been the player prop market. More specifically, looking at hitters and their total bases/home runs props.
Whether it's a positive split or the wind blowing out in double-digit force, there's always opportunities to back some of MLB's best hitters to find the outfield seats. These bets are rarely not (+) money and home run props can often reach the 6-700 mark, providing plenty of value at a small cost.
That leads us to my new regular feature here at Action Network: DiSturco's Triple 7s. In each article, I will give out my three favorite total bases props and pair that with the odds for those same players to hit a home run.
The idea of Triple 7s comes from the slot machines. That's the ultimate jackpot and it's important to note the rarity of notching that feat. Similar to slots, parlaying all three players below to hit a home run is nothing more than a lottery ticket.
It's important to bet responsibly, and while I do bet every player o1.5 TBs (.5u) and to hit a HR (.1u), you shouldn't overextend yourself with a parlay of all three. It's a long shot for a reason.
But if you're feeling confident or have no plans and want to try and hit Triple 7s, pull the lever and cross your fingers. Today's lottery ticket comes with +9592 odds.
Visit our MLB Props page for a full list of props and odds for every player on the MLB slate each and every day.
Yordan Alvarez, Houston Astros
Astros vs Tigers, 6:40 p.m. ET | Opposing Starter: Matt Manning
It's rare we ever get Yordan Alvarez at this cheap of a price. 
Tack on the fact that it's a great matchup for the lefty slugger and it's a no brainer. Matt Manning takes the mound for Detroit and he's struggled mightily this season. After what was a promising 2022, Manning has seen his barrel rate jump up over 5% and now finds himself in the bottom 10% of all pitchers in strikeout, whiff and chase rate. 
Manning relies heavily on his fastball and his curveball has become all but ineffective. Being thrown 18.2% of the time, Manning's offspeed has a .636 xSLG and just 7.6 whiff%. So Manning is forced to pound the strike zone or walk the opposition and the end result has been plenty of barrels. 
Over his last five starts, Manning has given up seven home runs. He has given up just one run in his last 11 innings, but I expect that hot streak to end against a dominant Astros lineup that is finally healthy. 
There's not much to add about Alvarez. He is in the top 6% of all batters in hard-hit rate, barrel rate, max exit velocity, xSLG and xwOBA. Walks are the only concern when betting on Alvarez props, but Manning has plus command — he just can't get it past the opposition. 
The wind is blowing out to right center on Friday night in Detroit and RotoGrinders' WeatherEdge projects a +12% increase in HRs. It's been nearly 20 days since Alvarez found the bleachers, but today is a perfect matchup for him to get back on track.  
He is +360 to hit a HR at FanDuel. 
Bryce Harper, Philadelphia Phillies
Cardinals vs Phillies, 7:05 p.m. ET | Opposing Starter: Miles Mikolas
It's time to hop aboard the Bryce Harper express. After undergoing surgery and zapping his power for the better part of the first three months of the season, it seems as though the old Harper is back. 
The slugger had always been barreling the ball, the fly ball rate just hadn't followed suit. But in August, Harper has hit seven home runs, including five over the last 15. His OPS is 1.269 in that span, making him one of the most dangerous hitters in baseball at this point in time. 
I highly doubt this surge is a fluke, too. Harper's underlying metrics are incredibly impressive. His barrel rate has actually jumped 1.5% from last season and his hard-hit rate remains above 45%. Tack on the sharp increase in home runs and that aforementioned hard hits and we've got a home run swing.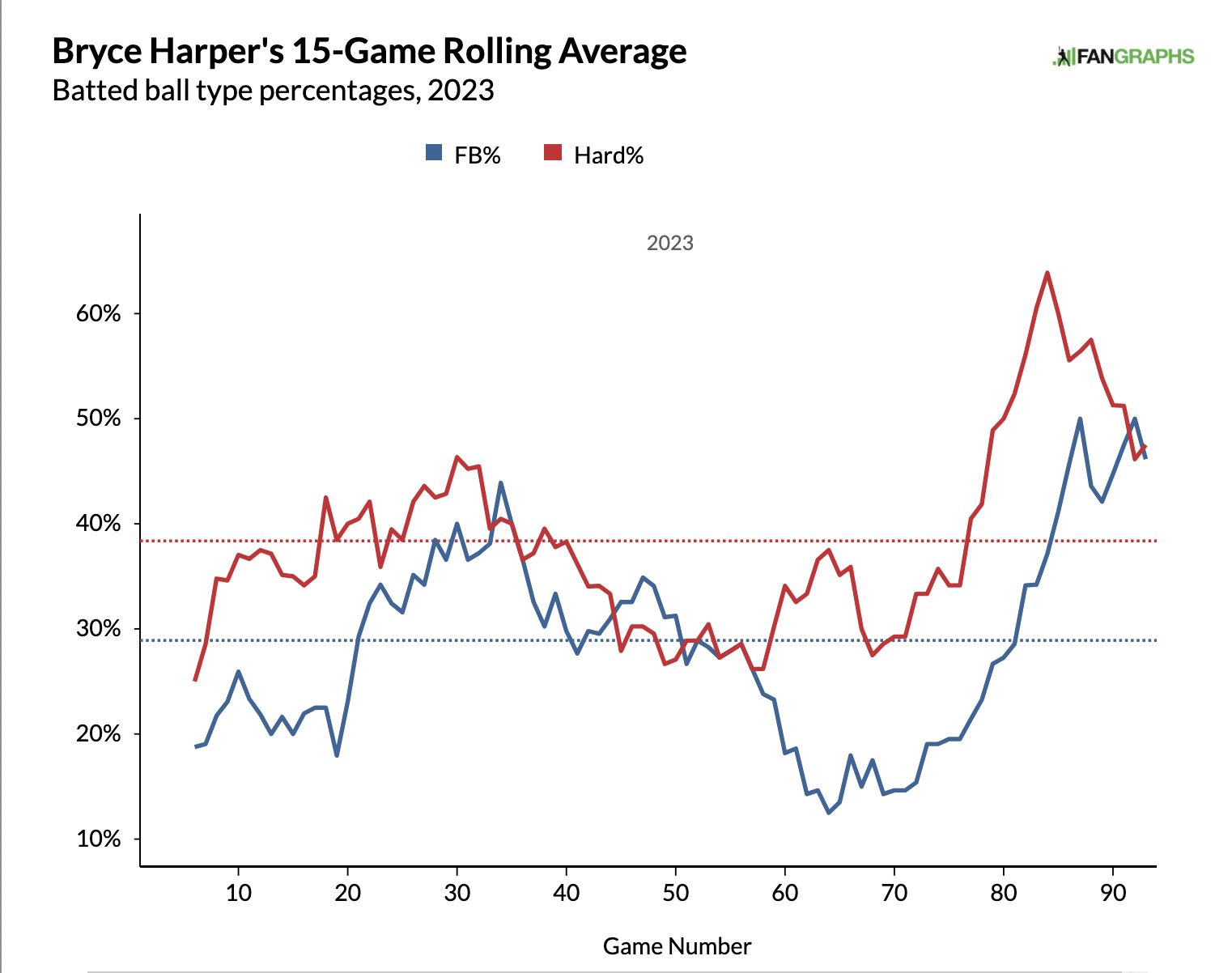 Miles Mikolas takes the mound for St. Louis on Friday and it's no secret that the righty has struggled all season long. Ranking in the bottom 10% in strikeouts and chase rate, Mikolas has no other choice but to attack the opposition — to no avail. His walk rate is sub-5%. 
His xBA and barrel rate have jumped to career lows of .284 and 8.2%, respectively, Mikolas has given up four home runs in his last three starts and heads to Philadelphia in what is a hitter-friendly park, especially with the wind blowing out. 
This is a great matchup where Harper should once again hold the advantage. While I don't take factor these into my handicap much at all, it is worth noting that Harper does have a pair of homers off Mikolas in his career. 
Harper is +390 to hit a HR at FanDuel. 
Ryan Mountcastle, Baltimore Orioles
Rockies vs Orioles, 7:05 p.m. ET | Opposing Starter: Kyle Freeland
There are many things in the baseball world that will make your ears perk up. Ryan Mouncastle facing a lefty is one of them. 
The slugging first baseman is by far the best Oriole against left-handed pitching. He has 11 home runs against southpaws this season. The next best on his team? Adley Rutchsman (5). 
Mountcastle has a staggering 190 wRC+ and .347 ISO against left-handed pitching. His splits are night and day when comparing Mountcastle against lefties and righties. His OPS jumps over .400 points against southpaws, where he has a 48% extra base hit rate. 
The Orioles open an interleague matchup with the Rockies on Friday night and Kyle Freeland takes the mound. He is a perfect matchup for the free-swinging Mouncastle. Freeland ranks in the bottom 4% of all pitchers in both strikeout and whiff rate and is in the bottom 10% in both xBA and xSLG. 
But what's most interesting about Freeland, who has an 8.8% barrel rate, is that he actually struggles more on the road than at Coors Field. In 5 2/3 less innings, Freeland has given up three more home runs away from home and has seen his ERA jump nearly a whole point. 
The wind is blowing out to left center on Friday night in a game where RotoGrinders' WeatherEdge tool projects a +19.2% increase in home runs. This plays perfectly into Mountcastle's power. 
He is +390 to homer at FanDuel.
---
DiSturco's Triple 7s Home Run Bets for Friday, August 25th
Yordan Alvarez (+360)
Bryce Harper (+390)
Ryan Mountcastle (+490)
If you like all three plays and want to try a spin at hitting triple 7s, a $10 parlay of these three home run props at FanDuel comes in at $959.20.
How would you rate this article?
This site contains commercial content. We may be compensated for the links provided on this page. The content on this page is for informational purposes only. Action Network makes no representation or warranty as to the accuracy of the information given or the outcome of any game or event.