MLB Home Run Props Today | Corey Seager, Giancarlo Stanton, Sean Murphy (Wednesday, August 30)
Credit:
Lachlan Cunningham/Getty Images. Pictured: Sean Murphy #12 of the Atlanta Braves.
Baseball betting is one of a kind. Each day diving into a full slate is grueling and sometimes edges are nowhere to be found within a side or total. But opportunities to fade pitchers at a lesser degree remains a constant. One of the areas in which I've tapped into this season has been the player prop market. More specifically, looking at hitters and their total bases/home runs props.
Whether it's a positive split or the wind blowing out in double-digit force, there's always opportunities to back some of MLB's best hitters to find the outfield seats. These bets are rarely not (+) money and home run props can often reach the 6-700 mark, providing plenty of value at a small cost.
That leads us to my new regular feature here at Action Network: DiSturco's Triple 7s. In each article, I will give out my three favorite total bases props and pair that with the odds for those same players to hit a home run.
The idea of Triple 7s comes from the slot machines. That's the ultimate jackpot and it's important to note the rarity of notching that feat. Similar to slots, parlaying all three players below to hit a home run is nothing more than a lottery ticket.
It's important to bet responsibly, you shouldn't overextend yourself with a parlay of all three. It's a long shot for a reason.
But if you're feeling confident or have no plans and want to try and hit Triple 7s, pull the lever and cross your fingers. Today's lottery ticket comes with +6480 odds.
Visit our MLB Props page for a full list of props and odds for every player on the MLB slate each and every day.
Corey Seager, Texas Rangers
Rangers vs. Mets, 6:40 p.m. ET
Opposing starting pitcher: Denyi Reyes (RHP)
The New York Mets are in a free fall and hand the ball to Denyi Reyes, who was called up for a start against the Braves a few weeks ago and tattooed. 
Reyes doesn't have an overpowering fastball and his barrel rate has jumped above double digits. In that spot start against Atlanta, Reyes threw 4 2/3 innings of five-run ball, giving up eight hits while walking four. 
It seems like NY will leave him out to dry again, just biding time until the end of the season, and what better way to fade the right-hander than by targeting Corey Seager. There are few players as dominant as Seager, who likely would win the MVP award if Shohei Ohtani did not exist in the American League. 
Seager ranks in the top 2% of all hitters in hard-hit rate, xBA, xSLG and barrel rate. His OPS has jumped above 1.000 for the first time in his career, and despite only playing 89 games, Seager has hit 24 home runs. 
While Seager is priced extremely low, I still like taking the lefty here. The Mets bullpen is just as messy as its starter tonight and the split-proof Seager should have no issues finding success.
He is first on the team in ISO (.322) against right-handed pitching and is far and away the best hitter from a wRC+ (189) standpoint. Against lefties, he is top three among healthy Rangers. 
Seager is +250 at FanDuel to hit a HR. 
Giancarlo Stanton, New York Yankees
Yankees vs. Tigers, 6:40 p.m. ET
Opposing starting pitcher: Joey Wentz (LHP)
It's been a roller-coaster season for Giancarlo Stanton, who is hovering around the Mendoza line through 81 games. He has really struggled against right-handed pitching and his power in general has dipped off this season compared to years past. 
Despite a sub-.700 OPS against righties, one area where Stanton has cleaned up is on left-handed pitching. He has a 50% extra-base hit rate against southpaws and his OPS is .924 (five home runs in 16 hits). 
What gives me confidence in backing the powerful bat of Stanton has been his jump in hard-hit rate and fly balls over the last couple of weeks. While he does have strikeout issues, his barrel rate of 15.9% is in the 94th percentile of all hitters.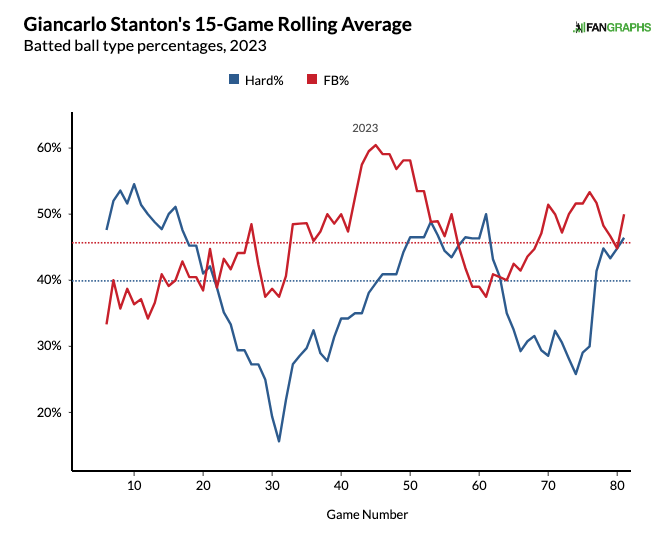 When Stanton connects with the ball, it's often crushed. His hard-hit rate remains around that 50% mark despite a drop-off in xBA (.226). It is expected that Joey Wentz will take the mound for Detroit whether as a starter or long reliever, and that's a perfect matchup for Stanton. 
Wentz has a 5.55 xERA and ranks in the bottom 10% of all pitchers in both barrel% (10.8) and xSLG (.487). His strikeout rate remains well below average as well and he's really struggled with limiting damage from his fastball and cutter (thrown 67.9% of time). 
Stanton is not widely available yet. He is +300 on open at FanDuel, though. 
Sean Murphy, Atlanta Braves
Braves vs. Rockies, 8:40 p.m. ET
Opposing starting pitcher: Kyle Freeland (LHP)
Sean Murphy is a perfect buy-low candidate here at Coors Field against a lefty.
While Murphy has just three home runs in the past month, there's been a sharp change over the last 10 games to indicate a power surge is coming: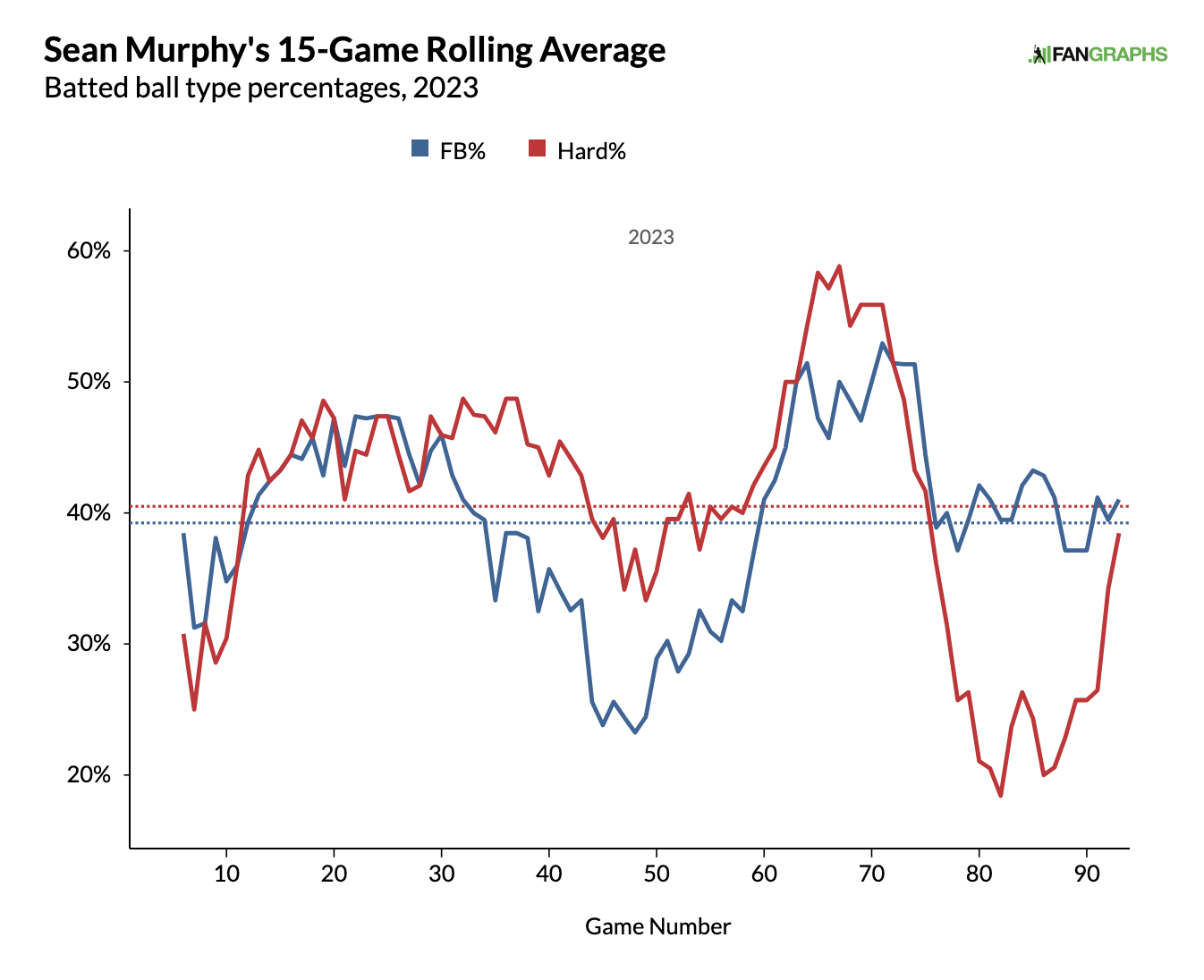 That jump in hard-hit rate indicates a return to midseason form, when Murphy was dominating in the middle of the Atlanta lineup. Despite his weaker contact over the last month or so, Murphy still ranks inside the top 3% of all hitters in both barrel% (17.3) and xSLG (.562). 
Those are huge jumps from last year's averages of 10.5 and .439, respectively. 
Why I like him even more on Wednesday is the fact that he's facing a left-handed pitcher. Murphy is second on the team in wRC+ (180) against southpaws and inside the top five in ISO (.261). 
His OPS is above 1.000, and he draws a contact pitcher in Freeland in an extreme hitter-friendly environment in Coors. Freeland ranks in the bottom 5% of all pitchers in xSLG and strikeout rate, and he has given up eight home runs in the past five games. 
As with Stanton, the odds are not widely available across the board, but Murphy is +370 at FanDuel. That is too high in my opinion, especially considering teammates like Matt Olson and Marcell Ozuna — similar power-swinging bats — have their odds juiced. 
---
DiSturco's Triple 7s Home Run Bets for Wednesday, August 30
Corey Seager (+250)
Giancarlo Stanton (+300)
Sean Murphy (+370)
If you like all three plays and want to try a spin at hitting triple 7s, a $10 parlay of these three home run props at FanDuel comes in at $648.
How would you rate this article?
This site contains commercial content. We may be compensated for the links provided on this page. The content on this page is for informational purposes only. Action Network makes no representation or warranty as to the accuracy of the information given or the outcome of any game or event.