MLB Home Run Props Today | Gleyber Torres, Ronald Acuna Jr. & More (Wednesday, September 6)
Credit:
Photo by Kevin D. Liles/Atlanta Braves/Getty Images. Pictured: Ronald Acuna Jr. (Braves)
Baseball betting is one of a kind. Each day diving into a full slate is grueling and sometimes edges are nowhere to be found within a side or total. But opportunities to fade pitchers at a lesser degree remains a constant.
One of the areas in which I've tapped into this season has been the player prop market. More specifically, looking at hitters and their total bases/home runs props.
Whether it's a positive split or the wind blowing out in double-digit force, there's always opportunities to back some of MLB's best hitters to find the outfield seats. These bets are rarely not (+) money and home run props can often reach the 6-700 mark, providing plenty of value at a small cost.
That leads us to my regular feature here at Action Network: DiSturco's Triple 7s. In each article, I will give out my three favorite total bases props and pair that with the odds for those same players to hit a home run.
The idea of Triple 7s comes from the slot machines. That's the ultimate jackpot, and it's important to note the rarity of notching that feat. Similar to slots, parlaying all three players below to hit a home run is nothing more than a lottery ticket.
It's important to bet responsibly and you shouldn't overextend yourself with a parlay of all three. It's a long shot for a reason.
But if you're feeling confident or have no plans and want to try and hit Triple 7s, pull the lever and cross your fingers. Today's lottery ticket comes with +12550 odds.
Visit our MLB Props page for a full list of props and odds for every player on the MLB slate each and every day.
---
Davis Schneider, Toronto Blue Jays
Blue Jays vs. Athletics, 3:37 p.m. ET | Opposing Starter: JP Sears (LHP)
The Blue Jays' injury bug has rippled throughout the team, forcing their hand to rely on youth for production amid a tight playoff race.
Davis Schneider, who has been atop the rookies in production, is scorching hot entering Wednesday night. 
Since Aug. 19, Schneider has four home runs, six doubles and a triple in 11 games. Of his hits against left-handed pitching, 64% have gone for extra bases.
It's a small sample size, obviously, but Schneider's rolling graphs are off the chart — he's absolutely murdering the ball and his fly-ball rate has neared 70%.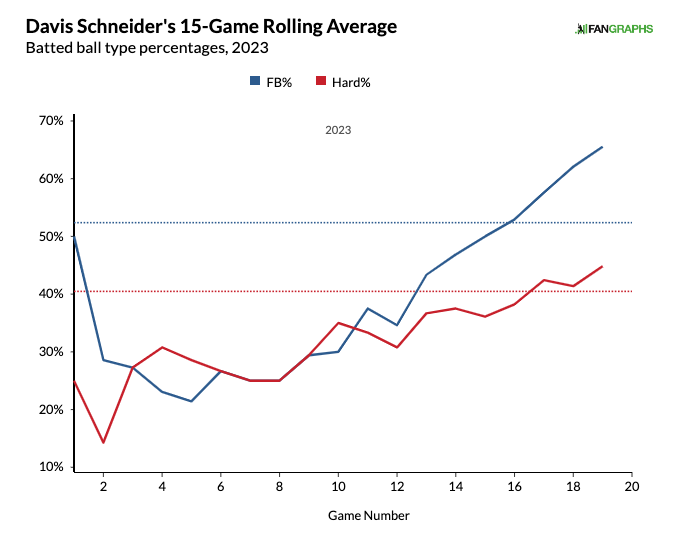 That's perfect for a matchup against a pitcher like JP Sears. Not only does Sears get barreled at a 12.1% rate, but his ground-ball rate is just 30.1%. While he has plus command, he's often crushed. 
What's most shocking is that despite throwing in a pitcher-friendly park, Sears really struggles at home. In 12 starts, the southpaw has given up 16 home runs. He hasn't finished a month this season with fewer than six home runs allowed, either. 
It's always difficult to trust a rookie to continue unsustainable production, but Schneider has shown no signs of slowing down. This is another great matchup for him to take advantage of a lefty that struggles limiting barrels, and he'll surely get four to five at-bats, given he's near the top of the lineup.
He's +475 at bet365 to hit a HR.
---
Gleyber Torres, New York Yankees
Tigers vs. Yankees, 7:05 p.m. ET | Opposing Starter: Matt Manning (RHP)
It's quite comical how Aaron Judge's home run odds are in the mid-100s Wednesday night, but it makes sense. The wind is blowing out to left field, with near-90 degree temperatures, against a starting pitcher who ranks among the worst in barrels/PA.
But rather than focusing on the Yankees slugger, I'm looking toward Gleyber Torres.
He's been crushing the ball over the last 15 days, with five home runs and a 1.108 OPS. Look at his rolling graphs, and he's hitting the ball as hard as he has all season: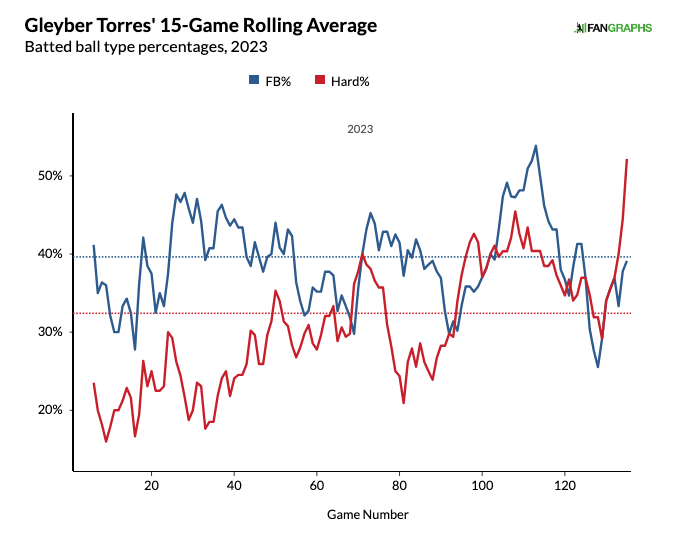 Amid all the Yankees' struggles, Torres has been a bright spot. He's rekindled his 2019 self, with raw power and a high average. He's striking out at a career-low 14.2% and ranks inside the top 15% of all hitters in xBA, xSLG and sweet-spot%. 
That brings me to Matt Manning, the Tigers' starter on Wednesday. The 25-year-old is long overdue for negative regression, with an xERA (5.39) nearly two runs higher than actual (3.62). He isn't able to overpower opponents or generate chases out of the zone. 
His heavy reliance on the fastball — nearly 50% of the time — and inability to draw whiffs on the curve has led to his struggles limiting hard contact. He has good command, but relies on pitching to contact. 
In his three years with the Tigers, Manning has never struggled more than he has now when it comes to barrels (11%) and hard-hit rate (43.2). He doesn't generate many ground balls, a plus for a game that favors offense given the conditions around game time. 
RotoGrinders' WeatherEdge predicts a +25.9% increase in home runs based on a 109-game sample. Torres is +450 at FanDuel.
---
Ronald Acuna Jr., Atlanta Braves
Cardinals vs. Braves, 7:20 p.m. ET | Opposing Starter: Dakota Hudson (RHP)
National League MVP favorite Ronald Acuna Jr. enters Wednesday after going hitless in his last two games. 
Dakota Hudson takes the mound for the Cardinals in what's a strong matchup for Acuna.
The right-hander enters off of his best outing of the season, but all signs point toward that not sustaining. Hudson's xERA is over a run higher than actual, and his strikeout rate is in the bottom 2% of all pitchers. 
Hudson has posted a career-worst barrel (7.3%) and hard-hit rate (44.1%), and while he's a ground-ball pitcher, he's run into home run problems in the past. In five August starts, Hudson has given up six home runs. 
Matt Olson is the Braves' team leader in ISO against right-handed pitching — as expected — but his odds are low for a reason. Acuna ranks second on the team in ISO (.247) and is first in wRC+ (166). 
As we saw against the Dodgers, Acuna is starting to lift the ball more. He hit three home runs in three straight games and has seen his fly-ball rate continually rise. Tack on how hard he's hitting the ball, and Acuna has become an attractive option in the home run market. 
There's no question that Acuna is among the best hitters in baseball. He's in the top 1% of all hitters in xBA, xSLG and Average Exit Velocity. He doesn't strike out (11.8 K%) and barrels the ball at a 14.5% rate. 
All this to say, if Acuna is starting to hit fly balls at a higher rate, the home runs should continue to pour in. He's +400 to hit a HR at FanDuel.
---
DiSturco's Triple 7s Home Run Bets for Wednesday, September 6
Davis Schneider (+475)
Gleyber Torres (+450)
Ronald Acuna (+400)
If you like all three plays and want to try a spin at hitting triple 7s, a $10 parlay of these three home run props at FanDuel comes in at $1,255.
How would you rate this article?
This site contains commercial content. We may be compensated for the links provided on this page. The content on this page is for informational purposes only. Action Network makes no representation or warranty as to the accuracy of the information given or the outcome of any game or event.