MLB Home Run Props Today | Alec Bohm, Max Kepler, Ryan Mountcastle (Monday, September 4)
Credit:
Getty Images. Pictured: Ryan Mountcastle, Alec Bohm, Max Kepler
Baseball betting is one of a kind. Each day diving into a full slate is grueling and sometimes edges are nowhere to be found within a side or total. But opportunities to fade pitchers at a lesser degree remains a constant. One of the areas in which I've tapped into this season has been the player prop market. More specifically, looking at hitters and their total bases/home runs props.
Whether it's a positive split or the wind blowing out in double-digit force, there's always opportunities to back some of MLB's best hitters to find the outfield seats. These bets are rarely not (+) money and home run props can often reach the 6-700 mark, providing plenty of value at a small cost.
That leads us to my new regular feature here at Action Network: DiSturco's Triple 7s. In each article, I will give out my three favorite total bases props and pair that with the odds for those same players to hit a home run.
The idea of Triple 7s comes from the slot machines. That's the ultimate jackpot and it's important to note the rarity of notching that feat. Similar to slots, parlaying all three players below to hit a home run is nothing more than a lottery ticket.
It's important to bet responsibly and you shouldn't overextend yourself with a parlay of all three. It's a long shot for a reason.
But if you're feeling confident or have no plans and want to try and hit Triple 7s, pull the lever and cross your fingers. Today's lottery ticket comes with +20705 odds.
Visit our MLB Props page for a full list of props and odds for every player on the MLB slate each and every day.
Max Kepler, Minnesota Twins
Twins vs. Guardians, 6:10 p.m. ET | Opposing starter: Lucas Giolito (RHP)
Lucas Giolito makes his Guardians debut after being claimed off waivers in what sets up to be a pivotal series in the AL Central. The Twins hold a five-game lead over Cleveland entering this three-game series. 
Giolito has bounced around three teams this season and he struggled with the long ball at each of his first two stops. Before being dealt at the deadline, Giolito posted a 1.49 HR/9 with the White Sox. Upon joining LA, that number jumped to 2.76 in just six starts. 
The right-hander ranks in the bottom 15% of all pitchers in barrel rate and he's posted his worst hard-hit rate since his debut in 2016. A lot of that stems from being unable to force ground balls or chases out of the zone at a high rate. 
Enter Max Kepler. The lefty has crushed right-handed pitching since being called up to the bigs and has a .242 ISO this season. It's been a quietly excellent season for Kepler, who has seen his average jump to a career-best .253, all while his power remains steadfast. 
Kepler has a 12.3 barrel rate — also his career best — and a .511 xSLG this season. When looking at his recent production, there seems to be no sign of slowing down, either. He is among the most consistent in this Minnesota lineup. 
While I don't factor past history much into the handicap of home run props, it is worth mentioning that Kepler has 41 at-bats against Giolito. He is hitting .293 with three home runs (.955 OPS). 
With the wind blowing out to right field on Monday night, I like Kepler to take advantage of Giolito's home run problem in his Guardians debut. 
He is +470 at FanDuel. 
Alec Bohm, Philadelphia Phillies
Phillies vs. Padres, 6:40 p.m. ET | Opposing starter: Rich Hill (LHP)
What's a Triple 7s without a Rich Hill fade? Despite sharp money coming in on San Diego today, I still like the Phillies to do some damage against the left-hander. The 43-year-old continues to trot out every fifth day despite being shelled. 
Hill ranks in the bottom 10% of all pitchers in xERA, xBA and chase rate. He doesn't force many ground balls and sits around a double-digit barrel rate. Over his last seven starts, Hill has given up eight home runs. He's good for about 1-2 a contest. 
That brings me to Alec Bohm, who is trending up over the last couple of weeks. While he doesn't carry the slugging fame of Bryce Harper and Kyle Schwarber, among others, Bohm is the best Phillies hitter against left-handed pitching.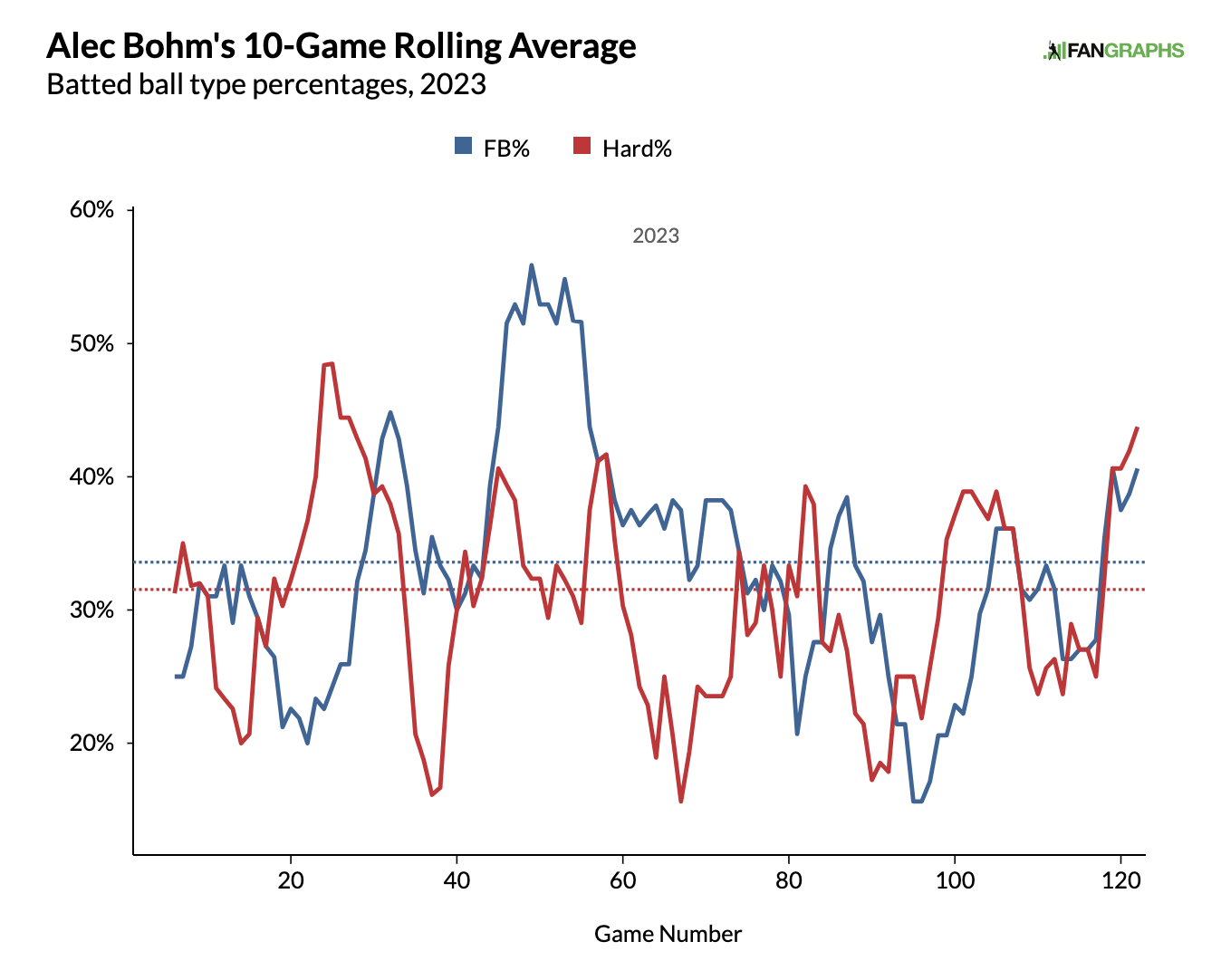 Bohm has a .277 ISO against southpaws and a 148 wRC+, which is first on the team. While his barrel rate is just 5.9%, that's because his power is often limited against righties. He has a .938 OPS with 23.2% of all his hits against left-handed pitching leaving the park. 
The great thing about Bohm is that he's one of the toughest outs in this lineup. He continues to improve his dominant K% (career-best 15%) and is in the 88th percentile of all hitters in whiff rate. Bohm also has a .291 xBA, top 6% of all hitters. 
All this to say that Bohm is one of the best pure hitters in baseball and he's a lefty killer. He doesn't carry the flashiness of other Phillies, but given his recent form, I love backing him from both a HR and total bases standpoint against Hill on Monday night. 
Everyone might turn to the red-hot Trea Turner, but give me Bohm, who is +630 to HR at FanDuel.
Ryan Mountcastle, Baltimore Orioles
Orioles vs. Angels, 9:38 p.m. ET | Opposing starter: Kenny Rosenberg (LHP)
There are few players who deserve a bid to the first annual DiSturco Triple 7s, and chief among them are Mookie Betts and the southpaw killer himself, Ryan Mountcastle. 
It's night and day when looking at Mountcastle's splits. Against left-handed pitching, he is hitting .344 with an OPS of 1.087. He has a 47.7% extra-base hit rate and 27% of his hits overall have left the park. 
He is by far the most effective hitter against lefties in the Baltimore lineup, with a wRC+ of 190 and an ISO of .352. Those are eye-popping numbers. 
The Angels send left-hander Kenny Rosenberg to the mound on Monday. Rosenberg has seen limited big league work — 17 2/3 innings — but in that span, he has struggled to keep the ball on the ground. In general at the Triple-A level, the southpaw had a 15% HR/FB rate. 
Rosenberg is mainly a two-pitch pitcher, using a combination of a low 90s fastball and changeup, each about 44% of the time. He also has a cutter that will work its way into the rotation, but the southpaw does not have overpowering stuff. 
His biggest concern has been command. This year in Triple-A, Rosenberg posted a 4.14 BB/9. This year, he's walked seven batters in seven big league innings. 
What's behind Rosenberg is a concern, too, for LA. The Angels are a dead team walking, and the bullpen aside from closer Carlos Estevez is arguably just as bad as the rotation. This is a great spot to fade Rosenberg and continue backing the Orioles against left-handed pitching. 
Mountcastle is +400 to hit a home run at FanDuel. 
---
DiSturco's Triple 7s Home Run Bets for Monday, September 4th
Max Kepler (+470)
Alec Bohm (+630)
Ryan Mouncastle (+400)
If you like all three plays and want to try a spin at hitting triple 7s, a $10 parlay of these three home run props at FanDuel comes in at $2,070.50.
How would you rate this article?
This site contains commercial content. We may be compensated for the links provided on this page. The content on this page is for informational purposes only. Action Network makes no representation or warranty as to the accuracy of the information given or the outcome of any game or event.