MLB Home Run Props Today | Riley Greene, Anthony Santander, Juan Soto (Monday, August 28)
Credit:
Getty Images. Pictured: Juan Soto, Anthony Santander, Riley Greene.
Baseball betting is one of a kind. Each day diving into a full slate is grueling and sometimes edges are nowhere to be found within a side or total. But opportunities to fade pitchers at a lesser degree remains a constant. One of the areas in which I've tapped into this season has been the player prop market. More specifically, looking at hitters and their total bases/home runs props.
Whether it's a positive split or the wind blowing out in double-digit force, there's always opportunities to back some of MLB's best hitters to find the outfield seats. These bets are rarely not (+) money and home run props can often reach the 6-700 mark, providing plenty of value at a small cost.
That leads us to my new regular feature here at Action Network: DiSturco's Triple 7s. In each article, I will give out my three favorite total bases props and pair that with the odds for those same players to hit a home run.
The idea of Triple 7s comes from the slot machines. That's the ultimate jackpot and it's important to note the rarity of notching that feat. Similar to slots, parlaying all three players below to hit a home run is nothing more than a lottery ticket.
It's important to bet responsibly and you shouldn't overextend yourself with a parlay of all three. It's a long shot for a reason.
But if you're feeling confident or have no plans and want to try and hit Triple 7s, pull the lever and cross your fingers. Today's lottery ticket comes with +18980 odds.
Visit our MLB Props page for a full list of props and odds for every player on the MLB slate each and every day.
Riley Greene, Detroit Tigers
Yankees vs. Tigers, 6:40 p.m. ET | Opposing starter: Luis Severino (RHP)
I'm going back to the well and buying low on Riley Greene here. 
While the Tigers haven't had the most successful season, the last few months have been extremely beneficial for their young budding bats. In particular, Greene, Spencer Torkelson and Kerry Carpenter have all taken steps forward at the plate. 
Two of those three — Greene and Carpenter — crush right-handed pitching. Carpenter leads the team in wRC+ and ISO (157 and .274, respectively), but Greene is not too far behind in second at 132 and .193. 
While Carpenter has been on fire of late, he also hits cleanup and can be pitched around a lot more than Greene in the two-hole. While Greene is hitting just .213 over the last 15 days, this is a great get right spot against Luis Severino. 
The Yankees' season is long gone and Severino has looked like a completely different pitcher in 2023. His biggest issue? Home runs. 
Since the calendar turned July, Severino has given up a home run in eight of nine starts. He just threw 6 2/3 of one-hit ball against the Nationals, but I see that as nothing more than a fluke. 
Severino ranks in the bottom 3% of all pitchers in xBA and xSLG and has seen his barrel rate skyrocket to a career-worst 10.5%. His strikeouts have dropped 10% from last season — from 27.7% to 17.7% — and without the whiffs, Severino has become an extremely crushable pitcher. 
That brings me back to Greene who I think has a chance to do some damage tonight. He is in a plus matchup — all of his 11 home runs have come against righties — at Comerica Park where his OPS is .858 compared to .768 on the road. 
I like both Carpenter and Greene tonight but prefer to take the long shot stab on Greene, who is +700 at FanDuel. 
Anthony Santander, Baltimore Orioles
White Sox vs. Orioles, 7:05 p.m. ET | Opposing starter: Michael Kopech (RHP)
This Baltimore Orioles lineup remains a force to be reckoned with. Looking to keep their place atop the American League East standings, Baltimore welcomes in the White Sox on Monday night in a great matchup for the offense. 
Michael Kopech takes the mound for Chicago and he has taken a huge step backward in 2023. The fireball-throwing righty has seen his walk rate jump to 15% and has an xERA of 5.73. Without the dominant swing-and-miss stuff, Kopech has become extremely hittable.
The biggest issue for Kopech is his reliance on two pitches, the fastball and slider. He throws both a combined 88.5% of the time and both have a .445 xSLG or higher. Because command has become such an issue, Kopech is forced to throw the fastball inside the zone consistently. The end result? A 13.6% barrel rate that ranks in the bottom 1% of all pitchers. 
In Kopech's last six starts, he has given up nine home runs. He has given up at least one home run in 14 of 24 starts (58.3%) and multiple in seven of those (29.2%). 
Enter Anthony Santander. The switch-hitting veteran ranks inside the top three in wRC+ (120) and ISO (.242) against right-handed pitching. His barrel rate remains in the double digits and has even seen his hard-hit rate jump to a career-best 46.4%. 
While Santander hasn't been as dominant in the second half of the season, his underlying metrics look promising. His hard-hit and fly ball rate have continued to increase and grade out above-average compared to the rest of the league. 
Santander enters with hits in six straight — three home runs — and is swinging as hot a bat as any Oriole right now. Look for him to take advantage of Kopech's home run issue at Camden. 
He is +360 to hit a HR at bet365. 
Juan Soto, San Diego Padres
Padres vs. Cardinals, 7:45 p.m. ET | Opposing starter: Adam Wainwright (RHP)
Adam Wainwright is nowhere near the pitcher he used to be. If we're being honest, if the Cardinals were in any sort of playoff contention, I would highly doubt the 41-year-old would be trotting out there every fifth day to take the hill.
Wainwright has a 7.63 xERA and his xBA (.330), xSLG (.573) and strikeout rate (11.6%) all rank in the bottom 1% of pitchers. He doesn't generate swings out of the zone or whiffs altogether, and has seen his barrel rate nearly double to a career-worst 11.6% this season. For reference, his previous low was 6.6%. 
Since making his season debut in May, Wainwright has given up a home run in 10 of 17 starts (58.8%) and 2+ in six of those (35.3%). Even with the Padres in a tailspin, this offense should have no issues beating up on Wainwright tonight. 
That brings me to Juan Soto, who I am looking to buy low on. He has struggled to get going at the plate over the last 15 days (.163 average, .550 OPS) but his fly-ball and hard-hit rates have continued to rise.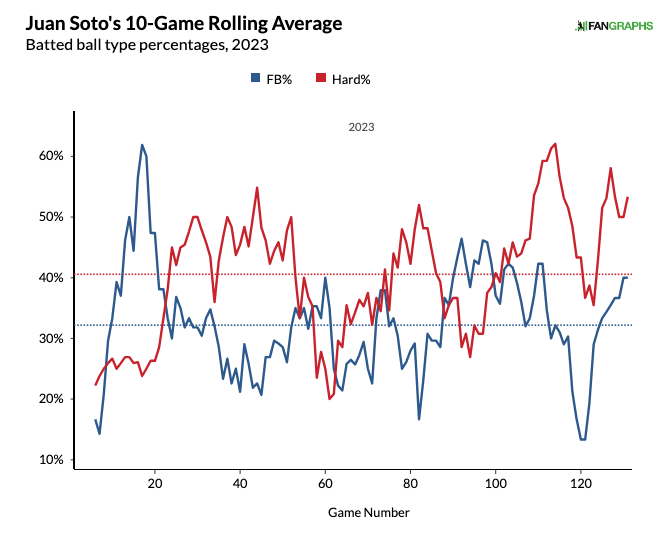 Underlying metrics suggest that Soto is still putting together strong at-bats and altogether the lefty continues to rank inside the top 1% of all hitters in hard-hit rate (56.5%). He has improved his barrel rate from last season and has seen slight improvements across the board in xBA and xSLG, among other areas. 
Against right-handed pitching, Soto is the most dominant Padres hitter. He is first on the team with a .260 ISO and 158 wRC+. For a team with such flashy names, only two players carry a wRC+ of 115 or higher against righties: Soto and Garrett Cooper. 
As Wainwright's ground ball rate continues to dip below 40% for the first time in his career and struggle to limit barrels — or any soft contact for that matter — he is auto fade material. Soto is +430 to hit a HR at FanDuel.
DiSturco's Triple 7s Home Run Bets for Monday, August 28
Riley Greene (+700)
Anthony Santander (+360)
Juan Soto (+430)
If you like all three plays and want to try a spin at hitting triple 7s, a $10 parlay of these three home run props at FanDuel comes in at $1,898.
Pick: Triple Sevens Home Run Parlay
How would you rate this article?
This site contains commercial content. We may be compensated for the links provided on this page. The content on this page is for informational purposes only. Action Network makes no representation or warranty as to the accuracy of the information given or the outcome of any game or event.