MLB Home Run Props Wednesday | Odds, Picks for Austin Riley, Christian Walker & More (September 13)
Credit:
Photo by Norm Hall/Getty Images. Pictured: Christian Walker (Diamondbacks)
Looking for the best MLB home run props to target today? We've got you covered.
Find the players our analyst is predicting will go yard on Wednesday, including a +520 pick.
Baseball betting is one of a kind. Each day diving into a full slate is grueling, and sometimes edges are nowhere to be found within a side or total. But opportunities to fade pitchers at a lesser degree remains a constant.
One of the areas in which I've tapped into this season has been the player prop market. More specifically, looking at hitters and their total bases/home run props.
Whether it's a positive split or the wind blowing out in double-digit force, there's always opportunities to back some of MLB's best hitters to find the outfield seats. These bets are rarely not (+) money and home run props can often reach the 6-700 mark, providing plenty of value at a small cost.
That leads us to my regular feature here at Action Network: DiSturco's Triple 7s. In each article, I will give out my three favorite total bases props and pair that with the odds for those same players to hit a home run.
The idea of Triple 7s comes from the slot machines. That's the ultimate jackpot, and it's important to note the rarity of notching that feat. Similar to slots, parlaying all three players below to hit a home run is nothing more than a lottery ticket.
It's important to bet responsibly, and while I do bet every player o1.5 TBs and to hit a HR, you shouldn't overextend yourself with a parlay of all three. It's a long shot for a reason.
But if you're feeling confident or have no plans and want to try and hit Triple 7s, pull the lever and cross your fingers. Today's lottery ticket comes with +16070 odds.
Visit our MLB Props page for a full list of props and odds for every player on the MLB slate each and every day.
Ryan Mountcastle, Baltimore Orioles
Cardinals vs. Orioles, 6:35 p.m. ET | Opposing Pitcher: Drew Rom (LHP)
It's a trio of southpaws that I'm fading on Wednesday, and it's no surprise that Ryan Mountcastle has made the list. 
Drew Rom takes the mound for the Cardinals, and he's struggled with home runs since being called up in late August. Through four starts, he's given up four home runs — 17 1/3 innings — with a 6.22 xERA and a concerning 12.3 barrel%. 
The 23-year-old struggles with control and doesn't generate many chases or whiffs. Given his low 90s fastball, Rom isn't able to overpower the opposition. Instead, he relies on his sinker and splitter to help put the ball on the ground and mitigate damage with his defense behind him. 
In the minors, he was able to generate double-digit strikeouts per 9 and limited home runs. But that hasn't been the case with the jump in talent in the bigs, and I don't expect it to slow down anytime soon given his arsenal. 
You're probably tired of me talking about how dominant Mountcastle is against lefties. He strikes out under 20% of the time and has a .319 ISO and 182 wRC+. Among those with 50+ at-bats against southpaws, that ranks first on the Orioles. 
While he struggles against right-handed pitching (.636 OPS), he has a 1.052 OPS against lefties. Nearly 45% of all his hits go for extra bases and 25% leave the park. In general, Mountcastle ranks inside the top 10% of all hitters in xSLG.
Anytime a lefty takes the mound, it's worth a bet on Mountcastle to do some damage. His 12.4 barrel% is quite impressive, as is his Average Exit Velocity of 91.5 mph. 
He's +520 to hit a HR at FanDuel. 
Austin Riley, Atlanta Braves
Braves vs. Phillies, 6:40 p.m. ET | Opposing Pitcher: Cristopher Sanchez (LHP)
To put it simply, the Braves' offense is a freight train from hell. This is a team that man-handled Zack Wheeler last night and has scored nearly 30 more runs than the next-best team this season. 
While the wind isn't blowing out at Citizens Bank Park, the Braves, once again, find themselves in a great matchup.
Cristopher Sanchez takes the mound for Philly and while he's shown plus command with a high ground-ball rate, the southpaw's biggest concern has been home runs. 
Sanchez is barreled just over 8% of the time and has given up six home runs over his last six starts.
He's struggled considerably at home compared to on the road. In 11 starts at home, Sanchez has given up 12 home runs and has a 3.97 ERA. He's only pitched four times on the road, but has a 1.29 ERA and just one home run across 21 innings.
That brings me to Austin Riley, who I think is about to have a strong end to the season. Riley had a slow start to his campaign before finding his rhythm during the summer, hitting 17 home runs across July and August.
While September has been slower — a .231 average and two home runs in 39 at-bats — his rolling hard-hit and fly-ball graphs show that he's on the turnaround.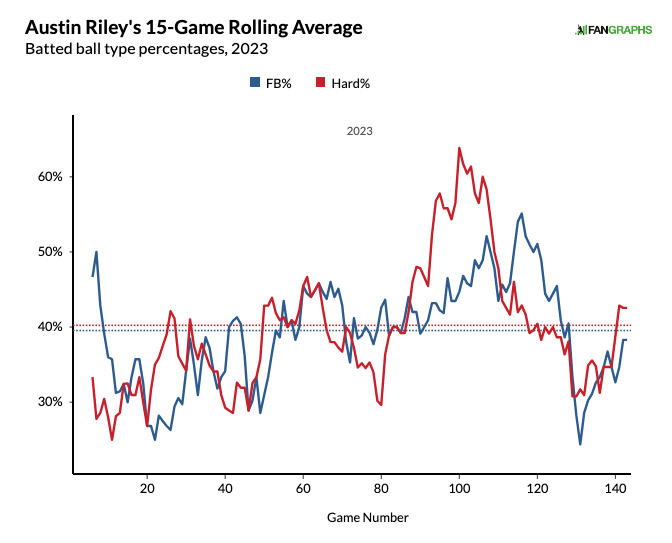 There was a clear dip in both hard-hit and fly-ball rates over the last month, but we've started to see Riley turn it around once again.
Sandwiched in the three spot ahead of Matt Olson, opponents have to target the righty. 
In a dominant lineup that features Ronald Acuna Jr. and the aforementioned Olson, Riley has been one of the best hitters against southpaws. His wRC+ (137) is among the best on the team, while his ISO (.273) is third. His OPS takes a considerable jump up, too. 
Tack on what's been a taxing couple of days from the bullpens, and we could very well see Riley take advantage there, as well. 
He's +390 to hit a HR at bet365.

How to Practice Responsible Gaming Habits
Christian Walker, Arizona Diamondbacks
Diamondbacks vs. Mets, 7:10 p.m. ET | Opposing Pitcher: Joey Lucchesi (LHP)
There's not much to add about the Mets that hasn't been already said. They've given up on a lost season and are throwing out minor league arms waiting for the eventual end of September. 
Joey Lucchesi takes the mound on Wednesday, returning to the big league roster after a spot start a month ago. The lefty threw 5 2/3 innings of shutout ball against the Cardinals, the peak of the mountain for him. 
Over the last two seasons, Lucchesi sits right around a double-digit barrel rate. Early on in the season — when he was in the rotation due to injury — Lucchesi had a stretch of three starts where he gave up four home runs in 13 1/3 innings.
That's about what I expect out of the southpaw. 
In 15 appearances at Triple-A this season, Lucchesi's HR/9 is about in line with his results in the majors. His ground-ball rate sees a step back in the bigs — as expected with better hitters — but his FIP and barrels remain a bit of a concern.
Christian Walker is the best power hitter on this Diamondbacks team and despite a slow September like Riley — a .209 average with two home runs and a .625 OPS — I'm looking to buy low on the slugger. 
To put it simply, Walker crushes left-handed pitching. His OPS is .940 against southpaws — as opposed to .812 vs. righties — and 35% of his hits have left the yard. Plus, over 50% have gone for extra bases. 
Walker ranks first on the Diamondbacks in both ISO (.326) and wRC+ (145) against lefties. In general, his barrel rate remains in the 11% range and his xSLG sits around career average. He should, once again, finish in the mid-30s as far as home runs go in 2023. 
Lucchesi and the Mets' bullpen behind him are prime targets to fade on a daily basis.
Given the plus matchup, I love targeting Walker here. He's +450 to hit a HR at bet365.
---
DiSturco's Triple 7s Home Run Bets for Wednesday, September 13
Ryan Mountcastle (+520)
Austin Riley (+390)
Christian Walker (+450)
If you like all three plays and want to try a spin at hitting triple 7s, a $10 parlay of these three home run props at bet365 comes in at $1,607.
How would you rate this article?
This site contains commercial content. We may be compensated for the links provided on this page. The content on this page is for informational purposes only. Action Network makes no representation or warranty as to the accuracy of the information given or the outcome of any game or event.