MLB Odds, Picks Today | Expert Projections for Monday, May 29
Credit:
Getty Images. Design by Matt Roembke/Action Network. Pictured from left: Bobby Witt Jr. (7) of the Kansas City Royals, Nick Ahmed (13) of the Arizona Diamondbacks and J.P. Crawford (3) of the Seattle Mariners.
The MLB slate on Memorial Day features 11 games.
Action Network's MLB expert, Sean Zerillo, crunched the numbers and has betting picks for Monday, May 29.
Continue reading below for his analysis and predictions, which includes the last game on Monday, Yankees vs. Mariners.
Welcome to Opening Pitch, my column that you'll find daily throughout the 2023 MLB season.
My goal for Opening Pitch is to highlight my top daily projection edges for MLB moneylines and totals, share my favorite bets and provide some betting notes and analysis, mainly as I react to opening and overnight lines while using my baseball betting model.
I will look to release a new version of Opening Pitch daily between midnight and 3 a.m. ET; after I enter my overnight bets in the Action Network App and update the MLB projections. Hopefully, you will use it as your morning betting guide to get ahead of the baseball markets.
You can find my projections for every MLB game in the Action App (on both the PRO Projections tab and the game pages) and our Projections Hub (which you can bookmark).
You can also shop for the best lines on our odds page.
Expert Picks for Monday, May 29
Texas Rangers vs. Detroit Tigers
Nathan Eovaldi vs. Matthew Boyd
First Pitch: 1:10 p.m. ET
While Eovaldi is having a career-best season (2.60 ERA, 2.87 xERA, 3.28 xFIP), his strikeout and walk rates and underlying stuff metrics align with his past few seasons in Boston; there isn't any noticeable growth in his profile, aside from batters making lesser contact.
The veteran righty has made subtle modifications to his pitch selection – opting for more cutters and splitters (combined usage +16% vs. 2022) instead of sliders and curveballs (combined usage -14% vs. 2022). Still, I can't point to a reason why he has been so much better than he was two years ago in Boston when he posted superior metrics (20.9% strikeout minus walk rate or K-BB%;  29.8% CSW% or Called Strike plus Whiff Rate) to this year (20.8% and 29.5%, respectively).
Perhaps Eovaldi will fall back to earth – and start allowing home runs in line with his career averages, but he has primarily justified his strong results to date.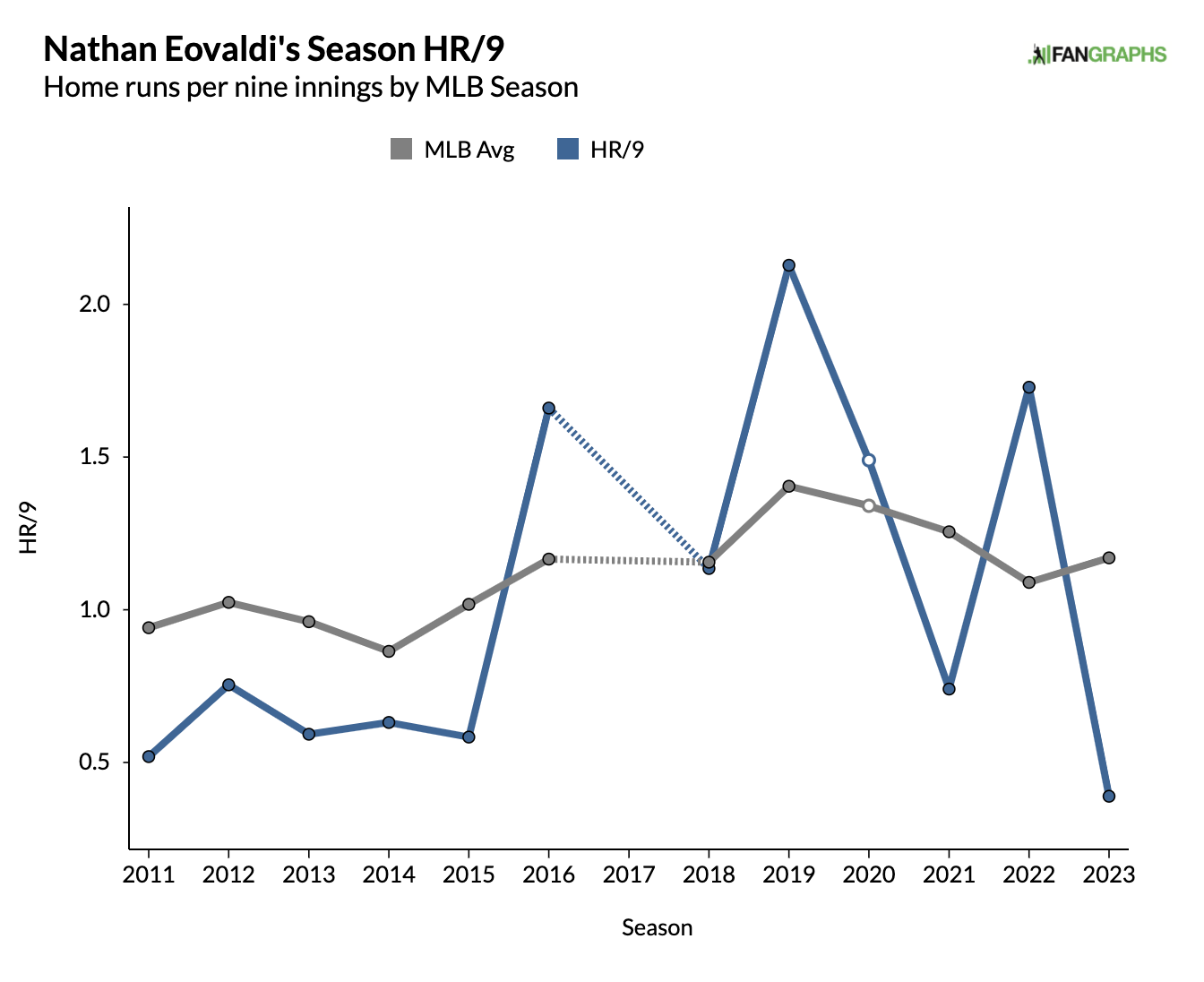 He should get strong run support from the Rangers' offense which ranks third against left-handed pitching (130 wRC+)—conversely, the Tigers rank 26th (85 wRC+) against righties.
Boyd can likely carry an ERA in the low 4's – in line with his xERA this year (4.24) and in 2021 (4.18); however, pitching models aren't fond of him (85 Stuff+, 96 Location+, 93 Pitching+) after posting league-average metrics (100 Pitching+) at a slightly higher velocity a couple of years ago.
We placed a big F5 (First Five Innings) bet on Eovaldi in his last start against a lefty (Rich Hill) on the road and get a similarly juicy matchup on Monday, given how Detroit typically runs against righties. I projected Texas around -190 in the first half; bet the Rangers F5 moneyline to -173, and increase your stake to -160.
Kansas City Royals vs. St. Louis Cardinals
Josh Staumont vs. Adam Wainwright
First Pitch: 2:15 p.m. ET
Josh Staumont will serve as an opener ahead of Mike Mayers on Monday. The 31-year-old Mayers has pitched chiefly out of the bullpen at the MLB level (7 starts, 193 relief appearances) but performed admirably for the depth-ridden Angels in a starters role near the end of last season.
He hasn't pitched much this season, but Mayers has deployed a six-pitch arsenal in two outings, and pitching models think he has a well above-average command (108 Location+), making him a league-average arm (101 Pitching+).
As I mentioned, time is catching up with 41-year-old Adam Wainwright, whose strikeout rate (10.2%) is at a career-low, down seven percent vs. last season and ten percent vs. his career average. Wainwright has a 6.33 ERA, 7.01 xERA, and 5.81 xFIP in four starts.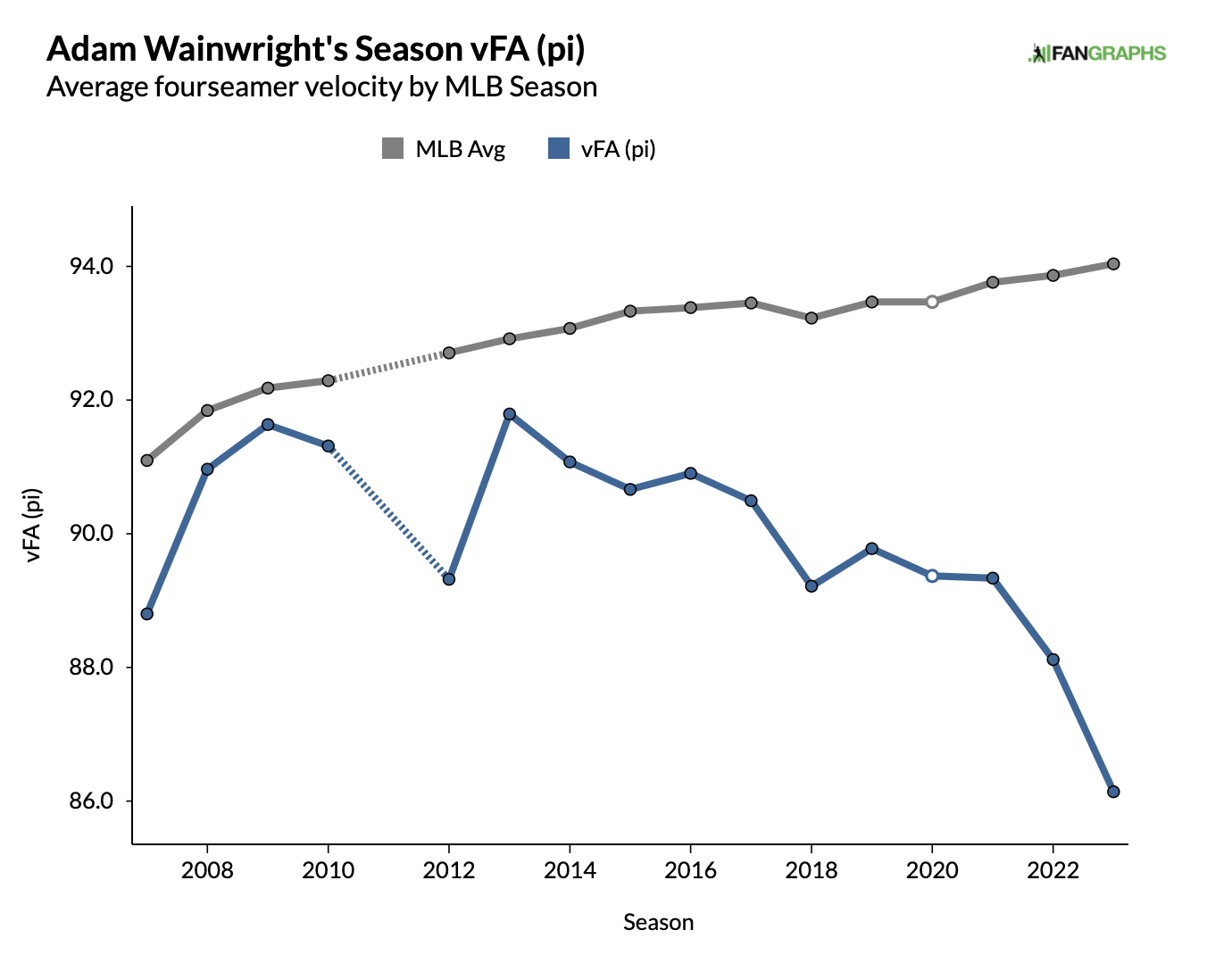 It's challenging to make Wainwright too big of a favorite, even at home against a bottom-two offense against right-handed pitching (76 wrC+).
Bet the Royals down to +158 or better for the full game, and watch the Action App for a potential F5 bet notification.
Tampa Bay Rays vs. Chicago Cubs
Taj Bradley vs. Marcus Stroman
First Pitch: 2:20 p.m. ET
Wrigley Field will see the wind blowing in from Center Field on Monday, triggering two Action Labs systems for wind and weather.
The first, which applies to Wind In across all parks, has won at a 56.3% clip and generated an 8.3% ROI since 2005.
The second, which applies specifically to Wrigley field, has won at a 60.3% clip and generated a 15.7% ROI over the same period.
However, I didn't bet the Under in this matchup for this reason. As recently as last week, I highlighted this system and mentioned I was betting an Over 6.5 because I thought the line had adjusted too far (and the Under needed some significant RISP luck to cash).
In this case, however, I agree with the Action Labs systems; I set the total at 7.2; bet Under 8 to -120 or Under 7.5 to -102.
After seeing lineups, bet Tampa Bay to -145 (F5) and -125 (full game).
Colorado Rockies vs. Arizona Diamondbacks
Karl Kauffmann vs. Ryne Nelson
First Pitch: 4:10 p.m. ET
Karl Kauffmann didn't arrive in the major leagues with much pedigree (8th-round pick), scouting projection (35 Future Value), or minor-league results, and his early MLB sample (8.7 xERA, 76 Stuff+, 98 Location+) puts him 238th out of 243 starters to take the mound this season, per his 85 Pitching+ mark. For context, he's just ahead of Madison Bumgarner.
Pitching models love Bumgarner's former teammate, Ryne Nelson, who has rated him above-average by both stuff and location metrics throughout his 13-start big league career. Amongst that same list of 243 starters, Nelson ranks 58th (103 Pitching+), giving Arizona a significant starting pitching advantage.
Both teams are in their superior offensive split; the Diamondbacks rank 8th against righties (106 wRC+) compared to 23rd (88 wRC+) for Colorado, the worst team in the league against lefties.
From a pitch modeling standpoint, Nelson is a potential breakout candidate and an arm to keep a close eye on.
For Monday's matchup, bet the Diamondbacks F5 moneyline to -184.
Pittsburgh Pirates vs. San Francisco Giants
Rich Hill vs. Anthony DeSclafani
First Pitch: 5:05 p.m. ET
I'm still waiting for a complete Rich Hill implosion. The 43-year-old lefty has generated 16 strikeouts in his past two starts, even though he's throwing the ball slower than ever. His xERA (5.50) expects a pullback from his 4.27 ERA. His line-drive rate (26.8%) is one of the highest marks in the league, and it's a matter of time before an offense bats around on him in the first or second inning.
He does catch a decent matchup against the Giants – who rare as a bottom-ten offense against lefties, compared to a top-ten team against righties. But he's a replacement-level pitcher, while Anthony DeSclafani is a league-average arm, and the Pirates are also in their lesser split offensively.
Bet the Giants F5 moneyline up to -135 and play the Over 8 up to -120, or Over 8.5 to -102.
I projected the total at 8.8 with 12-14 mph winds blowing out to left field at Oracle Park. As a result, the right-handed bats for the Giants hitters should get a decent power boost against Hill.
New York Yankees vs. Seattle Mariners
Domingo German vs. Bryce Miller
First Pitch: 9:40 p.m. ET
Bryce Miller is starting to give off 2022 Spencer Strider vibes, dominating the opposition with a plus fastball and slider. Amongst the 243 starting pitchers I mentioned earlier, Miller ranks 12th in Pitching+.
Still, it remains to be seen whether he can maintain a 2.63 xERA by throwing his fastball 70% of the time (Strider was at 67% last season and has moved down to 60% this year). Pitch models love the slider; maybe Miller will increase its 15% usage rate.
For comparison's sake, the same models rank Domingo German as a below-average starter (98 Pitching+; 116th). He has an above-average curveball and little else. However, on a per-pitch basis, the Mariners have the worst offense against Curveballs this season; while the Yankees are around league average on fastballs.
I bet on this matchup before realizing Seattle's incredible struggles against curveballs this season. I made their F5 line -154, but I have to account for something so extreme like that in context. While I would typically bet the Mariners F5 line to -142, I would understand if you want to pass, given that single data point.
The Mariners have fared better against righties (13th) than lefties (24th), and even if they do struggle with German's curve, it doesn't mean they can't sit on his fastball and punish that instead.
Pick: Mariners F5 ML (-132 | Play to -142)
What is QuickSlip?

QuickSlip is an Action Network feature that allows users to automatically pre-load their bet slip at FanDuel Sportsbook.
---
Zerillo's Bets for Monday, May 29
For additional bet notifications, follow me in the Action Network App. 
Arizona Diamondbacks F5 (-170, 0.5u) at FanDuel (bet to -184)
Kansas City Royals (+165, 0.5u) at DraftKings (bet to +158)
Los Angeles Angels (+130, 0.5u) at WynnBet (bet to +125)
Los Angeles Dodgers F5 (-220, 0.5u) at Caesars (bet to -230)
Minnesota Twins / Houston Astros, Under 8.5 (-115, 0.5u) at DraftKings (bet to -115)
San Francisco Giants F5 (-132, 0.5u) at FanDuel (bet to -135)
San Francisco Giants / Pittsburgh Pirates, Over 8 (-115, 0.5u) at FanDuel (bet to -120 or 8.5, -102)
Seattle Mariners F5 (-132, 0.5u) at FanDuel (bet to -142)
Tampa Bay Rays F5 (-110, 0.5u) at FanDuel (bet to -145)
Tampa Bay Rays (-120, 0.5u) at WynnBet (bet to -130)
Tampa Bay Rays / Chicago Cubs, Under 8 (-118, 0.5u) at FanDuel (bet to -120 or 7.5, -102)
Texas Rangers F5 (-148, 0.75u) at FanDuel (bet to -173; reduce risk above -160)
How would you rate this article?
This site contains commercial content. We may be compensated for the links provided on this page. The content on this page is for informational purposes only. Action Network makes no representation or warranty as to the accuracy of the information given or the outcome of any game or event.