MLB Picks Today | Odds, Expert Projections for Saturday, August 12
Credit:
Getty Images. Pictured: Julio Rodriguez, Adolis Garcia, Bobby Witt Jr.
Welcome to Opening Pitch, my column that you'll find daily throughout the 2023 MLB season.
My goal for Opening Pitch is to highlight my top daily projection edges for MLB moneylines and totals, share my favorite bets and provide some betting notes and analysis, mainly as I react to opening and overnight lines while using my baseball betting model.
I will look to release a new version of Opening Pitch daily between midnight and 3 a.m. ET; after I enter my overnight bets in the Action Network App and update the MLB projections. Hopefully, you will use it as your morning betting guide to get ahead of the baseball markets.
You can find my projections for every MLB game in the Action App (on both the PRO Projections tab and the game pages) and our Projections Hub (which you can bookmark).
You can also shop for the best lines on our odds page.
Expert Picks for Saturday, August 12
Chicago Cubs vs. Toronto Blue Jays
Justin Steele vs. Chris Bassitt
First Pitch: 3:07 p.m. ET
Justin Steele seems like a pitcher who may be able to consistently outperform his underlying metrics (career 3.18 ERA, 3.72 xFIP).
I see a relatively significant discrepancy between Steele (3.51 xERA or expected ERA, 16.9% K-BB% or strikeout minus walk rate, 99 Stuff+, 101 Location+, 101 Pitching+) and Chris Bassitt (4.40 xERA, 14.4% K-BB%, 91 Stuff+, 100 Location+, 98 Pitching+); equivalent to the near full run difference in their ERA estimators.
Pitching models rate Steele's slider appropriately (125 Stuff+), but they fail to capture the deceptiveness of his fastball (88 Stuff+), which he tosses nearly 65% of the time. Expected ERA (3.59 in 2022, 3.51 in 2023) does a superior job of capturing Steele's overall effectiveness as a starting pitcher.
Bet the Cubs in both halves of this matchup, to -115 in the first five innings (F5) and +103 for the full game, compared to my projected lines of -126 and -105, respectively.
I projected the total at 8.2 for a matchup between two of the best defensive teams in baseball, and would need -102 or better to play Under 8.5.
Detroit Tigers vs. Boston Red Sox
Matt Manning vs. Brayan Bello
First Pitch: 4:10 p.m. ET
Despite permitting 24 hits and 19 runs over his past three starts, Matt Manning has shown encouraging signs since returning from an early season foot fracture. Since the start of July, Manning has registered a 103 Stuff+, 104 Location+, and 103 Pitching+ rating – compared to marks of 94, 100, and 98 last season.
Even though his actual results haven't improved (11% K-BB% in 2022, 11.1% in 2023) yet, there's still reason to believe in the former top-10 pick, with two above-average breaking balls, an average fastball, and an improving called-strike rate.
Brayan Bello (4.14 xERA, 13.3% K-BB%, 90 Stuff+, 101 Location+, 99 Pitching+) is more impressive on the field than under the hood, and his fastball velocity is also down by 1.4 mph, year over year (95 Stuff+ in 2022). Surprisingly, there isn't much separating Bello and Manning on paper.
I expect the Tigers to win this game more than 40% of the time; bet Detroit's moneyline to +160 (38.5% implied), at a two percent edge compared to my fair line.
Minnesota Twins vs. Philadelphia Phillies
Pablo Lopez vs. Taijuan Walker
First Pitch: 6:05 p.m. ET
After some early season struggles in Minnesota, Pablo Lopez has settled in as one of the best pitchers in the American League. He posted a quality start in eight of his past 11 outings, with a 3.07 ERA and 3.01 xFIP over the past two months.
After adding a sweeper to his arsenal this offseason to complement his fastball and changeup, Lopez has posted a career-best 23.7% K-BB% (18% career) and 3.10 xERA (3.75, 3.52, 3.18 last three seasons in Miami), and his pitch modeling metrics are up across the board too.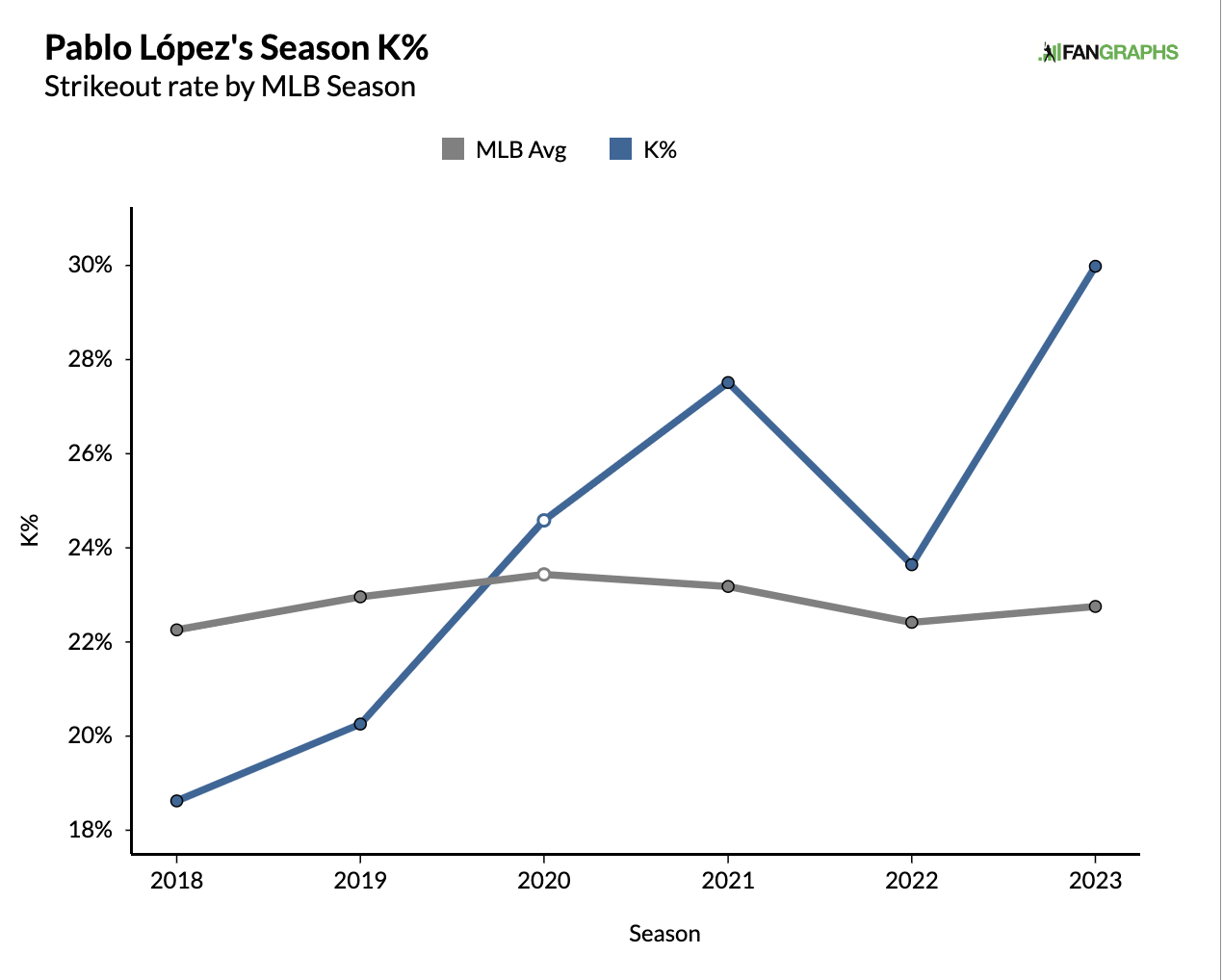 Conversely, Taijuan Walker has posted the worst K-BB% of his career (10.5%, 13.4% career), and his pitch modeling metrics (92 Stuff+, 101 Location+, 98 Pitching+) have also decreased significantly compared to last season in New York (105 Stuff+, 100 Location+, 102 Pitching+).
Minnesota also remains a team to back against right-handed pitchers (108 wRC+, 7th) and to fade or avoid betting against lefties (87 wRC+, 27th).
Lastly, Bryce Harper was banged up and sat on Friday, and Kyle Schwarber left that same game with a foot contusion.
Even assuming that Harper and Schwarber are both in the Phillies' lineup, bet the Twins to -135 for the first half (F5) and -112 for the full game.
Oakland Athletics vs. Washington Nationals
Luis Medina vs. Cole Irvin
First Pitch: 7:05 p.m. ET
Since they promoted Zack Gelof (139 wRC+) at the All-Star break, the A's have been a much more tolerable watch, posting a 98 wRC+ as a team (18th in MLB) after ranking 26th (87 wRC+) until that point.
Their bullpen remains one of the worst in baseball. Still, Oakland has seen some better starting pitching than they got in the first half, too, thanks partly to potential improvements from Luis Medina, who struggled in his last start after an excellent July.
Medina has an electric fastball (112 Stuff+), but he's started to mix in his sinker (123 Stuff+) more — which complements his slider better — and his command and overall results have improved.
Jake Irvin (5.11 xERA, 8.6% K-BB%) is a replacement-level starter who might eventually become a functional reliever if his stuff plays out of the bullpen.
Medina has a significantly higher ceiling — both overall and on a start-to-start basis.
And he forces Washington into their lesser split (13th vs. lefties, 107 wrC+ vs. 26th vs. righties, 87 wRC+).
Bet Oakland to +102 in the first half (F5) and +110 for the full game.
St. Louis Cardinals vs. Kansas City Royals
Steven Matz vs. Cole Ragans
First Pitch: 7:10 p.m. ET
Cole Ragans is quickly becoming one of my favorite starting pitchers — and he may ultimately make the Rangers regret the Aroldis Chapman trade.
The 25-year-old lefty has looked dominant in three starts for the Royals (17 2/3 IP, 15 H, 3 R, 4 BB, 22 K) while posting 100 Stuff+, 102 Location+, and 103 Pitching+ lines.
Most intriguing for me is the fastball velocity (97.7 mph, 94.7 mph, 96.6 mph in those three starts), which immediately ranks among the velocity leaders for left-handed starting pitchers (behind only Jesus Luzardo and the now-injured Shane McClanahan).
Ragans might have the complete package, however. Enjoy this thread from Nick Pollack, geeking out over Ragans' combination of stuff, command, and feel:
I'm not overlooking Steven Matz, who has dominated since re-joining the Cardinals rotation in early July (32 2/3 IP, 23 H, 7 R, 7 BB, 33 K). Matz has posted a comparable 103 Pitching+ rating (96 Stuff+, 104 Location+) over that span.
Still, Matz has a large body of work as an effective big-league pitcher (3.89 xERA in 2023, 3.67 in 2022, 4.06 in 2021), while Ragans is seemingly at the early stages of a breakout — and likely underrated by the betting market.
Bet the Royals in both halves, to +112 (F5) and +119 (full game), compared to projections of +104 and +110.
Texas Rangers vs. San Francisco Giants
Andrew Heaney vs. Alex Cobb
First Pitch: 9:05 p.m. ET
Andrew Heaney (4.59 xERA, 15.2% K-BB%) has regressed towards his career averages (4.50 ERA, 18.3% K-BB%) coming off of an outlier season with the Dodgers (3.39 xERA, 29.4% K-BB%).
Still, he draws a relatively soft matchup against a Giants offense that has struggled against lefties (85 wRC+, 28th) and performed closer to average against righties (98 wRC+, 18th).
And he's throwing the ball better of late. Since the start of July, Heaney has posted 104 Stuff+, 102 Pitching+, and 103 Location+, better than his numbers from last season (97 Stuff+, 102 Location+).
Heaney hasn't allowed a run in his past two starts, including an 11-strikeout outing, his best effort by game score since April 2021. Even if last season was an outlier, he's throwing the ball as well as he has in months, and the Giants are a soft matchup.
Alex Cobb has seen his K-BB% (15.5%) and xERA (4.56) move toward the league average this season. An 81.1% strand rate (72.9% career) has held his ERA (3.30) more than a run below his expected mark.
I projected the Rangers around -105 in both halves of their matchup; bet Texas to +103 for the first five innings and/or the full game.
Colorado Rockies vs. Los Angeles Dodgers
Peter Lambert vs. Tony Gonsolin
First Pitch: 9:10 p.m. ET
Tony Gonsolin (5.21 xERA, 9.7% K-BB%, 97 Stuff+, 96 Location+, 98 Pitching+) remains overvalued in the betting market, as he was for most of last season.
To a degree, Gonsolin has shown an ability to suppress BABIP (.227 career) and outperform his underlying metrics (career 3.00 ERA, 4.35 xFIP). Still, His K-BB% has fallen to below-average territory, causing his xFIP to rise from 3.69 to 5.12, year over year.
Gonsolins's velocity and pitch modeling metrics (103 Stuff+, 100 Location+ in 2022) have declined, and the results have gone with it. The only thing left is his BABIP to somewhat approach the league average (.291), and his ERA will implode.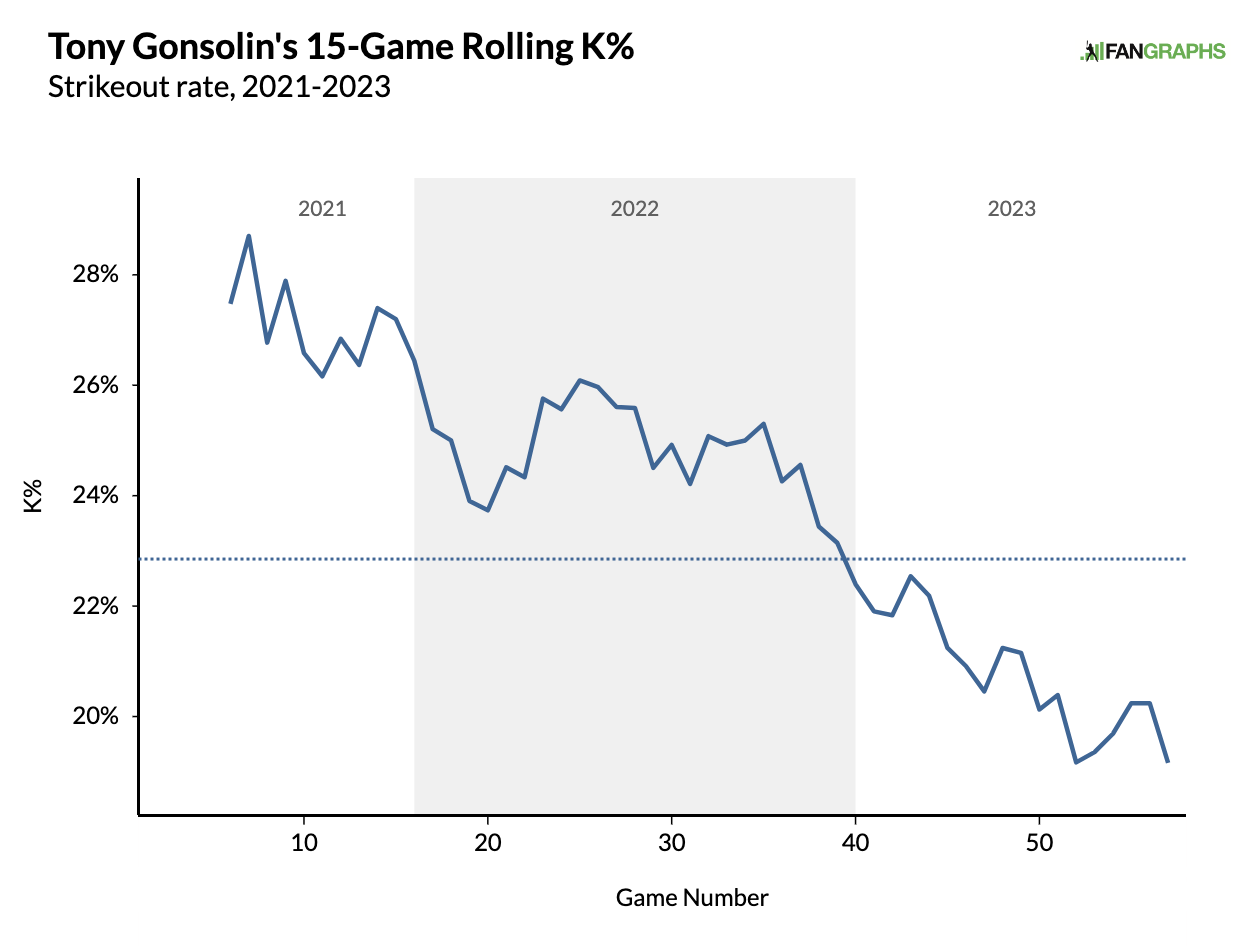 The numbers for Peter Lambert (4.78 xERA, 10.8% K-BB%, 90 Stuff+, 98 Location+, 95 Pitching+) are much more comparable than you would expect; Gonsolin nearly started the 2022 All-Star game, but his performance has dipped dramatically.
Bet the Rockies to +203 in the first half, and play their full game line down to +222.
Baltimore Orioles vs. Seattle Mariners
Cole Irvin vs. George Kirby
First Pitch: 9:40 p.m. ET
Baltimore will shift to a six-man rotation on Saturday and send Cole Irvin (6.66 xERA, 12.3% K-BB%) to eat innings at the back-end of their rotation.
As a starter this season, Irvin posted 79 Stuff+, 103 Location+, and 96 Pitching+ lines; comparable to his 2022 data from Oakland, when he recorded a 3.98 ERA and 4.40 xERA in 181 innings.
George Kirby (3.86 xERA, 20.4% K-BB%, 104 Stuff+, 109 Location+, 108 Pitching+) is a clear top-ten starting pitcher in the American League – and potentially all of baseball – and provides Seattle with a significant starting pitching advantage on Saturday.
Back Kirby and the Mariners to -190 in the first half and bet their full game line to -160.
Zerillo's Bets for Saturday, August 12
For additional bet notifications, follow me in the Action Network App.
Arizona Diamondbacks F5 (-140, 0.5u) at WynnBet (bet to -142)
Chicago Cubs F5 (-102, 0.75u) at FanDuel (bet to -115, reduce risk at -108)
Chicago Cubs (+105, 0.5u) at WynnBet (bet to +103)
Colorado Rockies F5 (+220, 0.5u) at FanDuel (bet to +203)
Colorado Rockies (+270, 0.5u) at FanDuel (bet to +222)
Detroit Tigers (+170, 0.5u) at WynnBet (bet to +160)
Houston Astros F5 (-150, 0.5u) at Caesars (bet to -165)
Kansas City Royals F5 (+112, 0.5u) at FanDuel (bet to +112)
Kansas City Royals (+138, 0.5u) at FanDuel (bet to +119)
Miami Marlins F5 (-164, 0.5u) at FanDuel (bet to -167)
Milwaukee Brewers F5 (-145, 0.5u) at FanDuel (bet to -147)
Minnesota Twins F5 (-110, 0.75u) at DraftKings (bet to -135, reduce risk at -125)
Minnesota Twins (+100, 0.5u) at WynnBet (bet to -112)
New York Mets, Game 1 (+185, 0.5u) at WynnBet (bet to +178)
Oakland Athletics F5 (+106, 0.5u) at FanDuel (bet to +102)
Oakland Athletics (+110, 0.5u) at FanDuel (bet to +110)
Seattle Mariners F5 (-158, 0.5u) at FanDuel (bet to -190)
Seattle Mariners (-155, 0.5u) at WynnBet (bet to -160)
Texas Rangers F5 (+108, 0.5u) at FanDuel (bet to +103)
Texas Rangers (+115, 0.5u) at WynnBet (bet to +103)
How would you rate this article?
This site contains commercial content. We may be compensated for the links provided on this page. The content on this page is for informational purposes only. Action Network makes no representation or warranty as to the accuracy of the information given or the outcome of any game or event.