MLB Picks Today | Odds, Expert Projections for Tuesday, May 30
Credit:
Getty Images. Pictured (left to right): Fernando Tatis Jr. of the San Diego Padres, Adrian Houser of the Milwaukee Brewers and Yoan Moncada of the Chicago White Sox.
Welcome to Opening Pitch, my column that you'll find daily throughout the 2023 MLB season.
My goal for Opening Pitch is to highlight my top daily projection edges for MLB moneylines and totals, share my favorite bets and provide some betting notes and analysis, mainly as I react to opening and overnight lines while using my baseball betting model.
I will look to release a new version of Opening Pitch daily between midnight and 3 a.m. ET; after I enter my overnight bets in the Action Network App and update the MLB projections. Hopefully, you will use it as your morning betting guide to get ahead of the baseball markets.
You can find my projections for every MLB game in the Action App (on both the PRO Projections tab and the game pages) and our Projections Hub (which you can bookmark).
You can also shop for the best lines on our odds page.
Expert Picks for Tuesday, May 30
San Diego Padres vs. Miami Marlins
Ryan Weathers vs. Sandy Alcantara
First Pitch: 6:40 p.m. ET
After winning the 2022 NL Cy Young award (2.92 xERA), Sandy Alcantara has taken a significant step backward this season (4.30 xERA), which is confirmed by pitching models (120 Stuff+ in 2022; 111 Stuff+ in 2023).
He's still an above-average starting pitcher, while Ryan Weathers (88 Stuff+) doesn't have an exceptionally high floor. Across 128 MLB innings, Weathers has a 6.54 K/9 rate, but he has shown above-average command this season (102 Location+), a significant improvement upon previous years. And as a former first-round pick, at age 23, Weathers is still relatively young in his developmental curve.
The Marlins have the splits advantage on both sides of the matchup, ranking 6th against lefties (118 wrC+), while the Padres are 22nd against righties (90 wRC+).
Still, I projected San Diego between 45-47% in either half, bet the Padres F5 (first five innings) moneyline to +130, and play their full game line to +120.
Texas Rangers vs. Detroit Tigers
Martin Perez vs. Alex Faedo
First Pitch: 6:40 p.m. ET
We backed potential breakout candidate Alex Faedo last week before the best start of his career (6 IP, 3 H, 2 R, 0 BB, 10 K vs. the White Sox).
The former 18th overall pick had limited experience in the high minors and now seems fully recovered in his second year after Tommy John surgery. Faedo's stuff (96 Stuff+ vs. 94 last season) has only improved slightly, but his command (107 Location+ vs. 96 in 2022) has improved significantly compared to his rookie season.
Faedo pairs a below-average fastball with a plus slider and a decent changeup. Still, if he can continue limiting walks, he can vastly outperform expectations (projected ERA range of 4.5 to 5.22).
I rate him as a superior pitcher to Martin Perez (4.63 xERA), who has regressed toward career norms after a career-best 2022 season.
And the Tigers are in their superior offensive split; since the start of last season, they rank dead-last against righties (77 wRC+) compared to 19th against Southpaws (98 wRC+).
Bet Detroit's F5 moneyline to even money, play their F5 spread to -131 (or increase your stake on the F5 moneyline) and add some Tigers full game moneyline to +111.
Milwaukee Brewers vs. Toronto Blue Jays
Adrian Houser vs. Yusei Kikuchi
First Pitch: 7:07 p.m. ET
In a four-start sample, Adrian Houser has shown a career-best walk rate (4.8%), about half of his long-term average (9.5%) while producing his best underlying metrics (3.48 xERA, 3.77 xFIP) since 2019.
Houser has produced significantly better results against righties (3.70 xFIP) than lefties (4.91 xFIP) throughout his career, and the Blue Jays (with a ton of right-handed hitting stars) seem like a decent-handedness matchup. Surprisingly, however, the Blue Jays rank fourth against righties (113 wRC+) compared to 21st against lefties this season.
Yusei Kikuchi can always toss a gem, but his xERA has been north of 5 in four out of five big league seasons, as he can't stop giving up home runs (career 1.79 HR/9). Like Houser, Kikuchi has shown a career-best walk rate (6.4% vs. 9% career average) in 2023, but I still like the Brewers in both halves.
Bet Milwaukee to +122 F5 and +131 full game; we'll hope to catch Kikuchi on an off-day.
Cincinnati Reds vs. Boston Red Sox
Ben Lively vs. Brayan Bello
First Pitch: 7:10 p.m. ET
Thus far, Ben Lively has produced far better results in the big leagues (2.51 xERA in 2023) than in the past two seasons in Triple-A. His stuff is far below major-league quality (91.2 mph fastball; 78 Stuff+).
However, Lively has shown excellent command over his arsenal (105 Location+), and he can outperform his ERA projections (range from 4.65 to 5.51) if he maintains a sub-5% walk rate.
Concerning Brayan Bello, surprisingly, pitching models think every pitch aside from his slider is below average too. The 24-year-old has shown improved command this season (K-BB% up 5.4% year over year), but perhaps his ceiling isn't as high as I initially suspected.
I still rate Bello as a superior pitcher to Lively, and I don't see value on either side of the F5 moneyline. However, the Reds might have the bullpen edge (four spots ahead of Boston by both K-BB% and xFIP amongst bullpens); bet Cincinnati's F5 moneyline to +147.
Minnesota Twins vs. Houston Astros
Joe Ryan vs. Brandon Bielak
First Pitch: 8:10 p.m. ET
We have consistently backed Joe Ryan since his MLB debut, and it's been a boon this season (7-1 in 10 starts) amid his breakout after adding a splitter to his arsenal.
Ryan's xERA has improved from 3.57 to 2.37, which is backed up by pitching models: 97 Stuff+, 103 Location+, 99 Pitching+ in 2022 vs. 109 Stuff+, 109 Location+, 108 Pitching+ in 2023. He's improved from the 53rd percentile to the 94th percentile in Pitching+, ranking 11th out of 167 starting pitchers (min 20 innings pitched) this season.
Brandon Bielak (6.02 xERa; career 4.87 xFIP) is a stopgap filler for Houston. Bielak's stuff (79 Stuff+) rates near Ben Lively's and some of the other lesser starters in the league, but Bielak also has below-average command (99 Location+).
Bet Minnesota's F5 moneyline up to -150, but you need -115 or better to play its full-game line.
Los Angeles Angels vs. Chicago White Sox
Tyler Anderson vs. Lucas Giolito
First Pitch: 8:10 p.m. ET
After a breakout 2022 season with the Dodgers (3.10 xERA, 92 Stuff+, 105 Location+), Tyler Anderson has fallen off a cliff for the Angels (5.02 xERA, 93 Stuff+, 99 Location+).
Anderson's fastball velocity is down an entire tick compared to last season and below 90 mph for the first time in his career. But his strikeout and walk rates have each moved about 6% in the wrong direction.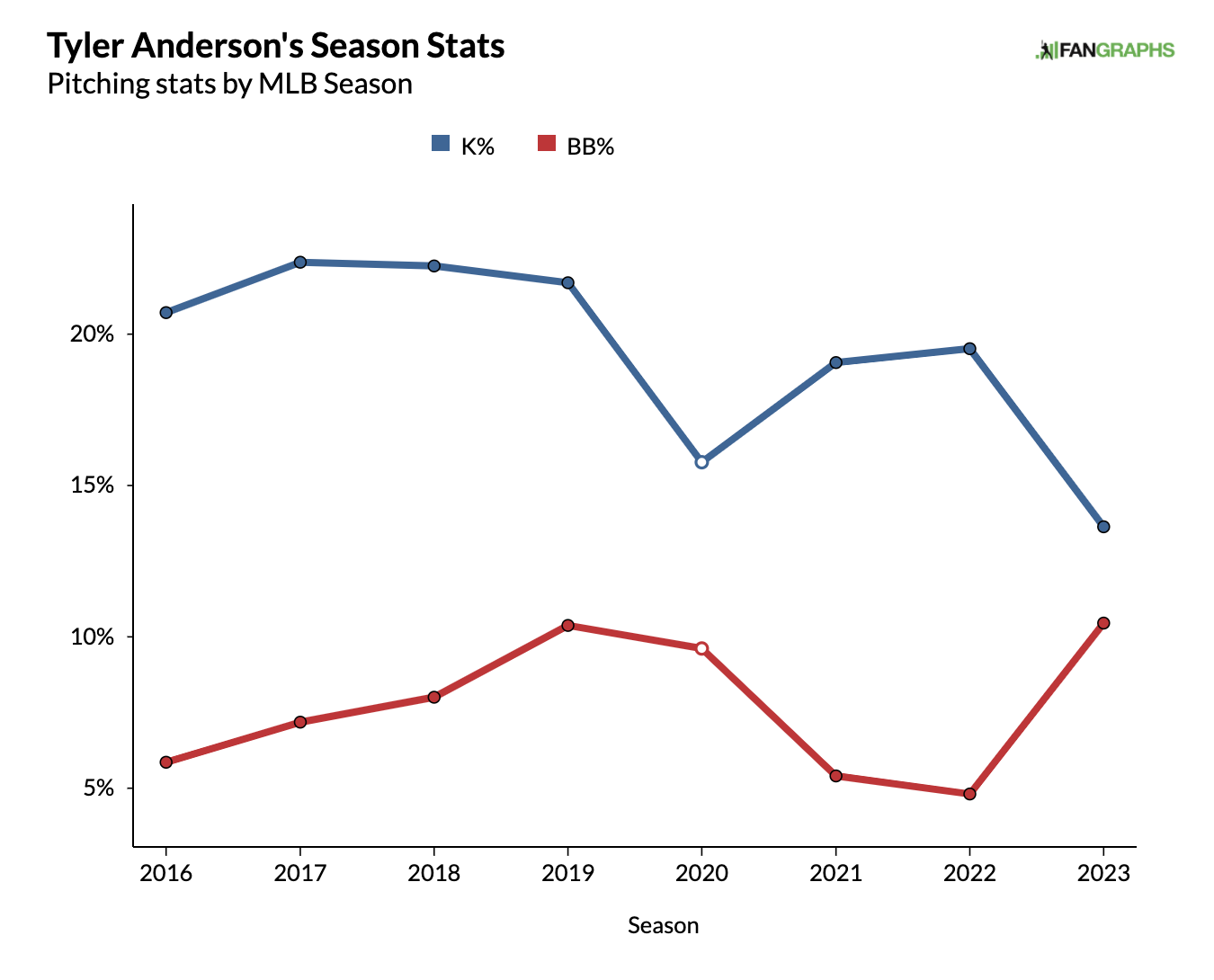 Anderson also puts the White Sox in their superior offensive split, ranking 17th vs. lefties (104 wRC+) but 27th (81 wRC+) against righties.
Before his last start (7 BB, 4 K against the Tigers), Lucas Giolito had shown results somewhere between his 2021 (3.27 xERA) and 2022 (4.30 xERA) seasons. Still, even at his current level (4.23 xERA), I give him a significant edge over Anderson in the first half.
Bet Chicago on the F5 moneyline up to -151, and play Over 8.5 to -128 or Over 9 to -108.
Colorado Rockies vs. Arizona Diamondbacks
Kyle Freeland vs. Zac Gallen
First Pitch: 9:40 p.m. ET
Although I have bet on him a ton since his MLB debut, I have mostly been against Zac Gallen (3.53 xERA) as a Cy Young candidate this year.
Projections give Gallen a high floor but a somewhat underwhelming ceiling by comparison. He's solidly above average (107 Stuff+, 104 Location+), but the difference in ceiling between Gallen and Spencer Strider (129 Stuff+, 106 Location) is stark and worth roughly a half-run difference or more on a season-long ERA projection.
Unlike Gallen, Kyle Freeland is a pitcher I have consistently bet against throughout his career; however, he's in his best form (4.15 xERA) since 2018, and the Rockies have the better end of both splits in this matchup. Colorado is pitiful against lefties but ranks 21st against righties; conversely, the Diamondbacks rank 8th against righties but just 22nd against lefties.
Bet the Rockies to +187, and play the Over 8 to -116.
Zerillo's Bets for Tuesday, May 30
For additional bet notifications, follow me in the Action Network App. 
Chicago White Sox F5 (-144, 0.5u) at FanDuel (bet to -151)
Chicago White Sox / Los Angeles Angels, Over 8.5 (-120, 0.5u) at WynnBet (bet to -128 or 9, -108)
Colorado Rockies (+210, 0.5u) at WynnBet (bet to +187)
Colorado Rockies / Arizona Diamondbacks, Over 8 (-110, 0.5u) at WynnBet (bet to -116)
Cincinnati Reds (+166, 0.5u) at FanDuel (bet to +147)
Detroit Tigers F5 (+114, 0.5u) at FanDuel (bet to +100)
Detroit Tigers F5 +0.5 (-120, 0.5u) at FanDuel (bet to -131)
Detroit Tigers (+120, 0.5u) at WynnBet (bet to +111)
Milwaukee Brewers F5 (+132, 0.5u) at FanDuel (bet to +122)
Milwaukee Brewers (+140, 0.5u) at WynnBet (bet to +131)
Minnesota Twins F5 (-140, 0.5u) at FanDuel (bet to -150)
Minnesota Twins (-115, 0.5u) at WynnBet (bet to -115)
New York Yankees (+125, 0.5u) at WynnBet (bet to +123)
Pittsburgh Pirates (+140, 0.5u) at DraftKings (bet to +136)
San Diego Padres F5 (+132, 0.5u) at FanDuel (bet to +130)
San Diego Padres (+125, 0.5u) at WynnBet (bet to +120)
How would you rate this article?
This site contains commercial content. We may be compensated for the links provided on this page. The content on this page is for informational purposes only. Action Network makes no representation or warranty as to the accuracy of the information given or the outcome of any game or event.