MLB Picks Today | Odds, Expert Projections on Tuesday, August 15
Credit:
Getty Images. Picture: Nick Allen, Aaron Judge, Bobby Witt Jr.
Welcome to Opening Pitch, my column that you'll find daily throughout the 2023 MLB season with all of my MLB picks and projections.
My goal for Opening Pitch is to highlight my top daily projection edges for MLB moneylines and totals, share my favorite bets and provide some betting notes and analysis, mainly as I react to opening and overnight lines while using my baseball betting model.
I will look to release a new version of Opening Pitch daily between midnight and 3 a.m. ET; after I enter my overnight bets in the Action Network App and update the MLB projections. Hopefully, you will use it as your morning betting guide to get ahead of the baseball markets.
You can find my projections for every MLB game in the Action App (on both the PRO Projections tab and the game pages) and our Projections Hub (which you can bookmark).
You can also shop for the best lines on our odds page.
Expert Picks for Tuesday, August 15
Houston Astros vs. Miami Marlins
Cristian Javier vs. Jonny Cueto
First Pitch: 6:40 p.m. ET
Following his breakout 2022 campaign (2.43 xERA, 24.3% K-BB%, 116 Stuff+, 101 Location+, 106 Pitching+), Cristian Javier continues to post concerning results this season (4.68 xERA, 14% K-BB%, 99 Stuff+, 97 Location+, 99 Pitching+).
In five starts since the All-Star break, Javier has posted a 5.85 xFIP, with a 28:16 strikeout-to-walk ratio (10.8% K-BB%) in 26 1/3 innings. Over that span, his Stuff+ (108) has improved, but his command (91 Location+) has worsened.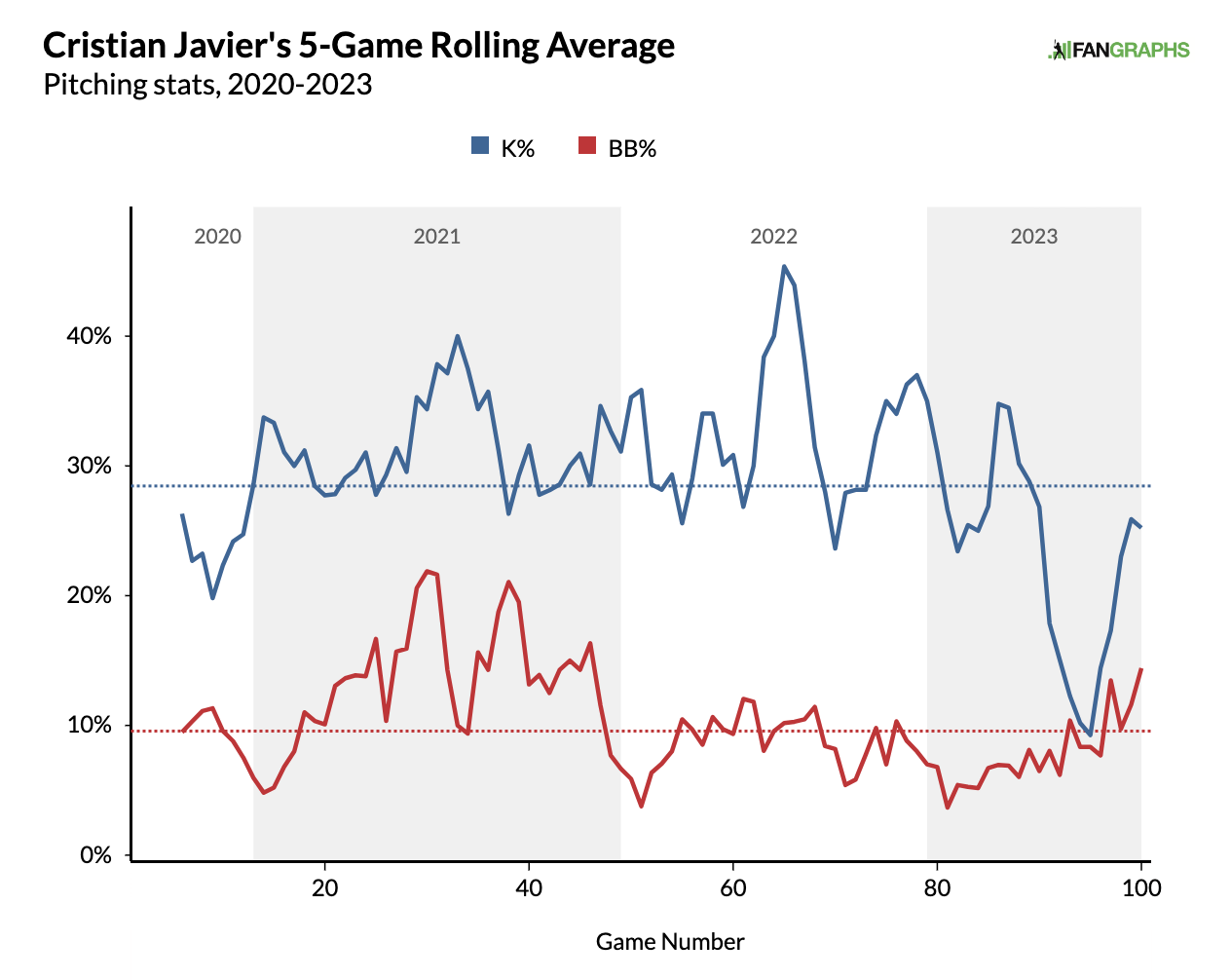 Johnny Cueto (3.93 xERA, 15.2% K-BB%, 84 Stuff+, 109 Location+, 105 Pitching+) has posted superior underlying indicators (4.82 to 5.17 xFIP) and pitch modeling figures this season.
While Houston has the offensive advantage (9th vs. 18th in wRC+ vs. righties), Miami has the superior bullpen (3rd vs. 13th in reliever xFIP).b
I projected the Marlins as a slight -104 favorite in this matchup. Bet the Fish to +104, and consider adding their F5 (First Five Innings) moneyline at +107 or better.
New York Yankees vs. Atlanta Braves
Luis Severino vs. Bryce Elder
First Pitch: 7:20 p.m. ET
Betting on an under between Luis Severino (6.74 xERA) — who has permitted 21 runs in his past 15 innings pitched (12.6 ERA) — and Bryce Elder (4.43 xERA) — a prime regression candidate with an ERA an entire run lower than his expected mark — seems like the least fun sweat imaginable.
Still, I set the total closer to 10.2 runs for Tuesday night at Truist Park and would bet Under 11 to -118 or Under 10.5 to +100.
Although Severino has been consistently rocked, and both his velocity and K-BB% have dipped relative to recent seasons, pitch modeling figures still like what is coming out of his hand (104 Stuff+, 103 Location+, 101 Pitching+), even over his past four starts.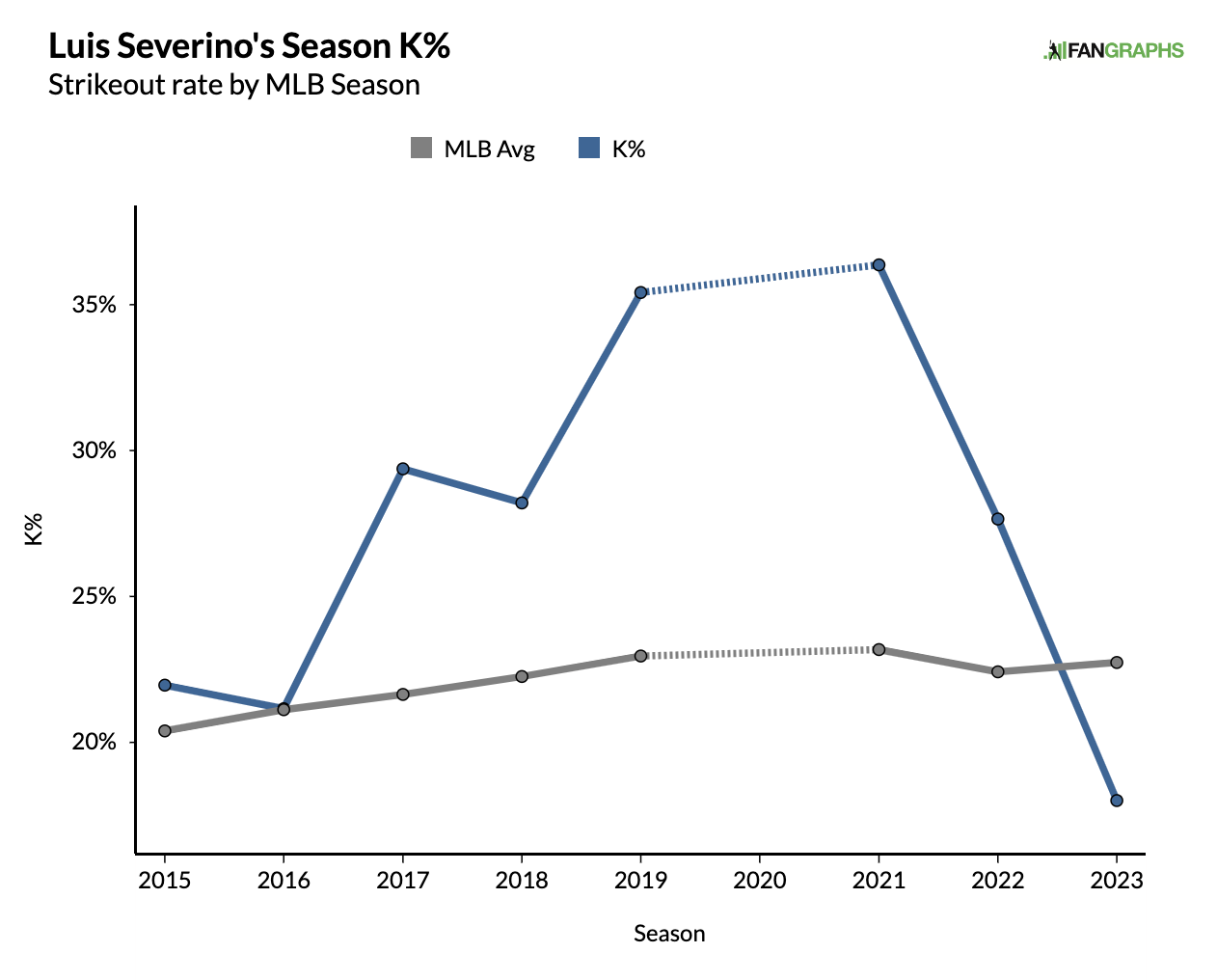 Elder has posted an 84 Stuff+, 104 Location+, and 101 Pitching+ rating over the same span, slightly better than his season-long metrics (74/104/95).
While something is wrong with Severino (9% K-BB% vs. 19.1% career average; previous career-low of 13.1% in 2016), pitch models expect better results from him moving forward and doubt that he will continue to allow 2.54 home runs per nine innings (career 1.18) on a 21.4% HR/FB rate (14.% career) — even against the homer-happy Braves.
In addition to the Under, bet the Yankees at +175 or better compared to my projected line of +164.
Oakland Athletics vs. St. Louis Cardinals
Spenser Watkins vs. Dakota Hudson
First Pitch: 7:45 p.m. ET
Dakota Hudson (5.01 xERA) has regularly popped up in my model as a fade candidate during his time in the majors.
Among the 183 starters who have tossed 200+ innings or more since Hudson joined the Cardinals' rotation in 2019, the righty ranks 182nd out of 183 qualified starters (min. 200 innings pitched) with a 6% K-BB% and is 174th in both strikeout rate and walk rate amongst the same group of pitchers.
Over that span, Hudson has posted a 4.84 xERA and a 4.64 xFIP, compared to a 3.66 ERA. Through much of that stretch, the Cardinals' elite defense held Hudson to a .276 BABIP.
However, with the Cardinals' defense falling to below-average territory (25th in Defensive Runs Saved) this season, Hudson's BABIP (.299) has moved toward league average (.29%), and his ERA has spiked to 4.45 last season (.301 BABIP) and 4.31 this year, compared to his exceptionally lucky 2019 (3.35 ERA, 5.09 xERA).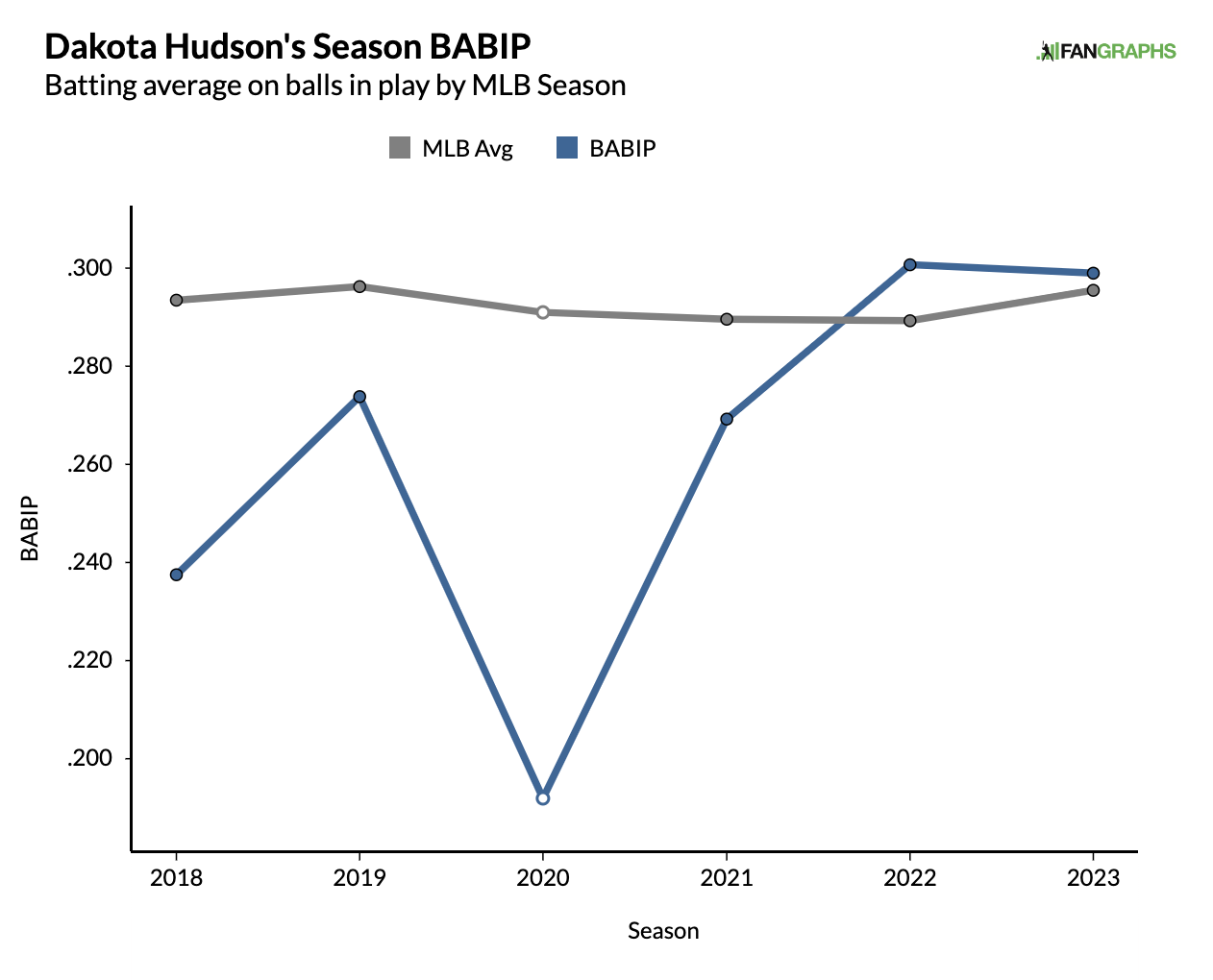 Spenser Watkins (career 4.99 xFIP) doesn't profile as a better pitcher, but his indicators (5.07 xERA, 4.68 xFIP) and pitch modeling numbers (87 Stuff+ 101 Location+, 99 Pitching+) last year in Baltimore compare favorably to Hudson's ratings (91 Stuff+, 95 Location+, 95 Pitching+ in 2023).
Back Oakland to +160 in the first half (F5) and add their full game line to +173.
Seattle Mariners vs. Kansas City Royals
Emerson Hancock vs. Jordan Lyles
First Pitch: 8:10 p.m. ET
While Emerson Hancock — the No. 6 overall pick in 2020 — had a compelling major league debut (5 IP, 2 H, 1 R, 3 BB, 3 K), pitching models weren't fond of his arsenal: 87 Stuff+, with both his fastball (92 Stuff+) an slider (91) grading out as below average.
Hancock demonstrated solid command (107 Location+) in that start. However, he posted high walk rates in the minors, and the lack of dominant (or even average) stuff limits his overall upside, especially in the immediate as his command fluctuates from one outing — or inning — to the next.
On paper, there isn't a drastic difference between Hancock and Jordan Lyles (4.91 xERA, 85 Stuff+, 101 Location+, 97 Pitching+), who has pitched to sub-five ERA indicators (4.87 ERA, 4.87 xFIP, 11.9% K-BB%) over the past two months — across the board — since starting the season 0-12 (6.72 ERA, 5.49 xFIP, 9% K-BB% through his first 15 starts).
Bet the Royals to +128 for Tuesday, compared to my projected line at +119, with a negligible projected difference between two starting pitchers at drastically different career points.
Zerillo's Bets for Tuesday, August 15
For additional bet notifications, follow me in the Action Network App. 
Boston Red Sox F5 (-160, 0.5u) at DraftKings (bet to -165)
Boston Red Sox / Washington Nationals, Over 9 (-102, 0.5u) at FanDuel (bet to -110)
Chicago White Sox / Chicago Cubs, Under 8.5 (-110, 0.5u) at FanDuel (bet to -118 or 8, +100)
Cincinnati Reds (+106, 0.5u) at FanDuel (bet to +100)
Colorado Rockies (+135, 0.5u) at WynnBet (bet to +135)
Detroit Tigers / Minnesota Twins, Over 8.5 (-110, 0.5u) at FanDuel (bet to -112)
Detroit Tigers (+165, 0.5u) at BetMGM (bet to +163)
Kansas City Royals (+134, 0.5u) at FanDuel (bet to +128)
Miami Marlins (+110, 0.5u) at WynnBet (bet to +104)
New York Yankees (+184, 0.5u) at FanDuel (bet to +175)
New York Yankees / Atlanta Braves, Under 11 (-115, 0.5u) at Caesars (bet to -118 or 10.5, +100)
Oakland Athletics F5 (+162, 0.25u) at FanDuel (small to +160)
Oakland Athletics (+194, 0.25u) at FanDuel (small to +173)
Parlay (+140, 0.5u) at FanDuel: Los Angeles Dodgers F5 (-192) & Texas Rangers F5 (-172) (parlay to -202 and -175, respectively)
Pittsburgh Pirates (+130, 0.5u) at FanDuel (bet to +128)
Philadelphia Phillies F5 (-114, 0.5u) at FanDuel (bet to -118)
San Diego Padres F5 (-110, 0.5u) at FanDuel (bet to -114)
San Diego Padres (-112, 0.5u) at DraftKings (bet to -114)
Tampa Bay Rays / San Francisco Giants, Under 8.5 (+100, 0.5u) at DraftKings (bet to +100)
How would you rate this article?
This site contains commercial content. We may be compensated for the links provided on this page. The content on this page is for informational purposes only. Action Network makes no representation or warranty as to the accuracy of the information given or the outcome of any game or event.