MLB Picks Today | Odds, Expert Projections (Tuesday, July 4)
Credit:
Matthew Grimes Jr./Atlanta Braves/Getty Images. Pictured: Fireworks and Truist Park in Atlanta.
Welcome to Opening Pitch, my column that you'll find daily throughout the 2023 MLB season.
My goal for Opening Pitch is to highlight my top daily projection edges for MLB moneylines and totals, share my favorite bets and provide some betting notes and analysis, mainly as I react to opening and overnight lines while using my baseball betting model.
I will look to release a new version of Opening Pitch daily between midnight and 3 a.m. ET; after I enter my overnight bets in the Action Network App and update the MLB projections. Hopefully, you will use it as your morning betting guide to get ahead of the baseball markets.
You can find my projections for every MLB game in the Action App (on both the PRO Projections tab and the game pages) and our Projections Hub (which you can bookmark).
You can also shop for the best lines on our odds page.
Expert Picks for Tuesday, July 4
Baltimore Orioles vs. New York Yankees
Kyle Gibson vs. Clarke Schmidt
First Pitch: 1:05 p.m. ET
Pitching models are incredibly high on Clarke Schmidt. Among 195 qualified starters (minimum 20 innings pitched) at the MLB level this season, Schmidt ranks 16th with a 108 Pitching+ figure (108 Stuff+, 104 Location+). The model loves Schimidt's slider and curveball (combined usage rate 48.7%), his two above-average offerings (on a pitch value basis) at the MLB level.
Schmidt spent the majority of his rookie season in the bullpen (3.51 xERA or expected ERA in 57 1/3 innings), and even though strikeout and walkout rates have held steady with a regular rotation spot (17 starts and 82 1/3 innings), Schmidt has allowed a bit more hard contact this season (4.29 xERA) – and his BABIP, perhaps justifiably, has jumped from .273 to .331.
Schmidt deserves almost every bit of his 4.37 ERA, but I much prefer him to Kyle Gibson (4.88 xERA), who ranks 166th out of that same group of 195 qualifying starters with a 95 Pitching+. Gibson's strikeout rate (18%) is down a couple of points relative to the past two seasons and sits at its lowest point since 2017. And his barrel rate (7.9%) is a career-high.
I don't think the talent gap between these two pitchers is as wide as the pitching models suggest (top 8% vs. bottom 15%). However, the gap is potentially more significant than the roughly half-run differential in their underlying indicators like xERA. If nothing else, Schmidt has a significantly higher ceiling in the future, especially if he ever improves one of his fastballs to complement his breaking pitches.
One concern on that front? Schmidt's fastball velocity has dipped by a couple of ticks in his past six starts (2.51 ERA, 5.08 xFIP) relative to his level earlier in the season: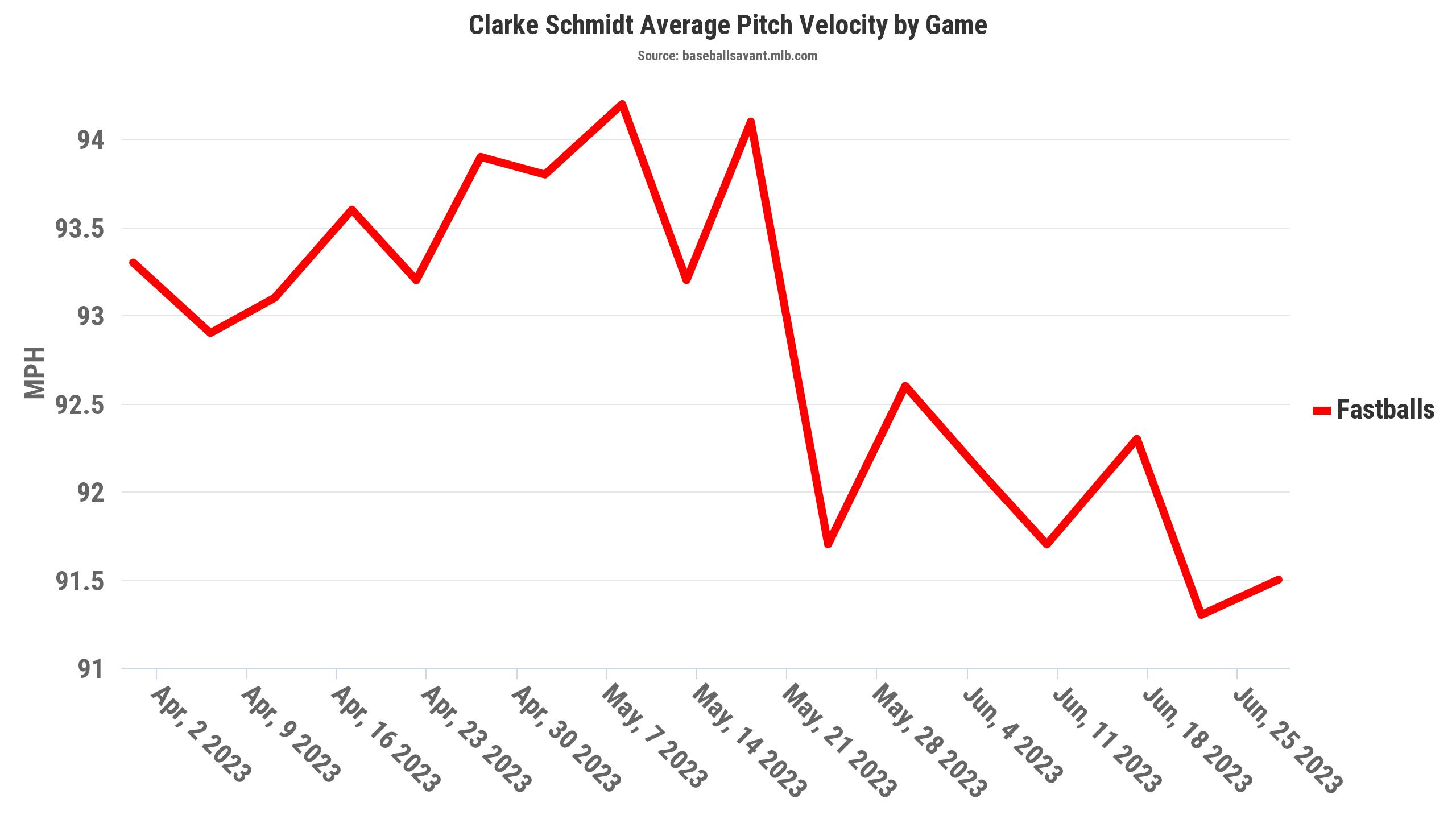 The Yankees have slowly crawled out of their offensive funk with Aaron Judge sidelined. From June 3 (when Judge went on the IL) to June 27, the Yankees had the lowest wRC+ of any team in baseball. Anthony Volpe is 15-for-29 (0 BB, 4 K) amid an eight-game hitting streak, providing a massive spark for their offense over the past week.
I projected the Yankees as -147 favorites for the first five innings (F5) and -140 favorites for the full game. Bet the Bombers in both halves, to -135 F5 and -130 full game. Given the relative pricing, reduce the sizing on your full game bet starting at -120.
New York Mets vs. Arizona Diamondbacks
Kodai Senga vs. Zach Davies
First Pitch: 4:10 p.m. ET
Zach Davies is one of my favorite pitchers to bet against. Among that same group of 195 starting pitchers I referenced above, Davies ranks 188th with a 91 Pitching+ figure.
However, Kodai Senga (96 Pitching+, 150th) has underwhelmed at times for the Mets, and pitching models don't view him anywhere near a league-average arm. Senga isn't the first Japanese pitcher to struggle with command (13% walk rate; 187th out of the 195 starters) after arriving stateside. His strikeout rate (28.5%) is well above league average, and both his cutter and ghost fork (combined 44.8% usage rate) have netted a positive pitch value.
His fastball (40% usage rate, .280 expected batting average, 47.7% hard-hit rate) has gotten hammered. Pitching models (107 Stuff+) think it should be an above-average pitch. However, the same models think both the cutter (88 Stuff+) and Forkball (90 Stuff+) are below average; Senga is a riddle wrapped in a mystery, but the strikeout rate is encouraging, and if he can refine his command after adjusting to the MLB level, I still think he can be an effective starter.
Davies has pitched to an xERA in the mid-fours for the past couple of seasons (4.56 xERA in 2022, 4.41 this season) despite some of the worst command metrics and home run rates amongst starting pitchers. He's the definition of a low-floor, low-ceiling arm.
I made Senga a -130 F5 favorite for Tuesday's matchup; bet the Mets in the first half (F5) up to -120.
Atlanta Braves vs. Cleveland Guardians
Kolby Allard vs. Shane Bieber
First Pitch: 7:10 p.m. ET
With three more home runs on Monday, the Braves maintained their record-setting pace on offense. They have 66 home runs in their past 27 games — 15 more than any other team — and hold a triple slash line of .304/.368/.574 over the same span.
To put that in context, the entire Braves team has had a .942 OPS since June 1, and essentially, they are hitting about as well as a team over the past month as current NL home run and RBI leader Matt Olson (.356 OBP; .576 SLG) has hit this season.
The Guardians, who rank 30th with 55 home runs this season (0.66 per game), are at a significant power disadvantage against the league-leading Braves (158 home runs in 83 games of 1.9 per game).
And I'm unconvinced that the current version of Shane Bieber is significantly better than Kolby Allard, who showed excellent command in his first start of the year against the Twins (4 2/3 IP, 3 H, 1 BB, 8 K). While the Twins struggle against lefties (85 wRC, 27th), they are rank one spot ahead of the Guardians.
Bieber has seen his K-BB% (13.1%) dip below league average and his xERA climb from 3.51 to 4.68 year over year while maintaining a 3.48 ERA (2.88 in 2022). His Stuff+ is essentially in line with last season, but his Location+ numbers have declined slightly.
And compared to 2021 (111 Stuff+ 92.8 mph fastball), Bieber's arsenal (99 Stuff+, 91.3 mph fastball) has substantially declined.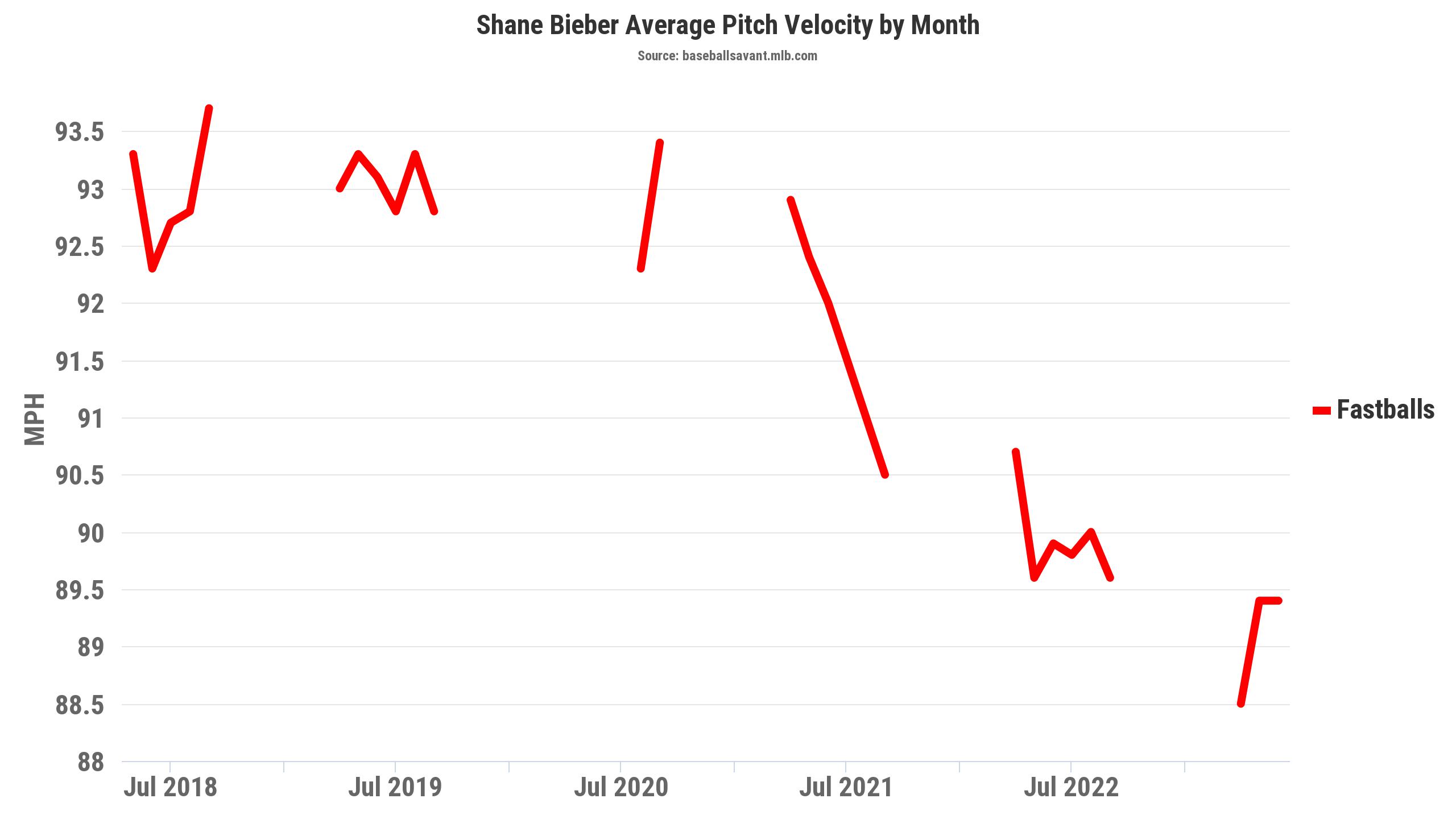 Bet Atlanta to -116 in both halves (F5 & Game) for Tuesday.
Zerillo's Bets for Tuesday, July 4
For additional bet notifications, follow me in the Action Network App. 
Atlanta Braves F5 (-112, 0.5u) at FanDuel (bet to -116)
Atlanta Braves (-115, 0.5u) at WynnBet (bet to -116)
Atlanta Braves vs. Cleveland Guardians, Over 8.5 (-120, 0.5u) at DraftKings (bet to -120 or 9, +100)
Boston Red Sox F5 (+100, 0.5u) at WynnBet (bet to -103)
Boston Red Sox (+110, 0.5u) at WynnBet (bet to +107)
Boston Red Sox / Texas Rangers, Under 10.5 (-110, 0.5u) at FanDuel (bet to -118 or 10, +100)
Cincinnati Reds F5 (-105, 0.5u) at Caesars (bet to -115)
Cincinnati Reds (-110, 0.5u) at WynnBet (bet to -110)
Detroit Tigers F5 (-170, 0.5u) at Caesars (bet to -177)
Los Angeles Angels / San Diego Padres, Over 7.5 (+100, 0.5u) at DraftKings (need +100)
New York Mets F5 (-120, 0.5) at FanDuel (bet to -120)
New York Yankees F5 (-125, 0.5u) at BetMGM (bet to -135)
New York Yankees (-115, 0.75u) at WynnBet (bet to -130; reduce risk above -120)
Pittsburgh Pirates (+215, 0.5u) at WynnBet (bet to +214)
Seattle Mariners F5 (-104, 0.5u) at FanDuel (bet to -105)
Toronto Blue Jays / Chicago White Sox, Under 9 (-105, 0.5u) at FanDuel (bet to -110)
How would you rate this article?
This site contains commercial content. We may be compensated for the links provided on this page. The content on this page is for informational purposes only. Action Network makes no representation or warranty as to the accuracy of the information given or the outcome of any game or event.