MLB Picks Today | Odds, Expert Projections for Wednesday, June 21
Credit:
Getty Images. Pictured: Gleyber Torres, Ozzie Albies, Byron Buxton
Welcome to Opening Pitch, my column that you'll find daily throughout the 2023 MLB season.
My goal for Opening Pitch is to highlight my top daily projection edges for MLB moneylines and totals, share my favorite bets and provide some betting notes and analysis, mainly as I react to opening and overnight lines while using my baseball betting model.
I will look to release a new version of Opening Pitch daily between midnight and 3 a.m. ET; after I enter my overnight bets in the Action Network App and update the MLB projections. Hopefully, you will use it as your morning betting guide to get ahead of the baseball markets.
You can find my projections for every MLB game in the Action App (on both the PRO Projections tab and the game pages) and our Projections Hub (which you can bookmark).
You can also shop for the best lines on our odds page.
Expert Picks for Wednesday, June 21
Baltimore Orioles vs. Tampa Bay Rays
Tyler Wells vs. Taj Bradley
First Pitch: 12:10 p.m. ET
I see value in the Under in both halves of Wednesday's matinee between the Rays and Orioles. I set the total for the first five innings (F5) at 4.04 and projected the full game total at 7.71 for this matchup.
You can place an F5 Under 4.5 to -115 or play a full game Under 8 at -102 or better. Of the two bets, I prefer the first-half (F5) wager because of a more significant projection edge and how I view these two starting pitchers relative to their bullpens.
Among a group of 269 different starting pitchers (min. 50 innings pitched) over the past three seasons, Tyler Wells has the sixth-highest popup rate (15.5%); he ranks in the top 20% of starters in walk rate. Moreover, Wells' strikeout rate has exploded this season (from 18% to 26%), and I tend to trust his 3.47 xERA (expected ERA) — an improvement over 3.80 last season — more than his underlying xFIP (4.07) or pitching model projections.
Taj Bradley (3.35 xERA) has impressed across nine MLB starts. Pitching models view Bradley (105 Pitching+) as slightly more effective than Wells (104 Pitching+) — albeit with better stuff and lesser command.
The Orioles typically have the superior bullpen (fourth in xFIP, sixth in K-BB%) compared to the Rays (29th and 28th, respectively); however, key relievers Mike Baumann, Yennier Cano and Felix Bautista worked consecutive days on Monday and Tuesday; which is another reason to stick to the first half Under in this contest.
Arizona Diamondbacks vs. Milwaukee Brewers
Zac Gallen vs. Julio Teheran
First Pitch: 2:10 p.m. ET
The fact that Julio Teheran is back in the majors after spending time in the independent Atlantic League and the Mexican League in 2022 is a good story in and of itself. Never mind that he's posted surprisingly strong indicators (1.78 ERA, 3.13 xFIP) through five starts.
Teheran's Stuff+ (84) is below average, but the Colombian has shown arguably the best command of his career (107 Location+; career-best 3.6% walk rate). His K-BB% (14.5%) is at its best level since 2016: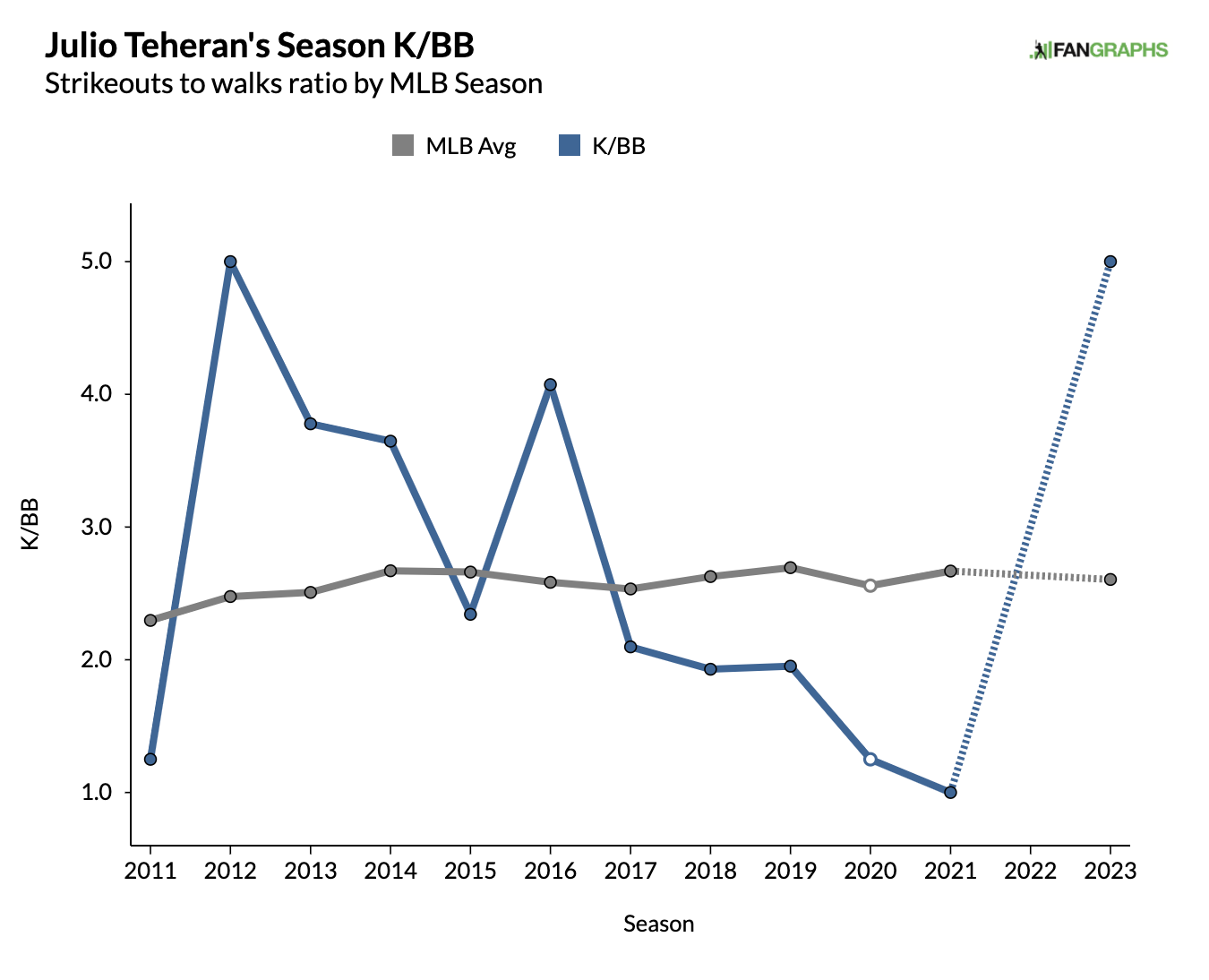 And both expected stats (3.84 xERA) and pitching models (3.85 projected ERA) think that Zac Gallen (2.96 ERA) has overperformed by nearly an entire run on his ERA.
I project Milwaukee to win this matchup nearly 46% of the time; bet their moneyline at +128 (43.9% implied) or better.
New York Mets vs. Houston Astros
Tylor MeGill vs. Cristian Javier
First Pitch: 2:10 p.m. ET
After a strong rookie season (3.84 xERA in 2021), Megill's command has gradually slipped away: and his xERA has increased to 4.31 and 5.82 the past two seasons, as his K-BB% has shrunk from 19% to 6.7%, with both inputs moving in the wrong direction.
Likewise, Cristian Javier has seen a substantial dip in strikeout rate this season (down from 33.2% to 23.8%) as his xERA has climbed from 2.43 to 4.03. However, Javier has reduced his walk rate (to a career-low 5.9%) as we near the halfway point of the 2023 campaign; and if he can manage to rediscover those whiffs (down 2.2% year over year), Javier might be the complete package.
I set Houston north of 60% in the first half of this matchup; bet the F5 moneyline to -141 or better.
Atlanta Braves vs. Philadelphia Phillies
AJ Smith-Shawver vs. Aaron Nola
First Pitch: 6:40 p.m. ET
As I have highlighted multiple times already this season, Aaron Nola has been much more effective the first time through the order (32% K%, 4.5% BB%) than the second or third time facing the same lineup in the same game (combined 19.9% K%, 7.4% BB%).
Both last season and across his career, Nola only experienced a 5% dip in strikeout rate when comparing those same splits, and his walk rate has primarily stayed stagnant no matter how many times he turns over the opposing lineup.
Due to that mid-game dip, Nola's K-BB% has fallen to 18.1% — its lowest mark since 2019 (17.5%). And his xERA (3.65) is also at its highest point since the 2019 campaign (4.23). Nola entered ace territory last season (2.74 xERA), but he's regressed somewhere among the number twos and threes this season.
We have a limited data sample on AJ Smith-Shawver (2.65 xERA in three appearances). Pitching models think he has below-average command and doesn't possess a plus pitch in his arsenal. Still, the 20-year-old progressed quickly through the minors, and scouting reports call for a plus fastball and slider with an average changeup and curveball and solid command at peak.
Atlanta has arguably the best player development track record of any organization in baseball, and moving Smith-Shawver to the majors after seven dominant minor league starts this year (33 IP, 12 BB, 45 K) seems aggressive; I never question their assessment.
Back Smith-Shawver in the first half (F5) to +115; I projected that line around +107.
You can also bet the Unders with good pitching weather in the forecast: 66 degrees at first pitch with 14-mph winds blowing in from right field.
I set the totals at 4.3 (F5) and 8.14 (full game). Bet the F5 Under 5 to -125 or the full game Under 9 (to -122) or 8.5 (to -104).
Seattle Mariners vs. New York Yankees
Luis Castillo vs. Jhony Brito
First Pitch: 7:05 p.m. ET
I won't pretend to make a compelling case that Jhony Brito (5.82 xERA) is anywhere comparable to Luis Castillo (3.47 xERA), who has overachieved this season (2.73 ERA).
The Mariners also have a bullpen edge, and with Aaron Judge on the IL, these offenses are similar too.
The Yankees have an edge on defense, ranking eighth in Defensive Runs Saved (+14), while the Mariners are closer to the league average (+4 DRS, 15th).
In my model, the difference in defensive quality is worth about 1.4%, a reasonably significant adjustment. I projected the Yankees around +135 – but would make the line +141 without the defensive edge.
Target the Yankees at home at a rare, juicy price of +148 or better.
Boston Red Sox vs. Minnesota Twins
Garrett Whitlock vs. Sonny Gray
First Pitch: 7:40 p.m. ET
The Red Sox have won six straight games but remain in the basement of the AL East, while the Twins remain atop the AL Central despite losing 11 of their past 16 games.
Although I view Sonny Gray (3.8 Model Weighted xERA) as a slightly superior pitcher to Garrett Whitlock (4.2), Minnesota has a more significant edge in the bullpen (15th vs. 20th in xFIP; 13th vs. 22nd in K-BB%), particularly with Jhoan Duran (2.24 xERA) fresh and rested.
By pitch velocity, the top eight fastballs of the season all belong to Duran. And the ability to deploy Duran for up to two innings – in what figures to be a close and competitive game – is an extreme competitive advantage in a matchup where the Twins have a slight pitching edge, but Boston has a slight offensive advantage.
I projected Gray, Duran, and the Twins closer to -135 in this matchup; bet their moneyline up to -128.
Zerillo's Bets for Wednesday, June 21
For additional bet notifications, follow me in the Action Network App. 
Atlanta Braves F5 (+116, 0.5u) at FanDuel (bet to +115)
Atlanta Braves (+120, 0.5u) at WynnBet (bet to +114)
Atlanta Braves / Philadelphia Phillies, F5 Under 5 (-120, 0.5u) at DraftKings (bet to -125 or 4.5, +108)
Atlanta Braves / Philadelphia Phillies, Under 9 (-110, 0.5u) at BetMGM (bet to -122 or 8.5, -104)
Baltimore Orioles / Tampa Bay Rays, F5 Under 4.5 (-115, 0.5u) at FanDuel (bet to -115)
Colorado Rockies (+220, 0.5u) at WynnBet (bet to +205)
Kansas City Royals / Detroit Tigers, F5 Under 5 (-115, 0.5u) at DraftKings (bet to -120)
Houston Astros F5 (-140, 0.5u) at DraftKings (bet to -141)
Milwaukee Brewers (+130, 0.5u) at WynnBet (bet to +128)
Minnesota Twins (-124, 0.5u) at WynnBet (bet to -128)
New York Yankees (+150, 0.5u) at DraftKings (bet to +148)
San Diego Padres / San Francisco Giants, Over 8 (-105, 0.5u) at DraftKings (bet to -106)
How would you rate this article?
This site contains commercial content. We may be compensated for the links provided on this page. The content on this page is for informational purposes only. Action Network makes no representation or warranty as to the accuracy of the information given or the outcome of any game or event.