Padres vs. Dodgers MLB Odds & Picks: Target San Diego as Live Bet in NL Showdown (Sunday, April 25)
Credit:
Keith Birmingham/MediaNews Group/Pasadena Star-News via Getty Images. Pictured: San Diego Padres stars Manny Machado, left, and Fernando Tatis Jr.
Dustin May and Joe Musgrove face off in the latest matchup between the Padres and Dodgers.
MLB's best new rivalry saw Fernando Tatis Jr. homer twice in a win on Saturday, and San Diego now goes for a series split in the finale.
Sean Zerillo breaks down how he's looking to bet this matchup on Sunday Night Baseball.
Padres vs. Dodgers Odds
Padres Odds
+104
Dodgers Odds
-121
Over/Under
7.5
Time
7:08 p.m. ET
TV
MLBTV

Odds as of Sunday afternoon via DraftKings.
To date, we have only seen six of the 19 regular-season contests between the Los Angeles Dodgers and San Diego Padres, but it's already clear this is Major League Baseball's best current rivalry.
Each of those contests has had a playoff-like atmosphere, with many of those games having featured signature, season-defining moments.
Before the start of the regular season, FanGraphs gave the Dodgers a 98.4% chance to make the playoffs and a 70% chance of winning the NL West. It pegged the Padres' chances at 92.3% and 29.8%, respectively.
More than 20 games into the season, the Dodgers' playoff and divisional odds have increased to 99.6% and 81.5%. San Diego's playoff odds have increased too (+0.6%), but its divisional odds have dropped more than 10 percent (to 18.2%), sitting four games back of their southern California rivals.
If San Diego wants to win the NL West and avoid relegation to a one-game wild card, they'll need to post a winning record against Los Angeles, which is playing at a 116-win pace.
That said, can the Padres turn a four-game series on the road into a split or will the Dodgers continue to pad their early-season lead?
San Diego Padres
Fernando Tatis Jr. has obviously rebounded nicely after suffering a shoulder subluxation in an April 5 game. Since his return, Tatis has five homers in nine outings, including the hardest-hit ball (115.9 mph) that Clayton Kershaw has ever allowed.
In terms of true talent, the Padres are close to a 96-win team with Tatis Jr. in the lineup — and nearer to a 90-win team without him — the relative difference between a legitimate contender and a team who could "make a nice run."
Their pitching has been slightly fortunate to start the season. San Diego's expected wOBA is .306 (6th), but its actual wOBA is .273 (2nd), so its run prevention is due for some regression. However, the Padres should still be among the best in the league.
Sunday's starter — Joe Musgrove — fits firmly into the regression category (.181 wOBA, .261 xwOBA). Musgrove dialed back his fastball usage in 2020 (-10.4%) in favor of more curveballs, plus he has changed his mix to a greater degree with the Padres, dropping his fastball usage down to 17.7% (46.5% career) while increasing his rate of cutters (24.8% vs. 9.1% career)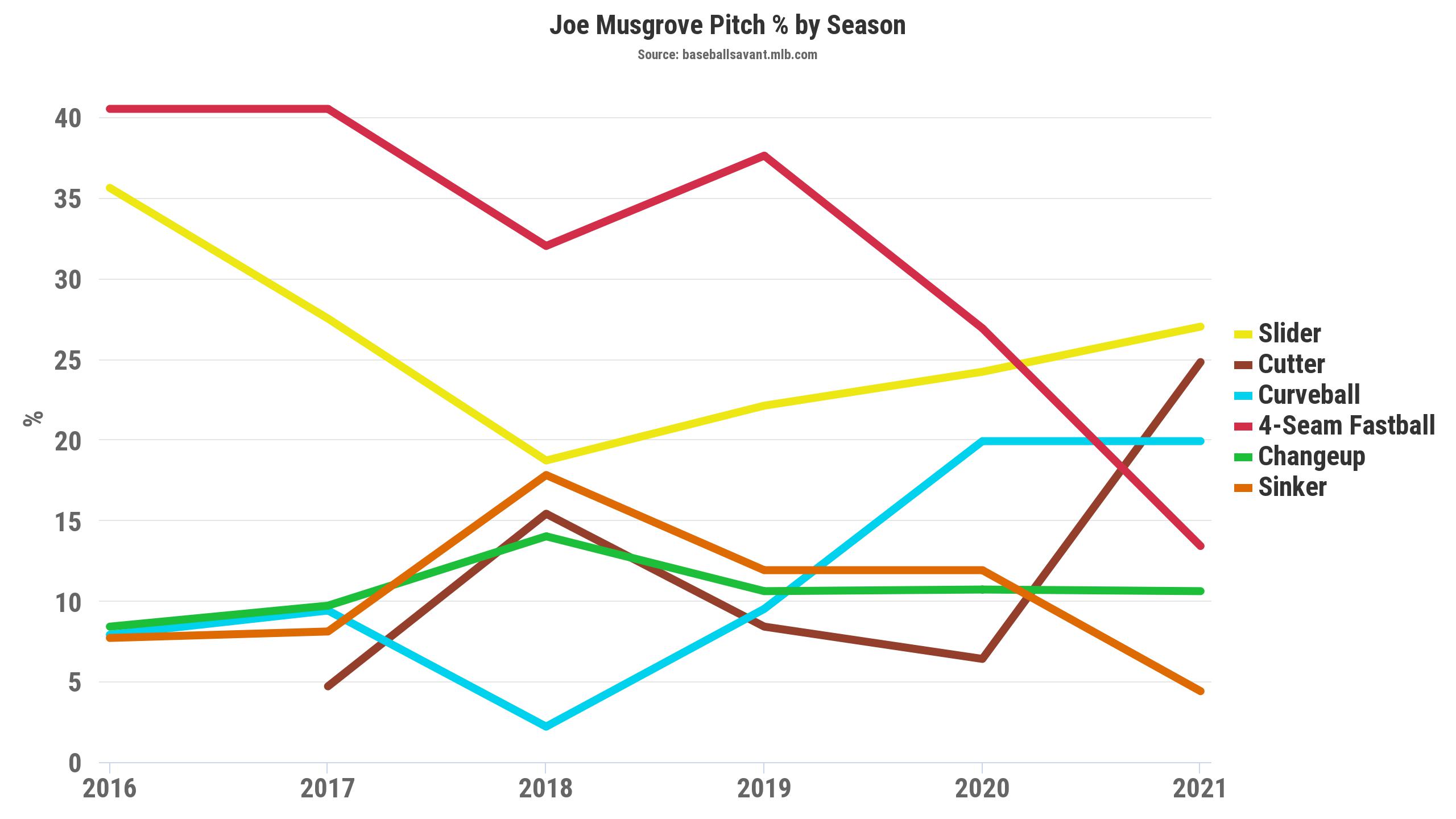 Musgrove is posting career-best indicators across the board, in addition to a career-high 51.9% groundball rate. There is legitimate growth in his profile, but it's impossible to maintain a .163 BABIP and 100% strand rate for too much longer.
With a league-average defense, I would project Musgrove's ERA at 3.51 over the remainder of the season.
However, San Diego's solid team defense will continue to pay dividends for all of its pitchers. Since the start of the 2020 season, the Padres lead all of baseball with 22 Outs Above Average (Minnesota ranks second with 14.) They were also an above-average defensive team per Defensive Runs Saved in 2020, as well as tied for sixth through a more-limited 2021 sample.
Their key relievers are slightly more rested than the Dodgers group coming, so I give the Padres bullpen a pretty substantial edge in terms of expected ERA (3.63 to 4.12) and a slight advantage in expected runs allowed (1.7 to 1.84, after adjusting for offenses) over the final four frames.
---
Los Angeles Dodgers
Dustin May has to be among the most enticing arm talents in the majors, with his ability to throw whiffle balls to the opposition. He ranks amongst the best pitchers in the game per fastball velocity, fastball spin and curveball spin:
Dustin May had 8Ks in 5ip, all on his curveball.

Here are overlays w/ May's Sinker & Curve from a few of those Ks.

You can see how ridiculous that combo is. 😯 pic.twitter.com/7P1Kh7hRQ9

— Rob Friedman (@PitchingNinja) April 20, 2021
However, May has also struggled with consistency. He tends to unravel for about an inning per start, and when he does allow contact, he gets hit hard (career .367 xwOBA on contact).
May's expected indicators (career 3.58 xFIP and 3.82 SIERA; 3.13 xERA in 2021) show a potential frontline starter — which matches his arm talent — and has looked more dominant than ever in a limited sample this season (14.1% swinging strike rate vs. 9.3% career). He's still 23 years old, and the pieces are coming together. Once he gets rid of those hiccups, May will likely contend for a Cy Young award.
Like Musgrove, May also has a great defensive unit behind him. The Dodgers are great at finding above-average defensive players, and even better about optimally positioning them.
Since 2016, Los Angeles has ranked sixth, second, fifth, first and fourth per defensive runs saved. Through a limited 2021 sample, the Dodgers rank 13th, but remain a top-three defensive team in my model.
Offensively, against average pitching and average defenses in a neutral run-scoring environment, I would have the Dodgers' lineup outscoring the Padres by nearly a third of a run (4.98 to 4.68) this season. The one place the Padres might be better is in the bullpen, especially after Corey Knebel suffered a potential season-ending lat injury in Friday's game.
Padres-Dodgers Pick
Relative to the listed odds, I don't show projected value on any moneyline or total, either in the first five innings (F5) or over the full game.
I would need a moneyline closer to -110 on the Dodgers or +130 on the Padres to consider a play. I would also bet the Under 7.5 at +100 or better or an F5 Under 4 at -110 or better.
However, I'm not expecting any of those odds to come into range and I don't expect to have a pregame wager on this matchup.
I see a potential live opportunity on the Padres over the final four innings,  since I give their bullpen a slight advantage in rest and quality.
Also, I have the Padres outscoring the Dodgers (1.84 to 1.7) after the fifth inning, and I would take even money or better on San Diego's moneyline in a tie game or bet a +1 spread at a similar price with the Padres trailing by one, around the fourth, fifth or sixth innings.
Keep an eye on pitch counts, batting order location and whether managers are starting to warm up relievers. That should give you a decent idea of when might be best to pull the trigger.
If you follow me in the Action Network App, you'll get a notification when I fire on the game.
Pick: Live Bet — Padres (+100 or better | tie game near the fifth inning)
How would you rate this article?
This site contains commercial content. We may be compensated for the links provided on this page. The content on this page is for informational purposes only. Action Network makes no representation or warranty as to the accuracy of the information given or the outcome of any game or event.