Friday Sharp Report: Pros Betting Cubs-Cardinals, 3 Other MLB Games
Credit:
Jeff Curry-USA TODAY Sports Pictured: Chicago Cubs pitcher Jon Lester
It's Friday, which is arguably the best day of the week for sharp MLB bettors. Public players are finishing their work weeks and more apt to get down on games (specifically favorites and home teams), which leads to increased ticket counts and more contrarian value. Throw in the U.S. Open and World Cup and the market is even more saturated with money from recreational bettors.
This doesn't mean sharps double down and risk multiple units, it just means that they're operating with an increased edge. As always, wiseguys stay the course and stick to flat betting.
After analyzing Friday's 15-game slate using Sports Insights' Sportsbook Insider Pro betting tools, I've pinpointed four MLB bets that professionals are focusing on, starting at 7:07 p.m., 8:05 p.m., 8:15 p.m. and 9:35 p.m. ET.
Data as of 3:30 p.m. ET
Washington Nationals at Toronto Blue Jays (+122)
7:07 p.m. ET
The Nats are 37-28 and send Gio Gonzalez (6-2, 2.58 ERA) to the mound against the reeling Jays (30-38). The public sees an easy Washington win (86% taking Nats). Wiseguys waited for heavy public betting to push Washington from -119 to -144, then they pounced on an inflated Jays plus-money payout (+124, +130 and +139).
This heavy Jays sharp action at 5Dimes, Pinnacle and YouWager brought the Toronto line back down to +122. The Jays are a dog with a high total (9.5) and an AL team in Interleague Play, two profitable spots historically. They also enjoy prime Fade The Public value: dogs getting less than 20% bets have produced +71.21 units since 2005.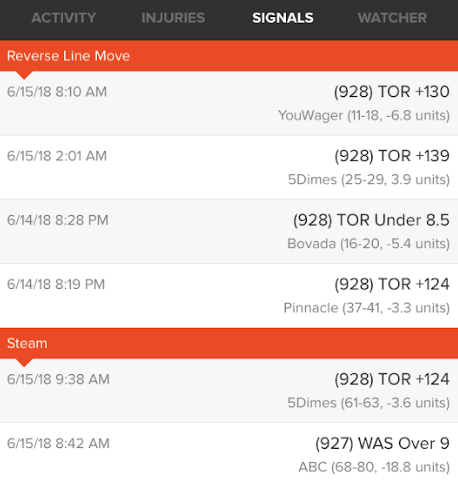 Colorado Rockies at Texas Rangers (-108)
8:05 p.m. ET
The Rangers are in a classic "dog to favorite" sharp money spot. Texas is only getting 25% of bets, yet they've moved from +102 to -108. This sharp reverse line movement indicates heavy wiseguy money on the Rangers. Sharps at Pinnacle got down hard on Texas +101, then Goodfellas at CRIS and GTBets hit Rangers -109 and -103, respectively. Similar to Toronto, Texas is a dog with a high total (10.5) and an AL team in Interleague Play.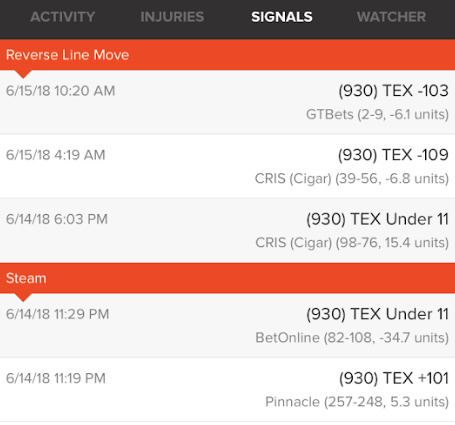 Chicago Cubs at St. Louis Cardinals Over 8.5
8:15 p.m. ET
Recreational MLB bettors focus on two major criteria when betting totals: the pitching matchup and how high or low the Over/Under is. If it's a low total, they go Over. A high total, Under. If it's two aces going head-to-head, Under. Two scrubs with high ERAs, Over. In this case, the public sees Lester (2.22 ERA) against Wacha (2.47 ERA) and says easy Under. Not the sharps. Despite 74% of bets taking the Under, the total has risen from 7.5 to 8.5.
Why would the books raise the total to give public Under backers a better number? Because pro bettors at BetOnline, Pinnacle and Heritage got down hard on the Over, creating heavy liability. The last two Over moves at Heritage and Pinnacle are most notable, even though they missed out on the 7.5 and 8, they still hit Over 8.5. Despite the line getting worse the sharps still pounded it, indicating supreme Goodfella confidence.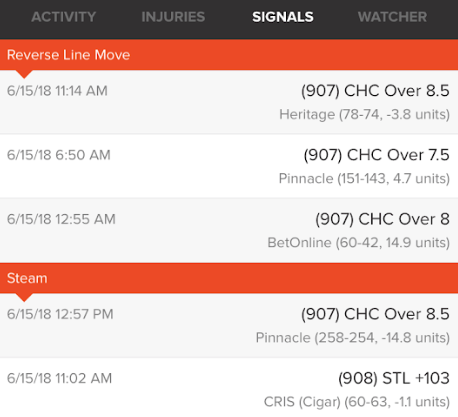 Los Angeles Angels at Oakland Athletics Over 8.5
9:35 p.m. ET
The public doesn't know which way to go on this total. But sharps have taken a clear side. The Over is getting 51% of bets but 77% of dollars. This notable bets vs. dollar discrepancy indicates smart Over money. The big dogs at Pinnacle got down hard on the Over 8.5 two separate times, first a steam move and then a reverse line move. Then, later this afternoon, wiseguys at 5Dimes joined in on the fun and steamed Over 8.5. An added bonus for sharp Over backers: the wind is blowing out to straightaway center at 10 mph.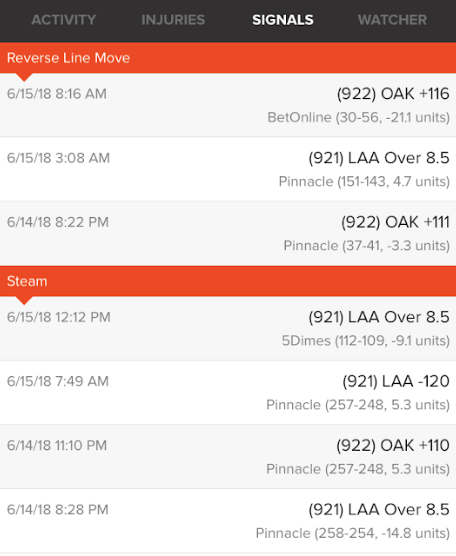 Remember: the betting market is fluid. Data changes as more action comes in. For updated odds and percentages, be sure to check out the Action Network MLB betting trends page. 
Looking for more in-depth betting analysis? Sign up for a Sports Insights Pro trial and join our Live Betting Hangouts where we break down the board every weeknight from 6:30-7 p.m. ET.
For more betting info and customer support, you can find me on twitter @Josh_Insights