Friday Sharp Report: Pros Betting Rockies-Mariners, Two Other Games
Credit:
Credit: Joe Nicholson-USA TODAY Sports. Pictured: Felix Hernandez.
Happy Friday! Historically, today has been the best day of the week to fade the public. With recreational bettors wrapping up their work week (and getting their latest paychecks), Average Joes are more apt to get down on games, specifically targeting favorites, home teams and overs. This leads to increased ticket counts and elevated contrarian value.
After analyzing Friday's 15-game slate using Sports Insights' Sportsbook Insider Pro betting tools, I've pinpointed five MLB bets that professionals are focusing on, starting at 7:10 p.m., 9:40 p.m., and 10:10 p.m. ET.
Data as of 3:15 p.m. ET. All bets risking one unit, not to win one unit. All total plays Listed Pitcher, not Action.
Oakland Athletics at Cleveland Indians under 9
7:10 p.m. ET
The public sees Paul Blackburn (6.46 ERA) facing a rusty Carlos Carrasco (4.24 ERA) in his return from the DL and naturally, they're going over. However, despite nearly 60% taking the over, the total has either fallen to 8.5 or remained frozen at 9 with heavy under juice liability. Wiseguys got down on the over early on, but since that time it's been a steady diet of under smart money. Sharps at Pinnacle hit under 9.5, and then wiseguys at BetOnline crushed the under 9 three separate times. A huge factor in this game is the wind: It's howling in from straightaway center at 14-15 mph. The last time Blackburn faced the Tribe, he pitched 6.1 scoreless innings en route to a 3-1 Oakland victory on June 29.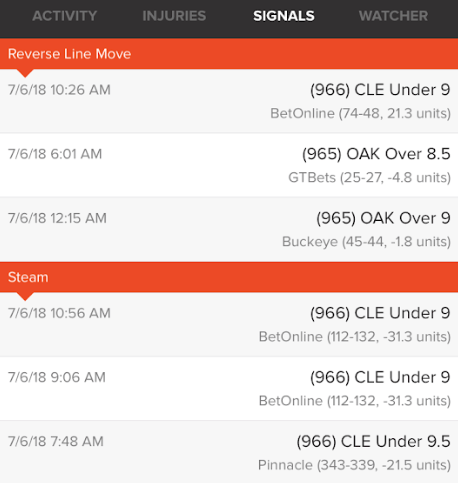 San Diego Padres (+127) at Arizona Diamondbacks, under 8
9:40 p.m. ET
Wiseguys have been eyeing this under all day. Despite 74% of bets going over, the total has either remained frozen at 8 (with heavy under juice) or fallen from 8 to 7.5, depending on the book. Sharps at Pinnacle and BetOnline got down hard on the under 8 three separate times. This is notable because Pinnacle and BetOnline have been the two best books for total plays this season (+9.2 units and +21.3 units). The under is getting more money (30%) than bets (24%), and the roof is closed, another benefit for under backers.
Sharps also like the Padres in this game. They won Thursday night, and the public says they can't possibly do it again. Sharps disagree. San Diego is getting only 27% of bets but 38% of dollars and has fallen from +137 to +127. The Padres have received two bet signals and also match two Bet Labs systems: Betting Against the Public Report (+174.38 units since 2005) and Visiting Dogs vs. Betting Divisional Opponents (+168.30 units since 2005).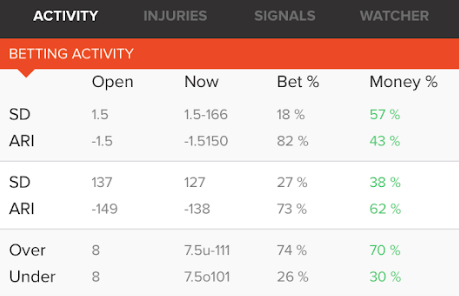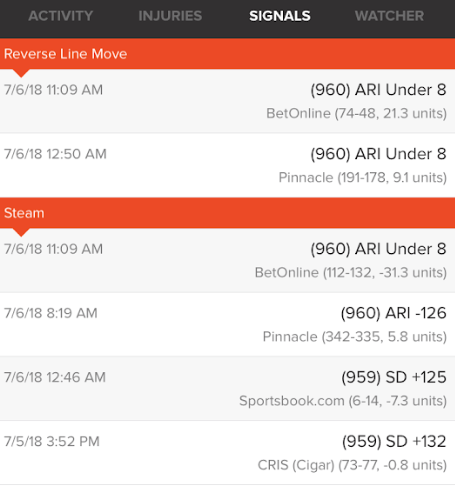 Colorado Rockies (+111) at Seattle Mariners, Under 8
10:10 p.m. ET
The public loves betting Seattle, and who can blame them? The Mariners (56-32 entering Friday) are one of the best teams to bet on this season (+19.93 units). Tonight, they're at home with King Felix on the mound. Another layup Seattle win, right? Not so fast. Despite getting 73% of bets, the M's have fallen from -125 to -120. This signals sharp reverse line movement on Colorado (+115 to +111). Wiseguys at YouWager and Carib all got down hard on the Rockies, who are playing well and just swept the Giants. Sharps also like the under. It's getting only 32% of bets, but has fallen from 8.5 to 8 (with juice on the under 8 -119). It's also received three separate bet signals across the market.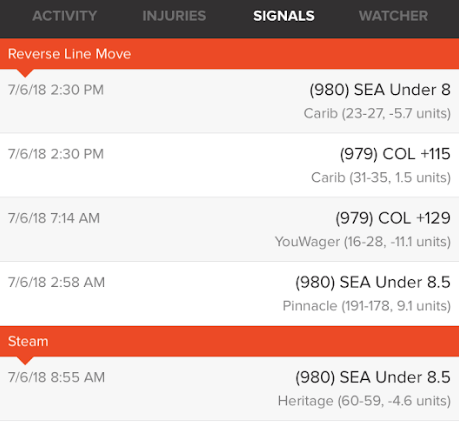 Remember: The betting market is fluid. Data changes as more action comes in. For updated odds and percentages, be sure to check out The Action Network MLB betting trends page.
Looking for more in-depth betting analysis? Sign up for a Sports Insights Pro trial and join our Live Betting Hangouts where we break down the board every weeknight from 6:30-7 p.m. ET.
For more betting info and customer support, you can find me on twitter @Josh_Insights.