Thursday Sharp Report: Pros Betting Orioles-Nationals and Two Other Games
Credit:
Max Scherzer and Pedro Severino. Mandatory Credit: Geoff Burke-USA TODAY Sports
Wiseguys went 1-1 with their plays on Wednesday, cashing the Rays-Astros Under 7.5 and losing the Mets-Rockies Under 11.5 (they also took the Pirates but that game got rained out). With contrarian betting not performing like its historical norm (dogs getting 30% or fewer moneyline bets are -17.4 units this season), sharps have been eyeing totals as a way to offset moneyline losses as they await regression.
After analyzing Thursday's slate using Sports Insights' Sportsbook Insider Pro betting tools, I've pinpointed three MLB bets that professionals are focusing on, starting at 7:05 p.m., 7:10 p.m. and 10:07 p.m. ET.
Data as of 2:45 p.m. ET
Baltimore Orioles at Washington Nationals Under 7
7:05 p.m. ET
Normally the public pounds the Under with Max Scherzer (2.06 ERA) on the mound. But the combination of a low total and Kevin Gausman (4.48 ERA) on the other side have recreational bettors undecided on which way to go. Not the sharps. They've taken a clear side.
The Under is getting 53% of bets but a whopping 85% of dollars, indicating heavy smart Under money. Wiseguys at Pinnacle and CRIS both steamed the Under 7. This overload of sharp action briefly dropped the total to 6.5, but it's since leveled out at 7 (with the under being juiced up to -119).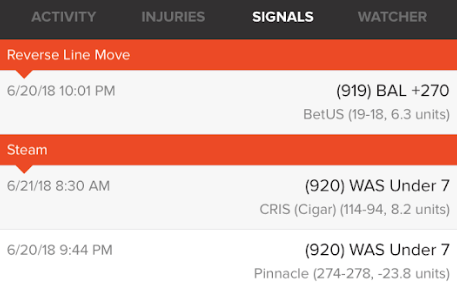 Chicago Cubs at Cincinnati Reds (+153)
7:10 p.m. ET
The Cubs are 42-29 and the Reds are 28-45. The public sees an easy Chicago win, but wiseguys are buying low on Cincy to steal the series opener. In the most heavily bet (and most lopsided) game of the night, the Redlegs are getting of 15% of bets, yet it accounts for 28% of dollars.
Pro players at The Greek and CRIS got down hard on Reds +146 and +149, respectively. The Reds are divisional dogs with a high total (a profitable spot historically), and also match two Bet Labs Pro systems: Bad Team after Win (+177.23 units since 2005) and New Series, All Signs Point to the Opponent (+182.03 units since 2005).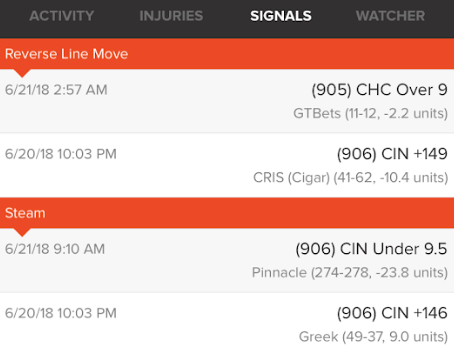 Toronto Blue Jays at Los Angeles Angels Under 7.5
10:07 p.m. ET
The Over has hit in four of the last five Jays games and six of the last seven Angels games. As always, the public is a victim of recency bias and says another easy Over tonight. In the most lopsided total play of the night, 85% of bets are going Over yet total has fallen from 8 to 7.5 across the market.
Why would the books drop the total to give public Under bettors a better number? Because Goodfellas at GTBets, Heritage and JustBet all got down hard on the Under 8, creating big liability.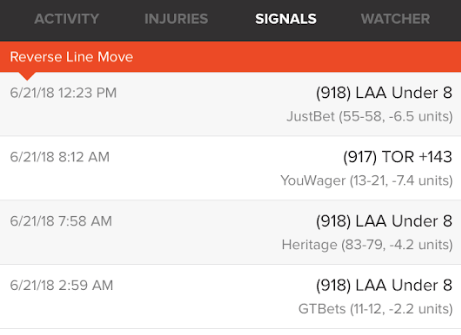 Remember: the betting market is fluid. Data changes as more action comes in. For updated odds and percentages, be sure to check out the Action Network MLB betting trends page.
Looking for more in-depth betting analysis? Sign up for a Sports Insights Pro trial and join our Live Betting Hangouts where we break down the board every weeknight from 6:30-7 p.m. ET.
For more betting info and customer support, you can find me on twitter @Josh_Insights.