Tuesday MLB Sharp Report: Pros Betting Angels-Red Sox, Four Other Games
Credit:
Ian Kinsler and Mike Trout. Credit: Jayne Kamin-Oncea-USA TODAY Sports
Wiseguys split their four plays on Monday, but thanks to the Marlins (31% bets, +114) win over the Diamondbacks, they finished slightly in the green. Every little bit counts over the course of a marathon 2,430-game regular season.
After analyzing Tuesday's 15-game slate using Sports Insights' Sportsbook Insider Pro betting tools, I've pinpointed five MLB bets that professionals are focusing on, starting at 7:05 p.m., 7:10 p.m., 8:05 p.m., 10:10 p.m. and 10:15 p.m. ET.
Data as of 2:30 p.m. ET. All bets risking one unit, not to win one unit. All total plays Listed Pitcher, not Action.
Seattle Mariners at Baltimore Orioles (+129) 
7:05 p.m. ET
Sharps swung and missed on the Orioles last night, but they're back on the Birds tonight. Yes, Baltimore is terrible (23-54), but value is value. The O's are getting only 20% bets but 41% of dollars, a profitable smart money discrepancy. The O's have also fallen from +147 to +129, signaling sharp reverse line movement.
Most notably: Baltimore has received five separate bet signals across the market, three of which came from Pinnacle, arguably the sharpest offshore sportsbook.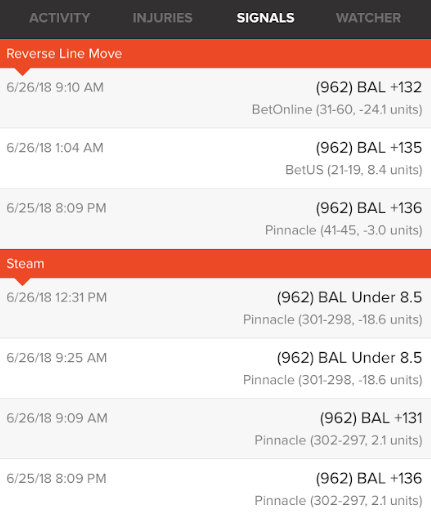 Los Angeles Angels (+151) at Boston Red Sox
7:10 p.m. ET
The Angels check off all the boxes for the Goodfellas. They're super contrarian (27% bets), with more money (56% dollars), massive reverse line movement (+177 to +151) and a pair of profitable bet signals (LAA +161 steam at Pinnacle and LAA +165 RLM at 5Dimes). They're also a road dog with a high total (10), a valuable spot since 2005, and match two profitable Bet Labs systems: Contrarian Betting Against Good Team (+126.76 units since 2005) and New Series, All Signs point to Opponent (+190.87 units since 2005).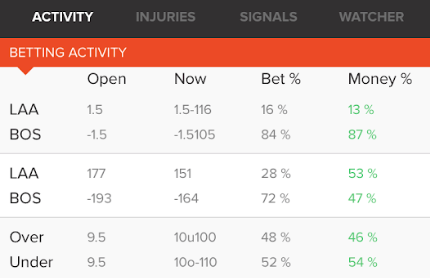 San Diego Padres at Texas Rangers Over 10
8:05 p.m. ET
If a total is high, public bettors automatically think Under. If it's low, they automatically lean Over. But wiseguys know better. Currently, 54% of bets are on the Under, but 68% of dollars are on the Over. Meanwhile, the juice has moved from Under -115 to Over -120, evidence of Over liability for books (with the next move likely up to 10.5).
Sharps at CRIS, BetUs and Pinnacle all got down hard on the Over, triggering a trio of steam and reverse line moves (with no conflicting Under plays). The CRIS move is especially valuable (+15.2 units this season).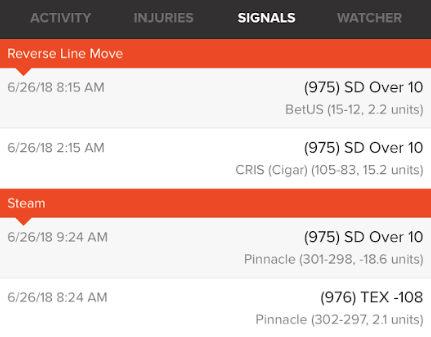 Chicago Cubs at Los Angeles Dodgers Over 7.5
10:10 p.m. ET
Los Angeles took the series opener 2-1 last night and the Under cashed without a sweat. With Jon Lester (2.10 ERA) facing Ross Stripling (1.99 ERA), the public sees another low-scoring game. Not the sharps.
Despite 66% of bets taking the Under, the total actually rose to 8 before falling back down to 7.5. This contrarian reverse line movement/line freeze was caused by a trio of Over bet signals across the market. What's most interesting: Goodfellas hit the Over 7.5 early, then doubled down on the Over 7.5 even though the juice was -120.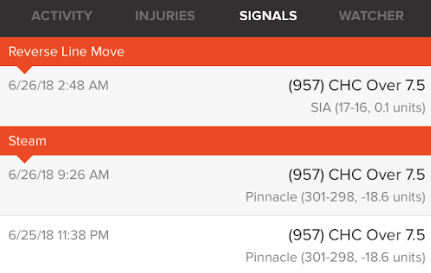 Colorado Rockies at San Francisco Giants Under 8.5 
10:15 p.m. ET
With two high ERA pitchers going head to head (Chad Bettis 5.23 vs Derek Holland 4.48), the public says Over all day. In the most lopsided total play of the night, currently 80% of bets are on the Over, yet the total hasn't budged off 8.5. This shows a reluctance on the part of the sportsbooks to raise the total and hand out an extra half run to sharp Under bettors. Pro players at CRIS, 5Dimes and Carib all hammered the Under 8.5. The Under is also getting more money (37%) than bets (20%), another sign that smart money is on a low-scoring game tonight.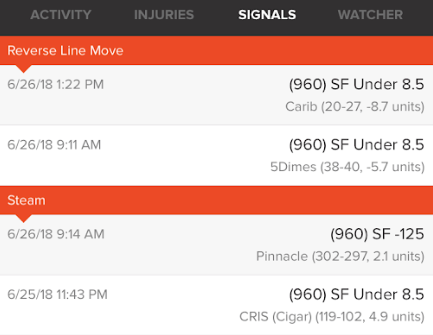 Remember: The betting market is fluid. Data changes as more action comes in. For updated odds and percentages, be sure to check out the Action Network MLB betting trends page.
Looking for more in-depth betting analysis? Sign up for a Sports Insights Pro trial and join our Live Betting Hangouts where we break down the board every weeknight from 6:30-7 p.m. ET.
For more betting info and customer support, you can find me on twitter @Josh_Insights.