Zerillo's MLB Daily Betting Model, Aug. 14: Time to Fade Kershaw vs. Marlins?
Credit:
Credit: Jon Durr-USA TODAY Sports
Sean Zerillo's MLB model helps you find edges when betting moneylines and over/unders for the full game and first five (F5) innings.
He analyzes Wednesday's slate of games, including how to bet Orioles-Yankees (1:05 p.m. ET) and Cardinals-Royals (8:15 p.m. ET).
Plug in your odds to the spreadsheet at the bottom of this article to see where you might have an edge.
I played the Twins in the first five innings on Tuesday specifically to avoid Josh Hader in the late innings — but it ultimately wouldn't have mattered, as Hader surrendered his sixth run (and fourth home run) in six games:
After allowing 13 home runs combined between the 2017-2018 seasons, Hader has already matched that total in 2019.
In Chicago, Carlos Correa made a ridiculous play for the Astros — you'll need to watch this one a few times in order to truly appreciate it:
In Detroit, Kyle Seager had a three home-run game with some assistance from the Tigers outfield:
We also had some umpire shenanigans in Philadelphia:
Recapping Yesterday's MLB Model
At writing yesterday, the model would have gone 2-3 against full-game moneylines and 2-3 against moneylines for the first five innings (F5).
My plays went 3-4, and I finished down 0.40 units for the day; though I had a chance to go 6-2 as the Oakland Athletics had the based loaded in the top of the ninth — and a base hit would have put their team total over and given them a strong chance at victory.
It was a positive day in terms of generating Closing Line Value (CLV).
I gained +73 cents against the sides that I played, netting as much as 43 cents against Arizona's moneyline (+115 to -128). I gained an additional 10 cents against the one game total that I played.
MLB Betting Model for Wednesday, August 14
All odds as of Wednesday morning (view live MLB odds). Stay tuned on Twitter or follow me in The Action Network App for my entire betting card for Wednesday.
Today, the model recommends six full-game moneylines and four moneylines for the first five innings (F5).
As of writing, the 3.5% trigger threshold officially marked the Giants, Marlins, Orioles, Rays, Tigers, and White Sox as full-game plays. The model also likes the Marlins, Orioles and White Sox, in addition to the Royals as F5 plays.
The Rays opened as a moneyline underdog for the third straight day against the Padres, and yet I project them as a slight favorite for the third consecutive day. I gained CLV against their moneyline on both Monday and Tuesday and would expect them to close as the betting favorite again on Wednesday.
I'm not sure why, but the public has no love for this Tampa Bay Rays squad, which has been a profit machine for me all season (except in ninth innings against Gio Urshela and the Yankees).
I actually went directly against the White Sox recommendation by including the Astros in a parlay with the Diamondbacks. 
Both teams are hot and crush left-handed pitching, and I'm willing to pair them up today at plus-money.
I have already mentioned this a couple of times but it bears repeating because history is in the making; per wRC+ the Astros potentially have the most potent offense of all time against left-handed pitchers.
Their 136 wRC+ vs. southpaws is the best mark against lefties dating back to 2002; 8% clear of the 2002 Dodgers.
The Diamondbacks (114 wRC+) are tied for fourth against lefties in 2019 and remain in the Wild Card hunt with their ace on the hill, while the Rockies (3-8, -30 run differential in August) are fading from relevancy.
Aside from the White Sox, I played each of the other recommended teams for today in some fashion — which means that I backed the Marlins, Orioles, and Royals on the same day; which can either be epic or vomit-inducing, with no in-between.
Over his past six starts, Brad Keller of the Royals owns the following pitching line: 41.1 IP, 40 H, 7 BB, 35 K, 3.92 FIP, 3.90 xFIP, 51.2% groundball rate
During this run, Keller has also increased his first-pitch strike rate and swinging-strike rate by 5.5% and 1.4% respectively over his 2019 average.
After experiencing a velocity dip earlier this season, Keller's fastball has averaged closer to 95 mph, rather than his 2019 average of 93.5 mph, since the middle of July.
Keller complained about his mechanics being off earlier this season but appears to have righted himself and, along with Jakob Junis, is a pitcher on the Royals that I'm actually comfortable backing.
The Orioles now have two such pitchers in Asher Wojciechowski and Dylan Bundy, the latter of whom starts today in Yankee Stadium. So long as Bundy can avoid the gopher ball he should be able to beat the Yankees — but that's a huge if.
Bundy has allowed 65 home runs in 286 innings pitched over the past two seasons — eight more home runs than Justin Verlander in 90 fewer innings.
Bundy's rate of 2.05 home runs per nine innings over that span is challenged only by Mariners rookie Yusei Kikuchi, who has allowed 31 in 126.1 IP this season (2.21 HR/9).
The next closest pitcher to those two? Bundy's opponent today, Yankees starter J.A. Happ.
Happ has allowed 29 homers in 120 IP this season, a rate of 2.18 HR/9. His pitch velocity is down, and his rate of hard contact has soared: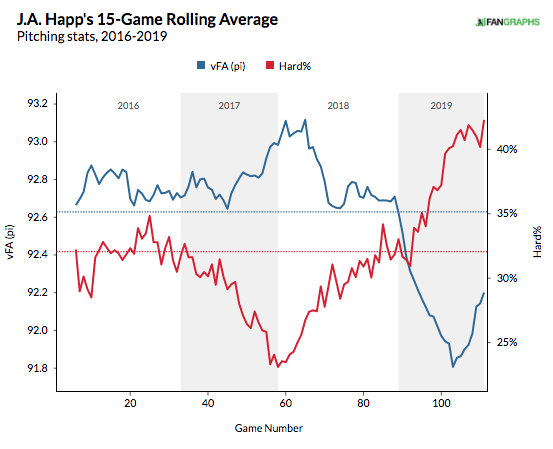 With two pitchers that allow a ton of home runs matching up in Yankee Stadium, one should be smashing the over in this game, right?
Well, the wind is blowing in today, so I actually grabbed the under 11 on a total which I projected at 10.06 runs. Historically, the under is 25-11 (+$1,302, 36.2% ROI) in Yankee Stadium under these conditions:
The Orioles also fit a number of profitable moneyline systems for Wednesday, so I grabbed them against Happ at over 2-1.
I also played the Miami Marlins in a contrarian spot at home getting-plus money on the spread vs. Clayton Kershaw and the Dodgers
And I took the under in that game with Mike Estabrook behind the dish. The under is 172-130 (57%, +28 units) with Estabrook as the plate umpire, and I had that game total projected for seven runs.
I also played the under in that White Sox-Astros game, despite my fear that the Astros can cover the total by themselves against a lefty starter. Plate umpire Phil Cuzzi is terrific for unders (250-198, 55.8%, +34 units), and my projection is 1.3 runs below the listed total.
Bets (So Far) for August 14
Baltimore Orioles (+216) Game Moneyline
Kansas City Royals (+131) F5 Moneyline
Miami Marlins (+1.5, +140) Game Spread
San Francisco Giants (+108) Game Moneyline
Tampa Bay Rays (+103) Game Moneyline
Under 11 (-120), Orioles at Yankees
Under 10.5 (-110), Astros at White Sox
Under 8 (-110), Dodgers at Marlins
Parlay (+133): Astros (-280) and Diamondbacks (-139)
Stay tuned on Twitter or follow me in The Action Network App for my entire betting card for Wednesday, August 14.
Zerillo's Full MLB Model, 8/14
Download the Excel doc with my projections to input odds from your sportsbook. These projections cover the full game and First 5 moneylines and over/unders. A sample of one of the sheets is below.
How would you rate this article?