MLB Picks Today | Odds, Expert Projections for Friday, June 9
Credit:
Getty Images. Pictured: Connor Joe, Shohei Ohtani, Eury Perez
Welcome to Opening Pitch, my column that you'll find daily throughout the 2023 MLB season.
My goal for Opening Pitch is to highlight my top daily projection edges for MLB moneylines and totals, share my favorite bets and provide some betting notes and analysis, mainly as I react to opening and overnight lines while using my baseball betting model.
I will look to release a new version of Opening Pitch daily between midnight and 3 a.m. ET; after I enter my overnight bets in the Action Network App and update the MLB projections. Hopefully, you will use it as your morning betting guide to get ahead of the baseball markets.
You can find my projections for every MLB game in the Action App (on both the PRO Projections tab and the game pages) and our Projections Hub (which you can bookmark).
You can also shop for the best lines on our odds page.
Expert Picks for Friday, June 9
Texas Rangers vs. Tampa Bay Rays
Andrew Heaney vs. Tyler Glasnow
First Pitch: 6:40 p.m. ET
I highlighted Glasnow yesterday before the Rays pushed him back one day — perhaps to give him some extra rest since his fastball velocity in his last outing (95 mph on June 3) was at its lowest point since 2017: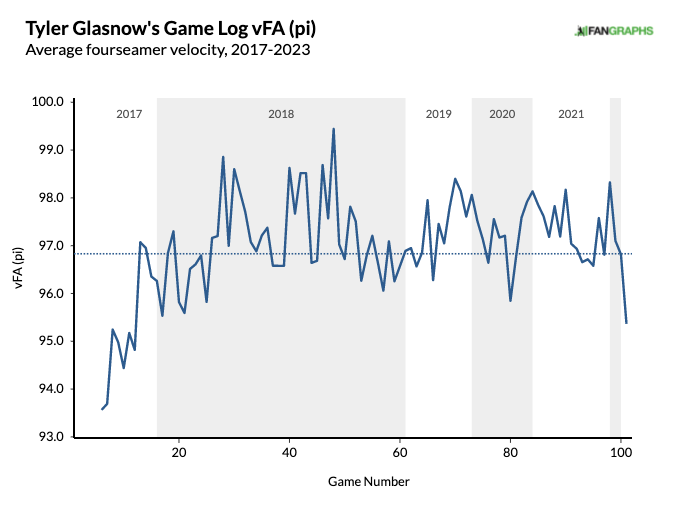 Glasnow has been somewhat shaky in his return from the IL (7.42 xERA or expected ERA) and experienced a velocity dip (down from 96.6 mph to 95) between his first and second outings.
The Rays' bullpen also rates much worse than you might expect: 29th in xFIP (4.85), 28th in K-BB% (8.9%) or strikeout minus walk rate, and 28th in Pitching+ (97).
The Rangers' relievers aren't much better: 26th in xFIP (4.45), 16th in K-BB% (14.6%), and 26th in Pitching+ (98).
And Andrew Heaney (4.25 xERA) puts the Rays in their superior split, ranking as the number one offense against left-handed pitching (159 wRC+) by a wide margin this season. Comparatively, the Rangers are second against righties (119 wRC+).
With Glasnow's health in question, bet the Rangers to +150 (projected +137) in what amounts to a high-scoring, high-variance series — and a potential ALCS preview.
Boston Red Sox vs. New York Yankees
Garrett Whitlock vs. Gerrit Cole
First Pitch: 7:05 p.m. ET
Although Gerrit Cole owns his best ERA (2.82) and WHIP (0.90) since his 2018 and 2019 seasons in Houston, the underlying metrics have taken a step back this season.
Cole's xERA has climbed from 3.31 to 3.85 — and his xFIP has jumped from 2.77 to 3.97 — since his K-BB% has fallen by nearly 9% year over year (from 26.1% to 17.3%) and is roughly half of where it was in 2019 (34%) before joining the Yankees (the same year spider tack was banned).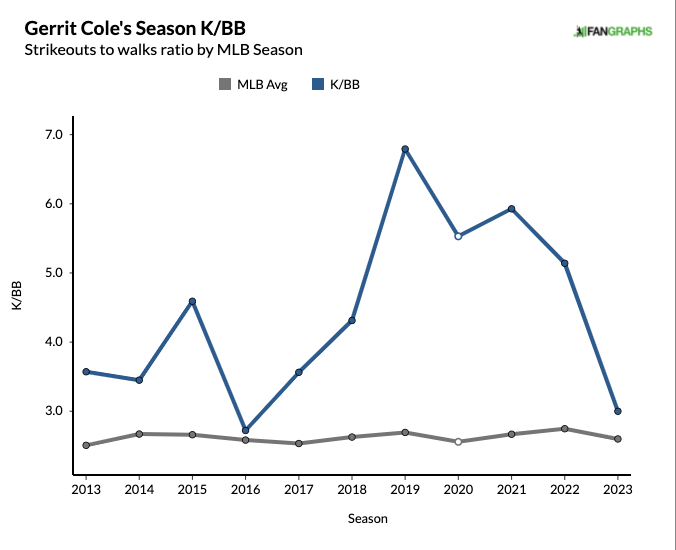 Cole is averaging 6.5 strikeouts and 2.1 walks per start this season, compared to 7.8 and 1.5 last year, a dramatic difference.
What do the Red Sox do well offensively? They avoid strikeouts against righties (20.6% K%, 5th) and take walks against lefties (10.7% BB%, 3rd).
Current Red Sox hitters own a .926 OPS against him in 138 plate appearances, with Rafael Devers, Alex Verdugo, and Kike Hernandez doing most of the damage.
I believe that Garrett Whitlock (106 Pitching+) is a better arm than the results he's shown to date (5.61 ERA, 4.61 xERA), but he also gets a Yankees lineup that looks a lot less scary with Aaron Judge on the IL.
Bet the Red Sox to +126 (F5) and +143 (full game) for Friday night and play the Over 8 (projected 8.71) to -117. Both starters have blowup potential.
New York Mets vs. Pittsburgh Pirates
Tylor Megill vs. Rich Hill
First Pitch: 7:05 p.m. ET
If the Mets had held onto their multi-run leads in Atlanta each of the past three days, they could have left within a few games of the division lead. But after sustaining a series sweep, they are now favored to miss the playoffs.
Then they had to immediately get onto a plane to Pittsburgh to play a better-than-expected Pirates squad — who had an off day on Thursday — at the end of a nine-game homestand.
The Mets' bullpen threw a ton of stressful pitches in that series, and after getting three innings from Justin Verlander on Thursday they will need a strong effort from a scuffling Tylor Megill (5.80 xERA), who has walked 32 batters in 59 innings this season and seen both his walk rate and strikeout rate trend poorly after a promising start to his career.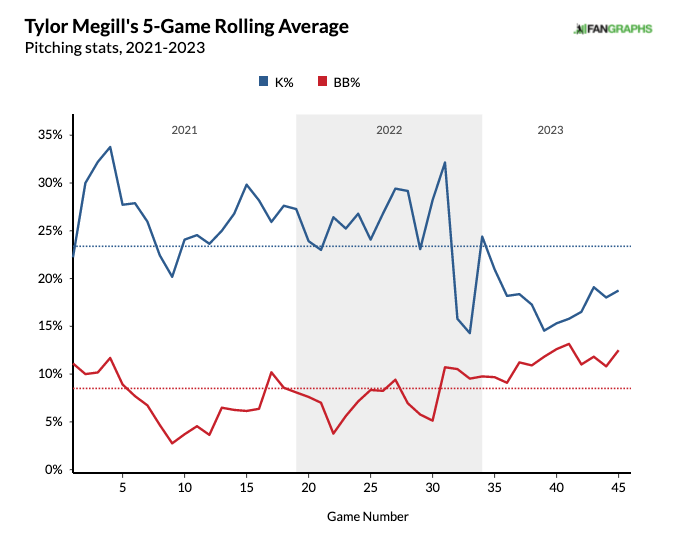 Rich Hill (5.44 xERA) is extremely untrustworthy, but pitching models rate Hill (98 Pitching+) better than Megill (91 Pitching+ vs. 103 last season), and the Pirates have had the more effective bullpen (21st vs. 24th in xFIP) on top of the fact that their relievers are better rested for Friday.
Bet the Pirates to +105 (projected -108), and play Over 9 to -110 (projected 9.52) in what shapes up as another potential slugfest — or a white flag bullpen game for the Mets.
Houston Astros vs. Cleveland Guardians
Cristian Javier vs. Logan Allen
First Pitch: 7:10 p.m. ET
The Astros will likely be without Yordan Alvarez on Friday; the slugger left Thursday's contest with an oblique injury and might require an IL stint (which would potentially kill our RBI leader bets).
Their offense still projects better against lefties than righties, and I view Cristian Javier (4.25 xERA) as a better pitcher than Logan Allen (4.30 xERA), even though Javier's Stuff+ (97) has declined dramatically compared to last season (116).
Allen thrives on command with lesser stuff (89 Stuff+), but pitching models tend to struggle with (1) lefties and (2) changeup-heavy pitchers. Allen fits both categories. He has an 83% strand rate but also an extremely high.331 BABIP. I'll still trust that xERA figure, even though he has outperformed it to date (2.76 ERA) with solid strikeout and walk numbers (3.22 FIP, 3.78 xFIP). The Guardians tend to find pitchers who outperform their underlying metrics, and Allen might be another drop in that bucket.
I set the Guardians as slight home favorites, bet Cleveland's F5 moneyline to +105, and play their full game line to +103.
Miami Marlins vs. Chicago White Sox
Eury Perez vs. Dylan Cease
First Pitch: 8:10 p.m. ET
I have highlighted Dylan Cease's continued decline this season; his K-BB% has fallen from 22.3% in 2021 to 19.9% last season to 14% this season, primarily due to a decrease in strikeout rate — and his xERA has bounced around from 3.65 to 2.70, and now 4.54 the past three years.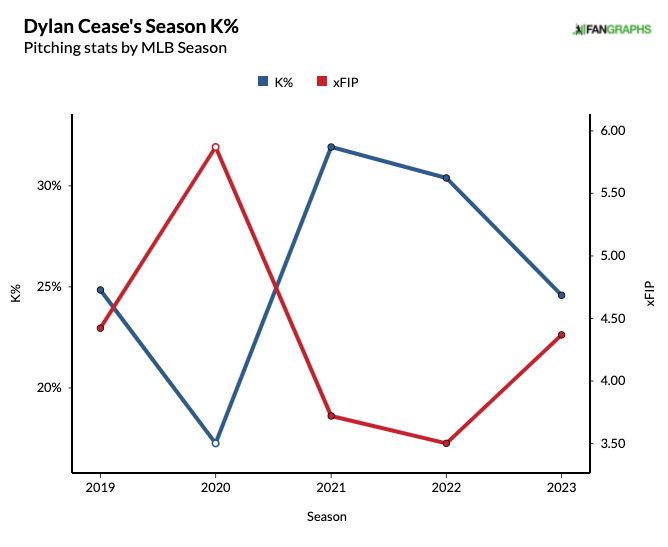 Cease's fastball velocity is down a tick, his whiff rate is down 4% year over year, and his Stuff+ has dropped from 124 to 112.
Rookie Eury Perez (107 Stuff+) isn't far behind in terms of pure Stuff, and that's enough to get him to an average Pitching+ figure, even with below-average command (92 Location+).
Projection systems don't see all that significant a difference between Cease (FIP range 3.81 to 4.38) and Perez (projected range 4.11 to 4.41) the rest of the way.
And the Marlins have advantages offensively (21st vs. 27th in wRC+ vs. righties), defensively (21st vs. 23rd in Defensive Runs Saved), and in the bullpen (4.01 vs. 4.39 xFIP).
Bet the Fish down to +125, and I hope you have a Happy Eury Day.
Cincinnati Reds vs. St. Louis Cardinals
Ben Lively vs. Jordan Montgomery
First Pitch: 8:15 p.m. ET
Although Clayton Kershaw shut out the Reds on Thursday, they'll get another crack in their superior split (17th vs. lefties, 23 vs. righties) against a left-handed starter on Friday. They can trot out nine right-handed or switch-hitting bats against Jordan Montgomery (career 3.23 xFIP vs. lefties, 4.08 vs. righties), and have an extra injection of life with Elly De La Cruz in the middle of their order.
Pitching models view both Montgomery (4.48 xERA, 98 Pitching+) and Ben Lively (3.72 xERA, 95 Pitching+) as below-average starters, but I see value on the Under 8.5 to -108 (projected 8.01).
Still, I prefer the Reds' moneyline to +157 (39% implied) — I projected them closer to 41% in this matchup. The NL Central is wide open for the taking, but the Reds must pull upsets in multiple divisional contests over the next four months.
Seattle Mariners vs. Los Angeles Angels
Luis Castillo vs. Shohei Ohtani
First Pitch: 9:38 p.m. ET
After permitting two runs in his first five starts and 28 innings (0.64 ERA, 3.69 xFIP), Ohtani has allowed 25 runs in his past seven outings (43 IP, 5.02 ERA, 3.05 xFIP).
I still view Ohtani (3.12 xERA; 2.68 last season) as a superior pitcher to Luis Castillo (3.44 xERA), and pitching models agree (104 vs. 102 Pitching+). But the Angels also have a significant offensive advantage, ranking sixth against righties (107 wRC+). At the same time, the Mariners are 18th (96 wRC+).
Back Ohtani on the F5 moneyline up to -137; I projected the Angels around 60% in the first half.
Additionally, bet Over 7 to -130 or Over 7.5 to -110 at Angel Stadium, even with a pair of aces on the mound. The wind is blowing out to right center field (9 mph at first pitch), and I set the total closer to 8.
Chicago Cubs vs. San Francisco Giants
Marcus Stroman vs. Anthony DeSclafani
First Pitch: 10:15 p.m. ET
I set Friday's total at Oracle Park at 7.84; bet Over 7 to -122, or Over 7.5 to -103.
Despite chilly temperatures in San Francisco (57 degrees at first pitch), the wind is blowing out (10-12 mph).
Both Anthony DeSclafani (4.51 xERA) and Marcus Stroman (3.69 xERA) permit more balls in play than your average pitcher, and both have overachieved (ERA's of 3.97 and 2.39, respectively) this season.
Stroman, in particular, has a .227 BABIP (career .296) and a 79% strand rate (career 72.8%), and pitching models thought he had better stuff last season (104 vs. 102 Stuff+; 100 Pitching+ in both seasons), when he posted a 3.50 ERA and a 3.94 xERA.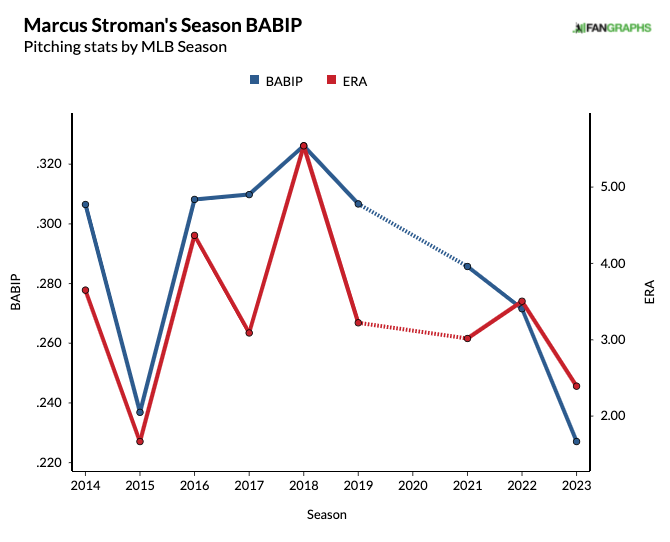 And it's admittedly odd to see a total of 7 with a below-average starter like DeSclafani (98 Pitching+) involved.
Zerillo's Bets for Friday, June 9
For additional bet notifications, follow me in the Action Network App. 
Boston Red Sox F5 (+136, 0.5u) at FanDuel (bet to +126)
Boston Red Sox (+155, 0.5u) at WynnBet (bet to +143)
Boston Red Sox / New York Yankees, Over 8 (-105, 0.5u) at FanDuel (bet to -117)
Chicago Cubs / San Francisco Giants, Over 7 (-120, 0.5u) at DraftKings (bet to -122 or 7.5, -103)
Cincinnati Reds (+165, 0.5u) at WynnBet (bet t0 +157)
Cincinnati Reds / St. Louis Cardinals, Under 8.5 (+100, 0.5u) at BetMGM (bet to -108)
Cleveland Guardians F5 (+106, 0.5u) at FanDuel (bet to +105)
Cleveland Guardians (+110, 0.5u) at WynnBet (bet to +103)
Detroit Tigers F5 (+125, 0.5u) at DraftKings (bet to +123)
Detroit Tigers (+130, 0.5u) at WynnBet (bet to +121)
Los Angeles Angels F5 (-130, 0.5u) at FanDuel (bet to -137)
Los Angeles Angels / Seattle Mariners, Over 7 (-120, 0.5u) at DraftKings (bet to -130 or 7.5, -110)
Los Angeles Dodgers F5 (+105, 0.5u) at DraftKings (bet to +104)
Miami Marlins (+130, 0.5u) at FanDuel (bet to +126)
Minnesota Twins (+120, 0.5u) at WynnBet (bet to +114)
Oakland Athletics (+210, 0.25u) at WynnBet (bet to +200)
Pittsburgh Pirates (+110, 0.5u) at WynnBet (bet to +105)
Pittsburgh Pirates / New York Mets, Over 9 (-110, 0.5u) at FanDuel bet to -110)
Texas Rangers (+160, 0.5u) at WynnBet (bet to +149
How would you rate this article?
This site contains commercial content. We may be compensated for the links provided on this page. The content on this page is for informational purposes only. Action Network makes no representation or warranty as to the accuracy of the information given or the outcome of any game or event.