MLB Player Breakdown: Does Dodgers OF James Outman Have NL Rookie of the Year Value?
Credit:
Pictured: James Outman. (Photo by Quinn Harris/Getty Images)
Once a week, I'll be diving deep into some of MLB's best, worst and most interesting characters. I'll break down their past, current and projected performance to see if there's any betting value surrounding that player or his team.
Today, we're looking at Dodgers rookie outfielder James Outman.
Background
It was Feb. 27 and the Dodgers were playing a Spring Training game against San Diego. L.A. was up 2-1 with two on when Luke Williams grounded into a routine double play.
Gavin Lux was on second base. As he was sprinting from second to third, he lost his balance and footing, ultimately landing awkwardly on his right side.
Lux tore his ACL and LCL, which sent shockwaves through the organization.
The Dodgers suffered as much roster turnover as any team in the league over the past few seasons. Just think of the names that have departed over the past two offseasons:
Corey Seager
Trea Turner
Justin Turner
Cody Bellinger
Joey Gallo
So, when the Dodgers' projected shortstop went down, they looked quite thin, especially in the infield.
But the Dodgers did what they do — they figured it out. They picked up Miguel Rojas, called up Miguel Vargas and asked Mookie Betts and Chris Taylor to play some infield.
Anyway, that chaos resulted in an outfield combination of Jason Heyward, Trayce Thompson and … James Outman.
Of course, Betts still plays right, Taylor still plays left and David Peralta has also helped.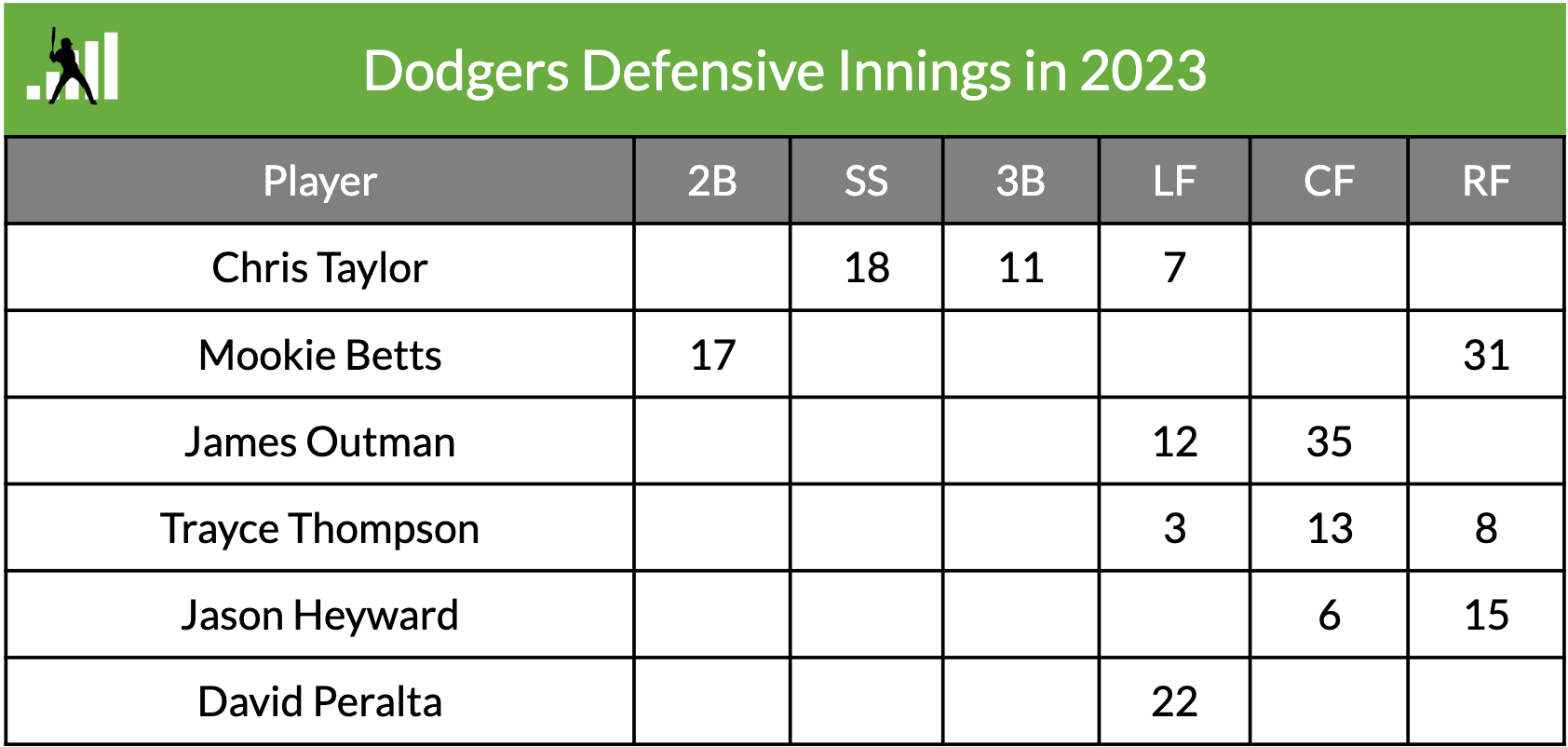 Yet, for all the fumbling and bumbling going on, L.A.'s new-look outfield is one of the best in the Majors. This coalition is slashing .249/.349/.506 with the fifth-best wRC+ (130) and fWAR (2.0) among outfields.
Dodgers player development, eh?
Outman is a 2018 seventh-round draft pick who played three years at Cal State Sacramento (Go Hornets!). He had a four-game cup of coffee in the Majors last season, but earned a full-time spot this season. Outman has done everything well. He's been an all-around clutch performer and a game-changer.
He might be the National League Rookie of the Year.
I mean, he did this on Thursday:
Outman's Tools
Outman is an athlete.
He's got plus speed (92nd percentile in sprint speed!), a plus arm and a solid feel for the outfield. He's mostly played center, but he has also chipped in 13 games on the corners and has been an excellent defender.
Just search "James Outman catch" on Twitter. I promise, you won't be disappointed.
Look at the jump, the speed and the full-stretch catch at the end.
That's an athlete.
Outman also has above-average raw power. He's got an uppercut swing that gets the ball in the air and launched 31 dingers between Double-A and Triple-A last season, while also producing a ground-ball rate under 30%.
Check out that swing, he's out here golfing baseballs.
It is pretty, though.
Outman also has a great feel for the strike zone. He's consistently hunting strikes while laying off balls. He's generated a walk rate of over 10% at every professional level (including MLB, where he's sitting at 13.7%).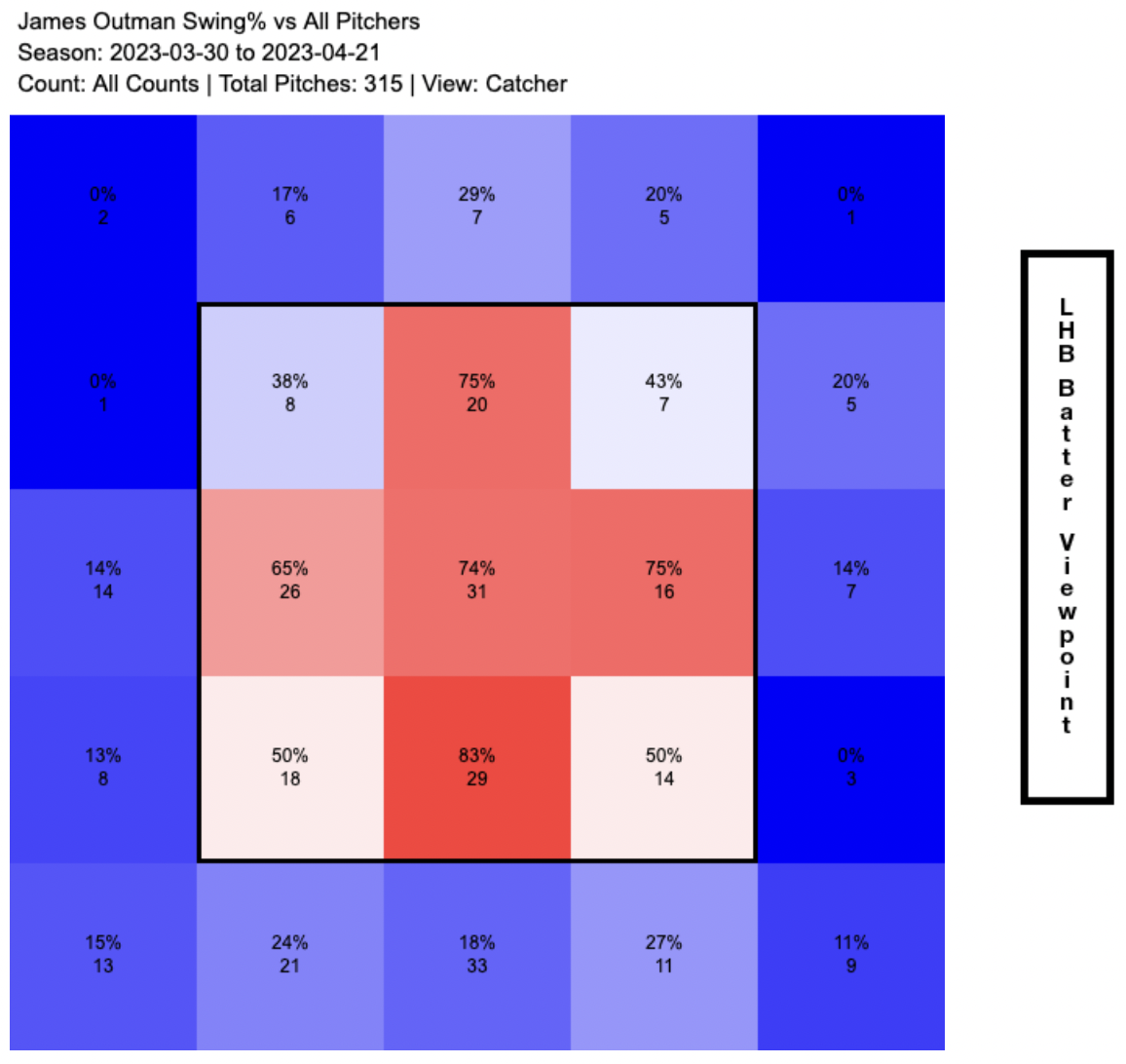 Outman hunts the middle of the zone and loves to utilize his uppercut swing to wreak havoc on low fastballs.
Ah, yes, fastballs. Outman's strike/ball recognition is great when he's getting a pitch coming straight at a spot, but his overall pitch recognition is lacking.
Specifically, Outman can't hit breaking balls, probably because they're not coming to the spot he's hunting. Outman has struggled against breaking balls since his time as a Hornet; he is 1-for-17 with 12 strikeouts against breaking balls in his Major League career.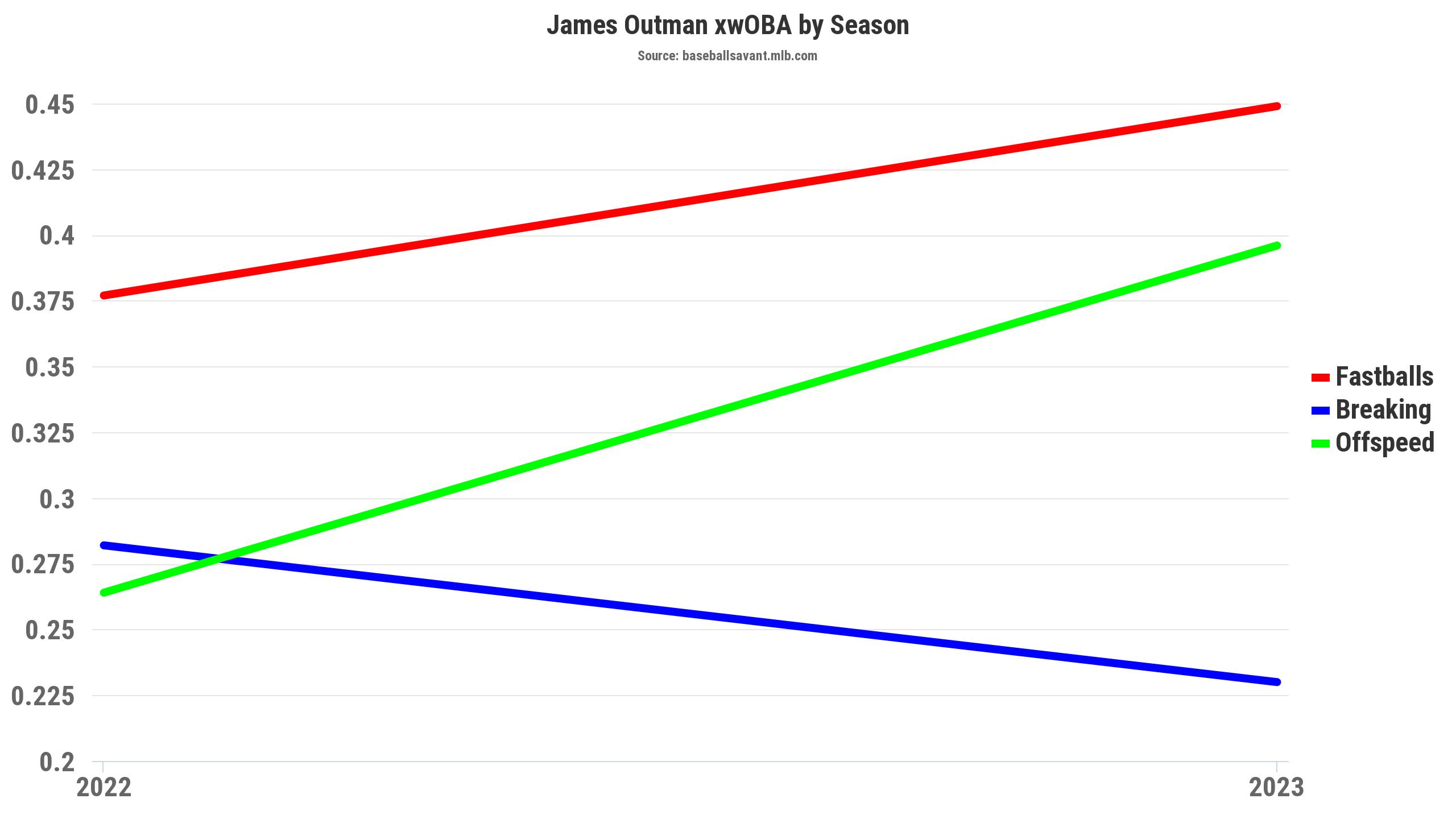 He posted a 28.9% whiff rate at Triple-A Oklahoma City and had a 38.9% whiff rate in four MLB games last season.
And when you whiff, you strike out. Outman has punched out at least 25% of the time at every level of professional ball, including over 30% this season. He's got a 52.3% strikeout rate against breaking balls this season.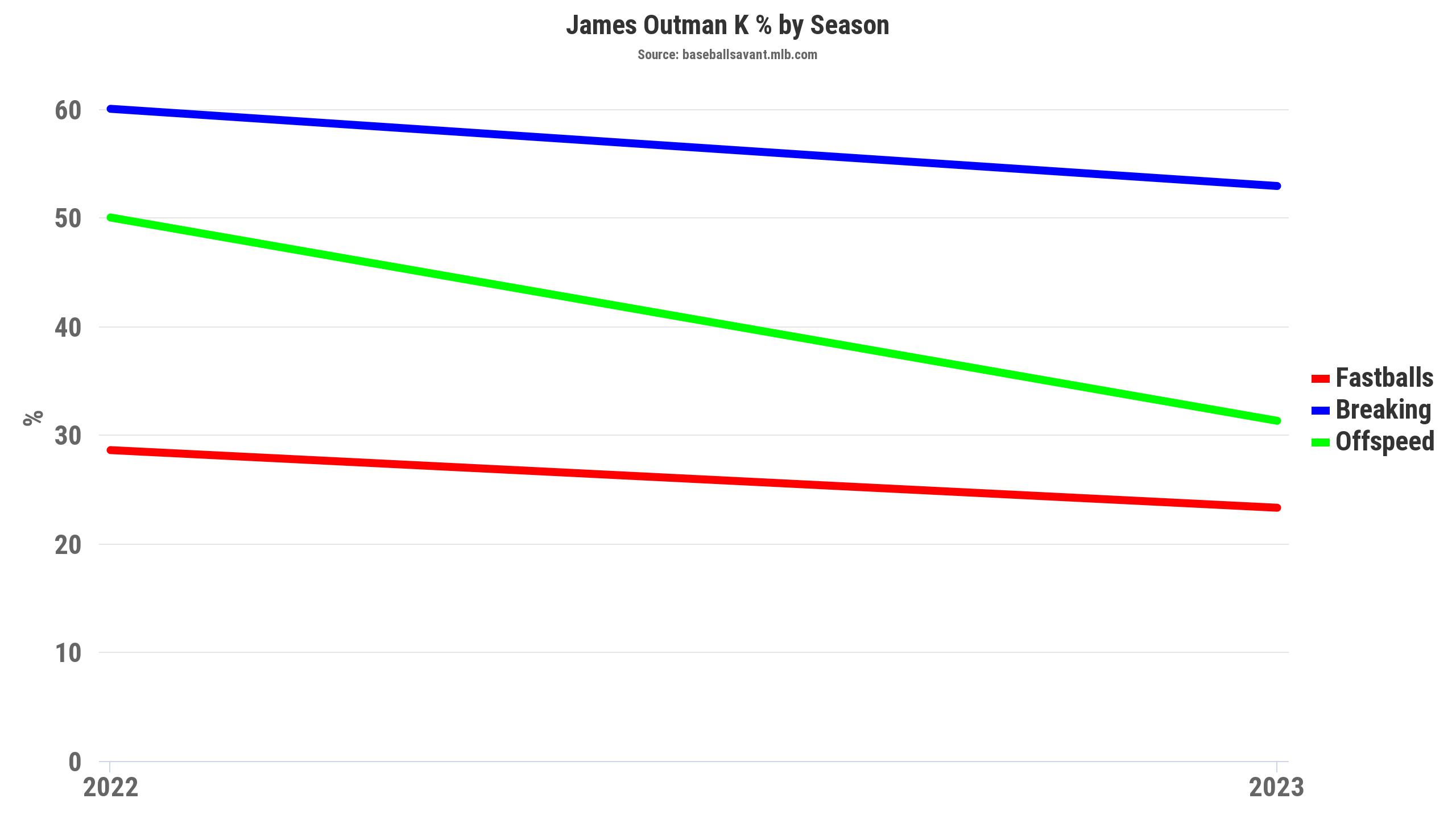 Part of this is simply that he swings so damn hard, likely trying to capitalize on his raw power. Still, pitch recognition will be key to unlocking the rest of Outman's potential.
Results, Projections
Outman dominated his 2022 cup of coffee, going 6-for-16 with two doubles and a dinger.
And here he is, doing it again. He's slashing .277/.382/.615 while ranking fifth in MLB in fWAR. He's also 13th among outfielders in Defensive Runs Saved and sixth in Outs Above Average.
He's been a difference-maker at the plate, in the field and on the base paths. And he's been phenomenal in the clutch.
His Statcast profile is near-immaculate.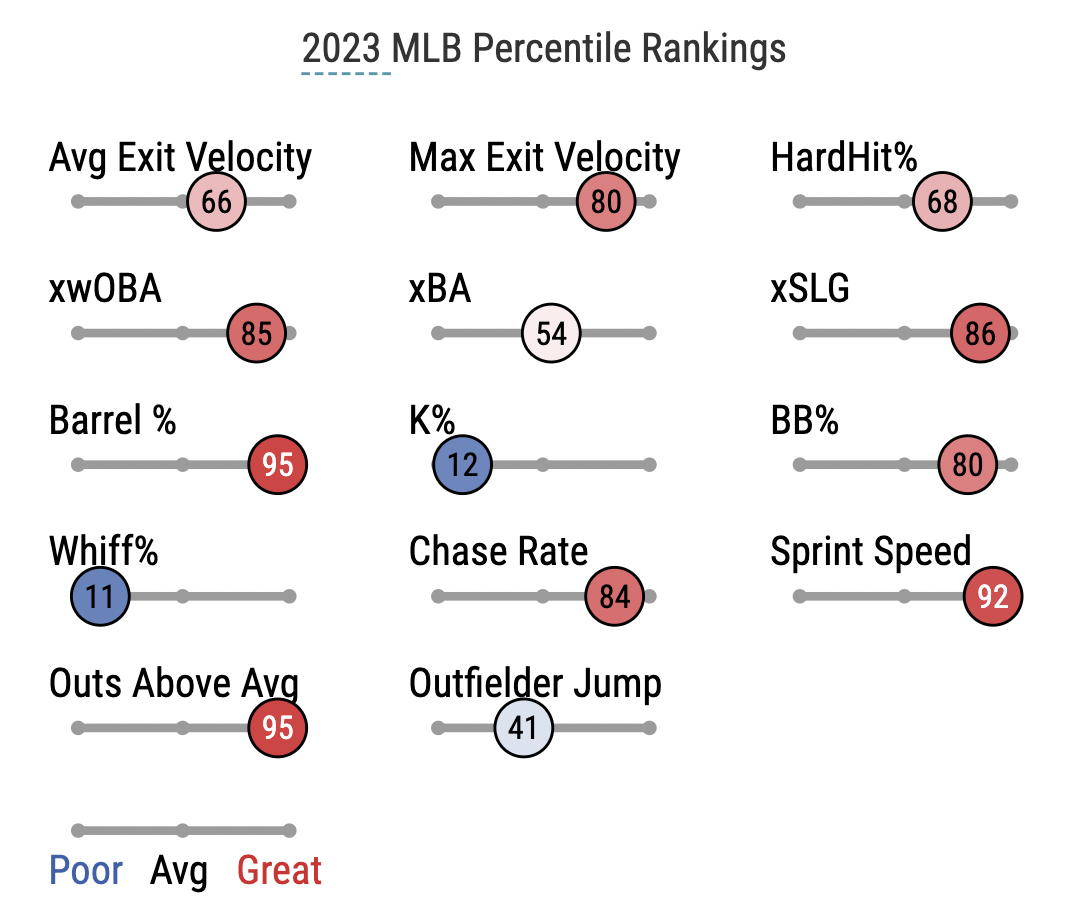 Dodgers player development, eh?
Now, is this all sustainable?
Outman's BABIP is high (.361), but he has enough raw power to keep producing at an above-average level if that drops. But what is his ceiling?
When scouting Outman, FanGraphs' Eric Longenhagen wrote:
"A lack of barrel control and in-zone vulnerability against letter-high fastballs means he will likely end up with a 40-grade hit tool at best."
So, most scouts are low on his hit tool. But how do we define his hit tool now?
Outman has been barreling the ball like crazy, despite this "lack of barrel control." He has a 22% barrel rate through 76 plate appearances and his 71.2% contact rate isn't bad, even if it's 5% below league average.
If this keeps up, Outman's rise to stardom could be legit.
However, opposing pitchers keep throwing him fastballs (54.6% this season), so it makes sense that he's crushing the ball. I imagine pitchers will adjust and start spinning the ball against Outman, which could cause his numbers to nosedive.
Again, pitch recognition is the key to Outman's future as he needs to whiff and strike out less.
Ultimately, Outman will always have a broad set of tools to fall back on. He'll always be a great defensive outfielder, so teams can use him as a platoon bat. And, he'll likely contribute enough walks and extra-base hits to compensate for a low batting average.
If Outman can stop whiffing at breaking balls, his ceiling is high. If he doesn't fix that, you'll still likely still see him sprinting around MLB outfields for a long time.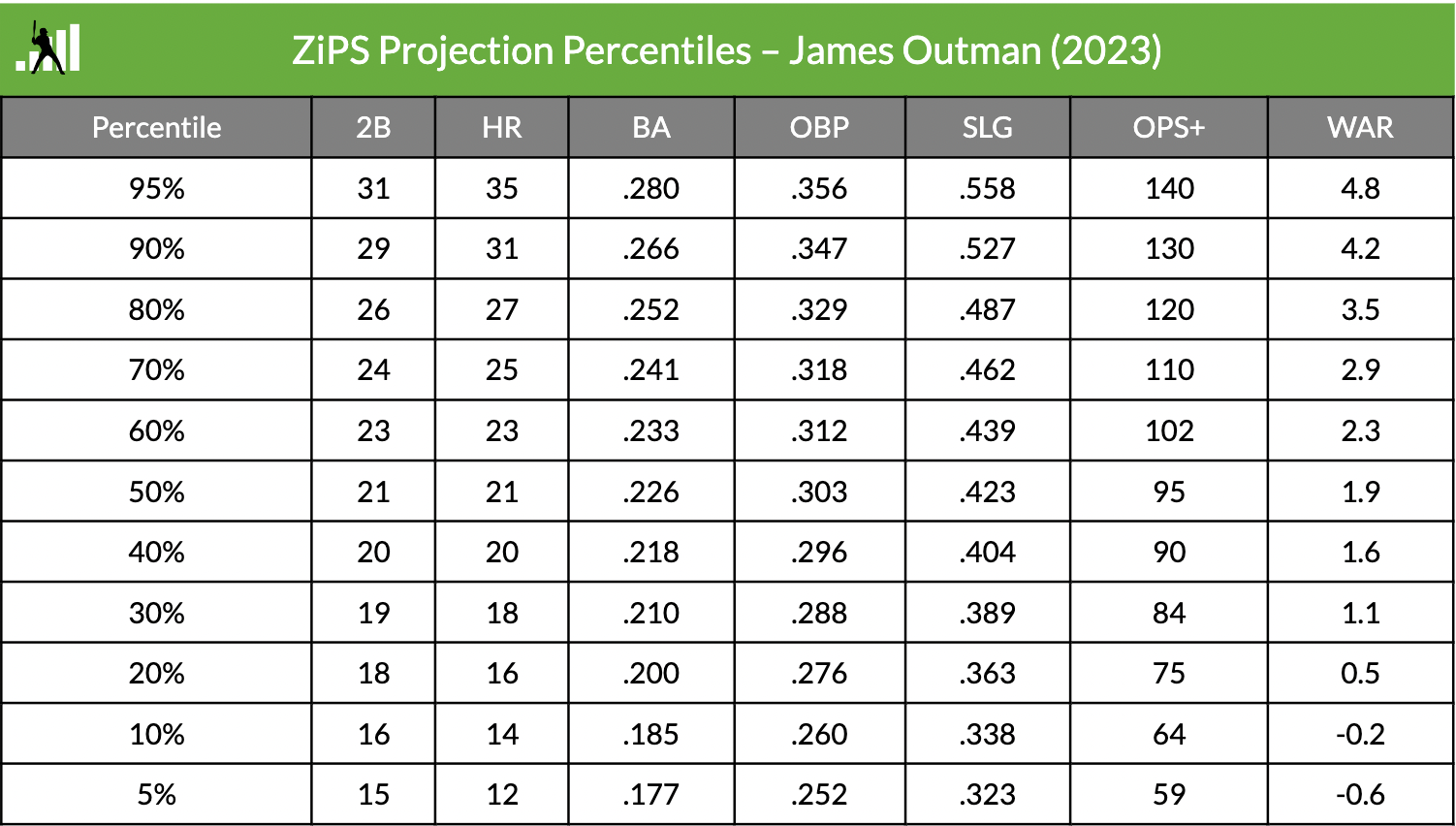 Value
Outman's National League Rookie of the Year odds have dropped from 50-to-1 to 5-to-1 during his two-week breakout.
Outman is even listed as a co-favorite for Rookie of the Year at FanDuel, tied with Corbin Carroll at +350.
Yeah, there's no value in those numbers. Outman will come back down to earth, although I'm questioning how far he could fall.
Outman's importance to the Dodgers cannot be denied. Beyond his skills, the Dodgers are simply short on playmakers. If they want to keep up in the NL West, they need breakout players like Outman.
This is a long-winded way of saying Outman's award narrative is there, but the price isn't, and the rest of his year could hinge on an unknown amount of breaking balls faced.
If you want to target Outman, wait until he slumps, which has to happen eventually. His number could drop considerably, and that's when you want to hop in on his odds.
If, in the second half, he's a key contributor to a Dodgers team that storms to an NL West title or a playoff appearance, he'll be the ROY.
There are plenty of unknowns surrounding Outman and we're at the top of his market value, but he has too many tools and too much talent to be ignored.
How would you rate this article?
This site contains commercial content. We may be compensated for the links provided on this page. The content on this page is for informational purposes only. Action Network makes no representation or warranty as to the accuracy of the information given or the outcome of any game or event.