MLB Playoff Odds, Picks & Predictions: Braves vs. Dodgers Game 7 (Sunday, October 18)
Credit:
Kelly Gavin/MLB Photos via Getty Images. Pictured: Ronald Acuna Jr.
Will the Atlanta Braves or the Los Angeles Dodgers advance to face the Tampa Bay Rays in the World Series?
The Dodgers are -139 favorites in Game 7 of the NLCS Sunday night, with the total set at 8. First pitch is slated for 8:15 p.m. ET.
Sean Zerillo breaks down Game 7 from a betting perspective and shares his picks below.
Braves vs. Dodgers Odds
| | |
| --- | --- |
| Braves Odds | +118 [Bet Now] |
| Dodgers Odds | -139 [Bet Now] |
| Over/Under | 8 (-103/-120) [Bet Now] |
| First Pitch | 8:15 p.m. ET |
| TV | FOX |
---
Odds as of Sunday at 11:50 a.m. ET and via DraftKings. Get up to a $1,000 sign-up bonus at DraftKings today or see more offers and reviews for the best online sportsbooks.
---
Model Projection (full projections here)
Braves probability: 47% (Fair odds of +113)
Dodgers probability: 53% (-113)
Projected total: 8.03
---
Dodgers fans — and bettors — have been on a wild ride over the past week.
Here is how their projected World Series odds have changed after each game in the NLCS against the Braves:
Tied 0-0: 40.5%
Down 1-0: 27.3%
Down 2-0: 15.7%
Down 2-1: 27%
Down 3-1: 12%
Down 3-2: 19%
Tied 3-3: 30.2%
I would make the Dodgers are a pretty significant favorite in a seven-game series against the Rays, but I would also make the Rays a comparable favorite against the Braves. So, here is how my current World Series odds shake out:
Essentially, tonight, the baseball gods will decide whether the Rays will be the underdog or the favorite in the 2020 World Series.
Let's take a closer look at NLCS Game 7 from a betting perspective.
---
Advanced Stats Glossary
FIP or Fielding Independent Pitching measures what a pitcher's ERA would look like if the pitcher experienced league-average defense and luck. xFIP is a regressed version of FIP that adjusts or "normalizes' the home run component based on park factors.

wRC+ or Weighted Runs Created Plus takes the statistic Runs Created and adjusts that number to account for critical external factors — like ballpark or era. It's adjusted, so a wRC+ of 100 is league average, and 150 would be 50 percent above league average.
wOBA or Weighted On-Base Average is a catch-all hitting metric with more predictive value than on-base percentage. An average MLB hitter can be expected to post a .320 wOBA. xwOBA is a regressed version of wOBA that accounts for variables like park factors.
---
Projected Starters
Ian Anderson (3-2, 1.95 ERA) vs. TBD
I previewed Anderson and his Game 2 opponent, Tony Gonsolin, earlier in this series, and Julio Urias prior to Game 3.
Anderson will start for the Braves, and I'm expecting a bulk combination of Gonsolin and Urias from the Dodgers.
Allow me to recap my main points on all three pitchers:
Ian Anderson (Braves)
No. 3 overall pick in the 2016 draft — part of Atlanta's stable of high-pedigree arms, and his star turn is far from shocking
Struck out 11.4 batters per nine innings between Double-A and Triple-A last season, matching his strikeout rate in the bigs in 2020
Top 5% of pitchers with a 2.57 expected ERA (xERA) in 2020 and ranked in the top 7% for expected batting average against (.184)
Three-pitch mix including a four-seam fastball (48%, 94.1 mph), changeup (31%, 87.4 mph, and curveball (22%, 80.1 mph)
Changeup development has been the biggest driver for his quick ascent by allowing the right-handed Anderson to tame lefties (.201 wOBA) —who have yet to record an extra-base hit against him (including the playoffs).
Unflappable this postseason: (15.2 IP, 6 H, 8 BB, 22 K)
Tony Gonsolin (Dodgers)
Two-way college star and ninth-round pick, increased his velocity from low 90s to triple-digits when Dodgers fixed his mechanics in first season of pro ball. Gives off slight Jacob deGrom vibes at times with his ability to throw strikes, athletic frame, and smooth/repeatable delivery
Ranked amongst the top-five starters in walk rate (4%) in 2020 (Kenta Maeda/Zack Greinke territory)
High-spin (92nd percentile), plus-velocity (81st percentile) fastball (47%, 95.1 mph) paired with a splitter (30%, 85.1 mph), slider (17%, 87.5 mph), and curveball (6%, 81.7 mph)
Roughed up by Atlanta in this series (4.1 IP, 3 H, 5 R, 3 BB, 7 K), but he was perfect through three innings in Game 2 (with four strikeouts), and I would expect him to turn over the Braves' lineup once in Game 7.
Julio Urias (Dodgers)
Debuted at age 19, and already has 15 games of postseason pitching experience (2 GS, 28.2 IP, 3.14 ERA, 0.977 WHIP, 8 BB, 26 K)
Ranked in the 90th percentile or better amongst pitchers in hard-hit rate allowed over the past two seasons
Shows reverse splits, meaning he has been more effective against right-handed hitters (career .281 wOBA) than lefties (.308).
Tweaked his pitch mix in 2020, throwing fewer sliders (-11.8% vs. 2019) and fastballs in exchange for more curveballs (+18.8%) — at varied speeds and spots — which has served to balance his profile
High-spin fastball and curveball (both 89th percentile) makes that combination vicious moving forward:
The Bullpens
In 2020, the Braves' bullpen ranked sixth in FIP (3.91), 13th in xFIP (4.41), and 13th in K-BB% (15.1%). By the same metrics, the Dodgers ranked second (3.45), second (3.88), and fourth (17.2%).
Atlanta will try to push Anderson until he gets into serious trouble — and I would expect the hook to come significantly quicker after he rolls through the Dodgers' lineup one time.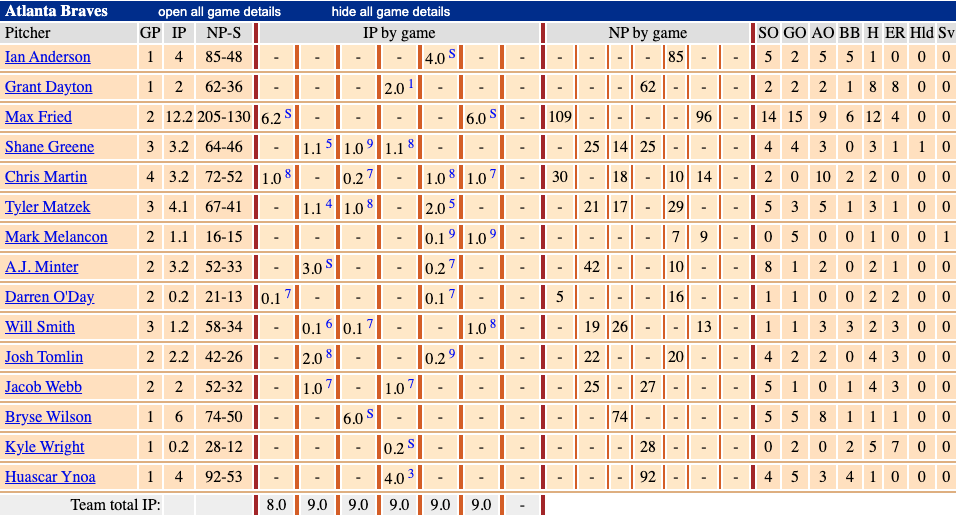 Atlanta has relied upon Chris Martin and Tyler Matzek to get it out of big spots — either one would be making their third appearance in four days and fourth in six days.
Both Grant Dayton and Huascar Ynoa should be available for multiple innings, and the same goes for Kyle Wright, who was lit up in the first inning of Game 3.
Offseason signing Will Smith has been extremely shaky in his previous two appearances and blew Game 5 with a total lack of command.
The keys tonight are A.J. Minter — who was dominant in his Game 5 appearance (3 IP, 1 H, 0 BB, 7 K), tossing a career-high in innings on 42 pitches — and closer Mark Melancon, who hasn't worked since Game 2 (and has thrown 16 total pitches in the series). He has put in more work shagging flies in the Braves' bullpen.
In theory, Melancon should be good for two innings tonight,  but he hasn't gotten more than three outs since being traded to Atlanta.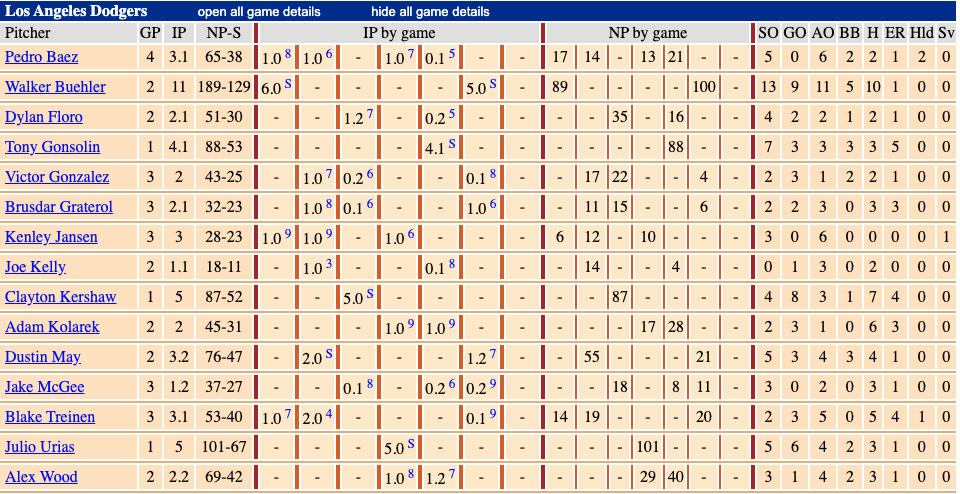 As I mentioned in the previous section, I'm expecting a combination of Gonsolin and Urias to turn over the lineup at least one time each.
From there, it's up to Dave Roberts to piece things together, but I suspect that he doesn't want to use Kenley Jansen for the third consecutive day or fourth time in five days. You keep rolling the Kenley dice, and eventually, the Braves are going to hit on the "don't pass" line.
Pedro Baez has also worked a ton in this series, and five appearances in six days is a Tommy John surgery waiting to happen.
Does Clayton Kershaw fire an inning on two days of rest? I have to think he might.
Overall, Kershaw's most recent postseason relief appearances are better than most remember.
2016 NLDS, Game 5 (vs. WSH): 0.2, 1 K (SV)
2017 World Series, Game 7 (vs. HOU): 4 IP. 2 H, 2 BB, 4 K
2018 NLCS, Game 7 (vs. MIL): 1 IP, 2 K
2019 NLDS, Game 5 (vs. WSH): 0.1 IP, 2 H, 2 R, 0 BB, 1 K (L)
Kershaw's other four postseason relief appearances came back in 2008-09 — his first two seasons in the bigs when he hadn't yet posted a WHIP below 1.22 or morphed into his dominant, Cy Young-winning ways.
Fielding
Los Angeles has been the far superior defensive team in 2020, with 29 Defensive Runs Saved (DRS), compared to -8 for the Braves.
The Dodgers finished as the top defensive team last season, and they have ranked as a top-10 unit in each season dating back to 2016.
They are led in the outfield by two-way star Mookie Betts (+10 DRS) and reigning MVP Cody Bellinger (+5), with Kike Hernandez (+9) and Chris Taylor (+5) providing ample versatility.
The Dodgers racked up 18 DRS at second base, between Hernandez (+8), Gavin Lux (+6), Taylor (+2), and Max Muncy (+2).
The Braves were buoyed by Dansby Swanson (+9) — the best defensive shortstop in 2020 — Max Fried (+5), who was the best defensive pitcher in 2020 and Ronald Acuna Jr. (+3). But as a team, they severely underperformed relative to the 2019 season (+41 DRS).
He 9 DRS in center field since making his big league debut in 2018, placing him ahead of George Sprinter (+7) in 300 fewer innings — and placing him on par with teammate and three-time Gold Glover Ender Inciarte (+15 in nearly twice as many innings).
Projected Lineups
Data via FantasyLabs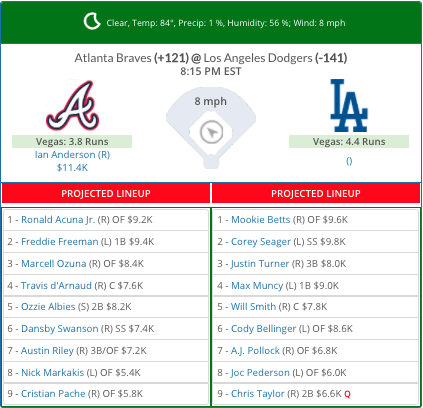 Stadium, Umpire and, Weather Report

All the ballpark data we have for the newly-opened Globe Life Park is based on a very small number of games (39), but it's nevertheless interesting.
I have seen a lot of balls die on the warning track, particularly with the roof closed, and the data seems to bear out that assumption: ESPN gave Globe Life an 80% park factor in 2020, meaning the offensive environment was roughly 20% below league average.
The Rangers played 30 regular-season games at Globe Life Park, and the roof was closed in 22 (73%) of those contests.
Unders went 11-9-2 (55%) with the roof closed with an average margin of victory of 0.84 runs. But 2-5-1 with the roof open, it lost by an average margin of 3.37 runs.
The roof has remained open in Arlington throughout the playoffs, and unders have gone just 3-6, putting the over at 11-5-1 (68.7%), by an average margin of 2.65 runs when the roof stays open in Arlington.
We don't have official confirmation on a Game 7 plate umpire, but Stat Fox suggests that Pat Hoberg will get the assignment — and we couldn't ask for a better choice as fans.
Hoberg went unconscious in Game 1 of this series, and drew universal praise from the internet for his sublime performance:
As you might imagine, Hoberg's career over/under split is as neutral as it gets — 89-88-9 (50.3%) to the over dating back to his 2014 debut.
Projected Odds & Favorite Bets
I projected the Dodgers as -113 favorites (implied 53%) in this game, and I set the total at 8.02 runs. Therefore, I don't currently see actionable value on either side of the full game moneyline or total relative to listed odds: 
However, I do show a 1.4% edge on the Braves F5 moneyline at +110 (implied 47.6%), relative to my projection at 49%. But I would wait for  +115 (implied 46.5%) or better to play Anderson and the Braves F5 at a 2.5% edge.
I would need +125 or better to consider playing the Braves full game moneyline at a similar edge.
If you took my recommendation and placed a series wager on Atlanta from prior to Game 1 (+185 or better), you don't need to dilute your average odds and add more to your position.
The PICK: Atlanta Braves F5 Moneyline (play to +115) / Braves Moneyline (play to +125)
[Bet the Braves now at DraftKings and get a $1,000 sign-up bonus.]
How would you rate this article?