How MLB.tv Has Let Down Baseball Bettors This Season
Credit:
Mark Curry, USA Today Sports
Before this season, MLB.tv offered users the opportunity to watch four games at one time.
For unknown reasons, the powers that be took away that option for the 2018 season.
Baseball is a volume sport, and MLB has let down its betting population by getting rid of quad-view.
I come not to praise MLB.tv, but to bury it.
I moved to New York 18 months ago. The first year I lived here, my roommates were two strangers I met through a mutual friend. We didn't have a lot in common — they didn't like the shows I liked, or the sports I liked, and they especially did not like the idea of gambling on those sports.
The first time I told them I had action on a game (Under 160.5 NC State-Duke), one of them scoffed, the other left the room and they both laughed when the over hit.
Download The Action Network App to get real-time MLB odds and track all of your baseball bets.
It means that I spent a lot of time alone with my thoughts that first year, which is fine; "alone with my thoughts" is really just another way of saying "alone with the voice in my head that tells me to bet the First 5 over," and that guy hits at like 58%.
Those roommates moved out two weeks before I did, taking with them the entire contents of the apartment — all the cutlery, couches and most importantly, televisions.
MLB.tv and I got well-acquainted that summer. I would get home from my Real Job Making Real Money and head straight for my fire escape to pull up MLB.tv for another evening of degeneracy.
My friends from college all lived dozens of blocks to the north, but that mattered not — my real friend was MLB.tv's Quad View, the video-player mode that allowed fans to watch up to four games at once.
It was magic, pure magic, especially for a lonely millennial in a big, scary city. Some nights I would have action in every time zone. Those evenings were electric — grab a slice or two from the pizza joint across the street, head to the fire escape, pull out the laptop and sit there for hours on end.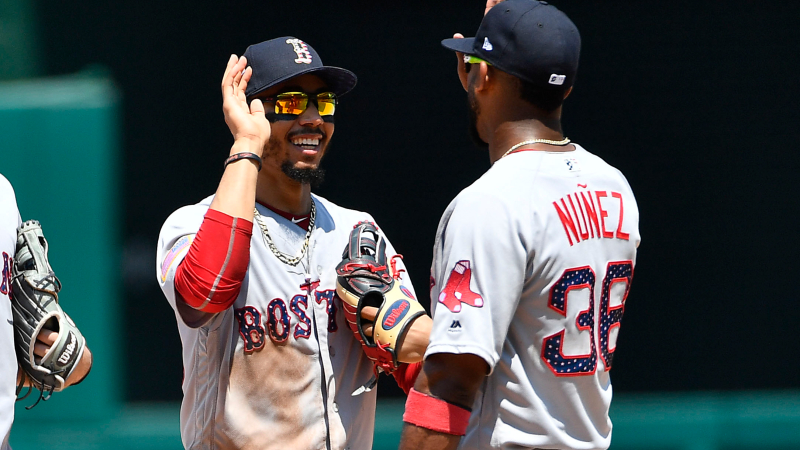 Brad Mills-USA TODAY Sports. Pictured: Mookie Betts and Eduardo Nunez
MLB Quad View was an experience unparalleled. Besides the randomness inherent in the sport, my main gripe betting baseball is how boring it is to watch — a man can only take so much stop-start action before shutting down the stream and missing a ninth inning moose for the umpteenth time.
But Quad View solved every problem that comes with gambling on regular-season baseball. Rangers-Twins in a bullpen break? No worries, Braves-Marlins sure isn't. The over just lost in Yankees-Red Sox? Make it back on the under in Angels-A's. I would spend hours staring at the pixels on my laptop, eyes darting from game to game as I furiously worked out how much I was up or (usually) down.
So you can imagine my disappointment when Opening Day rolled around this year and Quad View was no more. While MLB.tv had been trumpeting the speed and ease of its new HTML-based video player, it had quietly killed my favorite streaming option. And it seems no one had noticed!
Frantic Googling led me only to a snippet of an article confirming the service was no longer offered and a thread on /r/baseball of like-minded folks griping about the change. There was no insider info on how to access the old options, no secret switch to flip. Just a lot of confused degenerates and a promise from the MLB.tv Twitter handle that the feature "would return at a later date."
Sign up for The Action Network's daily newsletter to the best sports betting content delivered into your inbox each morning.
There's been a hole in my heart and in my gambling life these past few months. No amount of Wilmer Flores crying gifs tweeted at @MLBTV has brought my beloved Quad View back from the dead.
Maybe nothing will ever fill the second (and third and fourth) screen-shaped void inside me. Maybe that's for the best. I've gotten into Canadian Football this year, which is a thing. I'm pretty sure my blood pressure has gone down now that I'm not watching every tanking team's bullpen moose my under bets.
Still, my heart yearns for the ghost of gambling past — for the ability to watch four different games in four different ballparks in four different time zones at the same time.
Et tu, Quad View?