MLB Odds, Preview, Prediction for Nationals vs. Padres: Who Wins Max Scherzer vs. Yu Darvish Duel? (Thursday, July 8)
Credit:
Getty Images. Pictured: Max Scherzer and Yu Darvish
The Nationals and Padres round out their four-game series on Thursday night at Petco Park.
Two of baseball's best pictures take the mound with Max Scherzer and Yu Darvish facing off.
Michael Arinze explains below which team has the edge with their ace on the bump.
Nationals vs. Padres Odds
Nationals Odds
+123
Padres Odds
-148
Over/Under
7 (-114 / -107)
Time
9:10 p.m. ET
TV
MLB.TV
Odds as of Thursday morning and via DraftKings.
The Washington Nationals will leave San Diego with no worse than a series split after their 15-5 victory on Wednesday night. It's been a nice bounce-back for the Nationals after being swept at home in their previous series against the Dodgers.
Although Washington is seven games behind in the wild card race, it's only four games out of first place in the division.
It wasn't that long ago that Washington was regarded as a possible seller before the trade deadline. The next two to three weeks will be key in determining the veracity of that statement.
One of the names mentioned as a possible trade chip is Max Scherzer. He'll make his 17th start on Thursday when he faces another ace in San Diego's Yu Darvish. San Diego has clearly been the better of the two teams this season, but Washington has won 16 of its last 24 games to climb into second place in the National League East.
This matchup features two aces going toe to toe, which for me, makes this line much closer than the current number suggests. I'll expand on that and much more to get you set for this series finale.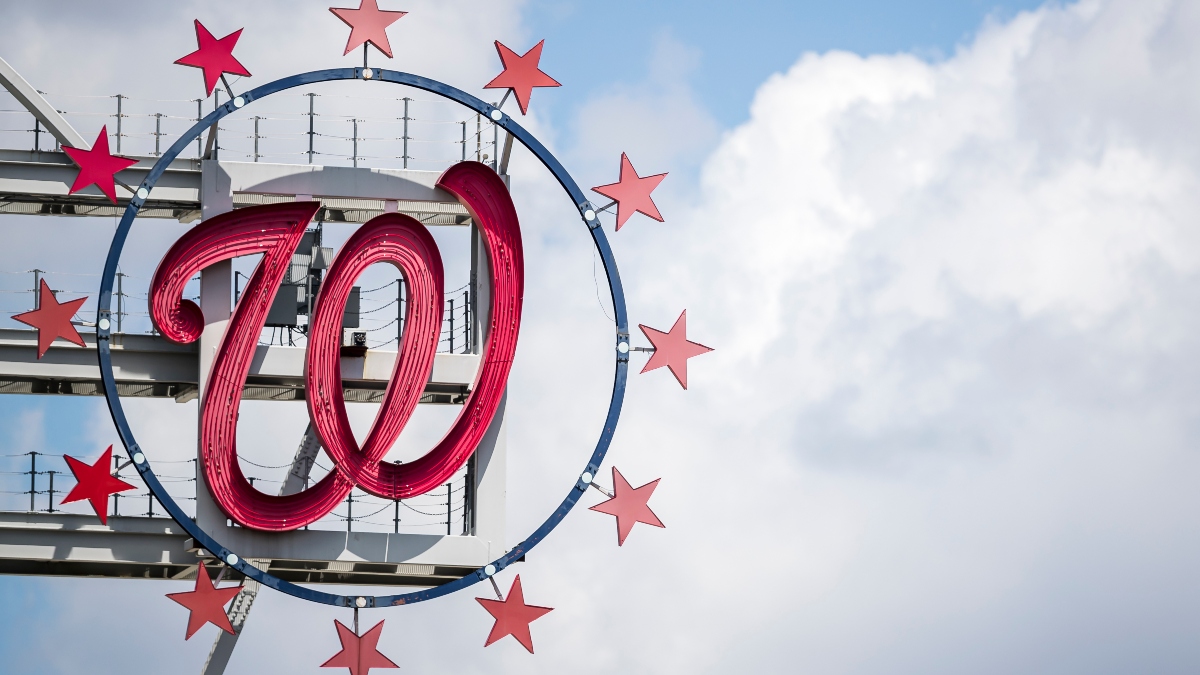 How to Bet the Nats in DC (& get $100 FREE!)


Learn how to bet in the nation's capital

Bet $20 on the Nats, get $100 free
Scherzer Will Be A Test For Padres' Patience
There's no question that Scherzer has been one of the elite pitchers of his generation. In his 14th season, he's still putting up quality numbers, and everyone in the Nationals clubhouse was shocked to learn he was an All-Star snub this year. All Scherzer's done is post a career-best 2.10 ERA through 16 starts. Keep in mind that this is a three-time Cy Young Award winner we're talking about. That omission should be enough to bring the Incredible Hulk out of Mad Max on the mound tonight.
But forget the gimmicks or any extra motivation for this game. What you know from Scherzer is that he's going to take the ball every fifth day and battle. He'll need to be at his best against a Padres team ranked third in fewest swings outside the zone (27.2%) and fourth with a 10.2% walk rate.
That's part of where the intrigue lies in this matchup because Scherzer has a 2.0 BB/9 ratio and generates swings on 33.4% of his pitches outside the zone.
The Padres' patience at the plate is key because it then forces opposing pitchers back into the strike zone, where they have an 86% contact rate, good for fourth in all of baseball. And by making pitchers more predictable, it's no surprise that San Diego is 11.7 runs above average against the fastball this season. However, if Scherzer can stay ahead in the count, his five-pitch arsenal could prove to be troublesome for a Padres lineup that has struggled against secondary pitches like a cutter, changeup and a slider.
San Diego is a combined 11.1 runs below average against those three pitches, while Scherzer is 12.1 runs above average when he throws them. In fact, Scherzer has used those three pitches 43% of the time this year. Keeping the ball in the park will also be key to his success in this outing. The Padres' lineup only has a .229 average against him in 109 at-bats, but it has a .183 ISO with four home runs.
Darvish Is An All-Star … Unlike His Counterpart
If Darvish finds Scherzer gazing at him for long periods of time, it could be because the San Diego right-hander was one of the pitchers selected ahead of him for the All-Star Game. However, what's striking is that Darvish's numbers closely resemble that of Scherzer's despite being second-best.
Both pitchers have seven wins on the season. Scherzer has one more loss (four), but his 2.10 ERA is lower than Darvish's at 2.65. Scherzer's 12.12 K/9 ratio is also higher than Darvish's at 10.85.
I'd have to think there's been a lot of talk about both pitchers going into this matchup, and you have to wonder if Darvish tries to overcompensate tonight to justify his selection. Darvish's advanced numbers point to a slight regression, evidenced by his 2.87 xERA and 3.20 FIP. His 2.12 BB/9 ratio is also very comparable to that of Scherzer's.
It's really tough to try to nitpick pitchers with this type of quality and efficiency. But if I had to pick out one potential weakness of Darvish's, I'd have to say that he doesn't have too many pitches in his arsenal that are as effective as his slider (15.7 runs above average). It's his second-most thrown pitch at 21.7%, and the Nationals are just 0.8 runs below average against the pitch.
What's interesting is that since 2019, Darvish has thrown his cutter more than any other pitch in his arsenal. And for the last two seasons, the four-seamer is his third-most used pitch at 16.95%. This is the definition of pitching backward, and his unpredictability has become an even bigger part of his success once he was able to cut down on his walks.
Like San Diego, Washington will force Darvish to pitch in the strike zone. The Nationals are sixth in swinging at pitches outside the zone (28.6%) and eighth with a 22.7% strikeout rate.
Washingon's lineup has also had some success against Darvish when you consider its 312/.340/.438 line in 48 at-bats. That's certainly a good sign given how the Nationals have been swinging the bat of late.
Nationals-Padres Pick
It's not often you'll find Scherzer listed as an underdog, and it's a spot I'm not willing to pass up. Based on our analysis of both pitchers, I think we have to give the edge to Scherzer, and I think the motivation will also be on his side. However, as a team, the Padres will certainly be looking to rebound from their 15-5 drubbing on Wednesday, but Scherzer's not the type of pitcher to ever give in.
I ran my numbers for this game, and I have Washington as a +108 underdog. Unfortunately, I'm a bit bearish when it comes to its bullpen with a 4.13 ERA compared to the Padres, who lead all of baseball with a 2.91 ERA.
As a result, I'm much more willing to play the Nationals in the first five innings. Scherzer is 3-0-3 in his last six games in this spot, and I like this resurging Nationals offense to be able to get to Darvish in the early frames.
Pick: Nationals F5 ML (+124)
How would you rate this article?
This site contains commercial content. We may be compensated for the links provided on this page. The content on this page is for informational purposes only. Action Network makes no representation or warranty as to the accuracy of the information given or the outcome of any game or event.