Ninth Inning Bullpen Collapse In Philly Mooses Under Bettors
Credit:
Bill Streicher-USA TODAY Sports. Colorado Rockies second baseman DJ LeMahieu (9) hits a single during the first inning against the Philadelphia Phillies at Citizens Bank Park.
The Highlights
With Aaron Nola and Jon Gray pitching, the total of 7 in Philadelphia was the lowest of the night.
The Phillies led 5-1 entering the top of the ninth, but Luis Garcia allowed three earned runs without getting an out.
---
You'd imagine the under would have a pretty good chance in a baseball game where both starting pitchers recorded 10 strikeouts. Though that's probably the case most of the time — not tonight.
After the Phillies scored three times in the first, it looked like we might not get a Nola-Gray pitchers duel. Like, at all. However, Gray settled down and the teams combined for just four runs through six innings.
The Rockies tried to rally with a run in the 7th, but the Phillies pen got out of the jam. After Odubel Herrera reached on a strikeout, the Phillies would get that run back. They added a insurance in the 8th on a 2-out RBI single, but that was the extent of the damage. The Phillies took a 5-1 lead into the 9th inning, and under bettors had a 1-run cushion to work with.
Enter Luis Garcia. Though Luis has been a relatively dependable arm in his six years in Philly, he was about as dependable as Dish Network during a blizzard tonight.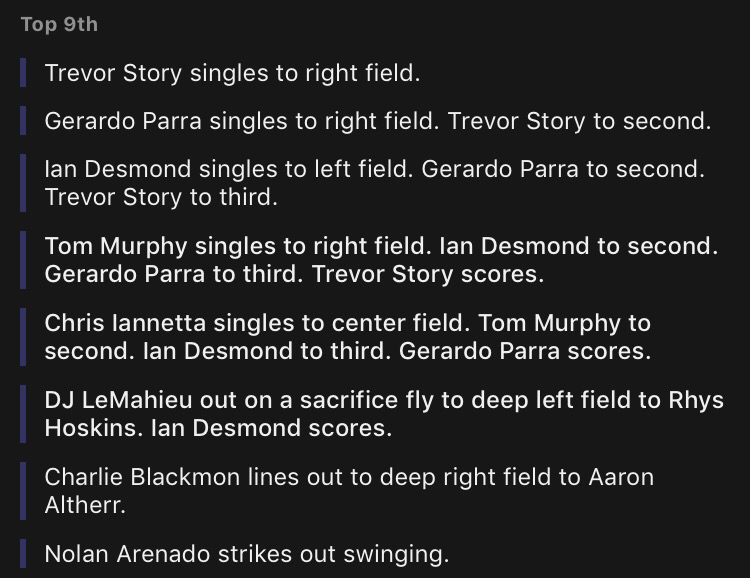 He allowed four straight hits before getting pulled for Seranthony Dominguez. Under bettors could still push if Dominguez could somehow get out of the no-out bases-loaded jam, but the chances of that happening were slim to none. The under's goose was cooked.
You might even call the ninth inning a moose for Rockies bettors, too. DJ Lemahieu probably would've had given them the lead on a grand slam — if not for the poor hitting conditions. Also, Charlie Blackmon's line shot to deep right could have easily gone for extra bases, too. Nolan Arenado's strikeout to end the game came on a highly questionable check-swing call that the home plate umpire made without deferring to the ump at first.
The moral of the story: betting on baseball is an emotional roller coaster that is not advisable to take part in if you want to live to an old age.