Red Sox vs Twins Prediction Today | MLB Odds, Picks for Thursday, June 22
Credit:
Adam Bettcher/Getty Images. Pictured: Joe Ryan
Red Sox vs. Twins Odds
Red Sox Odds
Moneyline
Total
Run Line

+142

9

-102 / -120

+1.5

-144
Twins Odds
Moneyline
Total
Run Line
-168

9

-102 / -120

-1.5

+120

The Red Sox are 39-36 and last in the AL East.
The Twins are 37-38 and first in the AL Central.
Baseball is a funny game.
After the Red Sox pummeled the Twins in the first two games of this four-game set, winning both by a combined score of 13-4, the Twins responded by walking off a chaotic Wednesday night game in the 10th inning.
Can the Twins salvage a series split on Thursday afternoon?
---
The Red Sox are the highest-variance team in the sport. It's very hard to figure them out.
For the first month of the season, the Red Sox were an offense-first, dangerous lineup with pathetic pitching. Sixty percent of their first 60 games went Over. Corey Kluber was trotting out to the mound every five days.
Recently, the Red Sox went in a slump, losing 21 of 35 games with a 96 wRC+. During that time, the Sox dropped sets to the:
Cardinals (sweep)
Angels (sweep)
Reds
Rays (sweep)
Guardians
Rockies
However, the Red Sox pitching staff turned it around in the middle of that rough stretch.
The Red Sox own MLB's lowest starting pitcher ERA since May 17 (3.39), a span of 31 games.

Starter rankings since 5/17:

3.39 ERA – 1st
3.62 FIP – 2nd (1st in AL)
1.16 WHIP – 3rd (1st in AL)
.228 AVG – 4th (2nd in AL)
3.52 SO/BB – 5th (4th in AL)
0.98 HR/9.0 IP – 5th (2nd in AL)

— J.P. Long (@SoxNotes) June 21, 2023
When the Red Sox are hitting, they aren't pitching, and vice versa.
What actually happened was that Masataka Yoshida and Alex Verdugo regressed slightly from insanely hot starts, then Chris Sale and James Paxton rebounded, and then Tanner Houck and Brayan Bello broke out.
Recently, however, the Sox have started to put everything together.
Since their 10-3 loss to Cleveland, the Red Sox own MLB's lowest ERA (2.58) and the AL's highest winning percentage (.727, 8-3).

Their AL rankings in that span:

6.0 runs per game – 1st
.365 OBP – 1st
17.7 SO% – 1st
.293 AVG – 2nd
.484 SLG – 2nd
.849 OPS – 2nd
130 wRC+ – 2nd

— J.P. Long (@SoxNotes) June 21, 2023
The recent winning has been fun. Justin Turner is putting together one of the better stretches of his career, and Triston Casas has cemented himself as the franchise's future first baseman.
Projecting the Sox going forward is tough.
The Houck and Sale injuries are brutal, and we're unsure when either guy will return. Meanwhile, Paxton looks like an ideal deadline trade piece.
The defense is horrendous. The Sox are fifth-to-last in Defensive Runs Saved and dead last in Outs Above Average.
The eye test backs up that assertion:
And can someone explain to me why Kiké Hernandez keeps getting up-the-middle infield reps? Anyone but him.
This has been a consistent theme for Boston over the past few years, which is frustrating. You can't keep giving away runs in the field and expect to compete in the loaded AL East, especially when the Rays and Yankees trot out elite defenses yearly.

Image credit: @BallParkBuzz
However, this is the scrappiest lineup in baseball. Yoshida's plate discipline has trickled down throughout the lineup, wherein every Red Sox hitter consistently posts solid at-bats. The Sox are ninth in pitches per plate appearance seen (3.94) and last in first-pitch swing (25.3%).
This lineup will grind pitchers down, and they have enough power to be a top-10 lineup through September, as long as the batted balls are dropping.
Trevor Story should eventually return, providing a huge boost to the lineup and the infield defense. Both would be welcome additions.
The problem with the Red Sox is that you get infatuated with what they could be. Imagine if Story, Sale and Houck all return unscathed while Chaim Bloom decides not to trade Paxton. Chris Martin and Kenley Jansen form a solid one-two punch at the back end of the bullpen.
That team is a contender.
I'm high on the future of this franchise. The Story-Devers-Yoshida core is locked up, the front office could soon work out an extension for Casas, and the Marcelo Mayer era is on the horizon. The Bello-Houck-Garrett Whitlock trio could eventually develop into a quality starting rotation, and they could add another arm once the Sale contract is (finally) off the books.
But the immediate future is murky, filled with inconsistencies and question marks. My prediction: The Sox eclipse their pre-season win total (77.5) but fail to clinch a postseason berth in the rugged wild-card race.
Starting pitcher: Justin Garza (RHP)
It took Garza until age 29 to get the call from the minors, and he looks to be heading back soon after this start.
He'll serve as the opener, so expect a heavy bullpen on this getaway day for the Sox (who head to Chicago after this).
---
Why can't the Twins hit?
There are eight Twins with 100 PAs and a double-digit barrel rate. Eight. Carlos Correa and Byron Buxton anchor the heart of the lineup, and Michael A. Taylor already has 10 home runs.
Yet, the Twins have an 87 wRC+ in June. They've scored the 11th-fewest runs in baseball (317).
Well, while the Red Sox grind down opposing pitchers in all nine lineup spots, the Twins freely swing and miss. No team whiffs more than the Twins (47%), no team makes less contact than the Twins (70.7%), and no team strikes out more than the Twins (27.2%).
Teams that leaned into the new rules are succeeding this year.
Banning the shift means that putting the ball in play will lead to success. Think of the Marlins acquiring Luis Arraez.
The bigger bases mean speed and stolen bases will become significantly more important. Think of the Diamondbacks.
The Twins put the fewest balls in play in the majors, rank fourth-to-last in xBA and are second-to-last in stolen bases. They're ninth in home runs and 11th in walk rate, but that style would've played better last season.
In fact, the Twins could use a guy like Arraez right now.
Luis Arraez now leads MLB with 102 hits

The Twins, the team that traded him last offseason, are the only team that doesn't have a player with 60 hits. Carlos Correa leads Minnesota with 51 pic.twitter.com/J80KrEKduq

— Talkin' Baseball (@TalkinBaseball_) June 20, 2023
I would try not to point the blame at Correa. He hasn't put up his usual numbers, but his BABIP is 70 points lower than last season. He's still walking over 10% of the time, and his ISO looks good (.190), so I'd expect some positive regression.
The hope is that the return of Royce Lewis bolsters the depth of this lineup. And so far, so good, to be fair.
I am worried about the Twins in this division. The Guardians have been able to stay in the divisional race despite boasting the worst offense in baseball, but now they're starting to hit, and I think the standings could flip any day now.
Here's the good news: The Twins can pitch.
Only the Phillies have more starting pitching fWAR than the Twins this year. That happens when you trade for Pablo Lopez and then get breakout seasons from Sonny Gray, Bailey Ober and Joe Ryan.
The bullpen should be good going forward, too. Jhoan Duran is a monster, having recorded the fifth-most whiffs in baseball this year.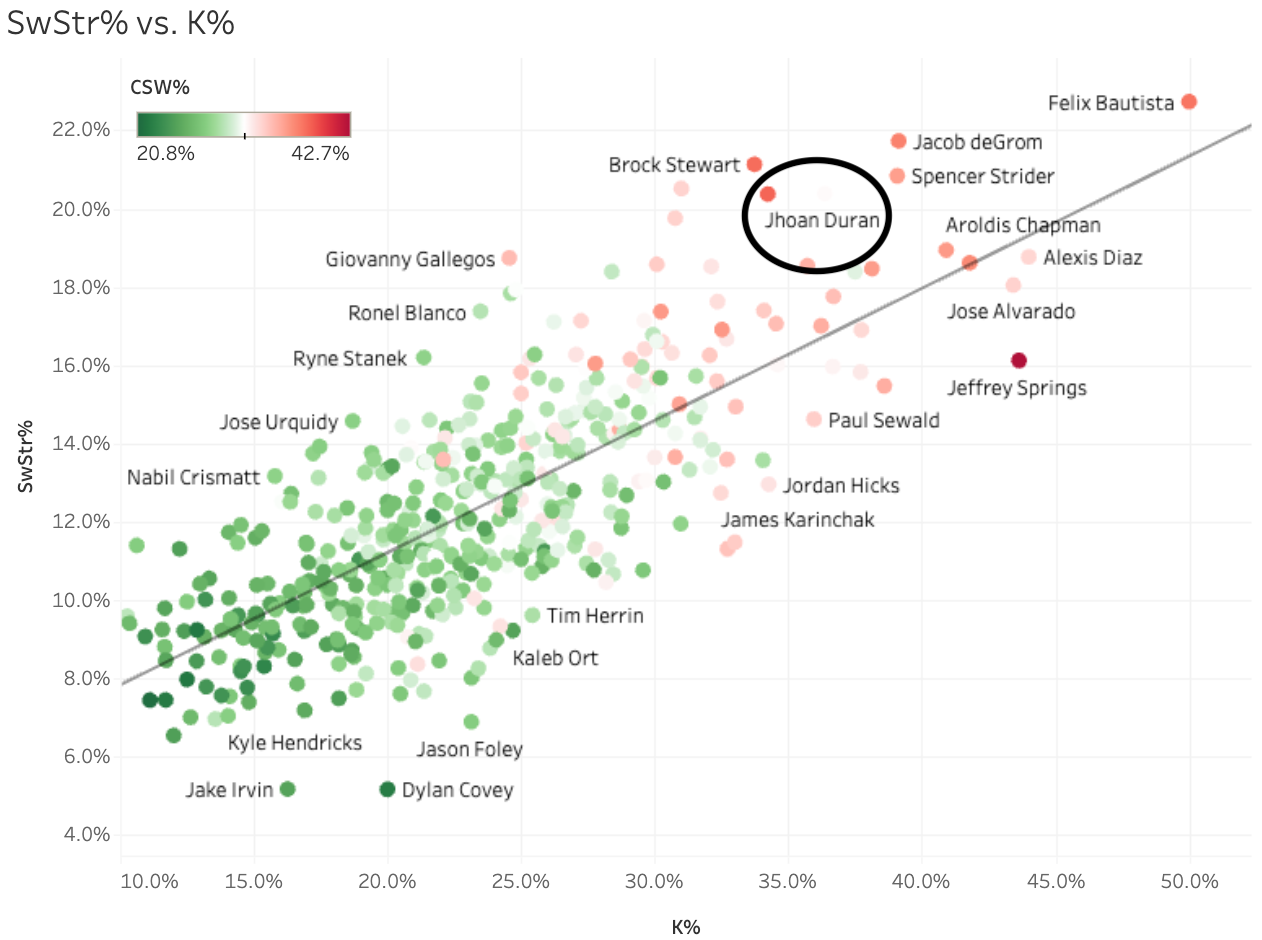 Image credit: @JonPGH
Starting pitcher: Joe Ryan (RHP)
Last year, Ryan threw a bunch of low-90s fastballs up in the zone and used a below-average slider (95 Stuff+) as his main secondary offering.
He had a fine year, finishing with a 3.55 ERA and 3.57 xERA on his way to a two-win season. He put together almost 150 innings, and the Twins were very happy with his rookie season.
Ryan added a splitter and sweeper this year, and it changed everything.
His old changeup dropped about 29 inches, while his new splitter drops closer to 40 inches. His old slider broke about three inches, while his new sweeper breaks about 14 inches.
His new slider has a 106 Stuff+ rating, and his new splitter has a .190 xBA against. His swinging-strike rate has jumped 2%, his xERA has dropped a full run (2.45), and he's already eclipsed his fWAR total from last season (2.3 and counting).
Of course, Ryan also improved his command. His Location+ numbers have jumped considerably (108), and he's almost halved his walk rate (4.5%).
Ryan made significant changes and strides across his arsenal, and it's paid off. He'll be a stalwart of this rotation for a long time.
However, I am worried about Ryan.
Over his past four starts, Ryan has a 6.08 ERA. He most recently allowed six runs to the Tigers.
Most of the damage is coming from his secondary offerings. He's averaging 37 inches of drop on his splitter this year, but that number was down to 33 during his start against Detroit. Against the Jays, he managed only five Whiffs and one called strike on a combined 37 splitters and sliders.
His spin rates are down on both pitches, and his stuff numbers are dropping precipitously.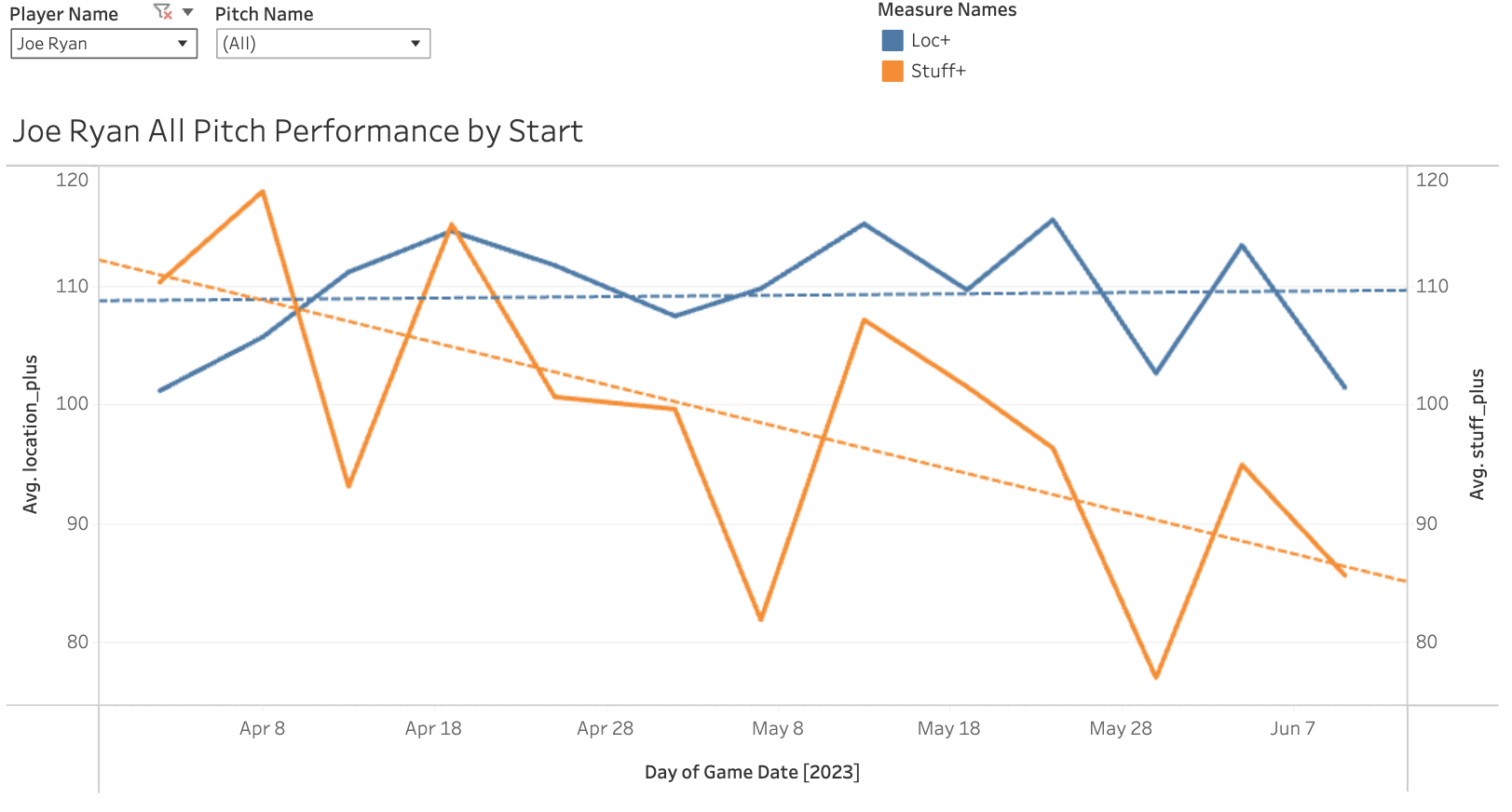 Image credit: @JonPGH
---
Red Sox vs. Twins Betting Pick
I have no interest in betting on this game from a side or total perspective.
For what it's worth, our guy Sean Zerillo sees some slight value in the Under 9 (-120). But, I'm too skeptical about Ryan to make that bet.
Instead, I'll fade Ryan directly and go with my rare player prop.
I show some slight value in Under 5.5 strikeouts (-102 at FanDuel). Our Action Labs Player Props Tool projects him for 5.4 Ks, while BallParkPal's simulations are closer to 5.1.
And thanks to his recent string of dull secondary offerings, Ryan's stayed under 5.5 strikeouts in three of his past five outings.
Meanwhile, the Red Sox strike out at the third-lowest rate against right-handed pitching in baseball (20.4%). As I said, this lineup grinds you down.
Ryan took on this Sox lineup in April and managed only three strikeouts across 100 pitches. His 21% CSW rate during the start was his second-lowest of the season.
I'm happy to bank on that happening again.
Author's note: Chris Guccione was announced as the umpire for this game, and he has a .89 strikeout boost factor, per Swish Analytics, meaning he calls 11% fewer strikeouts than the league-average umpire. This makes me like the play even more.  
Additionally, the Red Sox lineup will include five lefties. Ryan's strikeout rate is 32.4% against right-handed batters and only 21% against left-handed batters. This also makes me like the play more.
Pick: Joe Ryan Under 5.5 Strikeouts (-102)
What is QuickSlip?

QuickSlip is an Action Network feature that allows users to automatically pre-load their bet slip at FanDuel Sportsbook.
---
How would you rate this article?
This site contains commercial content. We may be compensated for the links provided on this page. The content on this page is for informational purposes only. Action Network makes no representation or warranty as to the accuracy of the information given or the outcome of any game or event.