MLB Odds, Preview, Prediction for Red Sox vs. Yankees: How to Bet Sunday Night Baseball (Sunday, July 18)
Credit:
Steven Ryan/Getty Images. Pictured: Giancarlo Stanton.
Boston and New York close out their three-game series on Sunday night in the Bronx.
For the first time this season, the Yankees can pick up a series victory with a win.
Sean Zerillo explains his approach to betting the AL East rivalry, below.
Red Sox vs. Yankees Odds
Red Sox Odds
+105
Yankees Odds
-125
Over/Under
9.5 (-115/-105)
Time
7:08 p.m. ET
TV
ESPN

Odds as of Sunday and via DraftKings.
The New York Yankees and Boston Red Sox continue their rivalry in the Bronx on Sunday night, and they will decide the winner of their three-game set, following a 4-0 Boston win on Friday and a rain-shortened, 3-1 win for the Yankees on Saturday.
The Red Sox lead the season series 7-1, outscoring their rivals 41-20 in those contests. That record represents much of their difference in the AL East standings, where the Yankees currently sit eight games off of Boston's division lead.
Per FanGraphs, Boston has dramatically increased their divisional and World Series odds since the preseason, from 9% and 2%, respectively, to 60.7% (implied -154) and 10.7% (implied +835) as of Sunday morning. PECOTA is less optimistic on the Sox outlook, placing those odds at 35% (implied +186) and 6.4% (implied +1463), respectively.
Per the same two sources, FanGraphs has dropped the Yankees preseason chances from 71% to win the AL East and 17.5% to win the World Series to 7.4% (implied +1250) and 3.6% (implied +2678 implied), respectively. In contrast, PECOTA would have them at 16.9% (implied +492 implied) and 5.4% (+1752), respectively.
Winning these head-to-head matchups is crucial if the Yankees want to make a run in the second half. Do they have an edge on Sunday night?
Boston's Perez May Struggle Against Yankees
This season, the Red Sox rank eighth offensively with a .327 expected or xwOBA, 16th in xwOBA against their pitching, and 12th in Defensive Runs Saved (+18)
Their outfield (+21) has been particularly excellent on defense, helping to mask some deficiencies at first base (-9) and shortstop (-10), where Bobby Dalbec (-8) and Xander Bogaerts (-12) have struggled.
Kike Hernández (+12 in Center FIeld), who signed a two-year $14-million deal last winter, was one of the most underrated offseason additions for any club. He has ranked amongst the best defensive players in baseball (while playing various positions) for several seasons now. He ranks 14th in DRS (+46) since 2017) and seventh since 2018, despite playing fewer innings than many players below him on the leaderboard.
Boston's bullpen (4.00 xFIP, 5th; 3.77 SIERA, 8th; 16% K-BB%, 7th) has outperformed their starting pitching (4.10 xFIP, 16th; 4.18 SIERA, 16th; 15.3% K-BB%, 16th) by a significant margin, and the pending return of Chris Sale could do wonders for their playoff chances.
Tanner Houck (2.75 xFIP, 2.63 SIERA, 26.7% K-BB%) and Matt Barnes (2.13 xFIP, 1.84 SIERA, 36.4% K-BB%) are their best relievers, with Houck drawing comparisons to Sale through 30 MLB innings. Houck's slider is absolutely nasty:
Sunday's starter, Martín Pérez, has largely pitched to his career averages (4.59 xFIP, 4.84 SIERA) in 2021 (4.66 xFIP, 4.71 SIERA), but his xERA has increased to 5.43 — roughly where it stood from 2016-2018 in Texas — and his K-BB% sits at a career-best mark of 10.7%.
His groundball rate (career 49.3%) has fallen substantially in the past couple of seasons since moving to Boston, and while I want to blame increased cutter usage, he actually started to make that change in 2019 with the Twins (48% groundball rate).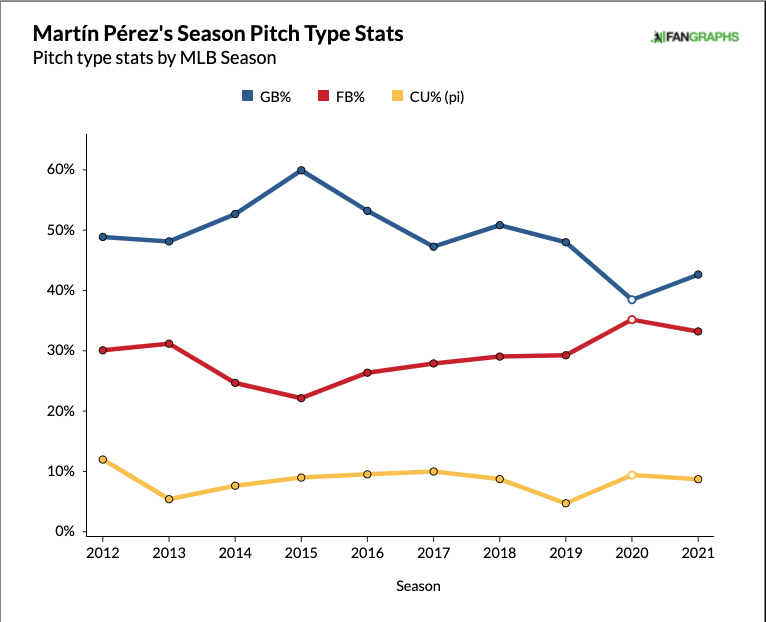 Whatever the reason, hitters are starting to square up balls on Perez more frequently, and while his BABIP (.333) seems likely to regress (.312 career), his hard-hit rate also stands at a career-high (39.9%).
Lastly, Perez really struggles against right-handed hitters (career .350 wOBA vs. RHH, .288 vs. LHH), which would normally be a nail in the coffin against this Yankees lineup. Still, he's facing a depleted opponent on Sunday night.
---
Yankees Must Improve Defense
Several Yankees players, including Aaron Judge, Gio Urshela, Kyle Higashioka, Jonathan Loaisiga, and Nestor Cortes Jr., remain in COVID protocols since the All-Star break. They also have several anticipated roster players, including Luke Voit, Clint Frazier, Miguel Andujar, Aaron Hicks, Luis Severino, Corey Kluber, Darren O'Day, and Michael King on the IL.
It has been a nightmare season for the Bronx Bombers, yet they're still above .500 (47-44) and within range of an AL playoff spot.
It's tough to fully account for these numbers when they're missing so many players at present, but the Yankees rank sixth offensively this year in xwOBA (.330) and have the second-largest difference between actual and expected wOBA (-0.016), with the Cardinals (-0.021) ranking as the only offense that has been less fortunate.
The Yankees also rank sixth in xwOBA against their pitching (.298), but they are harmed by a below-average defensive unit (-25 Defensive Runs Saved), ranking 27th in baseball.
Clint Frazier (-10), Gary Sanchez (-6), Gleyber Torres (-5), Aaron Hicks (-4), and Rougned Odor (-3) have been the main culprits. Still, the real key is that aside from Judge and Urshela, the Yankees don't have any above-average defenders. And as I mentioned, both of those players remain in COVID protocol.
Like Boston, New York's bullpen (3.84 xFIP, 3rd; 3.54 SIERA, 2nd; 17.8% K-BB%, 3rd) ) has outperformed their starting pitching (4.08 xFIP, 14th; 3.91 SIERA, 10th; 18.3% K-BB%, 5th) but Jonathan Loaisiga, who is also in COVID protocol, has been their best reliever (3.10 xFIP, 2.82 SIERA).
Aroldis Chapman (4.50 xERA) is returning negative value on both his fastball and slider for the first time in his career, and he has turned to a third pitch (a splitter) much more often (9.4%) than he has ever used a tertiary offering.
Jameson Taillon (4.15 xERA, 4.10 SIERA, and a career-best 17.6% K-BB%) has proved to be a stabilizing addition to their rotation. However, his fastball velocity has come down a couple of ticks from its peak, and his groundball rate has also fallen substantially this year — from a career mark of 45.8% down to 32.1%) — as he increases his rate of four-seam fastballs (up from 33.3% to 49.7%).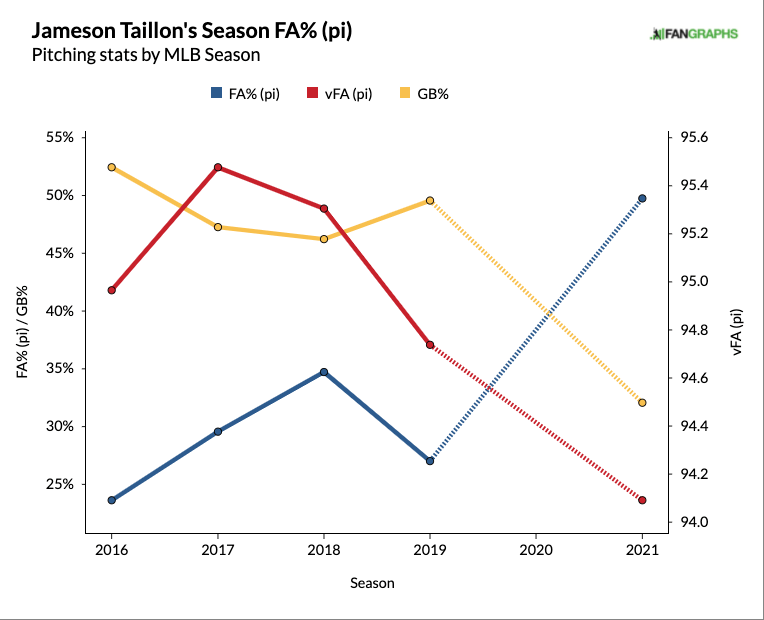 That seems like a calculated adjustment, but one that may not help Taillon's prospects at Yankee Stadium, where lazy flies turn into homers (1.74 HR/9 vs. 1.05 career).
The Yankees are missing their two best defenders, their best offensive threat, and their best reliever while deploying a starting pitcher who suddenly has a longball problem against a flyball-heavy (39%, 9th) offense.
Red Sox-Yankees Pick
Below, you can find my projections for Sunday Night Baseball.
I don't see value on either side of the moneyline, either for the first five innings (F5) or full game. I would need a line closer to +120 to bet the Red Sox or -102 to bet the Yankees.
Furthermore, I don't see value on the F5 Over 5 or full game Over 9, with both totals juiced up to the Over. I would need the juice listed closer to -110 to bet the Over 9.
As a result, I don't see a reason to force a play on this contest, but stay tuned to the Action Network App for my bet notifications if a line comes into range late.
Pick: Pass
How would you rate this article?
This site contains commercial content. We may be compensated for the links provided on this page. The content on this page is for informational purposes only. Action Network makes no representation or warranty as to the accuracy of the information given or the outcome of any game or event.