Sunday Night Baseball Betting Preview: Yankees Look To Sweep Reeling Red Sox
Credit:
Andy Marlin-USA TODAY Sports. Pictured: Gleyber Torres and Aaron Judge
SNB Betting Odds: Boston Red Sox at New York Yankees
Red Sox odds: -114
Yankees odds: +104
Over/Under: 10
Probable starters: David Price (7-4, 3.86 ERA) vs. J.A. Happ (8-6, 5.19 ERA)
First pitch: 7:05 p.m. ET on ESPN
---
>> All odds as of 3 p.m. ET. Download The Action Network App to get real-time MLB odds and track your bets
---
What a difference one week can make.
For the second straight week, the Red Sox and Yankees will meet on Sunday Night Baseball. Headed into last Sunday's matchup, the Red Sox were seeking a four-game sweep to pull within seven games of first place in the American League East.
Fast forward seven days later and it's the Yankees looking for a four-game sweep in the Bronx, which would push the defending champs to 14.5 games out of first in the division.
The Red Sox were also tied with Oakland for the second wild card one week ago, but a seven-game losing streak now has them 5.5 games out of the final postseason spot in the AL.
Let's take a closer look at tonight's matchup to see if the Yanks can complete the sweep and improve to 11-4 over their rival on the season. We will start by looking at both southpaw starters then dive into each respective bullpen, the man behind the plate, a few trends and conclude with our favorite bets.
The Starters
By Sean Zerillo
David Price is enjoying an underrated season, with the highest strikeout rate of his career (28.5%), making 2019 his best season by almost every advanced metric, since 2015.
He has slightly decreased the usage of his sinker and signature cutter this year, opting for an additional 11% four-seam fastballs, and a 4% increase in changeups.
It makes for a relatively even pitch mix. Where his sinker used to be the backbone of his arsenal, Price now throws four pitches at rates between 19-28%: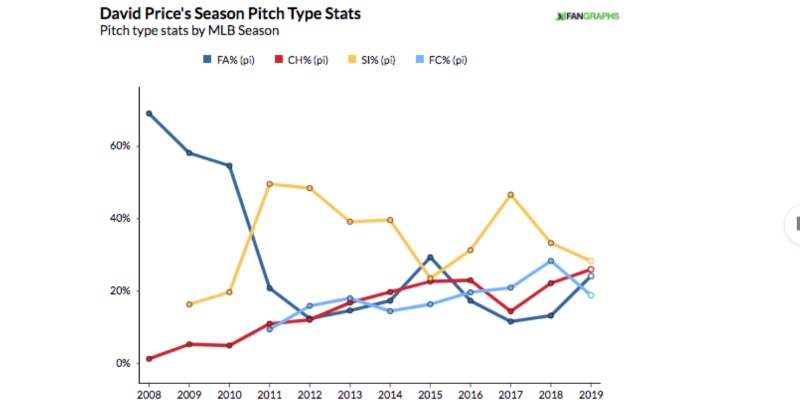 While Price has had a resurgent 2019 season, J.A. Happ is in the midst of his worst year ever.
Happ's fastball velocity is down to 91.0 mph on the season, but he has averaged over 92 mph for his past six starts, so that shouldn't be a concern.
His swinging-strike rate has held steady from 2018 at over 10%, and his first-pitch strike rate is just 2% below his career average.
Happ's batted ball distribution and plate distribution metrics have held relatively steady too, and nothing about his pitch mix is so out of line with career numbers to suggest what is causing this downtick in performance.
He has been getting hit harder at Yankee Stadium than at other parks, with a 5.64 ERA at home (.367 wOBA) compared to a 4.62 ERA on the road (.304 wOBA) as he has allowed 15 home runs in 60 innings pitched in the Bronx this year.
Yankees hitters own a .295/.351/.509 triple-slash line (.860 OPS, 20 homers) against Price, but more than half of that damage has been done by Edwin Encarnacion, Gary Sanchez, Luke Voit, and Jacoby Ellsbury (combined 13 homers, 52 hits, .333 average) none of whom will factor into Sunday night's contest.
The Bullpens
By Stuckey
Because of a doubleheader yesterday and three games over the past two days, the bullpens are slightly more overworked than usual heading into a series finale.
Although the Yankees can thank Domingo German for giving them seven solid innings yesterday before Holder finished out the final two. And even though Chris Sale didn't make it out of the fourth inning for Boston in that game, Josh Smith did give them four innings of relief to help spare the pen.
Still, New York did go with a bullpen game in the second game last night, so we know some of their secondary arms like Chance Adams (sent back to minors) and Nestor Cortes Jr. won't be available.
Also, Aroldis Chapman, Zack Britton and Tommy Kahnle have pitched each of the past two days. That's noteworthy since the Yankees haven't used any of those three on back-to-back-to-back nights all season!
I would assume New York would reluctantly go to one or two of them if things got tight but the bullpen is certainly more restricted than usual.
The Red Sox pen is also banged up. Josh Taylor and Matt Barnes will likely not be available after each throwing 40-plus pitches yesterday. The same obviously goes for Brian Johnson, who started last night.
Boston also recently placed Heath Hembree back on the IL and called up Ryan Weber to replace him on the roster. It also sent Colton Brewer down.
Umpire Report
Alfonso Marquez should be calling balls and strikes behind the dish for the conclusion of the series tonight.
Unders are 198-210-20 historically with Marquez behind the plate, coming in at 48.5%. If you look at his history from just the 2017 season on, his under is just 31-46-5. Over bettors have cashed at a 60% clip backing Marquez during the past two-plus seasons.
Staff Favorite Bets
Wilson (Over): Our umpire trends with Marquez dictate an over, but the market is trending south of 10 runs. It is unfair to look at Yankees full season statistics with so many injuries. Since June 1, New York is top eight in wRC+ and wOBA versus southpaws.
The Red Sox have ranked in the top half of the league in those some statistics but have a BABIP rank of 24th, indicating some positive regression is coming for the sticks. I will swim with the general public and take an over any posted number south of 10.
Zerillo (Red Sox F5): Odds for the first five innings of this game opened at -105 on either side. The Red Sox quickly took money to get to -120, and I see the fair odds at -125.
I have the total at 9.5, so if it touches the opening number of 10.5 again I would recommend the under, but these Red Sox-Yankees games seem to defy logic when it comes to run production.
Stuckey (Red Sox Moneyline): With neither pen in great shape, both managers will be looking for length from their respective starters. And I just trust Price more than Happ right now.
The Yankees lineup is also very ugly tonight with no Edwin Encarnacion or DJ LeMahieu. Value on the reeling Sox, who I split between full game and first five.
---
Trends to Know
The Yankees are looking for their first four-game sweep of Boston since 2009. — John Ewing
Boston has lost seven straight — its longest losing streak since dropping eight in a row in July 2015. The Red Sox are 5-6 when on a losing streak of seven of more games since 2005. — John Ewing
As John mentioned, the Red Sox enter tonight having lost seven consecutive games. Since 2005, teams who enter Sunday Night Baseball on at least a three-game losing streak are 48-66 (42.1%). And road teams in this spot are even worse at 27-43 (38.6%). — Evan Abrams
Did You Know? The Red Sox have lost four consecutive starts made by David Price. The last time Price's team lost at least four consecutive starts made by him was back in 2016, when they lost five straight in July and August. After that stretch, the Red Sox won nine consecutive starts made by Price. — Evan Abrams
In the Bet Labs database, which dates back to 2005, the Boston Red Sox are the most profitable team to bet on Sunday Night Baseball. They hold a record of 48-34 (58.5%), profiting bettors $1,044 on a $100 per game basis. The most profitable Red Sox starter over  that span is in fact tonight's starter David Price, who is 7-4 on the moneyline, including 4-2 against New York. — Evan Abrams
How would you rate this article?